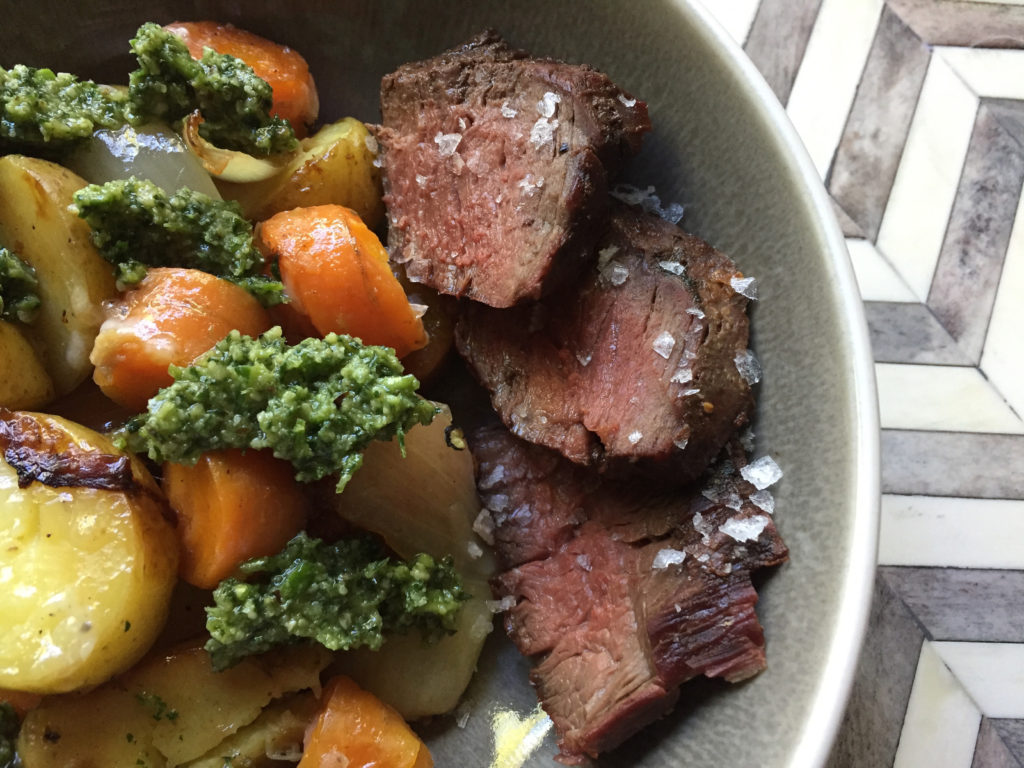 Have you heard?!?! It's garlic scape season… YAY! Garlic scapes are the flower stalks that emerge from the garlic plant in the late spring and early summer and they are packed with flavour. They are removed from the plant so the energy that would go to letting the plant flower goes instead to the bulb in the ground. The season for scapes is very short, only a couple weeks, so grab yours while you can! I grow garlic in my backyard (easier than you think… you should try it) but the fresh scapes are also easy to find at your local farmers' market. Grilling them for a minute or so on each side until they start to blister really mellows the flavour (I chop them up and use them in salads), but fresh scapes in pesto is a perfect substitute for garlic cloves. They add a very bright, green zing to the pesto and the lingering effect is much softer than cloves… perfect for serving to company!
You can roast any vegetables on hand. I used new potatoes and carrots (with the tops, of course) that I picked up from the farmers' market yesterday and added an onion for flavour. Grilling those little baby squashes would be a beautiful dish for company. You know what else would be good?… fresh shelling peas cooked for just a couple minutes and then dolloped with the pesto. And add a piece of torn burrata to that???… holy. Let your imagination run wild. :)
The veggies below fed Husband and I. Increase the amount depending on how many you want to serve. The recipe makes about one cup of pesto which is enough for 4-6 servings. I plated this in a bowl with slices of grilled steak on the side and it was perfect.
For the pesto:
2 cups lightly packed washed carrot tops, stems discarded, roughly chopped
3-4 garlic scapes, roughly chopped
1/3 cup walnuts, toasted
1 ounce grated Pecorino or Parmesan cheese
1 teaspoon kosher salt
1/2 cup good quality fruity olive oil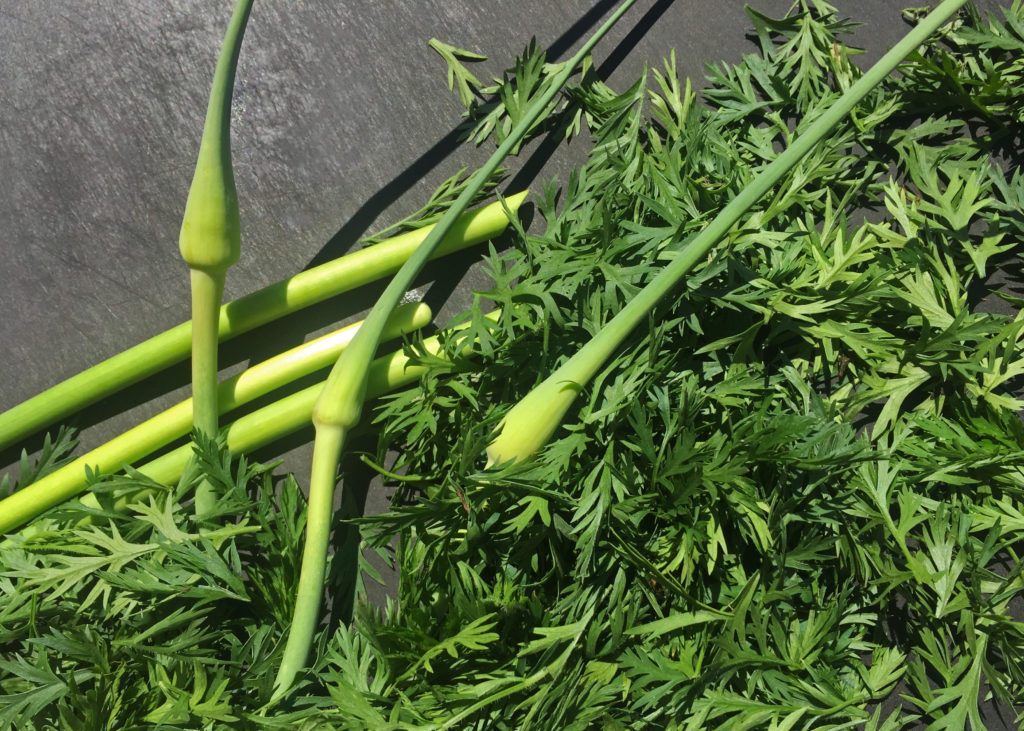 Combine the carrot tops and scapes in a food processor and pulse a few times. Add the remainder pesto ingredients (except olive oil) and pulse again until well combined (about 20 times, you may have to stop to scrape down the sides a few times). Add the olive oil and process until creamy. Taste and adjust for seasoning.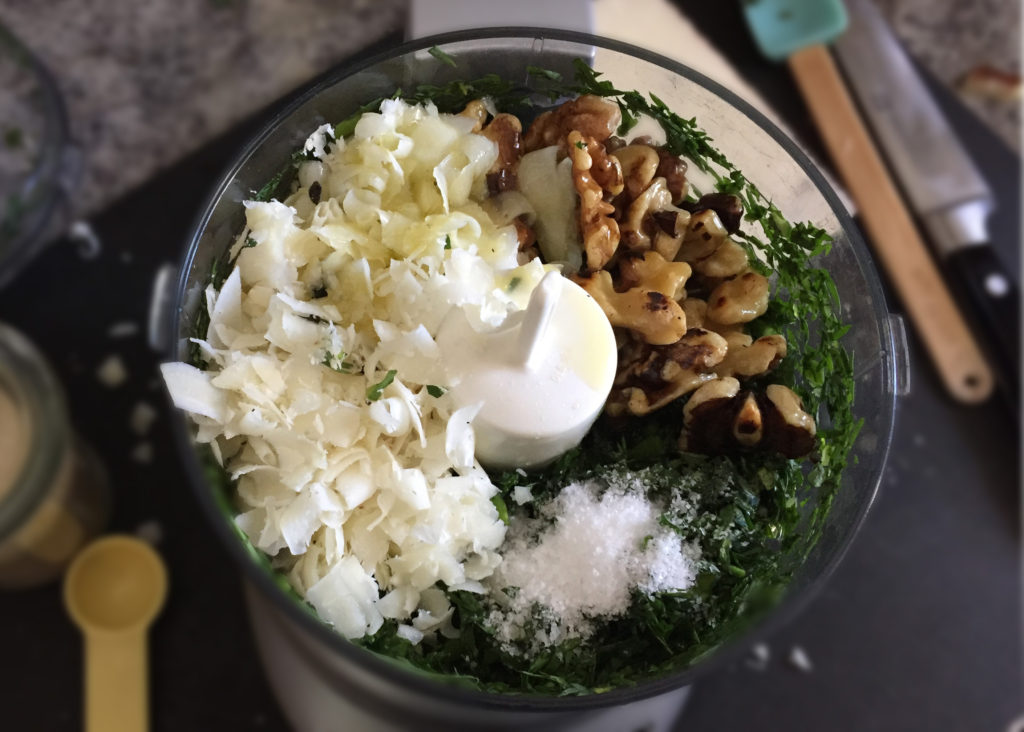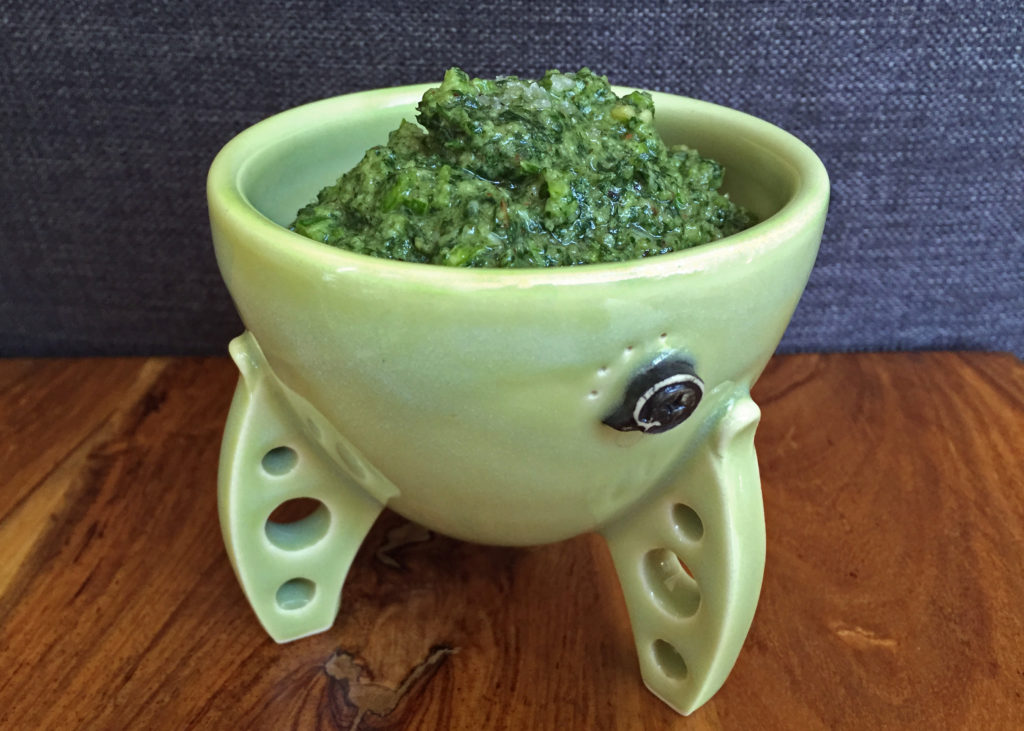 For the roasted vegetables:
1/2 pound new potatoes
1/2 pound new carrots
1 large sweet or other onion
glug of olive oil
salt and pepper to taste
grated Pecorino or Parmesan to finish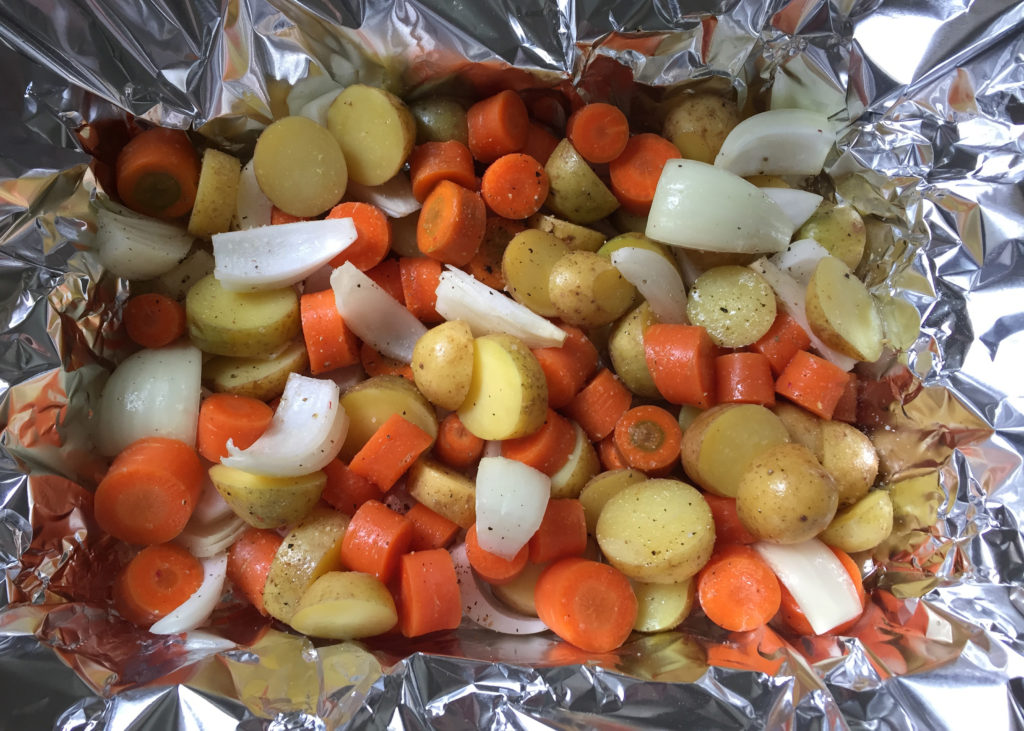 Preheat BBQ grill (or oven) to 350-400F. Cut the potatoes and carrots into large bite size pieces. Chop onion into large chunks. Combine everything in a bowl with a glug of olive oil, salt and pepper. Tip into a disposable aluminum tin and cover with tin foil or wrap in tinfoil package. Place on the BBQ and roast until the vegetables are tender… about 45 minutes.
Serve the vegetables with a grating of Pecorino or Parmesan and dolloped with the pesto.