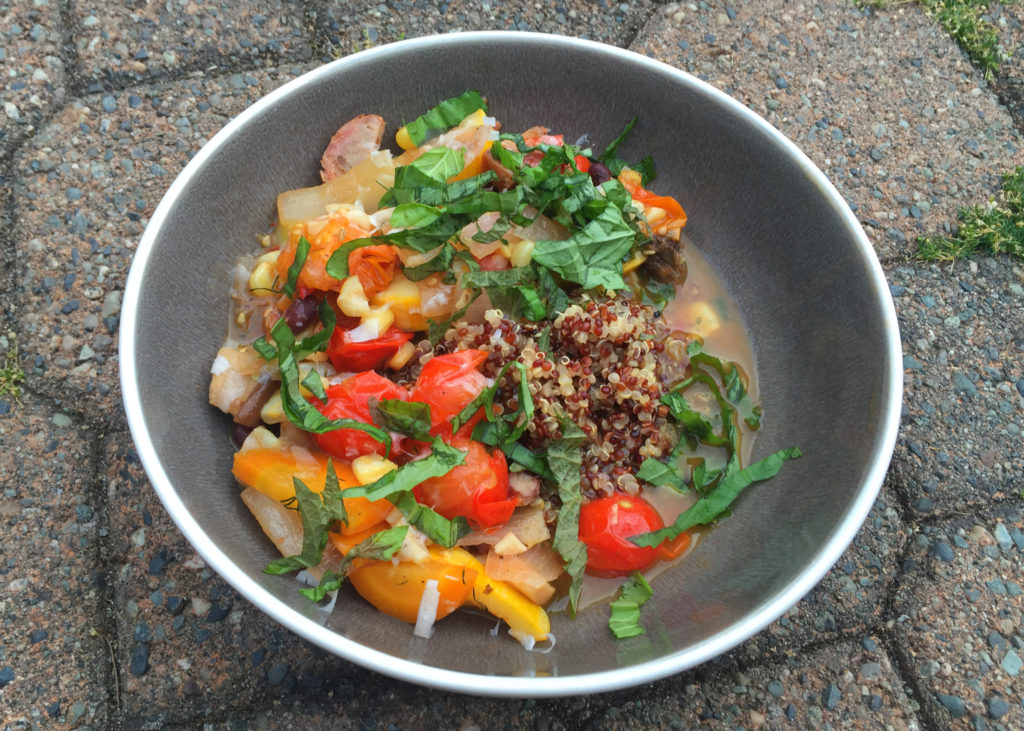 Well that doesn't sound very tasty. Summer stew? Hmmmph.
Wait! Don't go yet!! It's not as dull as it sounds!
My garden is overflowing with gorgeous little tomatoes as sweet as candy, summer squash, carrots, garlic, leeks and a variety of herbs. I wanted to use up a bunch at once and I'm sort of over grilled vegetables for a while. This stew was just the ticket. It is very lightly seasoned which allows the fresh vegetables to shine. I had some leftover bits (a few mushrooms and a cup of corn kernels) hanging around the fridge which I threw in as well but those ingredients are optional… use what you have! We ate this spooned over quinoa and it was a lovely summer meal, even if it was *stew.

*this reminds me of a story. I invited a friend over for dinner many years ago and told her I would make curry. She told me she hated curry. Really? Why do you hate curry?! It turned out that when she was little her mother would clean out the fridge every Friday and throw all the leftovers into a pan, heat it up, and call it curry. My curry was not THAT curry, and this stew is not a mash of overcooked vegetables… really.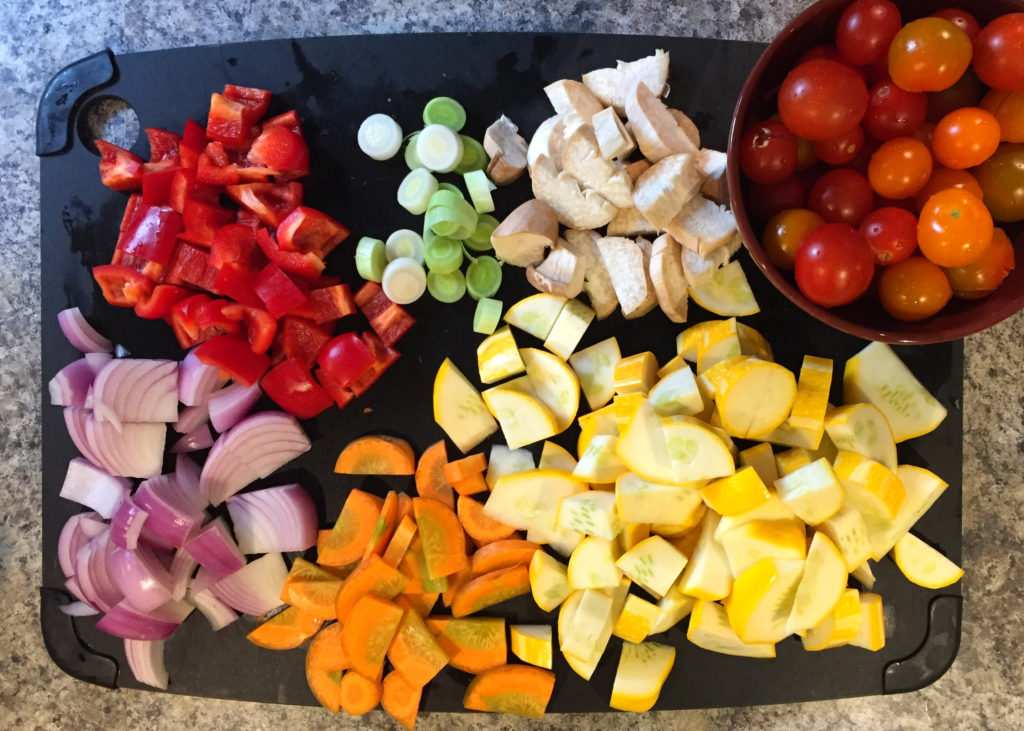 1 cup quinoa, cooked according to package directions
2 TBS olive oil
2 yellow squash (or zucchini)
1 red onion
1 red pepper
1 large or 2 small carrots
1 leek
2-3 garlic cloves
1 generous pint of small tomatoes
couple sprigs of fresh dill (to taste)
1/2 cup vegetable or chicken stock
1/2 tsp ground cumin
1/2 tsp ground fennel
pinch red pepper flakes
salt and pepper to taste
handful of fresh chopped herbs (I used basil and shiso leaf)
grated pecorino or parmesan to garnish
Optional:
mushrooms (I had a few hanging around my fridge)
Corn kernels (I had about a cup leftover from making this salad the previous night)
Cook quinoa according to package directions (I usually use 1:1 seed to water or stock ratio, plus a quarter cup of liquid "for the pot").
Cut squash, onions, and red pepper into bite size chunks. Slice carrots, leeks (and mushrooms if using). Mince garlic and chop fresh dill.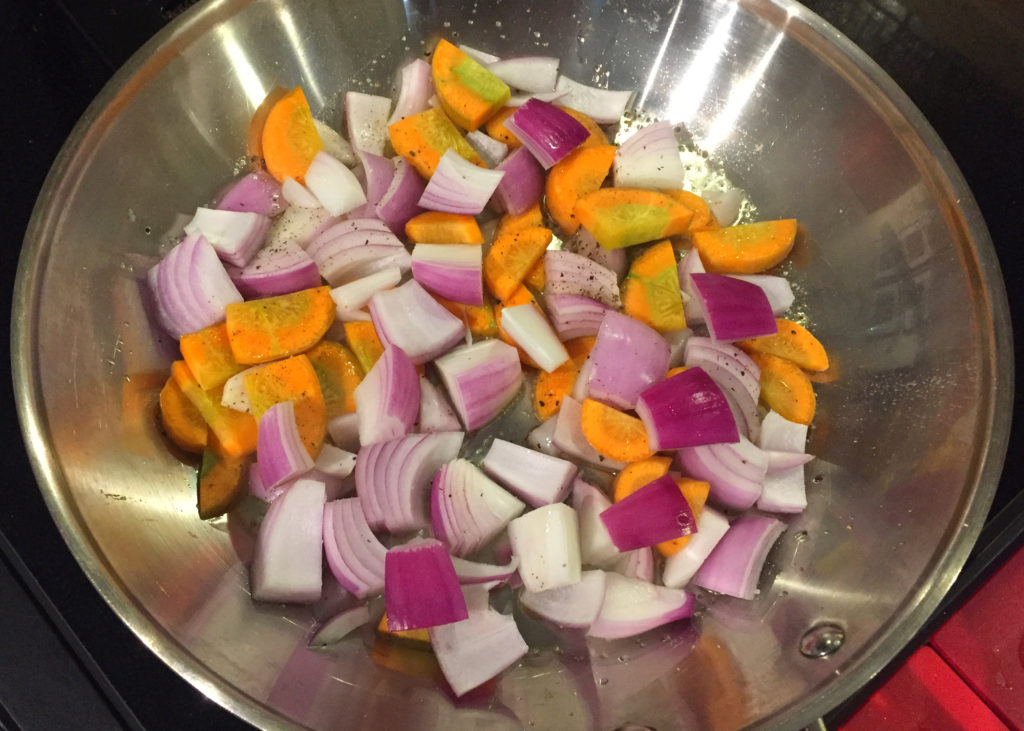 Heat 2 TBS olive oil in a frying pan. Add carrots and red onion and fry until starting to soften, about 3 minutes. Add red pepper and leeks and continue to fry until starting to soften, about 3 minutes. Add squash (and mushrooms if using) and continue to fry until starting to soften, about 3 minutes. Add tomatoes, dill, stock, and spices and continue to cook until tomatoes have started to break and release their juices and veggies are done to your liking… mine took about 5 minutes more.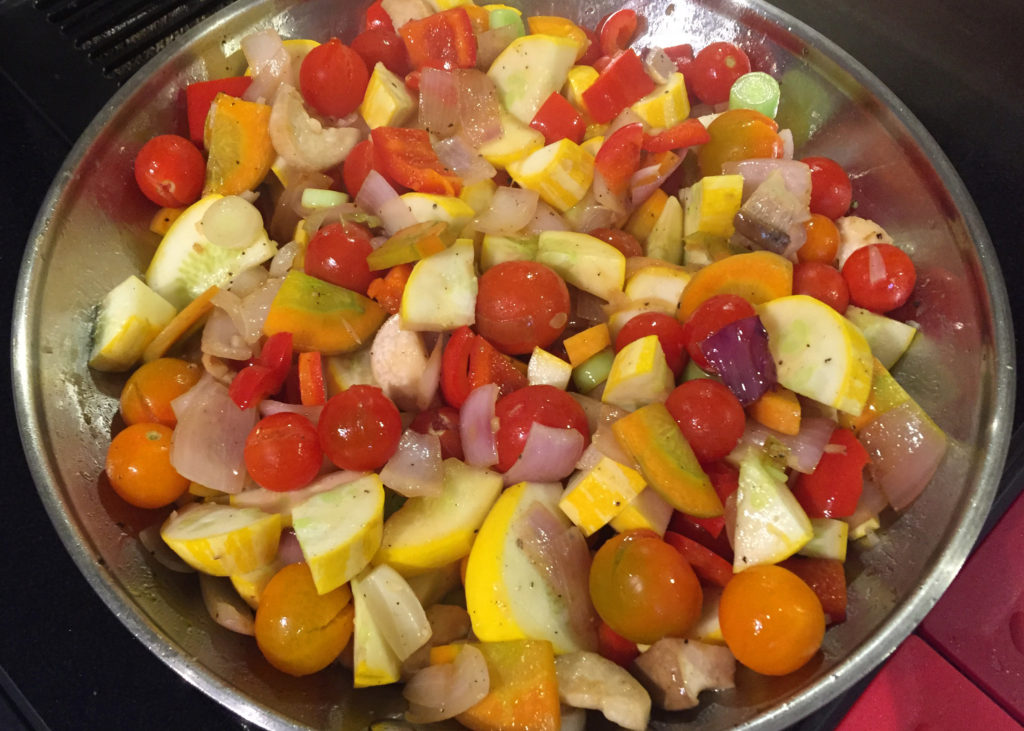 At this point you can also throw in any leftovers you have in your fridge to re-warm. I had a cup of corn kernels. You could also add leftover bits of protein such as sausage or shrimp, etc. Taste and season with salt and pepper. Spoon over quinoa, garnish with cheese and herbs and serve.