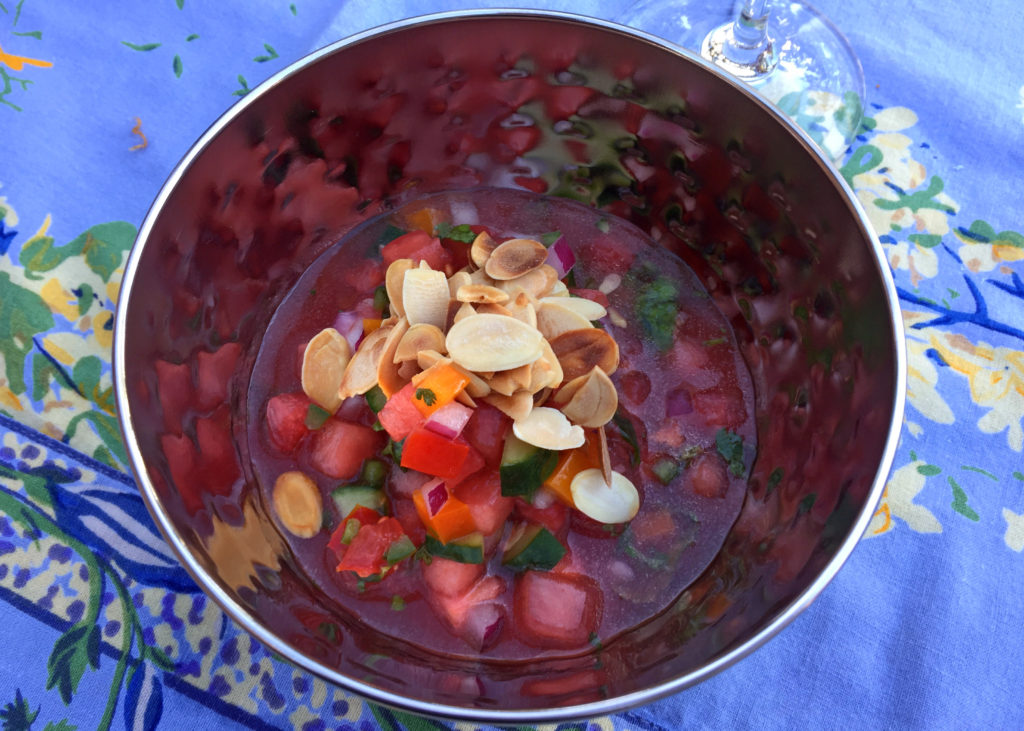 I know some East-Coasters have been suffering through a very hot summer but I couldn't help feel just a little bit jealous as I sat in the searing +18C degree heat (can you hear the sarcasm?) of a very mediocre June and somewhat mediocre July. Then suddenly, summer arrived the first few weeks of August. And although it's gone again now (arrrghhhh fall… really?!?!) I am harkening back to the days of two weeks ago when all was merry and bright and beautifully WARM. I'm talking "no sweater required at 9:00pm WARM". Not this ridiculous "oh the sun has gone behind a cloud where the heck is my jacket" weather.
The good weather was a blessing a few weeks ago when I planned an outdoor dinner that put many of my newly learned culinary school skills to the test. Six courses, several consisting of two or three separate main elements and a number of different garnishes. It was fun, stressful, and a good learning experience. The third course was my lifeline as it was prepared the day before (no last minute fussing) and simply garnished with toasted almonds. It gave me a breather in the middle of the meal and provided a wonderful palate cleanser. It is none other than… TA DAAAAAA… watermelon gazpacho!
I know, right?! You're thinking, meh, gazpacho. Sounds weird.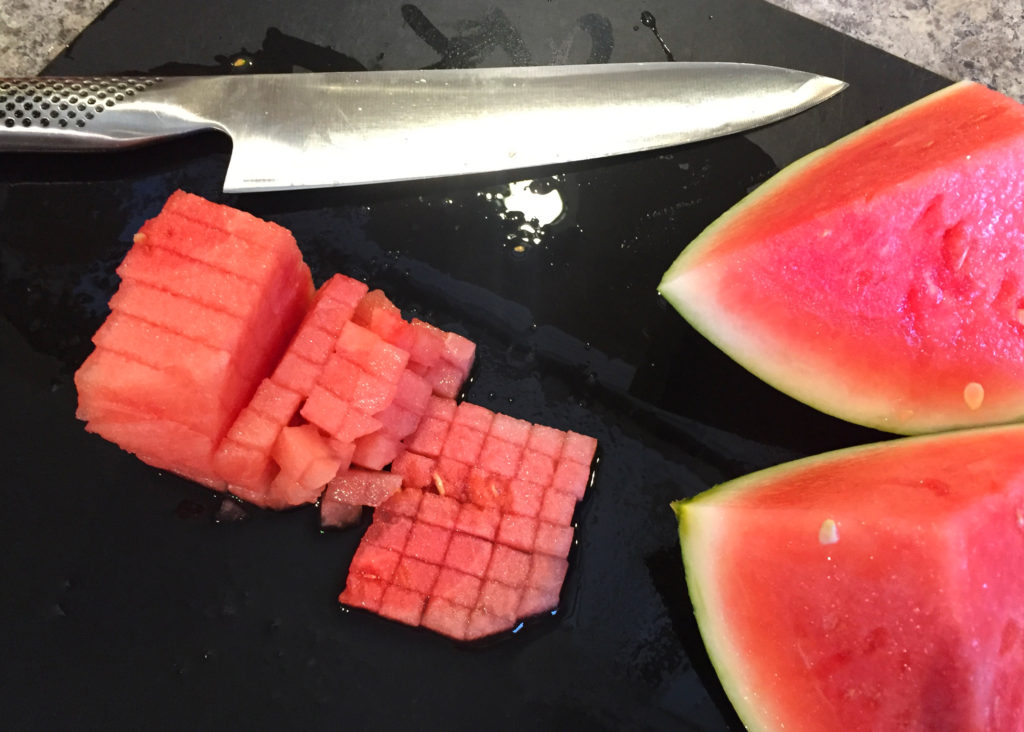 Watermelon gazpacho was the first dish we made in culinary school to practice our knife skills and it took me by complete surprise. It remains one of my favourite dishes of the entire course. It does take some time to prep as the soup looks its most gorgeous if everything is a beautiful small square dice. Use this recipe to practice your knife skills but don't sweat it, even if it's not perfect it will be delicious and totally impress your guests. Trust me.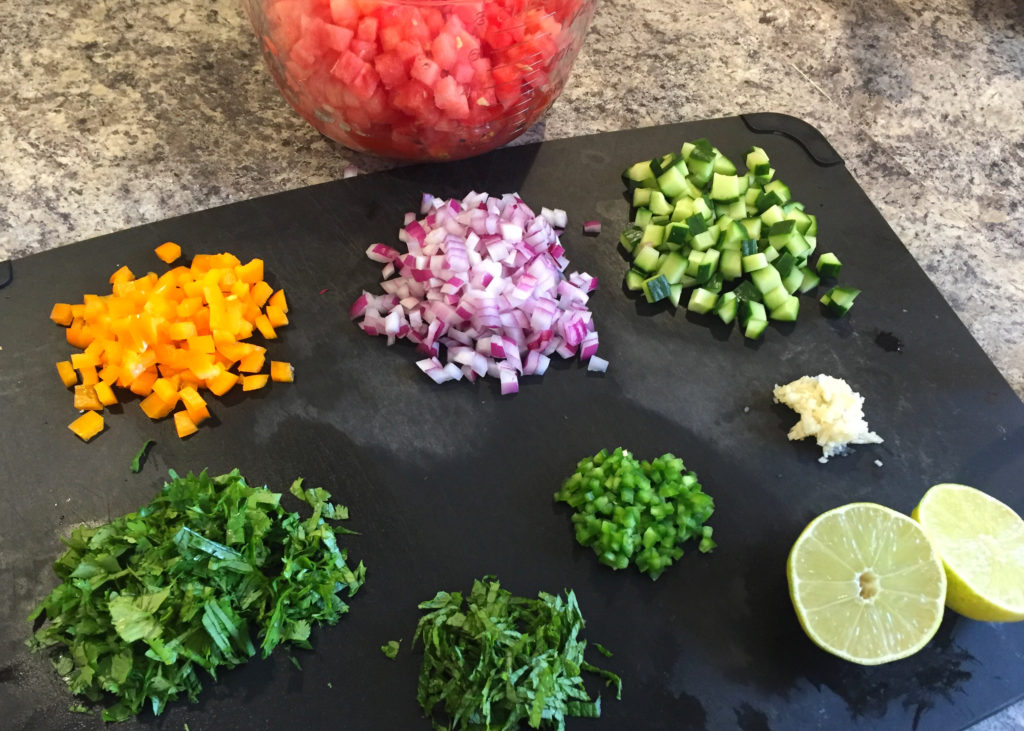 The soup benefits from being made a day in advance as the flavours really come together after sitting overnight in the fridge. Both the ingredients and the amounts are infinitely adaptable. You can mix up the herbs, adjust the amounts, add or subtract veggies/fruit depending on what is in your fridge. In one of my versions I added peach which was delicious. I also highly recommend a splash of sparkling wine, prosecco, or champagne over the soup just before serving. The slight effervescence will make your taste buds sing… yes, SING!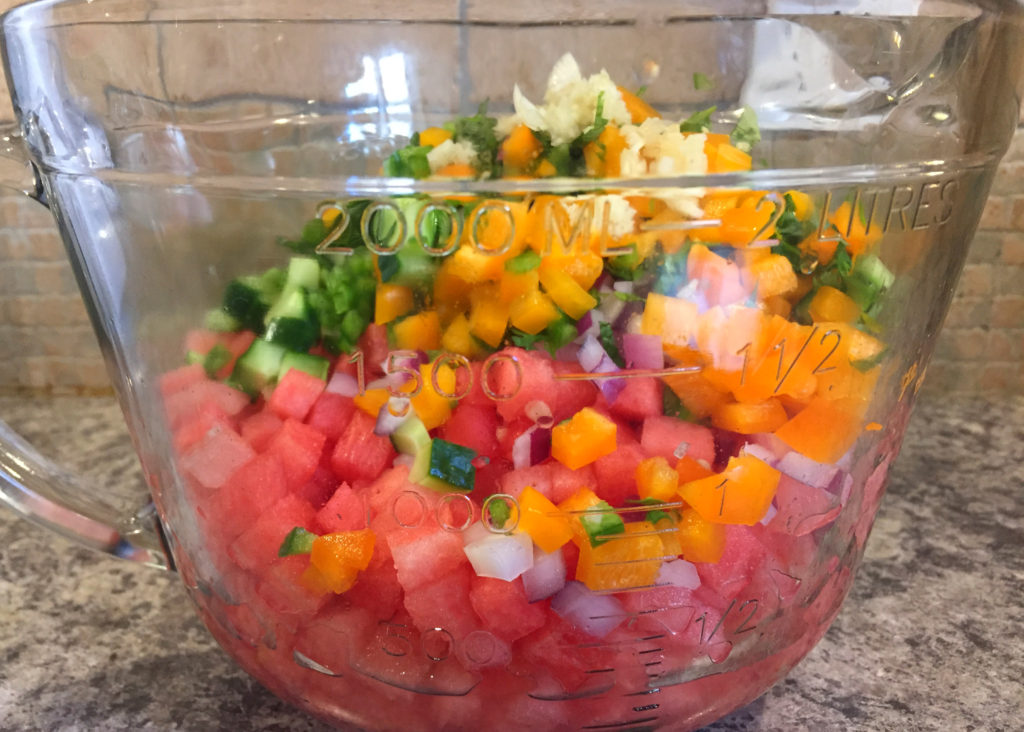 And the bonus is that with your first bite it will plunk you right down in the middle of summer, no matter what the darned weather is doing outside.
The recipe written below makes 4 larger or 6 multi-course servings but can be easily adjusted up or down.
3 cups diced watermelon
1 cup tomato, diced
2 TBS good fruity olive oil
1/3rd-1/2 cup English cucumber, small dice
1/3rd cup red, yellow or orange bell pepper, seeded and cut small dice
1/3rd-1/2 cup red onion, small dice
1 large or 2 small garlic cloves, minced
1/2-1 jalapeno pepper, seeded and cut small dice (test heat level before adding and adjust amount)
juice of 1 lime
1 cup clamato juice
4 TBS chopped cilantro
2 TBS chopped mint
salt and freshly ground pepper
Garnish: 2 TBS sliced almonds, toasted
Optional: Add a large dollop of sparkling wine, prosecco or champagne over the soup in each bowl just before garnishing.
Stir all ingredients together and season well. Refrigerate at least 30 minutes, ideally overnight.
If you wish to thicken the soup slightly, before serving you can remove a small amount (about a cup) and puree with a hand blender or mash with a fork and add back into soup. Don't overdo it as you don't want to destroy all those beautiful knife cuts you spent so much time on!
Ladle into individual bowls, add sparkling wine, if using, and garnish with toasted almonds.