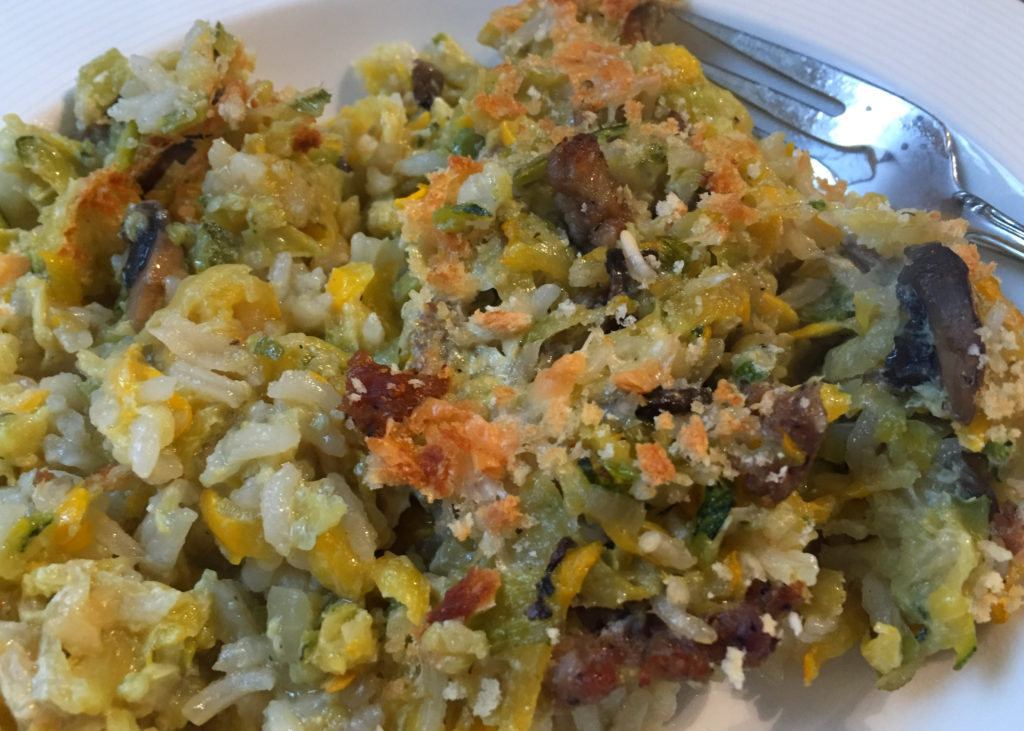 I've never been a fan of zucchini but I somehow got suckered into buying it at the local farmers' market last weekend. They then languished in the crisper for another 4 days until I could no longer ignore them. Ugh. Stupid beautiful fresh garden vegetables… what the heck am I going to do with you?!?!
I went hunting online for zucchini recipes and found tons for salad (boring), fried (they'll never become crispy… I don't believe you), and muffins and breads (but I don't waaaant to add sugar to vegetables), and then… gratin. Hmmmmm, what do I think about gratin? Add cheese to vegetables, bake until it melts together into dreaminess then top with cheesy, crunchy deliciousness?? SOLD!
Most recipes for gratin called for some variation of frying sliced zucchini, adding milk or cream with flour to thicken, then adding cheese, and finally removing to a separate casserole dish to bake. Frying and switching baking vessels so I have another dish to wash?… naaahhhh. I was intrigued by recipes based on Julia Child's Tian de Courgettes au Riz (Gratin of Zucchini, Rice, and Onions with Cheese) which uses grated zucchini but the whole salting and draining the zucchini and then adding liquid back in seemed like nonsense to me. So with Julia's recipe in the back of my head as a rough guide, I decided to fly by the seat of my pants. Guess what, it was deeeelicious. Shockingly, unexpectedly deeeelicious. Zucchini! Who knew?!?!
Because I really didn't think this dish would turn out to be anything special and I was experimenting with the process, I used up all sorts of bits and bobs in my crisper. I'm going to tell you exactly how I made it (I was smart enough to write everything down, thank goodness) but I'm also going to give you some alternatives because I think this dish is very adaptable.
Gratin:
olive oil for frying
2 to 2 1/2 pounds of zucchini or summer squash
1 cup total minced "allium" aromatics such as onion, leek, shallot (I used the end bits of all 3 but feel free to use all onion)
2 cloves garlic, minced
1 tsp salt
pepper to taste
pinch of hot pepper flakes
1/2 cup white rice
2/3 cup grated gruyere
1/2 cup milk (I used non-fat)
1 egg
Optional ingredients:
1/2 pound white mushrooms, sliced (optional, I was using up what was in my crisper. You could also use something like diced butternut squash or bell pepper or whatever small bit of leftover veg you have in the crisper.)
1 cup crumbled cooked sausage (optional, I had it leftover in my fridge from making pizza the previous night. It was delicious in the gratin. If you want to use sausage simply remove meat from casing of a sausage or two and fry until browned. Set aside.)
Topping:
2 TBS panko or bread crumbs
2 TBS grated parmesan
Preheat oven to 350F.
Grate the squash by hand on the large holes of a grater. You should end up with about 4-5 cups. Set aside.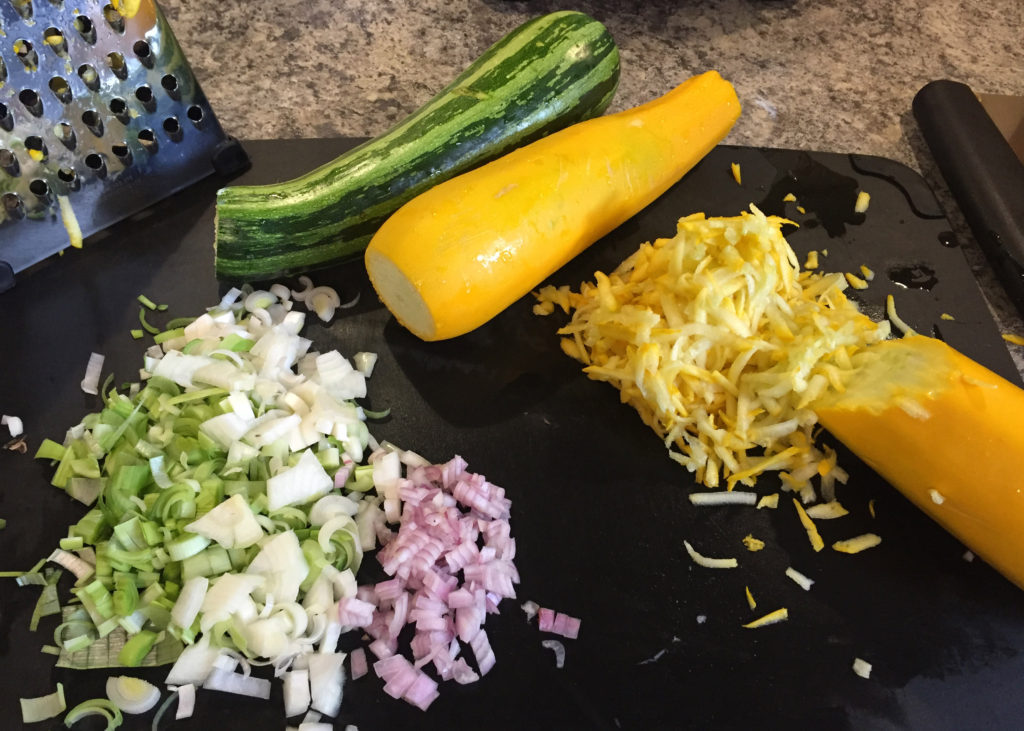 Add egg to milk and whisk together with a fork. Set aside.
Heat a glug of olive oil in a large ovenproof frying pan (I used cast iron). I started by browning the mushrooms until the water had been released (about 5-7 minutes) then remove from pan and set aside. Skip this step if you're not using mushrooms or other vegetable.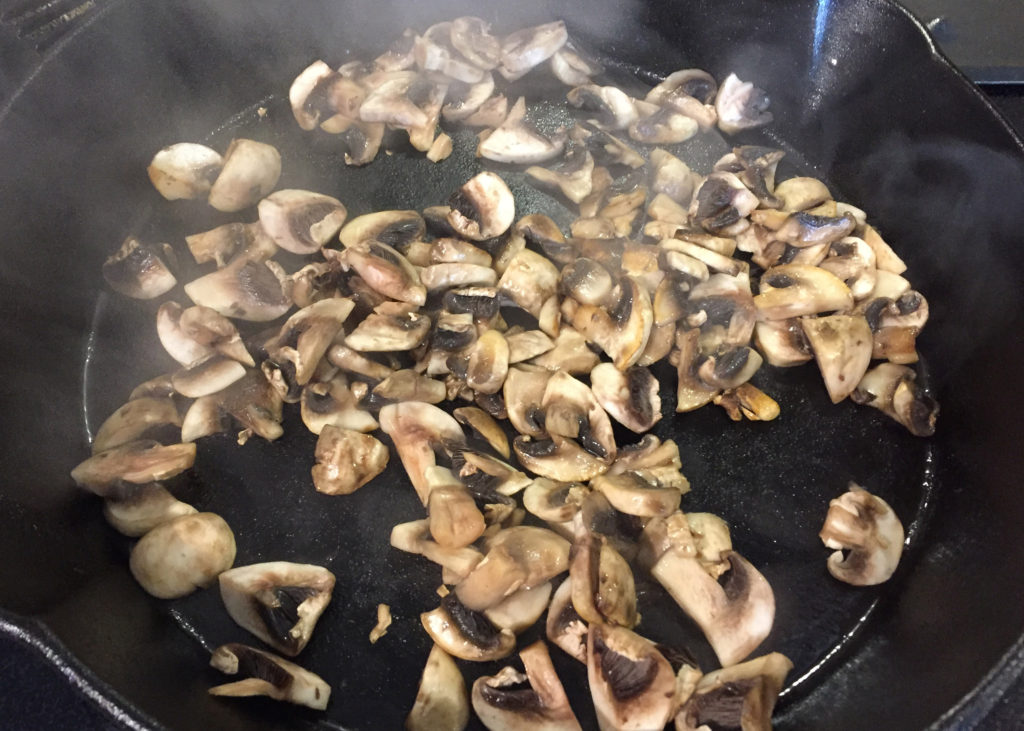 Heat another glug of olive oil in the pan and add onion (leek/shallot if using). Fry until translucent (about 5 minutes). Add grated zucchini (along with any accumulated liquid which will be soaked up by the rice) and garlic. Fry, stirring every minute, until zucchini begins to soften (about 5 minutes). Add salt, pepper, hot pepper flakes and rice. Turn down heat and continue to gently cook for another couple minutes to give the rice a chance to start absorbing the liquid. Add grated gruyere, milk and egg mixture, and optional ingredients (mushrooms, sausage) if any, and mix well. The dish can be held at this point for several hours or a day in the fridge. When ready to eat, cover the pan with a lid or tinfoil and place in hot oven for 30 minutes (longer if the dish is cold).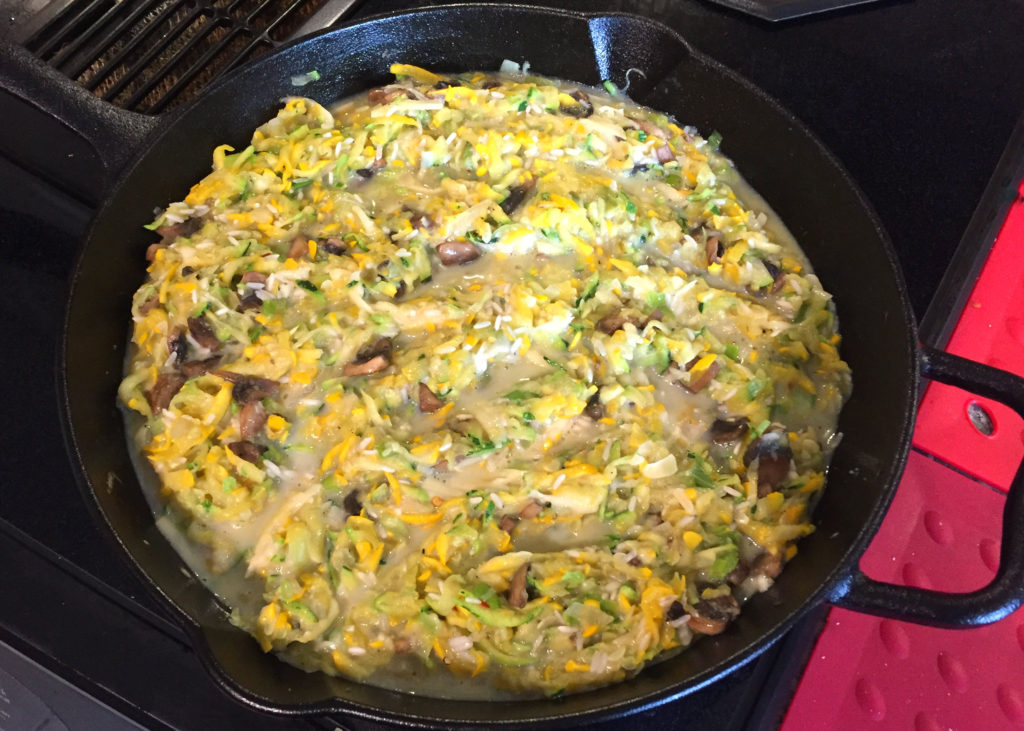 At the 30 minute mark, uncover the gratin and taste to ensure rice is cooked through. If there is still a noticeable amount of liquid in in the pan, return to oven uncovered for another 10 minutes. When it is done to your liking, sprinkle the top of the gratin with the panko/parmesan mixture and place under the broiler for a few minutes until the top is browned and crispy.
I ate this straight up for dinner. Husband added a leftover burger patty for extra protein. You could also add a fried or poached egg on top for a more complete meal. It also makes a wonderful side dish and I hear it freezes beautifully (turn into casserole dish and freeze before the final baking step). I hope you enjoy it as much as we did!