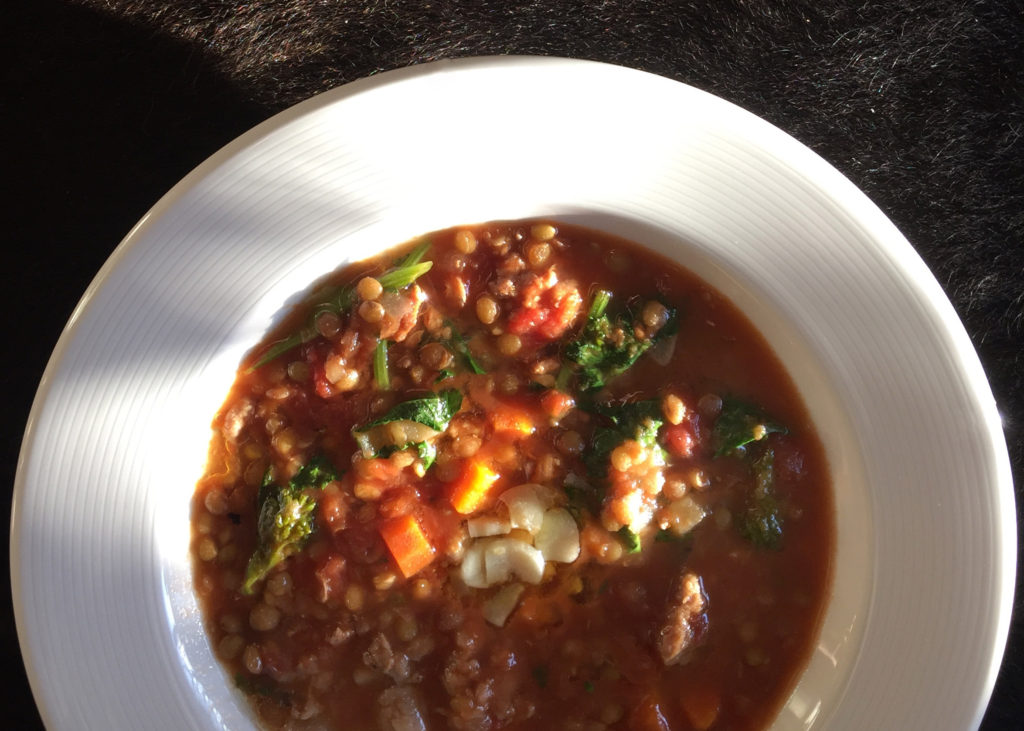 I have something to tell you guys. I did something a few nights ago that scared the heck out of me. Are you ready?… I catered my first dinner. I mean for real! SOMEONE ACTUALLY PAID ME TO COME TO THEIR HOUSE AND COOK FOR THEM! And it was a big success! I still can't believe it. It was sooooo much work and so stressful and even if I never do it again I feel like I left my safe little world and wandered out into the dark night and KICKED BUTT!
Ahhhhhh.
And now we return you to our regular programming…
I am still recovering from cooking for 3 days straight so I decided to do a one-pot dinner last night and holy, it was gooooood! I used this recipe from Smitten Kitchen (love the Deb) as my inspiration but made my usual tweaks.
I reduced the oil to fry the sausage because isn't sausage "self-oiling"?? I used chicken stock instead of plain water and reduced the amount of liquid to make a thicker stew rather than soup. I amped up the flavour with cheese rinds* and used French lentils because I love the way they keep their shape after cooking and don't go mushy. Oh, and the biggest change, rapini instead of chard… hello! I LUUUUUV me some rapini. The tasty green bitterness makes my mouth happy. And think of finishing almost any soup or stew with a squeeze of lemon as pixie dust, just a little bit o' magic to take it over the top.
*(You ARE saving your cheese rinds from your Parmesan and Pecorino, aren't you? Throw those suckers in the freezer and add them to your soups and stews!)
one glug plus 1/4 cup olive oil, divided
2 large links of Italian sausage (I used one hot and one sweet), casings removed
1 medium onion, diced (or 1/2 onion plus 1 shallot)
1 celery stalk, sliced or diced
2 medium carrots, peeled and sliced into half-moons or diced
4 cloves garlic, thinly sliced (reserve half for later in recipe)
salt and pepper to taste
1 cup French green lentils, sorted and rinsed
2 bay leaves
1 28-ounce can good quality whole tomatoes (Italian plum or San Marzano)
4 cups chicken stock, vegetable stock, or water
parmesan or other cheese rinds, if you have them
A pinch of crushed red pepper flakes (optional)
1/2 bunch of rapini, stalks separated from the leaves, everything chopped into 2″ pieces
Grated Pecorino or Parmesan cheese
1/2 fresh lemon to finish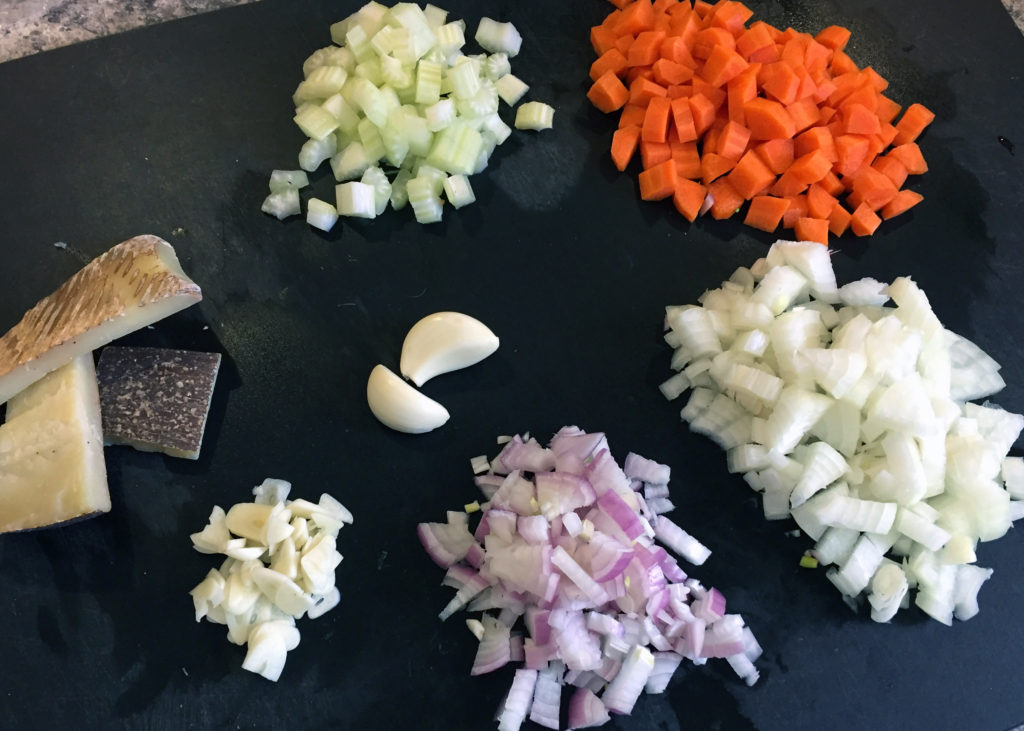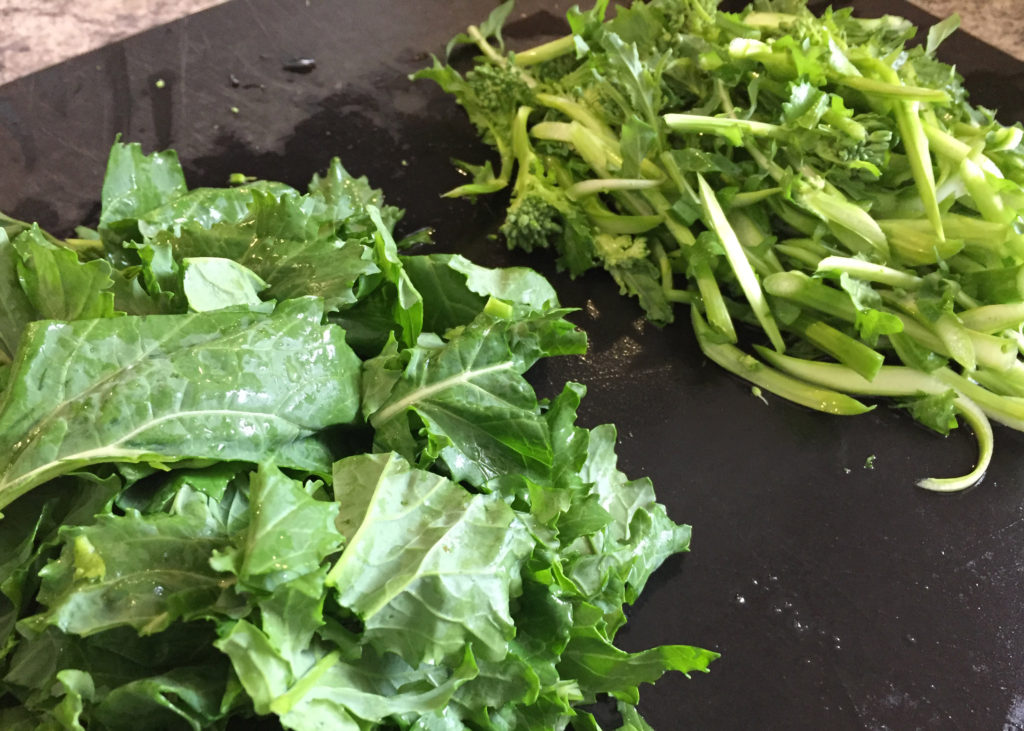 Heat a glug of olive oil in a large pot on medium heat and add sausages, breaking up until it starts to brown, about five minutes. Add the onion, celery, carrots, first two garlic cloves, and a pinch of salt. Cook until the vegetables soften a bit, another 5 minutes. Add the lentils, bay leaves, tomatoes, stock or water, cheese rinds if using, and more salt and black pepper to taste. Bring to a VERY gentle simmer and allow to cook uncovered until the lentils are tender but not mushy, about 30-40 minutes. If your soup starts to get dry or too thick, add some water.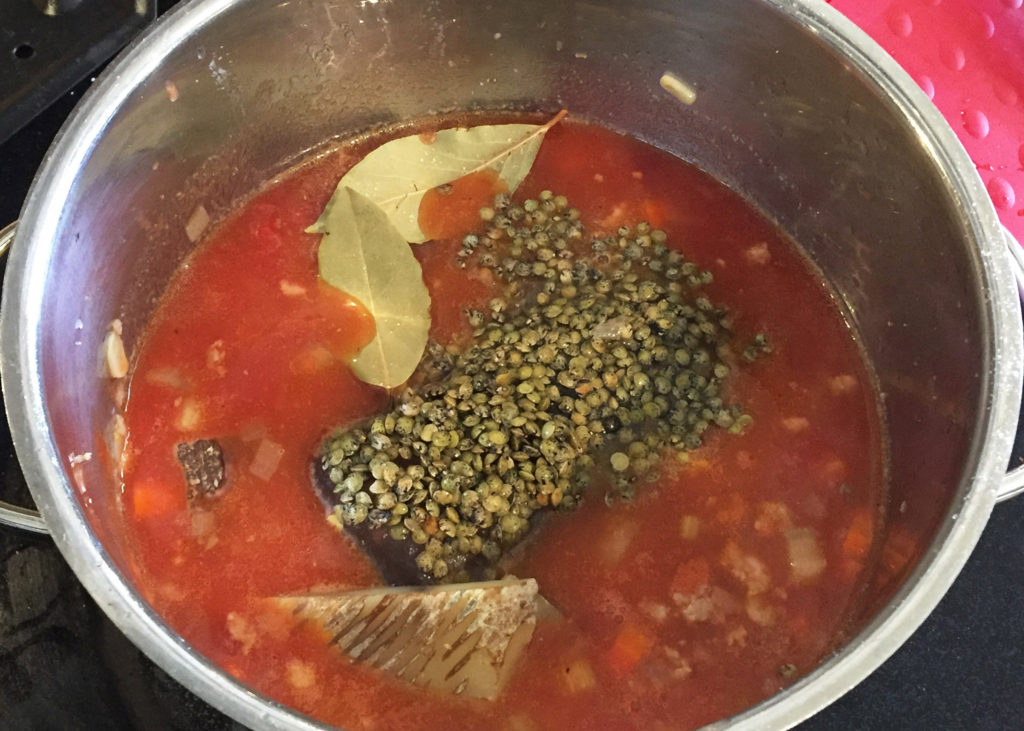 When the lentils are cooked, taste and add a pinch of red pepper flakes if you would like more spice. Add the rapini stalks and cook for 2 minutes until just tender. Add the leaves and stir until they are softened, just a minute. Discard the bay leaves and any cheese rinds that haven't melted into the stew.
To finish, put the 1/4 cup olive oil and 2 garlic cloves in a small skillet over medium heat until the garlic softens and barely starts to brown. Ladle the stew into bowls and drizzle the garlic oil over the top. Finish with a squeeze of fresh lemon and garnish with the grated cheese. I like to serve with grilled bread or toast.