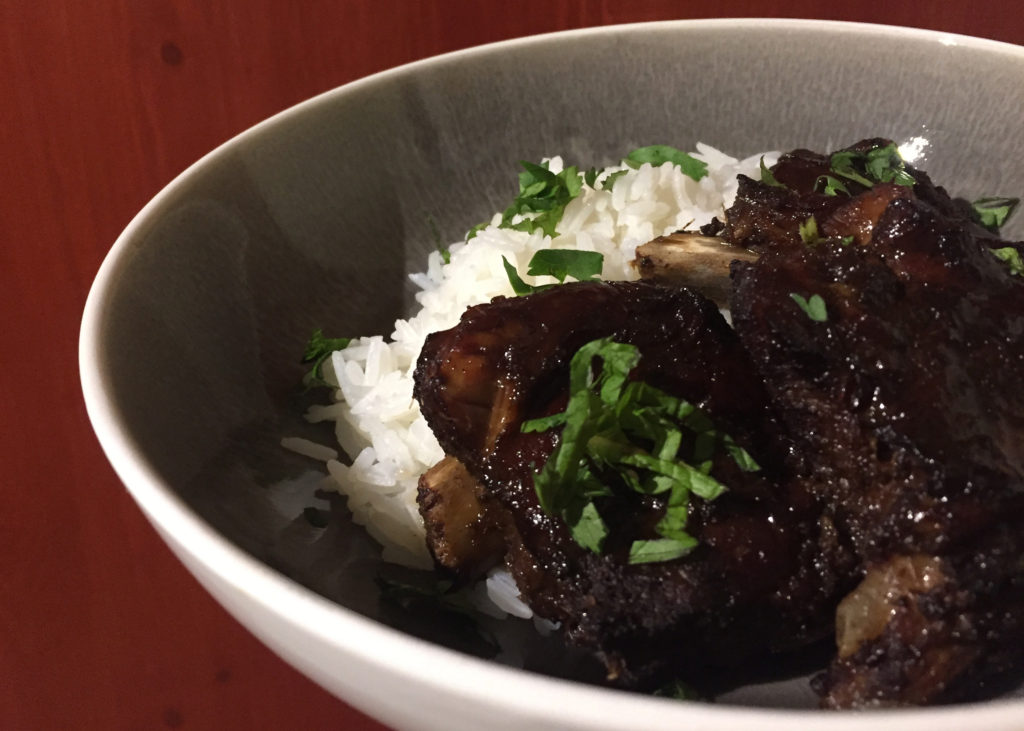 If you've been following me at all you know that I have been experimenting with my Instant Pot. I have been using it for about a year to make chicken and beef stock, cooking dried beans and legumes, and for some long-cooking vegetables such as beets. But a couple months ago I wanted to branch out, see what all the fuss was about. So I tried my first "pot in pot" meal of meatloaf, mashed potatoes, and beets (good), chili (very good), beef bourguignon (excellent! Recipe coming!), and last week, pork ribs. I was planning to do them BBQ style but made the mistake of asking Husband. "Asian!" he said. Oh for Christmas sake!
So I started researching. My original plan was do to them in the traditional Vietnamese style of making a pungent caramel and braising them in it which I have done in the oven a few times but I quickly realized the caramel sauce thing doesn't really lend itself to pressure cooking. So I checked out a bunch of other pressure cooker "Asian rib" recipes but none of them contained the flavours I was imagining… primarily soy sauce, fish sauce, ginger, garlic, and some sweetness. Then I ran across a recipe in the New York Times that had the flavours, I just needed to convert it to make in an Instant Pot.
And I'm going to reeeeeeach around and give myself a pat on the back because these ribs were delicious. I used side riblets which I can easily find at my local grocery store but if you can't find them ask your butcher to cut side ribs in half lengthwise. I love baby back ribs for smoking but I think side ribs are better for this recipe because they are meatier (and cheaper!). Husband and I ate the entire 2 1/2 pounds of ribs in one sitting. Gluttons! Double the marinade for 4 pounds (or more!) of ribs but don't double the amount of water (1 cup) when adding to the Instant Pot or you will be reducing the final sauce forever!
Ribs:
2-3 pounds pork side riblets (get your butcher to cut rib racks in half lengthwise if you can't find pre-cut riblets)
Marinade:
1 medium shallot (finely diced)
1 stalk of lemongrass, outer layer removed, finely minced or grated (I find it very easy to grate if you freeze it first)
2 TBS soy sauce
1 TBS fish sauce
1 TBS hot chili paste (I used sambal oelek)
1 tsp kosher salt
1 TBS brown sugar
1 tsp Chinese five-spice powder
3 cloves garlic, minced or grated
1 TBS fresh ginger, finely minced or grated
Garnish:
chopped fresh cilantro, mint, and green onion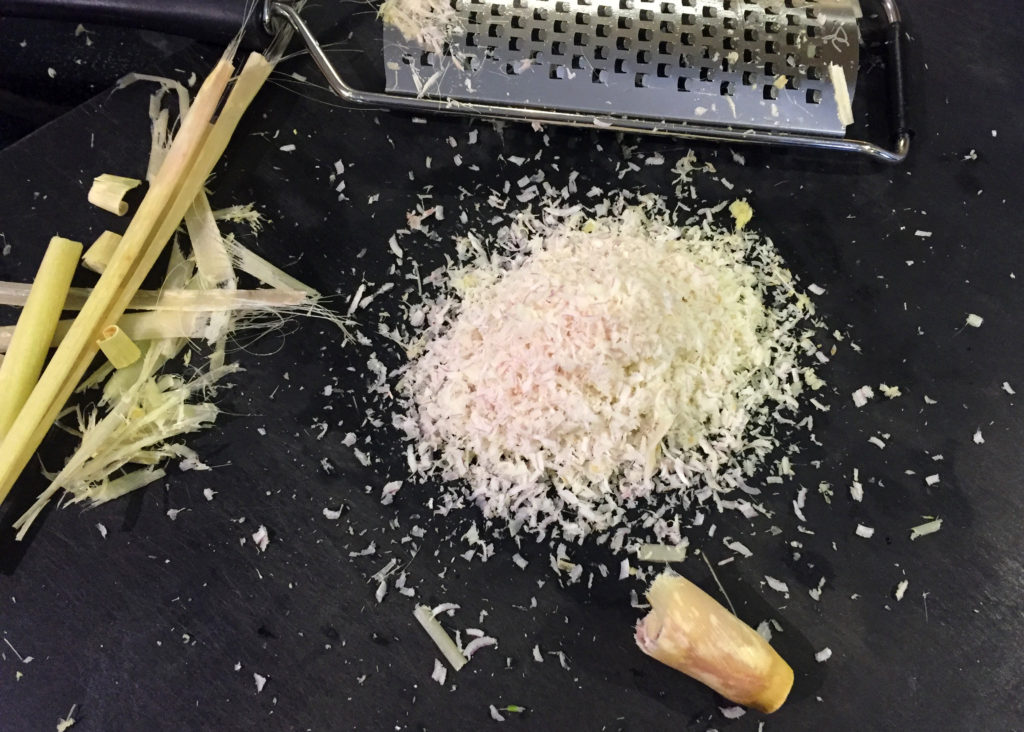 Cut riblets into 2-bone portions and place in large ziplock freezer bag. Combine all marinade ingredients in a bowl and pour over ribs. Seal the bag and marinate overnight in the fridge or at least 4 hours.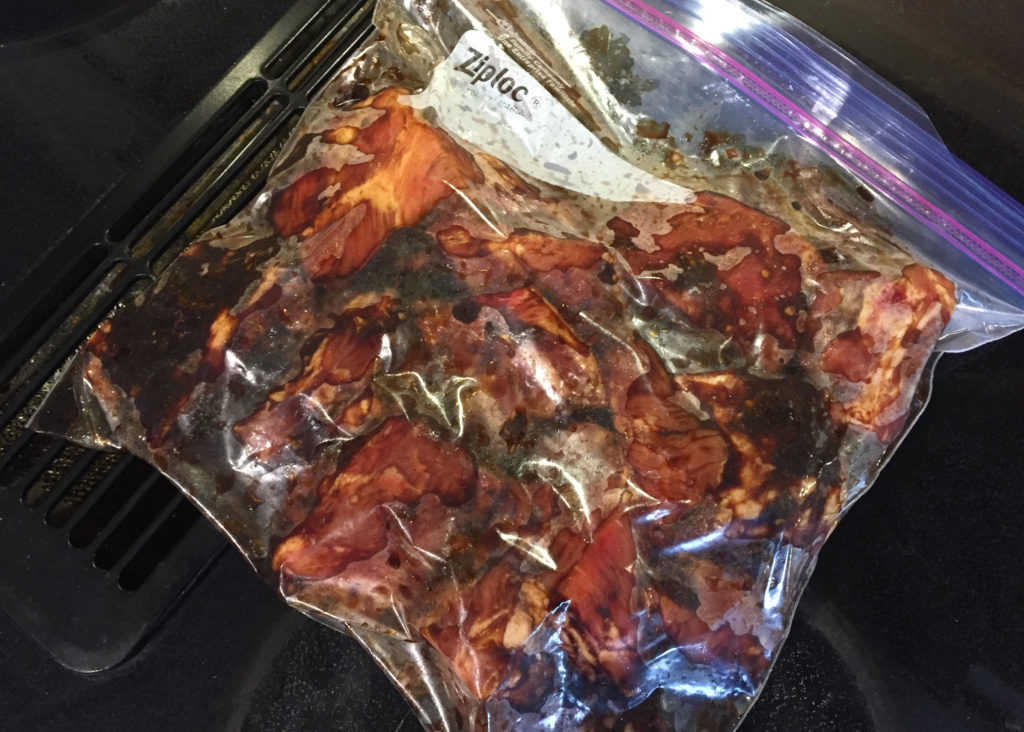 When ready to cook, empty the contents of the freezer bag (ribs and marinade) into the Instant Pot. Pour in one cup of water along the side of the pot so you don't wash the marinade off the ribs. Seal the pot and pressure cook using the manual button on high for 25 minutes. If using baby back ribs or if you prefer a bit of chew rather than falling off the bone, 20 minutes should be fine. When finished, let the pressure naturally release (this should take about 15 minutes).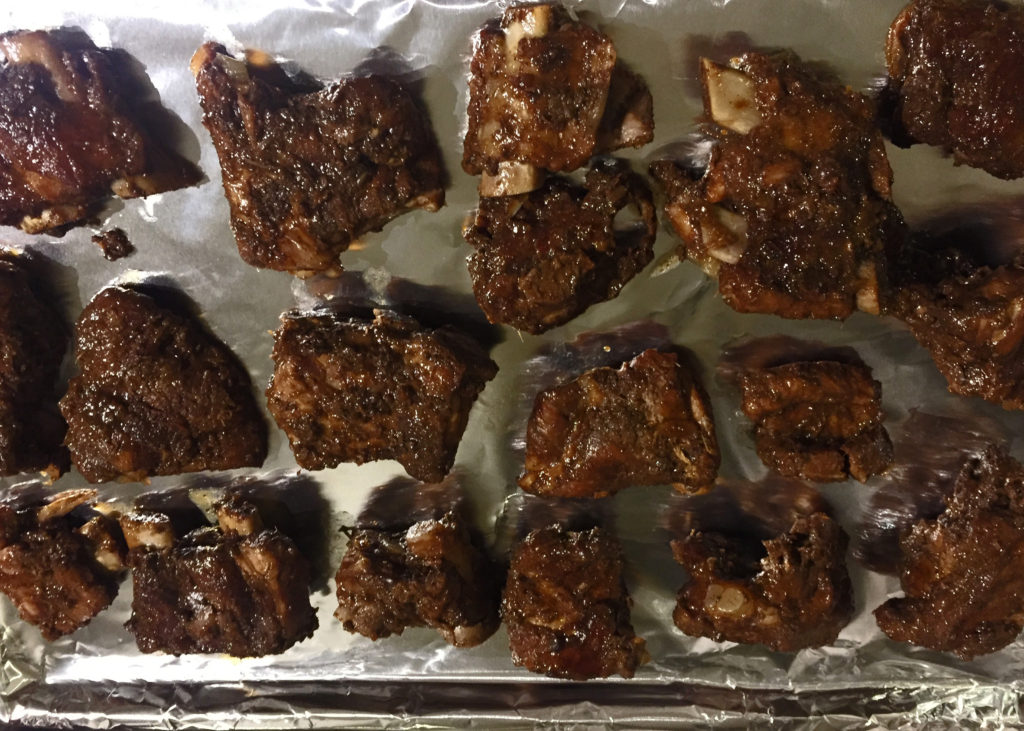 Preheat oven to 400F.
Once the pressure has been released, open pot and use tongs to remove ribs to cookie sheet lined with tinfoil. Cover to keep warm. At this point I like to pour the marinade and pork drippings into a large measuring cup and let sit for a few minutes so I can skim off most of the fat. Return liquid to Instant Pot and turn on saute. Heat to a vigorous simmer to reduce liquid to approximately half the volume. I had 2 cups of drippings and it took about 15 minutes to reduce to 3/4 of a cup. Using a pastry brush, generously brush ribs with reduced marinade. Place in hot oven, uncovered, until nicely browned and caramelized, about 15 minutes.
Drizzle with remaining sauce and garnish with chopped herbs. I served with Jasmine rice.