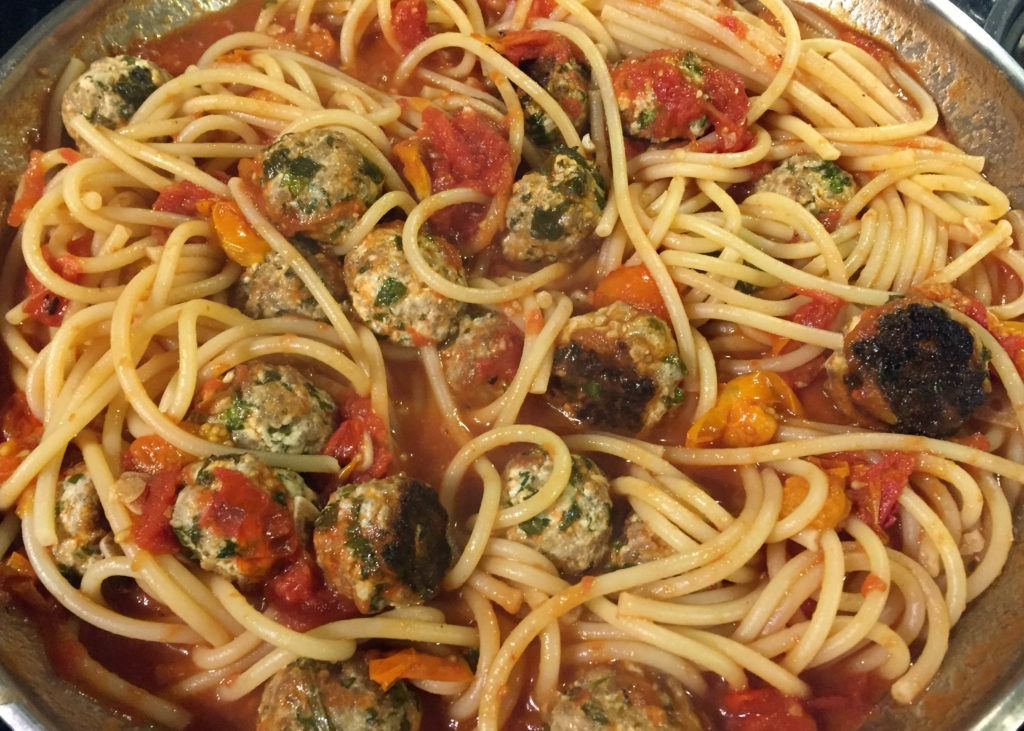 I love any pasta you put in front of me but rarely eat it because, carbs (insert sad face here). However, we have had an unusual amount of snow in the past couple days and I still went for a pretty lengthy walk, slipping and stumbling over the icy, uneven ground, and that deserves a treat. And if I'm going to indulge, this is great way to do it. It is delicious and not too unhealthy (no cream!). Adding ricotta to the meat helps keep it tender and the copious amount of herbs give a flavour and freshness that you don't usually find in a meatball. I used my lovely frozen confit tomatoes but good quality canned tomatoes (San Marzano if you can find them) work just as well. Don't use ones that are pre-diced. They contain an additive to help them keep their shape and who wants to eat that?!
This recipe is based on one by Julia Turshen from her new cookbook Small Victories, with a few tweaks, of course. You could use ground chicken or turkey as suggested in the original recipe to make it even healthier but I would use dark meat otherwise the meatballs would be very dry.
For the sauce:
1 28 oz can good quality whole tomatoes
glug olive oil
2 cloves garlic, thinly sliced
2 sprigs fresh basil
large pinch of salt
pinch of sugar (optional)
For the meatballs:
1 pound ground pork
1 cup of chopped fresh herbs (I used basil and Italian parsley but oregano and cilantro would be good as well)
3/4 cup ricotta
1/4 cup grated parmesan
2 cloves garlic, minced
tsp salt and a few grinds of fresh pepper
Drizzle of olive oil
To finish:
350 grams bucatini or spaghetti
more grated parmesan or pecorino
To make the sauce:
Heat a glug of olive oil in a large skillet, add thinly sliced garlic and fry for just a minute. Add tomatoes, a couple sprigs of fresh basil, and a good pinch of salt. Let simmer for 10 minutes or so and taste. Add a pinch of sugar if needed and set aside until you are ready to add your meatballs.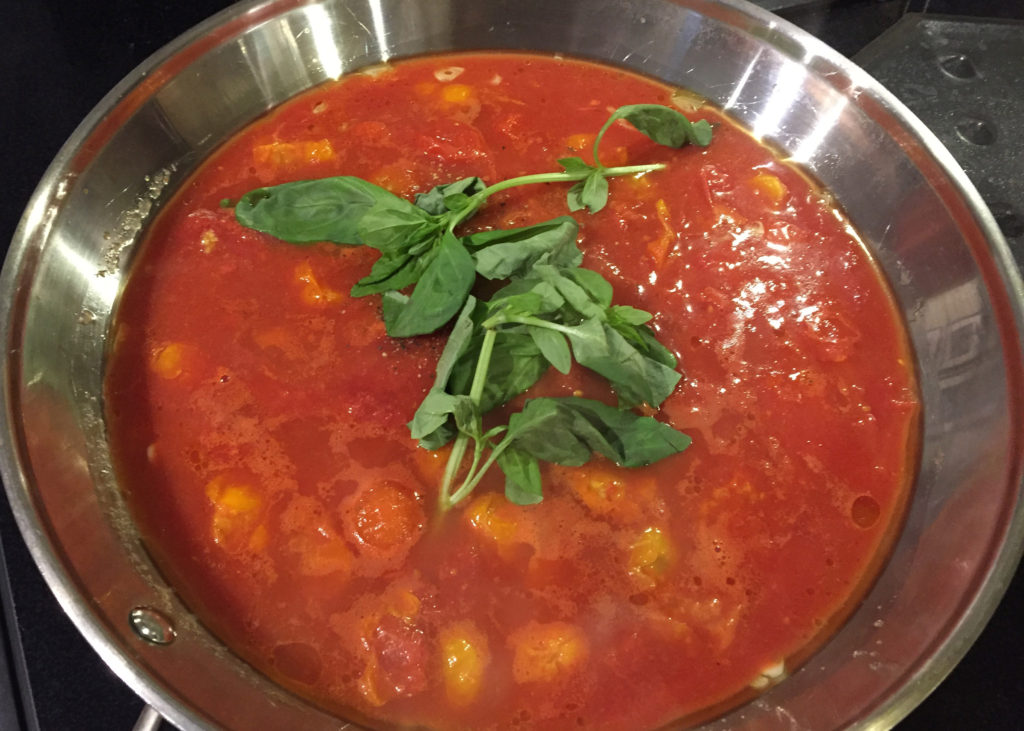 To make the meatballs:
Preheat oven to 400F.
Add the pork, garlic, fresh herbs, ricotta, grated parmesan, and salt and pepper to a large bowl and gently mix with a fork or your hands until combined. Make golf ball size meatballs (I used a 30 gram measuring spoon which was the perfect size) and place on a baking sheet that has been lined with aluminum foil and sprayed or wiped with oil. Drizzle the top of the meatballs with olive oil and bake for 25 minutes, or until meatballs have cooked through. Remove from oven and add the meatballs to your skillet with the tomato sauce, discarding the tinfoil and fat drippings. The sauce should still be a bit watery at this stage as you are going to finish cooking your pasta in it.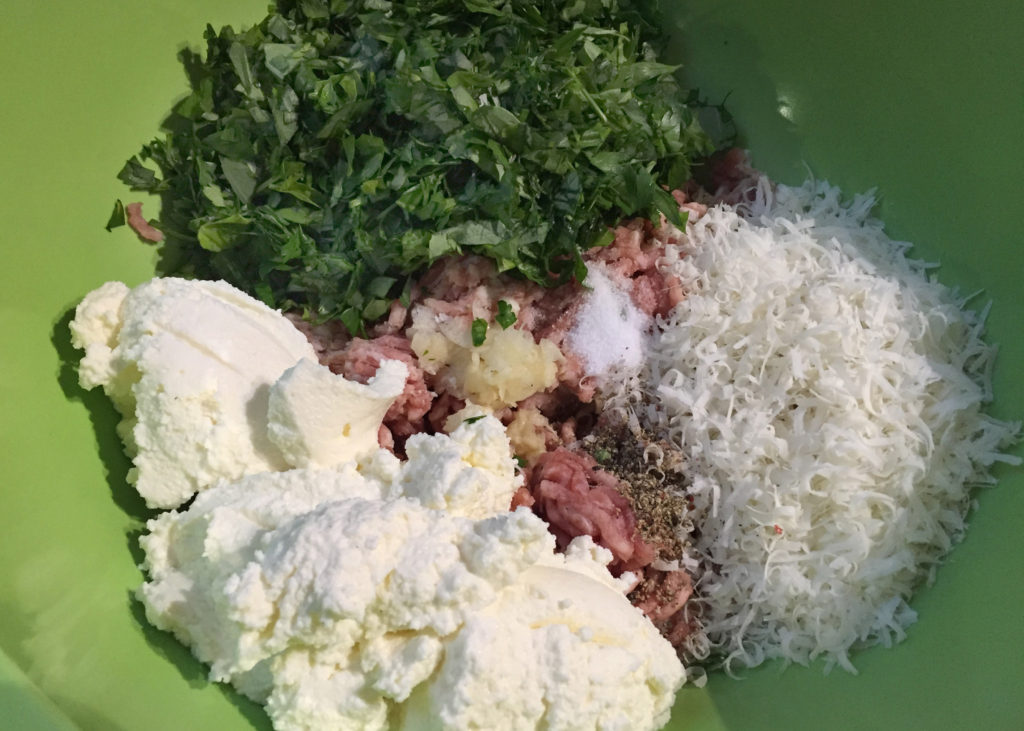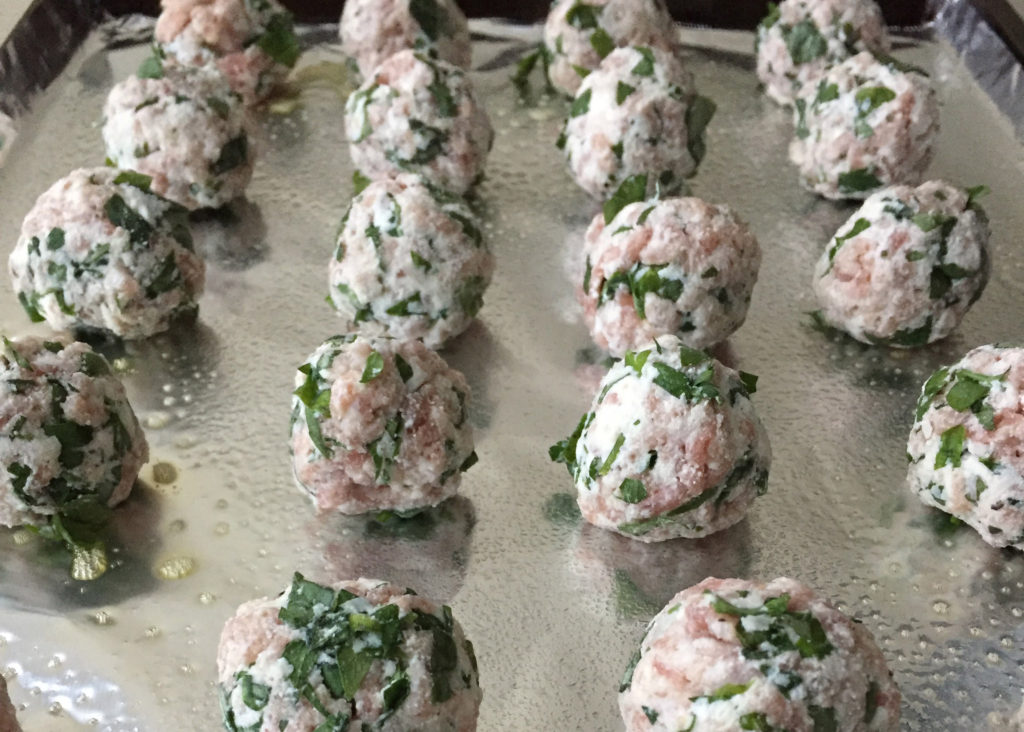 Your dinner prep can be held at this point for an hour or so. When you are ready, reheat the sauce over a medium flame and keep at a gentle simmer. Boil bucatini or spaghetti until *almost* al dente, about 3 or 4 minutes from being done. The pasta should bend easily but still have some firmness. When it reaches this stage, lift from the pot with tongs and add to the sauce. Stir and let simmer a few minutes until the pasta has reached desired doneness and meatballs are heated through. If the sauce gets too thick, add a ladle of the pasta water.
Serve in individual bowls with an additional grating of parmesan or pecorino. We enjoyed this alongside a salad of arugula and pomegranate arils with a very zesty dressing which was perfect with the heavier pasta.