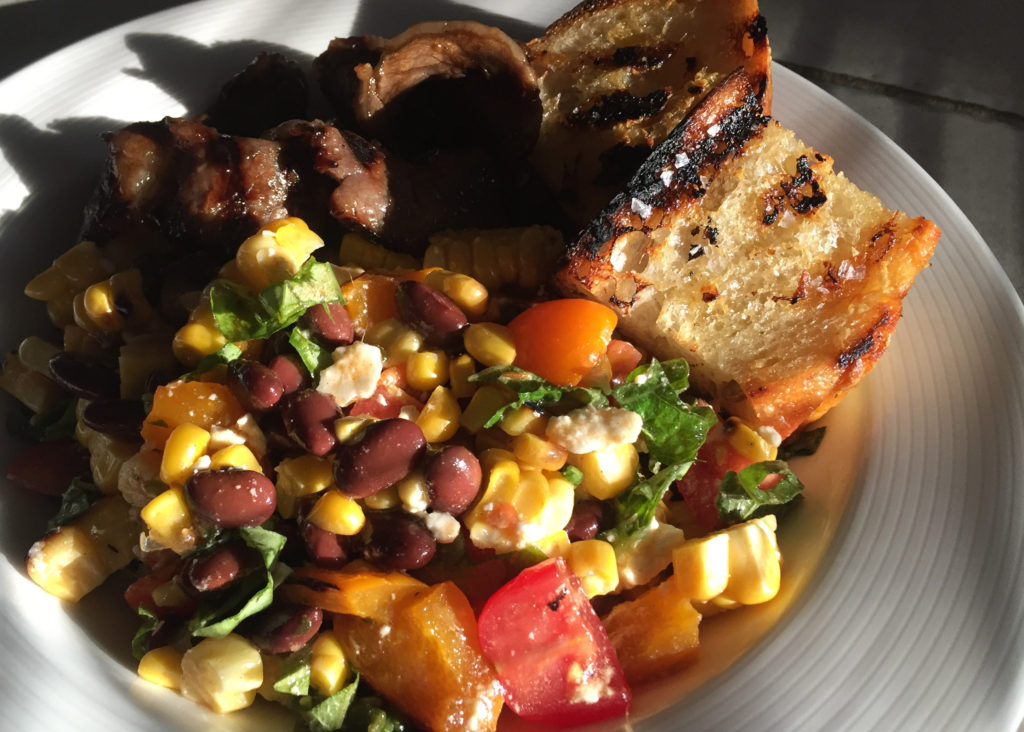 Me: Are you getting full?
Husband: (somewhat defensively) There's a lot of nutritional value in this!
I really wasn't dissing him for having to take a break from eating! There IS a lot of nutritional value in this salad (in other words, it's pretty filling)! Even better, there are bucketloads of flavour… BUCKET! LOADS! I have been doing various riffs on this for a couple years and I think I finally nailed it. In past attempts I have used avocado, cucumber, green onion and probably a few other things I can't remember. You can add what you want but I think this version is pretty amazing. (Although I noticed at the market last weekend that peaches are perfectly in season so one day very soon I might try omitting the honey from the dressing and adding diced peaches for the sweetness… anyone?!)
Now I get to pass along one of my first culinary tips to you. Generally in a single dish you want everything to be of similar size. There are exceptions to this, of course, but most of the time the dish is more visually appealing and easier to eat if everything is a similar size. In this salad, we can't change the size of the corn or the beans so we are cutting everything else quite small. This is why the cherry or grape tomatoes are quartered, and gives you a guideline of how small to dice the peppers.
And finally (note to Husband), you really don't have to finish the entire dish just because it's there. This recipe should feed 4-6 people and leftovers will keep very well in the fridge for a day or two. Just sayin'!
Salad:
3 cobs corn, shucked
1 yellow bell pepper, quartered and seeded
1 jalapeño or other medium spiced pepper
glug of olive oil for grilling
1 can black beans, rinsed and drained
1 pint cherry or grape tomatoes, quartered
2 ounces crumbled feta
handful of chopped fresh herbs of your choice (I used basil and shiso leaf)
Dressing:
2 TBS fresh lime juice
1 tsp honey
1/2 tsp dijon mustard
1/2 tsp smoked paprika
1/2 tsp ground cumin
3 TBS good fruity olive oil
salt and pepper to taste
Heat BBQ grill to high. Rub corn, bell pepper and jalapeño with a glug of olive oil and sprinkle with a bit of salt. Grill corn, turning every couple minutes, until just starting to char. Cook peppers, skin side down (grill jalapeño whole), until skin is blackened. Remove from grill and let cool. Cut corn kernels from cobs with a sharp knife. Remove skin from peppers (seed jalapeño pepper) and cut into smallish dice. Add all salad ingredients to a large bowl.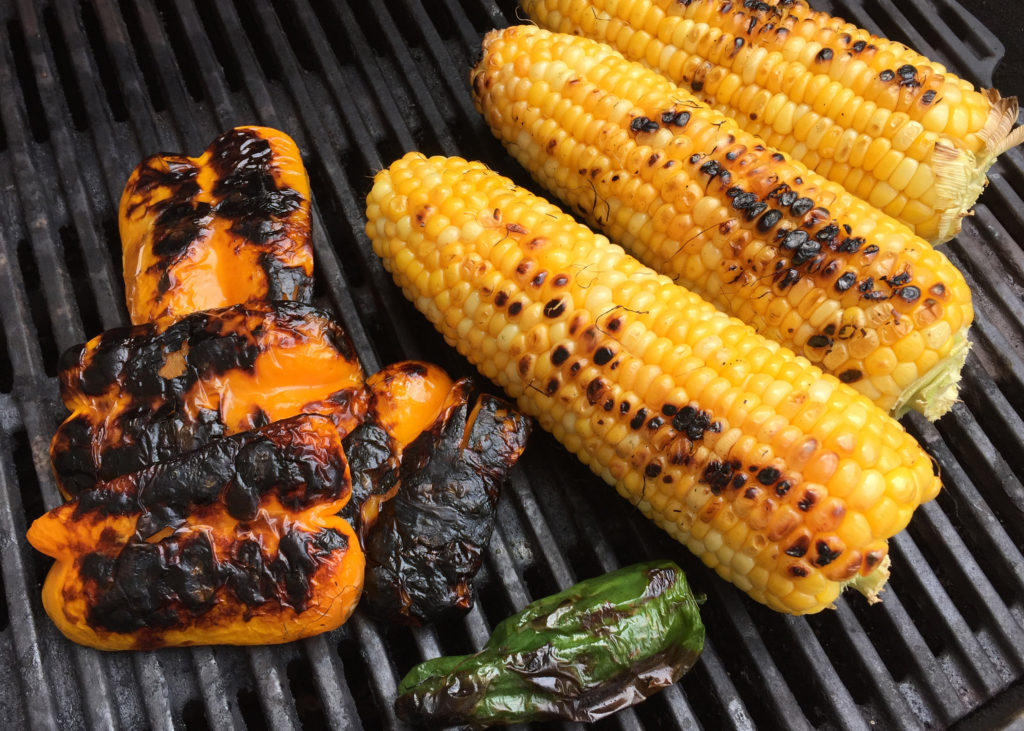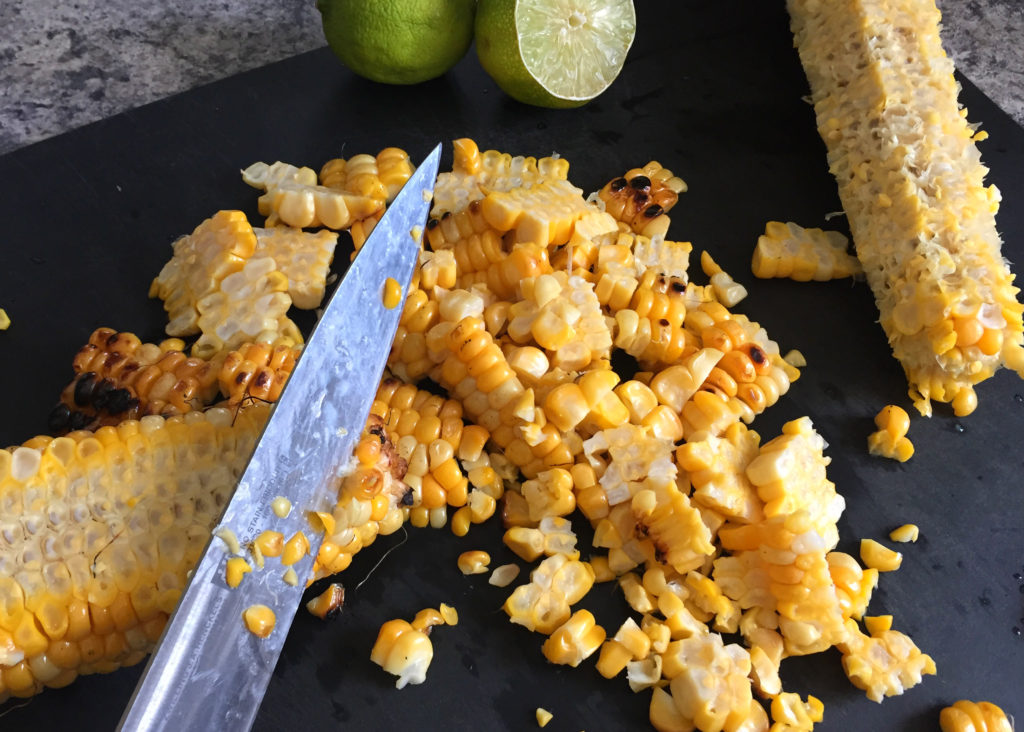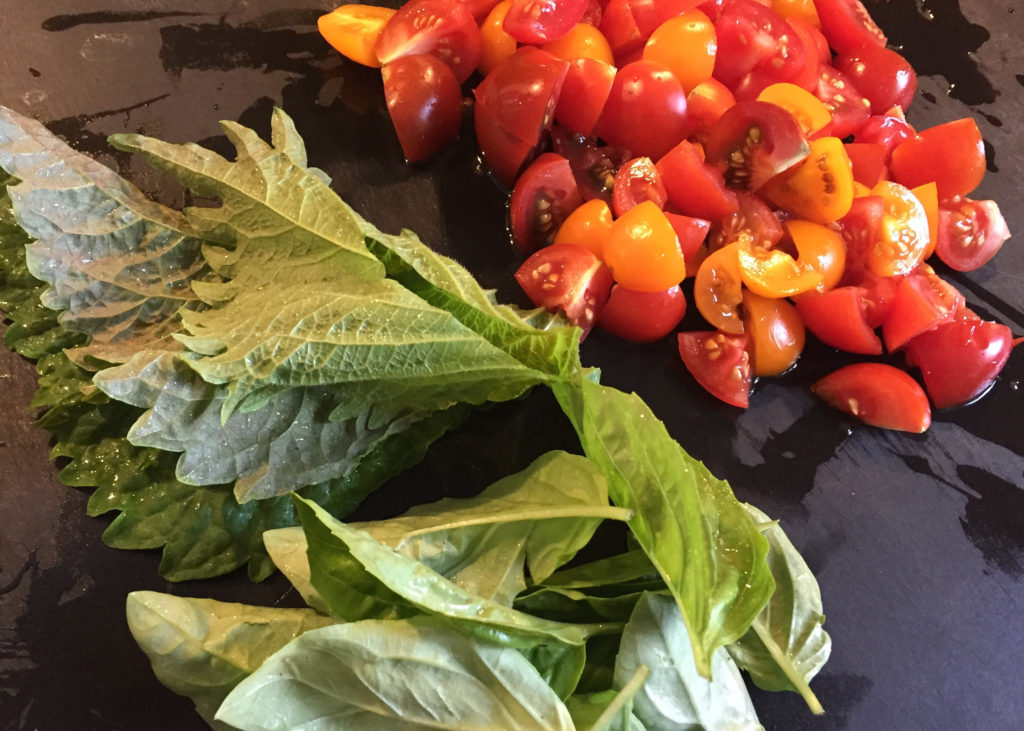 Add the first 5 dressing ingredients to a bowl. Slowly whisk in olive oil. Dressing will be a bit thin, this is ok. Add a pinch of salt and pepper. Taste and adjust seasoning to your liking. Pour over salad and gently stir.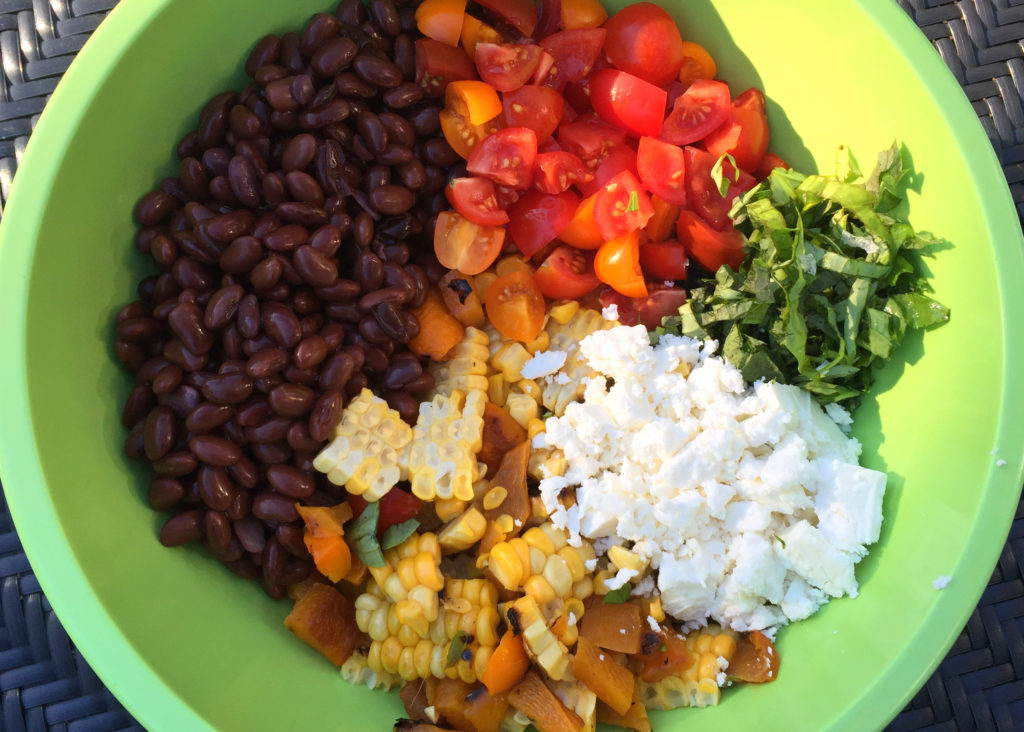 I served this with Korean beef kalbi and grilled bread. The great thing is you don't need to serve much meat, if any. A few grilled prawns thrown on the side would also be perfect. The salad is so filling that you should consider it the main portion of your meal… the rest is just garnish.