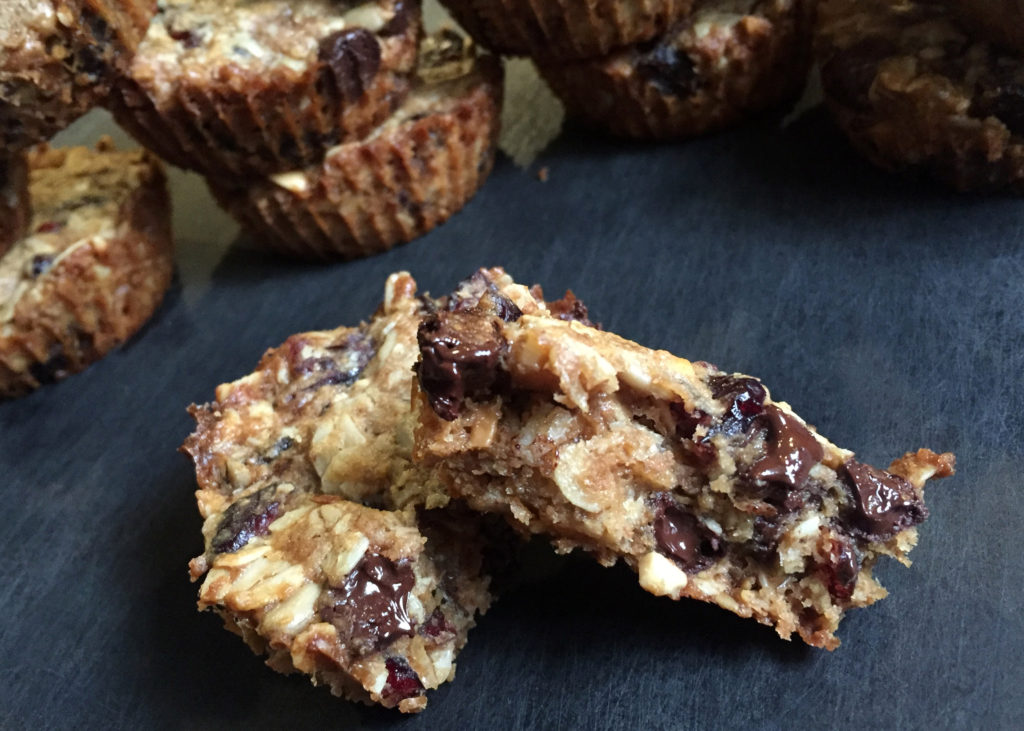 I started experimenting with granola bars because Husband needed a better snack on his long bike rides instead of just drinking nutritional gels (ewwwww) and I have learned a few things along the way. I learned that using small-sized muffin or cupcake tins make much better "bars" than baking the bar whole and then trying to slice it. I learned that you have to press the mixture down hard in the tin so when it bakes the ingredients really stick together and the bar doesn't fall apart when you take a bite. And I learned that adding some bittersweet chocolate chips just makes everything, well… you know.
These are dense, chewy bars, not the light and crispy kind. The ingredients are very adaptable, use any dried fruit or nuts that you wish. As well, there are a few optional ingredients. One thing that I do recommend is using brown rice syrup as it seems to really help these babies stick together. It's quite common now as a healthy alternative sweetener as it contains no fructose, but corn syrup also works. I also use silicone muffin liners. I haven't tried paper but I don't see any reason why they wouldn't work.
This recipe, with the optional chocolate chips, makes 12×50-gram bars (11 bars without the chocolate chips), perfect for good a snack!
1/2 cup plus 1/3 cup quick rolled oats (if you only have large flake oats just pulse them a couple times in a food processor)
5 TBS whole wheat flour
1/4 cup lightly packed brown sugar
1/4 tsp salt
1/4 tsp ground ginger (or cinnamon or cardamom)
3/4 cup dried fruit, small dice (I used cranberries and pineapple)
3/4 cup chopped nuts (I used walnuts and sunflower seeds)
1 TBS ground or whole flax seed (optional)
1/4 cup bittersweet chocolate chips (optional but highly recommended)
5 TBS peanut butter (smooth or chunky)
1/2 tsp vanilla
2 TBS coconut oil
3 TBS maple syrup
2 TBS brown rice syrup (or corn syrup)
couple drops of orange oil (optional)
Preheat oven to 350F.
Dry ingredients: Measure the first 5 ingredients into a large bowl. Mix well making sure any clumps of brown sugar are broken up. Add dried fruit, nuts, and flax seed and chocolate chips if using. Toss well so that everything is well coated with the flour.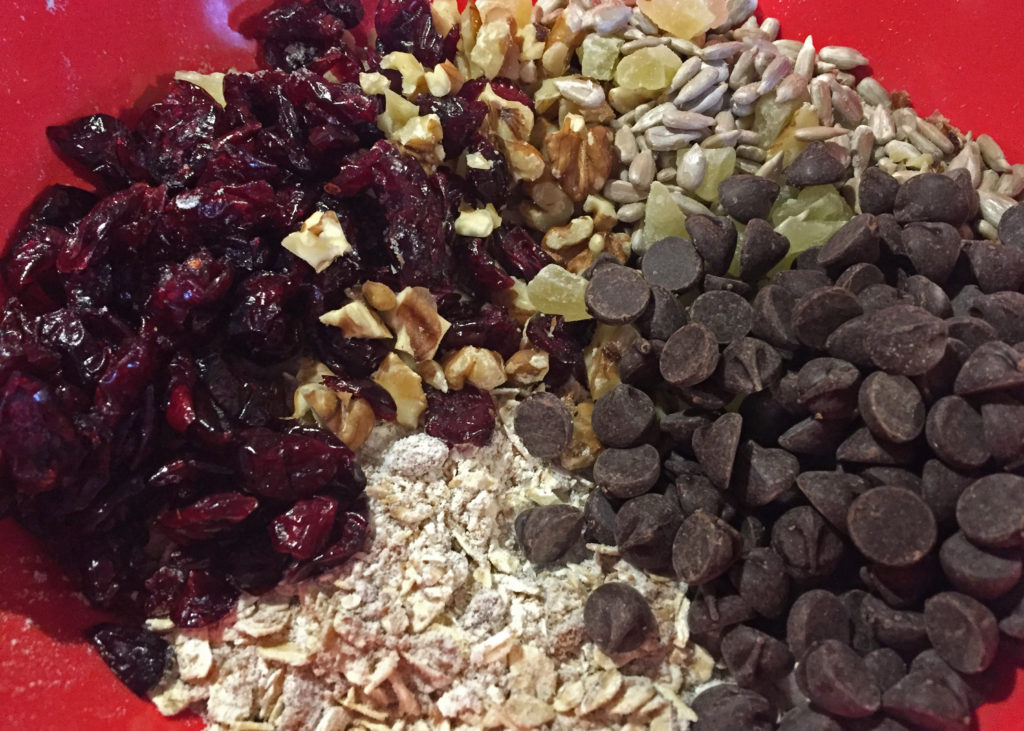 Wet ingredients: In a separate bowl, add the 6 wet ingredients and mix well.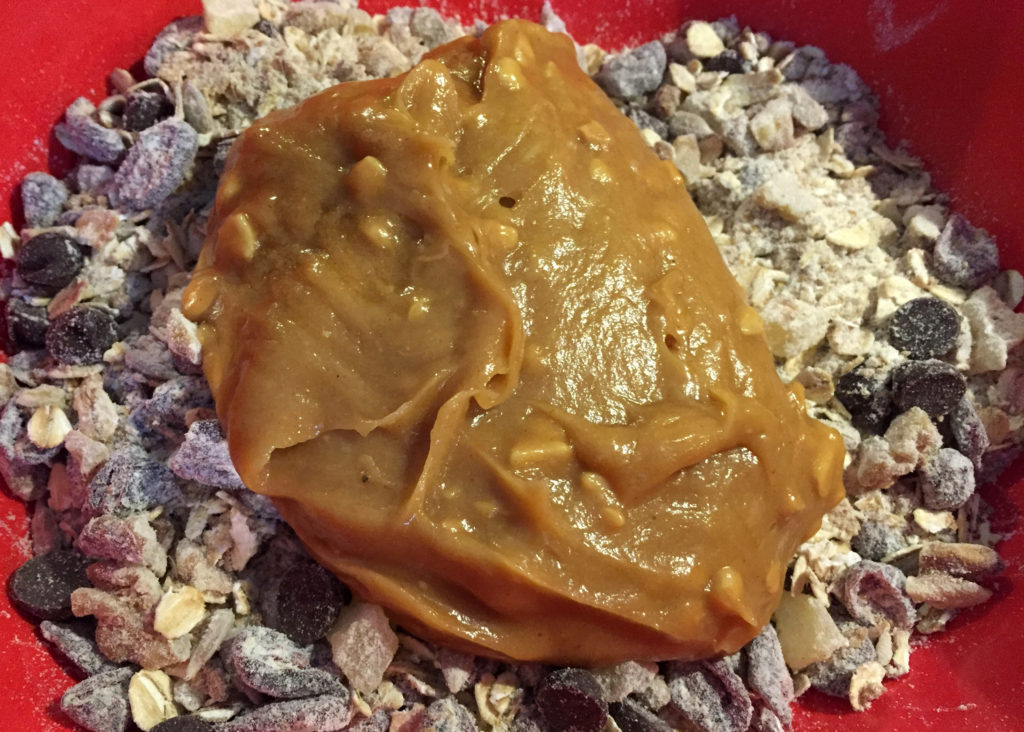 Tip the wet ingredients into the dry ingredients and mix well with a fork. Measure 1/4 cup of mixture into each muffin tin lined with silicone (or paper) liners, pressing down so that the batter is compact.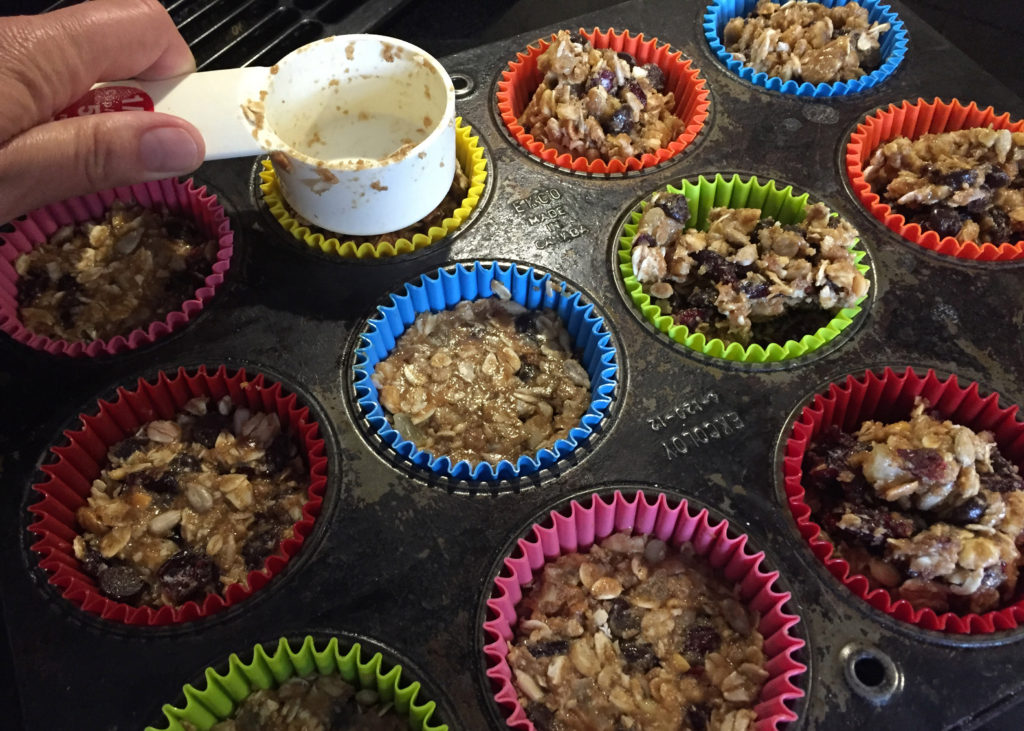 I baked mine for 21 minutes because the "0" (zero) doesn't work on my oven timer, but you can bake yours for 20 ;). Leave to cool in the tin for 10 minutes before removing. Can be stored a few days in an air-tight container on your counter. They also freeze very well!