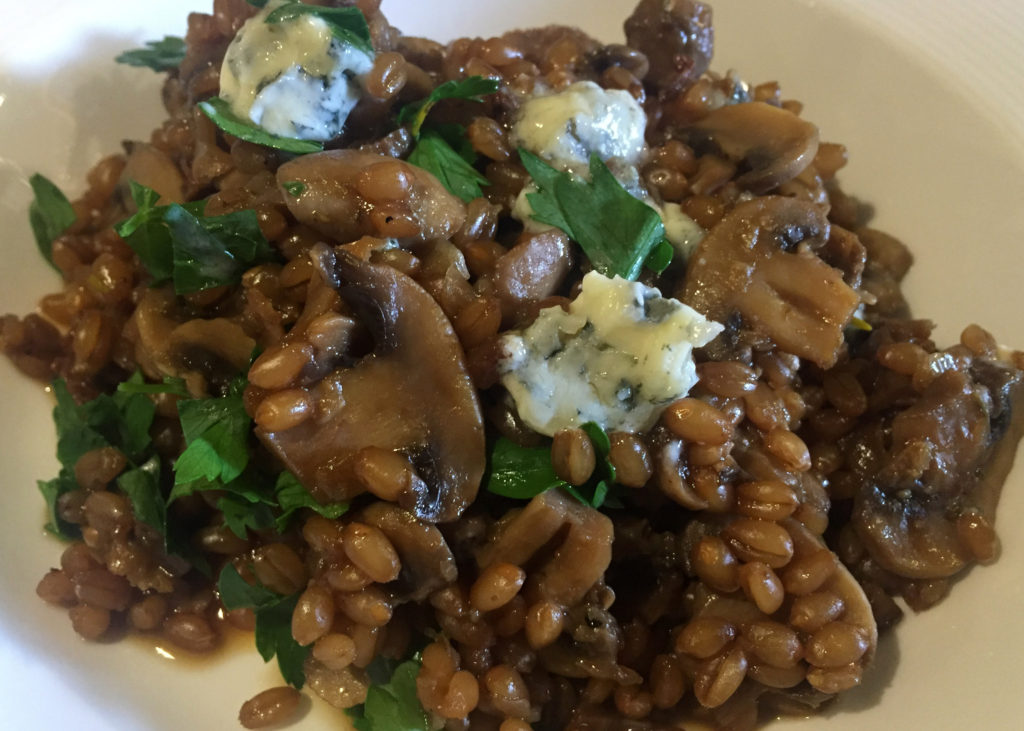 Let's be honest – this is not risotto. And let's be even more honest – I would probably not be eating a lot of wheatberries if they weren't healthy. I don't mind them once in a while, but they do not impart the same starchy creaminess that you find in real risotto. However, I have to admit that married with the earthy, silky loveliness of braised mushrooms and then amped up with blue cheese, you can't help but fall a teeny little bit "in like", if not love. They also have a satisfying chewiness that makes me feel like I'm eating more than just "healthy". And bonus, Husband really enjoyed this (albeit 2 hours late and at room temperature) and that's always a plus for me!
I have noted in the recipe to sauté the veggies in olive oil but if you're anything like me, you will have that glass jar in the refrigerator which you are constantly topping up with drippings from bacon, fat from slow roasting pork, and what's left in the pan after frying sausages, etc. Use it! Pork fat is all about flavour and, after all, everything else about this dish is pretty healthy.
I also used a cup of beef stock to deepen the flavour but feel free to use all poultry stock or make it vegetarian by using all vegetable stock. Whatever floats your boat! :)
½ ounce (1/2 cup, approximately) dried mushrooms (porcini or a mix)
1 1/4 cup boiling water
2 cups chicken, turkey or vegetable stock
1 cup beef stock (or another cup of poultry or vegetable stock)
1 tsp salt
1 cup uncooked wheat berries
2 tablespoons olive oil (or other fat)
1 medium finely chopped onion (approximately 1 generous cup)
12 ounces white or brown mushrooms cleaned, trimmed and sliced
2 large garlic cloves, minced
2 teaspoons chopped fresh rosemary (or other herb like sage or thyme)
1/3 cup dry white wine
salt and pepper to taste
2 ounces of your favourite blue cheese
handful of chopped fresh parsley
To speed up the cooking process you can soak the wheatberries in a bowl covered with hot tap water for 4 hours or overnight.
Put dried mushrooms in a bowl or measuring cup and cover with 1 1/4 cups of boiling water and let sit. Agitate the mushrooms at around 15 minutes to loosen any grit. After 30 minutes remove and finely chop mushrooms. Strain liquid to remove any grit. You should have 1 cup.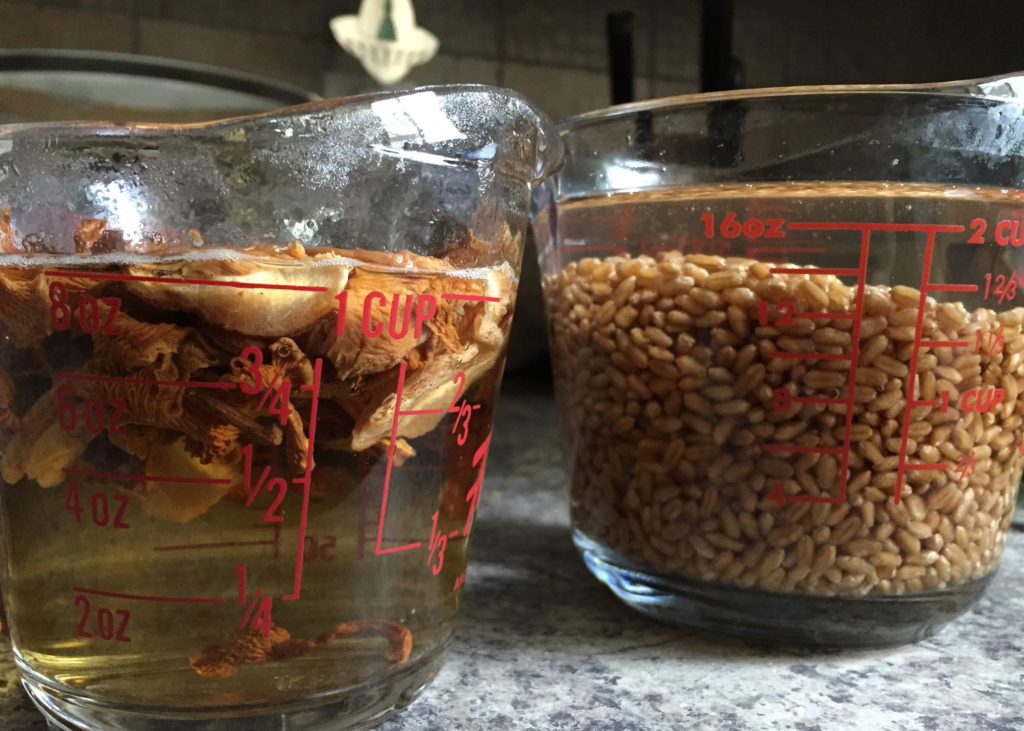 Put all stock in a saucepan (chicken, beef, and mushroom broth) and bring to simmer. Add 1 teaspoon of salt.
Heat the olive oil or other fat in a large skillet. Add the onions and cook, stirring, until they begin to sweat and soften (about 3 minutes). Add the fresh mushrooms and continue to cook until they soften (about 5 minutes). Add a pinch of salt, the garlic and rosemary and continue to cook, stirring occasionally, until the mushrooms start to brown (about 5 more minutes).
Add the wheatberries and reconstituted mushrooms. Stir in the wine and cook until most of the liquid as been absorbed, scraping the bottom of the skillet to remove any brown bits. Add 3 cups of the heated stock to the pan. Cover and maintain at a low simmer for 60-90 minutes. The timing will depend on your wheatberries. At the 60 minute mark check every 10 minutes or so until the wheatberries have reach desired doneness (ok, that may not be a real word but I'm using it anyway), adding more of the reserved stock if necessary to keep the dish from drying out.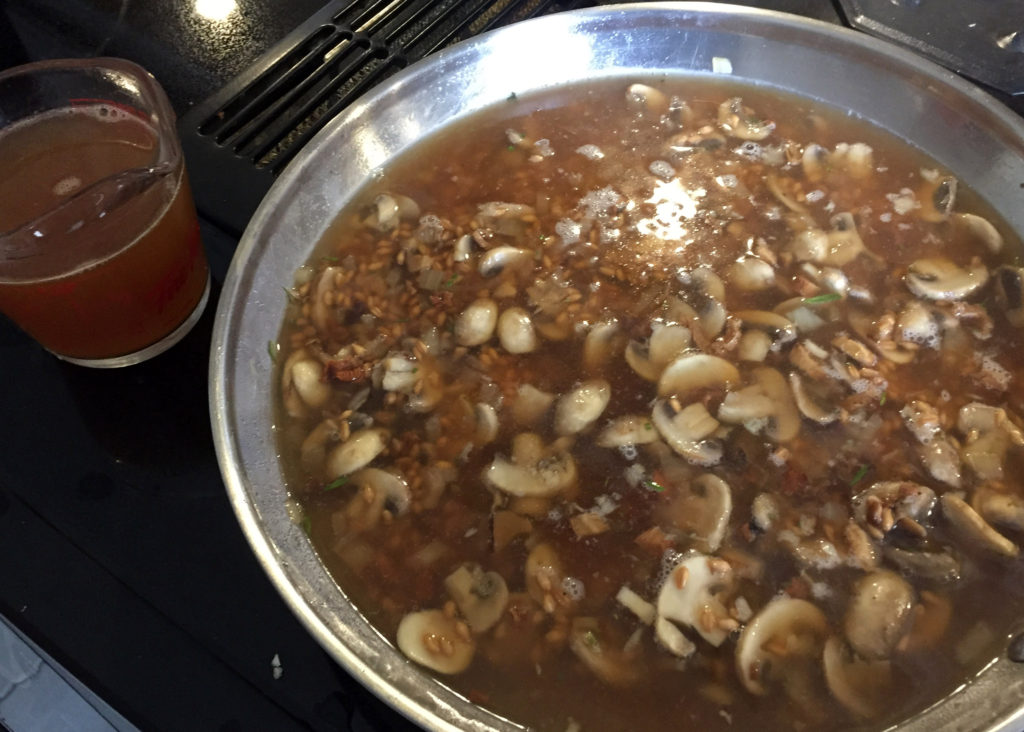 When the wheatberries are done to your liking, taste and re-season with salt and pepper (remember you will be adding more blue cheese to don't go crazy with the salt). Stir in the chopped parsley. Remove from heat, crumble blue cheese over the pan and top with the rest of the parsley. Serve and enjoy.