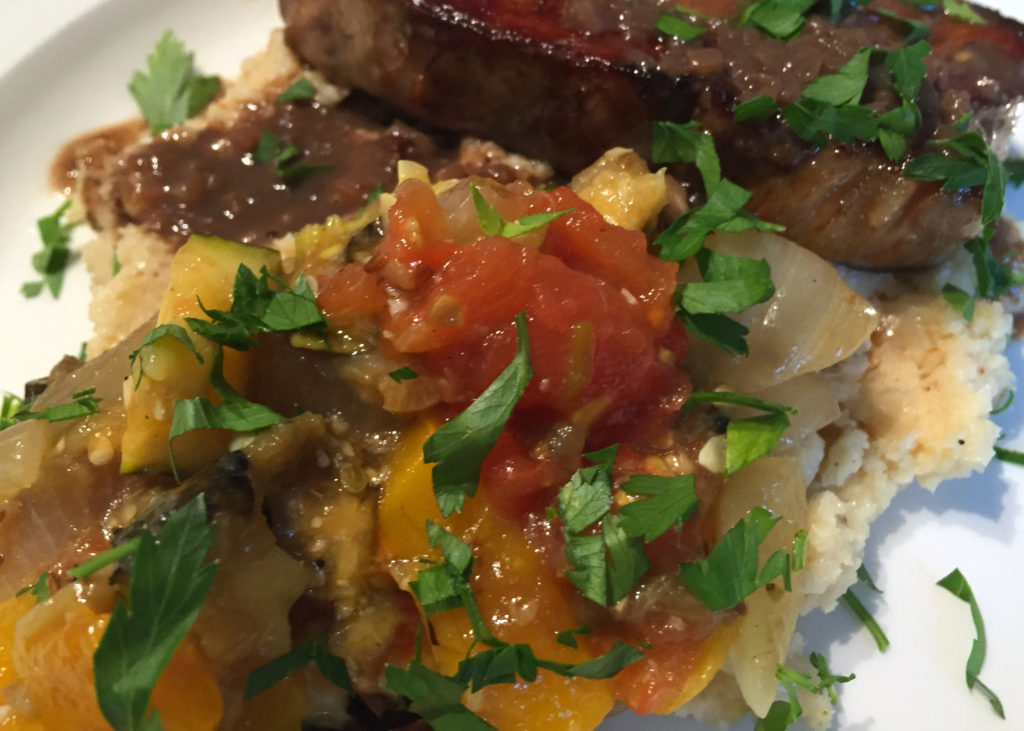 This is my first post in a while… I've been busy! I just finished a 2-month culinary master program. It was soooo much fun; hard work, but FUN! I met so many wonderful people and learned a bunch of new skills (what exactly is a leidenfrost pan and why do you need to know?). I also gleaned a number of new tips and tricks (got fresh herbs?… chop that <bleep> up and throw that <bleep> on everything!). I hope to bump up my cooking a notch and pass along some of my new-found knowledge to you. Stay tuned :)
Yesterday was farmers' market day and I was inspired to try this "salad" when I saw Ottolenghi's version of it published in The Guardian here. I added zucchini (who doesn't need to get rid of a few of those at this time of year) and made an entirely different dressing by using some roasted garlic and adding traditional Tunisian spices. The entire thing was a lovely, silky mess of vegetables with a light, mild dressing which accentuated the natural smoky flavours without overpowering.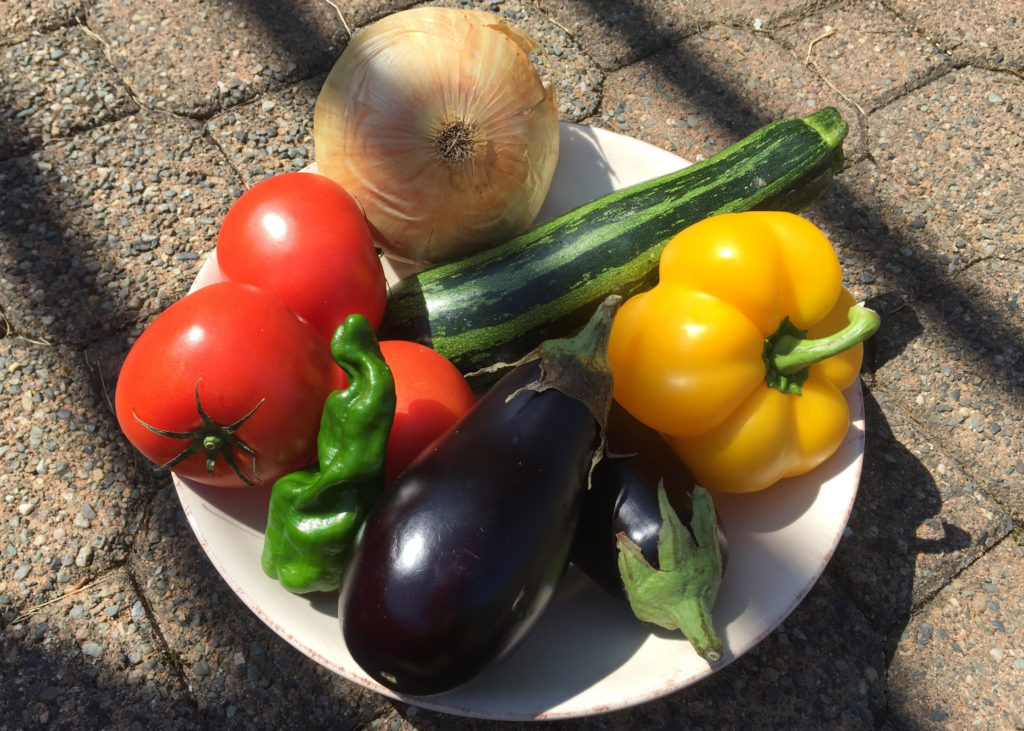 I started my veggies cut side down on the hot BBQ to get some tasty charring. After a few minutes I turned the heat down to medium and flipped the veggies to skin side down to cook through more slowly. You want to cook the vegetables for this dish until they are well done. Many grilled salads you might want the vegetables tender-crisp… not here! These vegetables should be soft enough to melt together into smoky delightfulness.
I am a little bit vague in the EXACT size of vegetables as the amounts can and should be adjusted to your taste. I like tomatoes so I used larger ones. I'm not so hot on zucchini so I used a smaller one. Feel free to omit anything you don't like and you could add other vegetables as well. I might try some grilled leeks next time and I think slices of squash would also be delicious. And a pinch of smoked paprika in the dressing would definitely not go amiss.
Roasted vegetables:
2 small or 1 large eggplant
1 sweet white onion or red onion
1 yellow pepper
3 tomatoes
1 zucchini
1 jalapeño (or similar medium spiced pepper)
2 garlic cloves (these will be smashed and used in the dressing)
Dressing:
1 garlic clove, minced
1/2 tsp coriander seed, ground
1/2 tsp caraway seeds, ground
2 TBS good quality, fruity olive oil
1 TBS lemon juice
1 tsp sherry vinegar
1 tsp honey
salt and pepper to taste
Garnish:
chopped parsley, basil, cilantro, or mint in any amount you like
Preheat BBQ on high heat.
Leave all vegetables unpeeled. Cut everything in half lengthwise except garlic cloves. Onion should be cut in half around the circumference for even cooking and to keep it together. Place vegetables cut side down on the hot grill and cook for 5 minutes until grill marks appear. Flip the vegetables to the skin side down and lower the heat on the BBQ to medium. Continue to cook, removing the vegetables as they reach the well done stage. My tomatoes and hot pepper were finished with an additional 15 minutes on the grill, the rest took about 30 minutes. The eggplant and peppers should be placed on the hottest part of the grill to char the skin black for flavour and easy peeling, the zucchini on the coolest part of the grill to cook through slowly but not burn the skin as you won't be peeling it. Let vegetables cool to room temperature.
Once cooled, peel and discard the charred skins from all the vegetables except the zucchini, and seed the peppers. Roughly chop all the vegetables (except garlic) and place in a large bowl. Let sit for 1/2 hour then drain the accumulated liquid from the bowl; let sit for another 1/2 hour and drain again.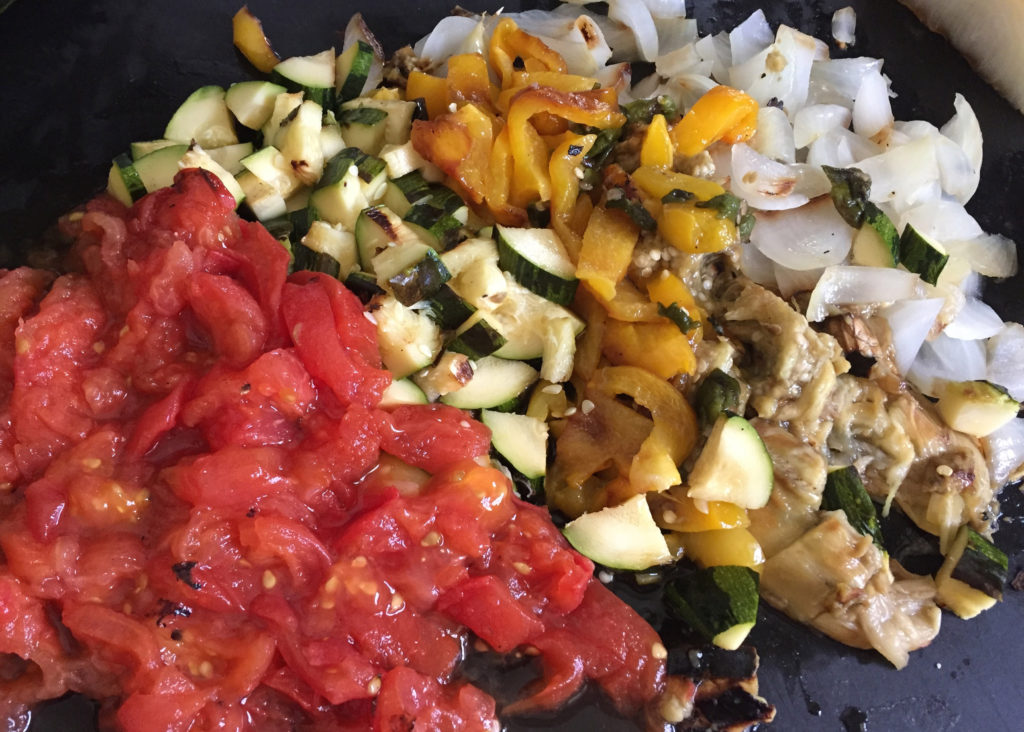 Peel and smash the roasted garlic into a paste with a fork or the side of a knife. Put in small bowl and add the un-roasted minced garlic along with the other dressing ingredients. Whisk with a fork to emulsify. Taste and adjust seasoning to your liking. Add to the drained vegetables and let sit for another couple hours (or overnight) to allow the flavours to meld. If you store it overnight in the fridge, remove it and let it sit for a couple hours to come up to room temperature before serving.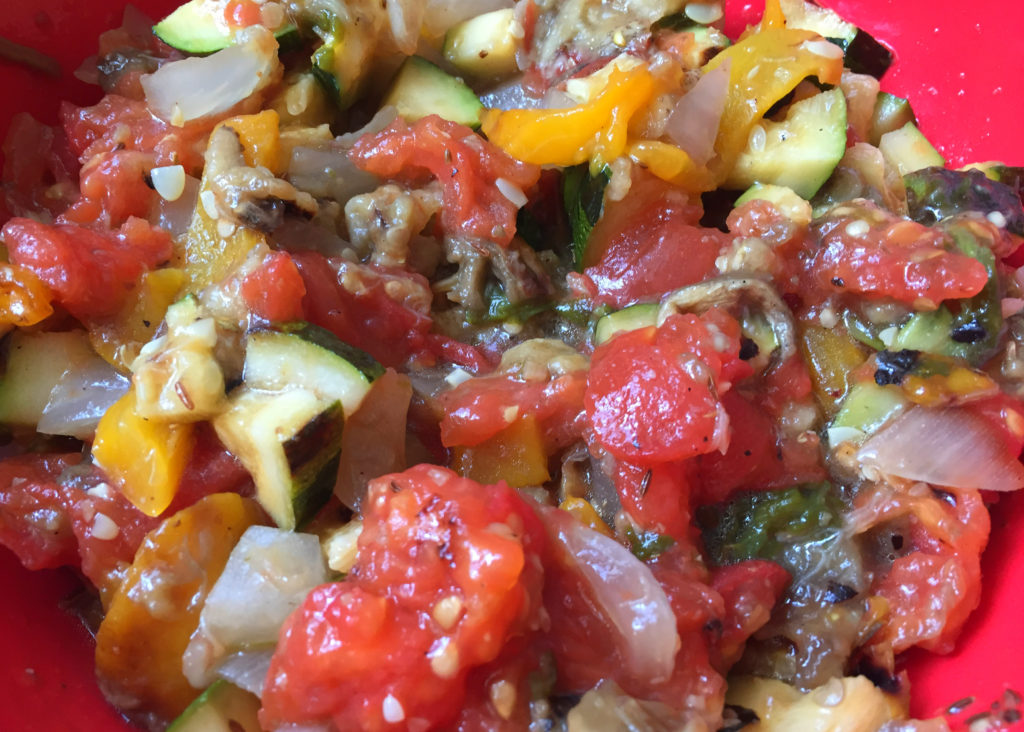 Immediately before serving, stir and taste to adjust seasoning again. At this point I added another squeeze of lemon and some salt and pepper. We enjoyed this with smoked pork steaks. It would be a very tasty side to grilled sausages or simply spoon it onto grilled bread or scoop it up with pita and chow down. It's a very tasty way to enjoy vegetables that are in season right now!