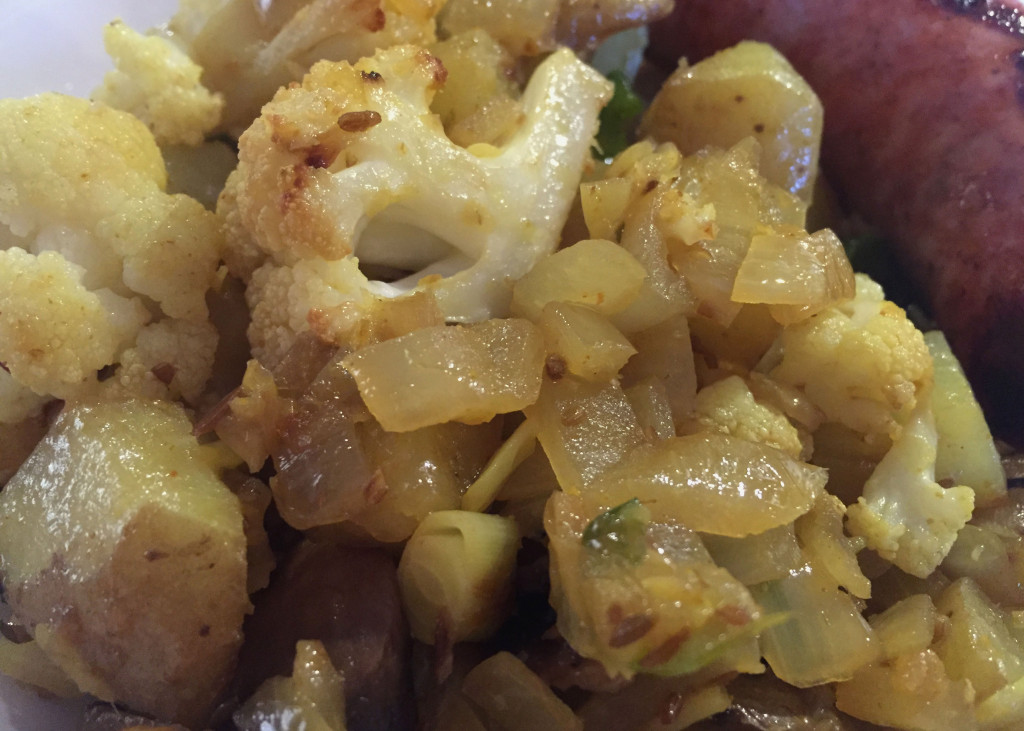 Yesterday I told you about two new dishes I made this past week and gave you Husband's favourite. Now it's my turn! This recipe is all over the internet, first published by Gourmet magazine several years ago and given new life on various food blogs, most famously on Smitten Kitchen (which you should definitely check out if you haven't yet!).
I made a couple small change to the original recipe including not to peel the potatoes (I'm not sure why you would but go ahead if you want to). I also added some quartered mushrooms when I roasted the cauliflower and potatoes because I had a few strays in my fridge. This is an ideal way to use up any veggie bits and bobs that take well to roasting hanging around your crisper (carrots, broccoli stems, parsnips). If I had leftover peas, I think they would be a great addition thrown into the pan in the last 5 minutes to reheat.
Make sure you taste the jalapeno before you go all crazy and just toss it in there. The heat level can vary a lot and if yours is really hot you may want to remove the seeds or omit the cayenne from the recipe.
1 medium head cauliflower, cut into 3/4-inch-wide florets
1 1/4 lb Yukon Gold potatoes, cut into 1/2-inch cubes
vegetable oil
1/2 teaspoon cumin seeds
1 teaspoon salt, divided
1 medium onion, small dice
2 garlic cloves, finely chopped
2 teaspoons fresh jalapeño, small dice (seeds optional)
2 teaspoons minced peeled fresh ginger
1 teaspoon ground cumin
1/2 teaspoon ground coriander
1/4 teaspoon turmeric
1/4 teaspoon cayenne
1/2 cup water
Place a shallow baking pan on rack in the middle of the oven. Preheat oven to 425°F.
Toss cauliflower, potatoes (and any other vegetables you may want to use up) together in a bowl with a big glug of oil, cumin seeds, and 1/4 teaspoon salt. Spread in hot baking pan and roast, stirring occasionally, until cauliflower is tender and browned in spots and potatoes are just tender, 20-30 minutes.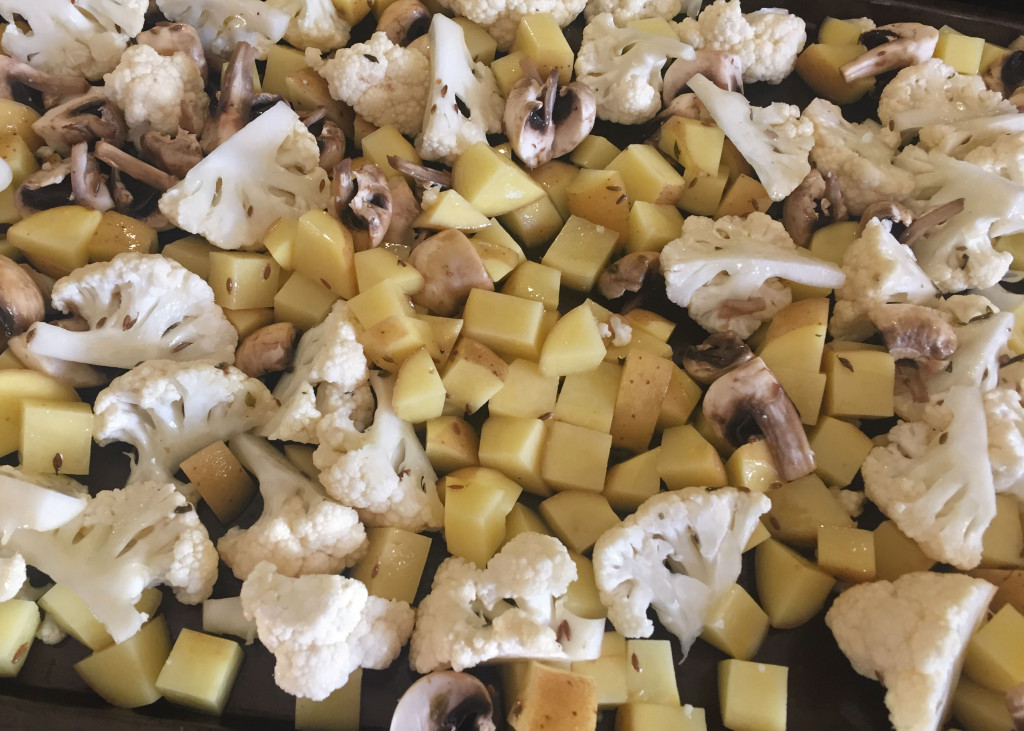 While vegetables are roasting, add a glug of oil to a heavy, large skillet and cook onion, garlic, jalapeño, and ginger over medium heat, stirring frequently, until very soft and beginning to turn golden, 8 to 10 minutes. Add ground cumin, coriander, turmeric, cayenne, and remaining 3/4 teaspoon salt and cook, stirring constantly, 2 minutes.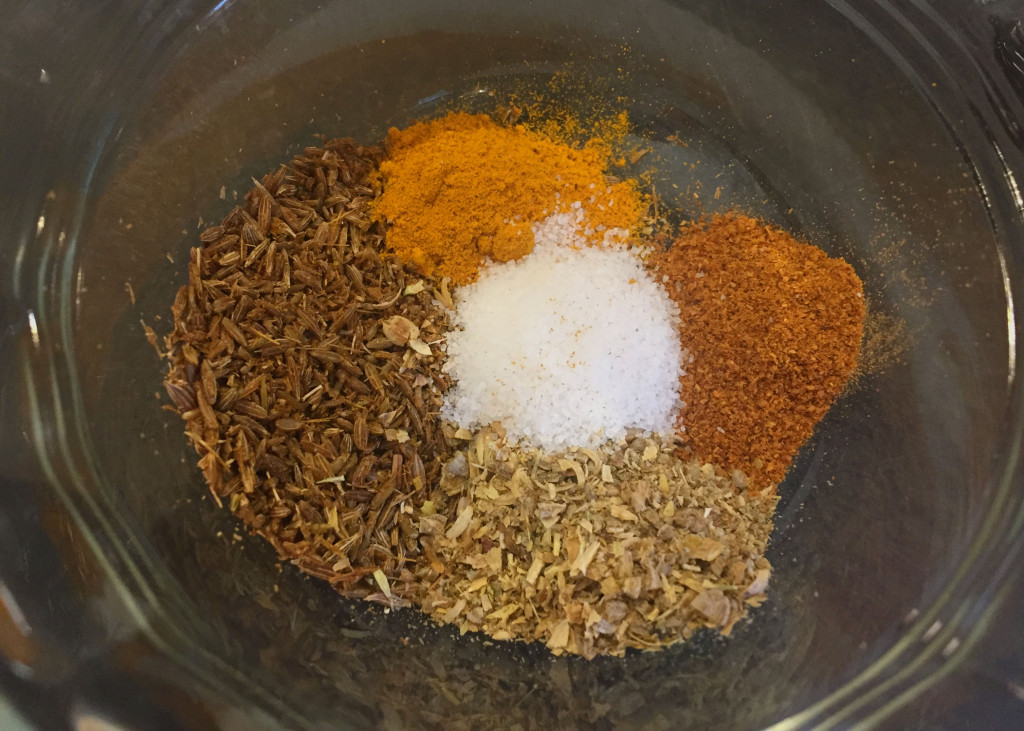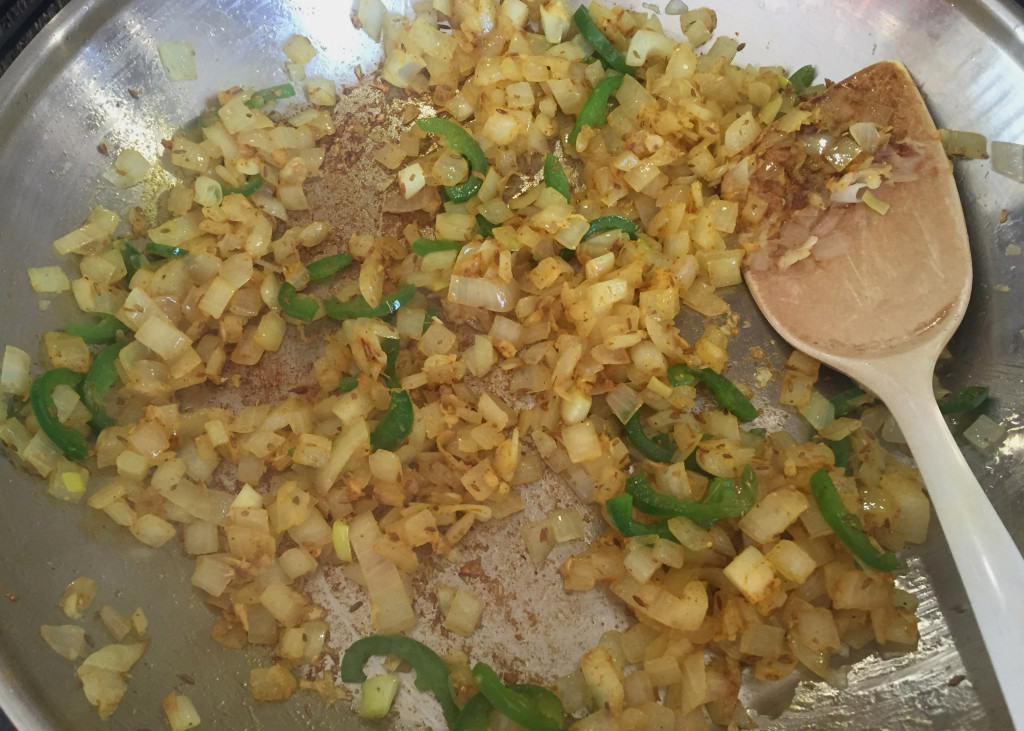 Stir in water, gently scraping up any brown bits from the bottom of the skillet, then stir in roasted vegetables. Continue to cook, stirring occasionally, 5 more minutes.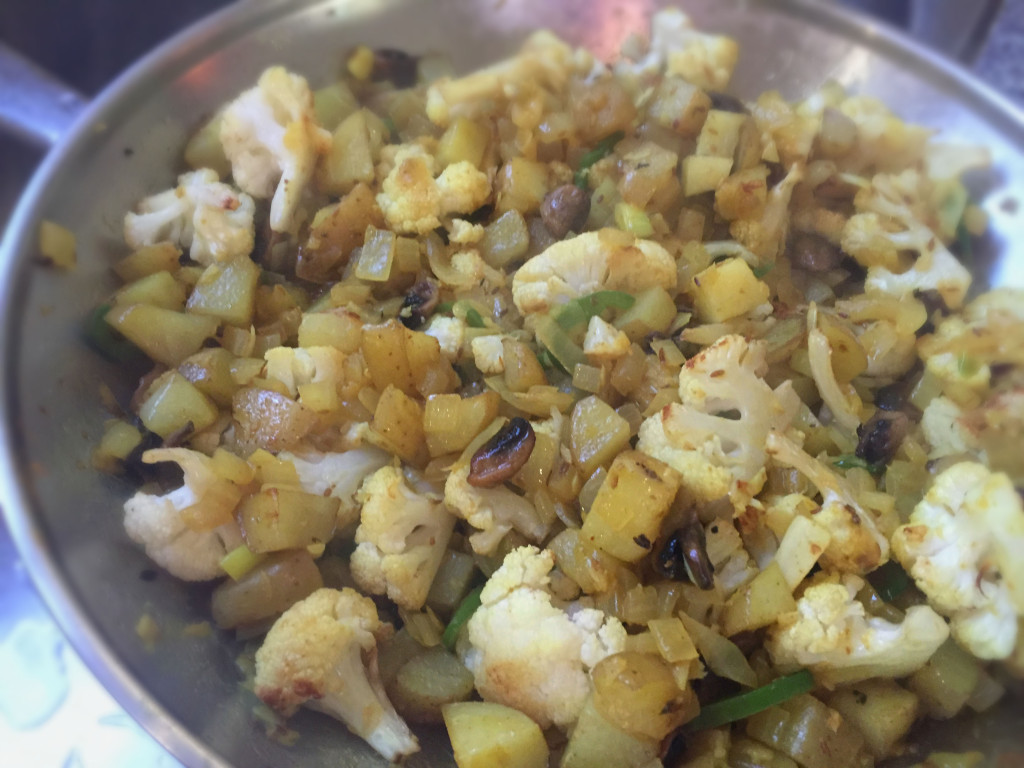 We enjoyed this with a couple of butter chicken spiced sausages.