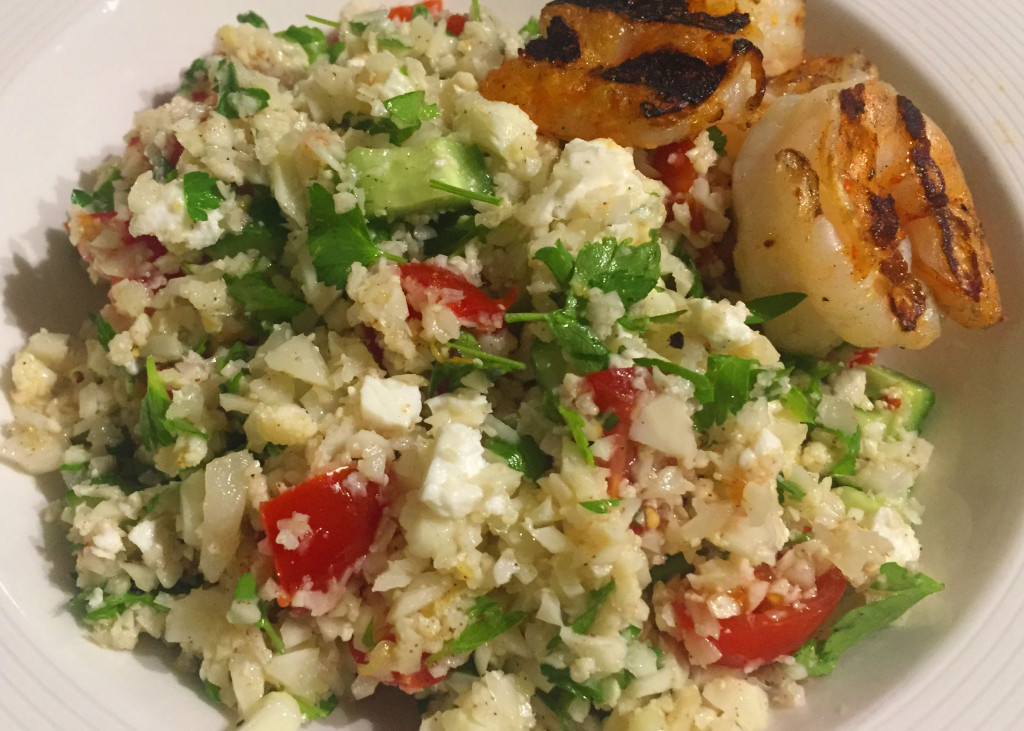 Today is penance day. You knew it had to come when you saw last week's galette recipe, didn't you? It was inevitable. However, in our home, penance day does not mean eating boring vegetables for dinner.
Hoooold it. Scratch that. Actually, yes it does! It DOES mean eating vegetables for dinner, but never boring. And today it means eating cauliflower for dinner! Not my favourite vegetable but this recipe lets it shine. And Husband is very happy to eat it which is a plus.
It does sort of bug me to call one food by the name of another (that's not a hamburger folks, that's a LENTIL patty) but it doesn't stop me from trying these weird, healthy concoctions. I have made cauliflower "fried rice" a number of times and I've tried to love it, but I don't. It's ok, but it's not fried rice. This recipe, for me, comes a bit closer to the real thing, in texture anyway. It does not have the earthiness of bulgar wheat which is usually the base of tabbouleh, but when you add so many other vibrant ingredients it doesn't seem to matter as much. It's not really tabbouleh, but it does have similar flavours with lots of zingy lemon, herby parsley and mint, crunchy cucumber, and summery tomato.
The addition of allspice in my cauliflower salad is an idea from Yotam Ottolenghi who uses it in his tabbouleh recipe. I use half as much as he recommends because I don't want my salad to taste like allspice, but I do think it adds a more complex background note to the dish. I've also added crumbled feta because, cheese. Throw a few grilled prawns or squid on top and you have a healthy, tasty meal… truly.
All the measurements below are very approximate. Use what you have, add more of what you like, cut back or eliminate what you don't. I have also been known to add in thinly sliced spring onion or chives if I have them around. It's all good. :)
1 medium head of cauliflower
glug of olive oil
1 medium bunch of parsley, washed and leaves picked
1 small handful of mint leaves, washed and leaves picked
1/2-1 pint or so of cherry or grape tomatoes, quartered or 2-3 ripe whole tomatoes, chopped into 1 cm dice
1/4-1/3rd English cucumber, seeded and chopped into 1 cm dice
1 large juicy lemon, zested and juice added to zest (about 3-4 TBS)
3-4 TBS good fruity olive oil
1/2 tsp ground allspice
1/2 tsp salt
pepper to taste
shake of red pepper flakes
3 oz crumbled feta
Chop the cauliflower into medium flowerettes, with a good portion of the stem (once it goes through the food processor you won't be able to tell the difference). In two or three batches, add the cauliflower to the food processor and pulse 10-15 times until the cauliflower is almost completely broken up into pieces about the size of rice or a bit smaller. Do not over-process, don't worry if there are some bigger chunks in there, you won't even notice them.
Warm a glug of olive oil in a pan over medium-high heat and saute the cauliflower, stirring constantly, for 2-3 minutes just to soften and sweeten. Do not overcook. Remove to bowl and let cool completely.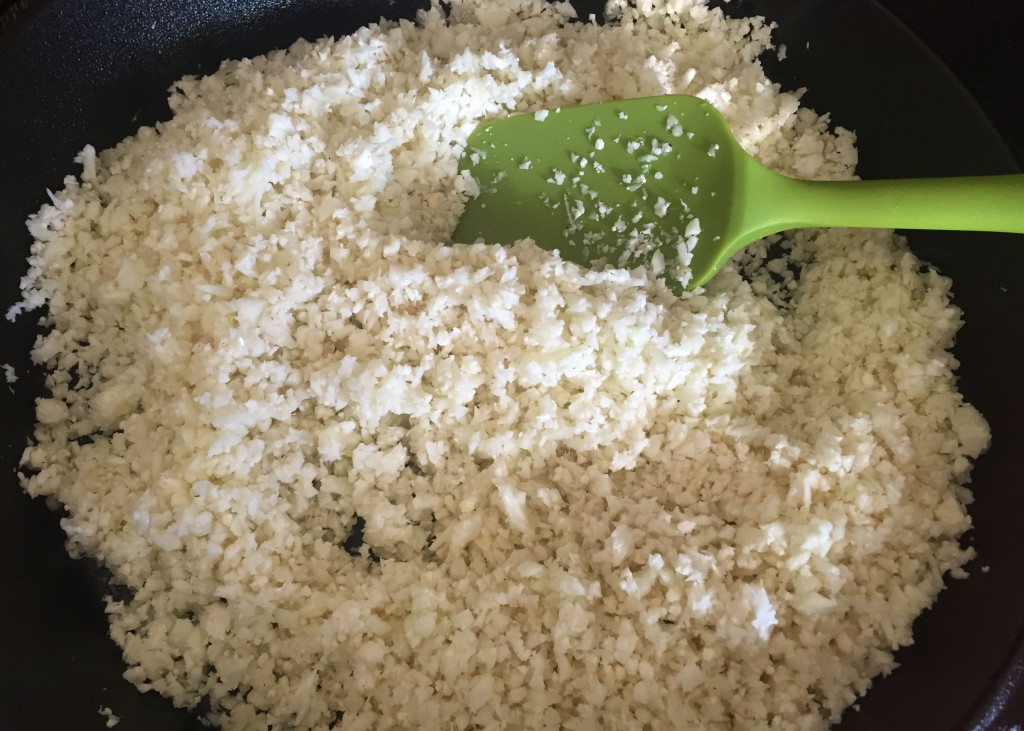 Combine the lemon zest, juice, allspice, salt, pepper, and red pepper flakes in a bowl. Whisk in olive oil. Set aside.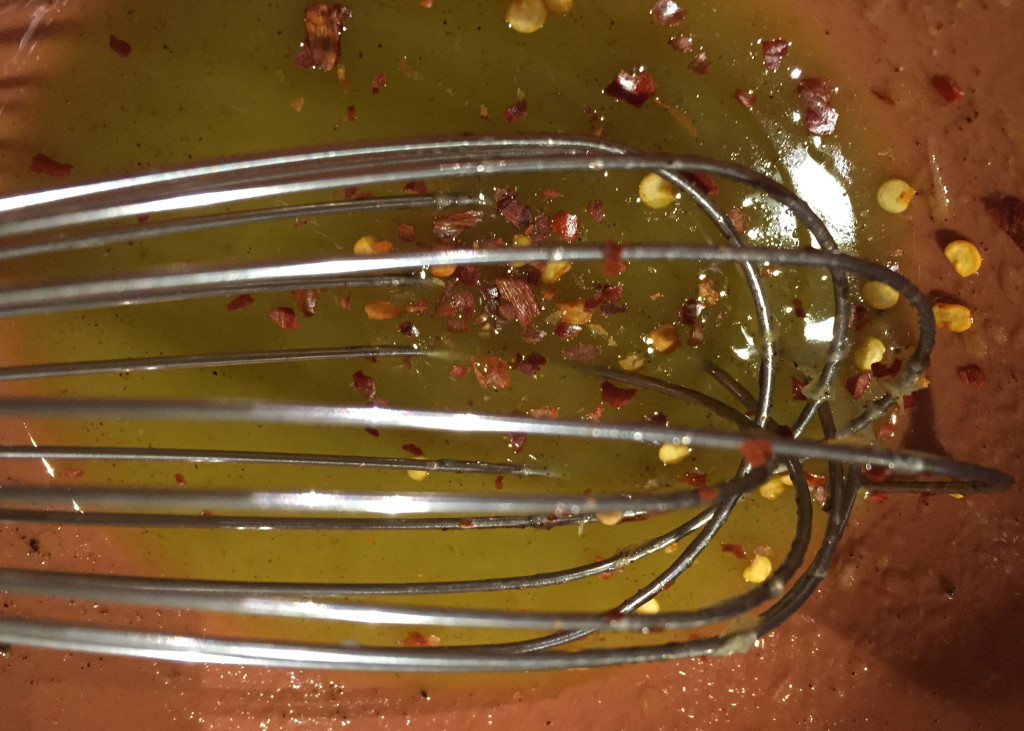 Chop parsley and mint leaves together and add to cauliflower.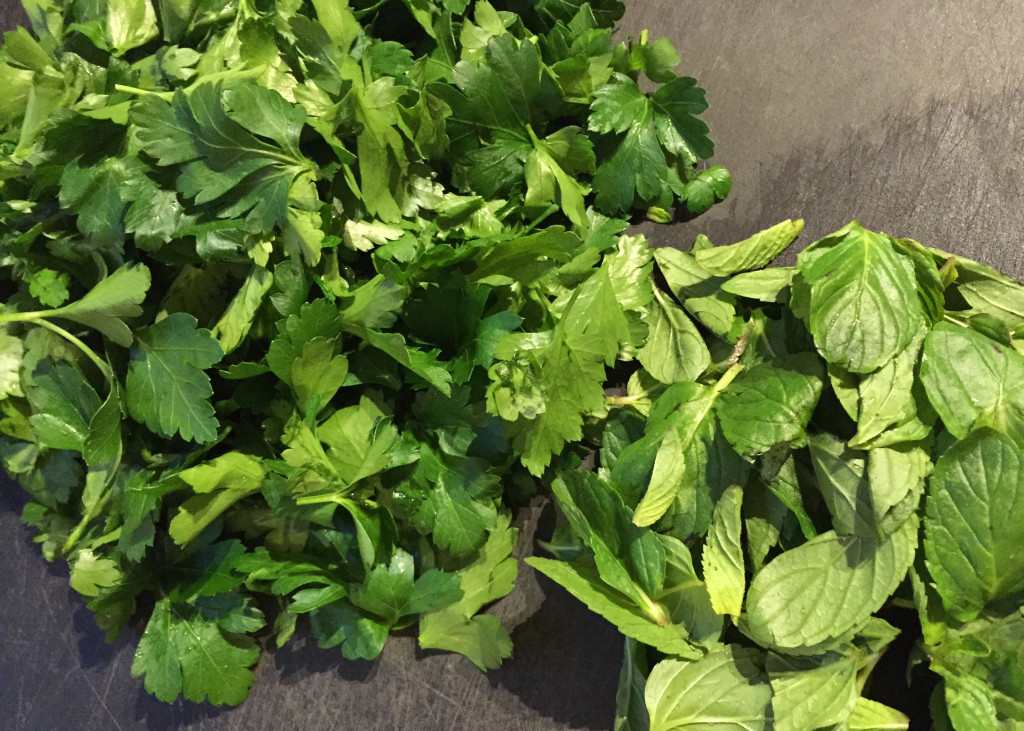 Pour dressing over and mix thoroughly. Fold in tomatoes, cucumber and crumbled feta. Taste and and adjust seasoning if necessary. Serve at room temperature. We use this salad as a base for grilled prawns or squid for a complete, very healthy meal.