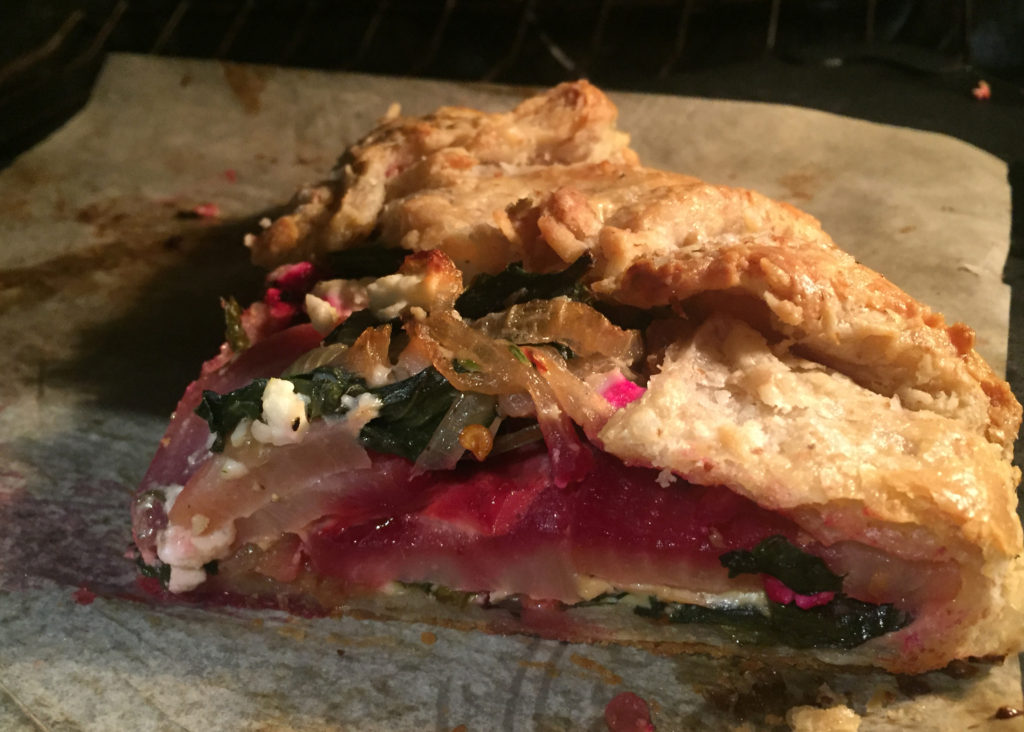 A friend from culinary school emailed me a while back to chat (mainly about food) and mentioned she was having guests over that night and was making spanakopita.
ARRRGHHHH. Cue the monster craving! Does that ever happen to you? You are going along minding your own business and then, BAM… you spot a kid eating an ice cream cone and you're not much into ice cream but you LOVE crunchy and salty so you start thinking about potato chips but those aren't "appropriate" for dinner so you imagine all the salty crunchy foods you could actually eat for dinner without attracting the attention of the food police and your mind wanders through the possibilities of nachos, homemade french fries, deep fried onion rings, fried chicken, fried chicken and bacon(!) and so on and so on…
So, yup… that happened. Now I had spanakopita on the brain but no filo dough and no spinach. My mind started twirling with ideas. Could I make spanakopita with pastry dough sort of like a hand-held pie instead of the light and crispy filo dough? But no, that would be waaaaaay too heavy. What if I did it open faced (half the pastry!) but instead of a pie, I made a galette? And could I use something from my garden instead of spinach? What about beet greens? And HOOOOOLD ON… what if I used the beets as well?!? \Whoa lady, this could be good!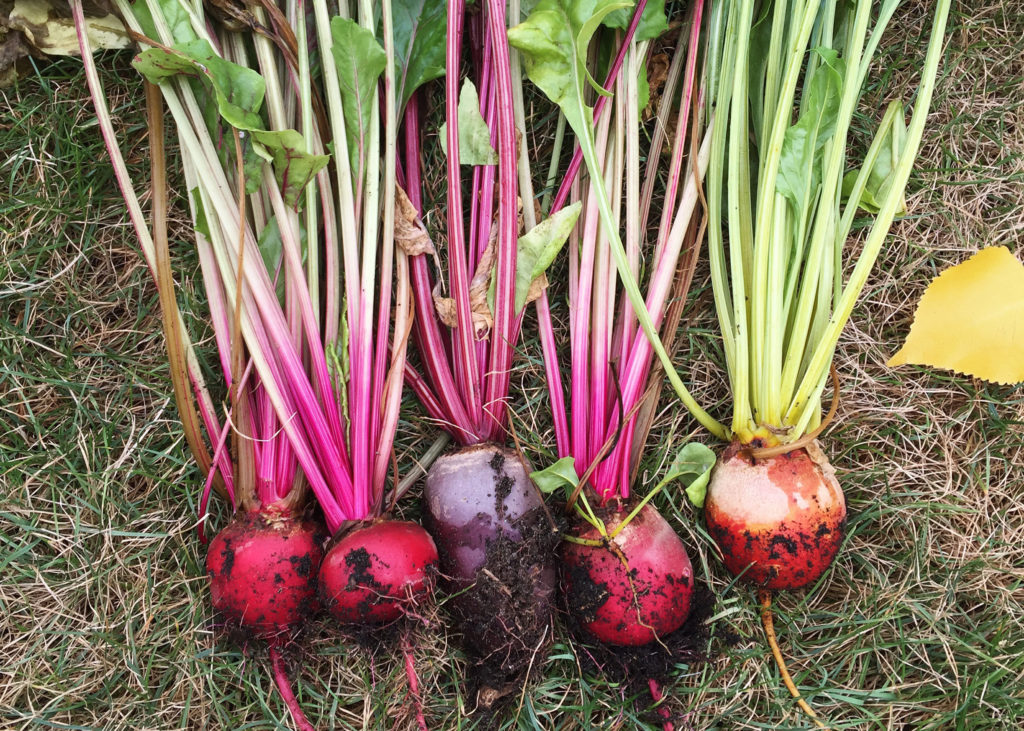 After mulling it over a few days (craving still burning hot), I decided to add onions to cut the sweetness of the beets and throw in some feta (my "nod" back to the original spanakopita idea). The end result was, if not one of the tastiest experiments I have ever embarked on, definitely one of the prettiest!
I used my new pressure cooker to cook the beets (15 minutes!) but it is very easy to boil or roast them… just takes a bit longer.
The dough is my usual recipe which you can find here except I subbed in whole wheat flour for half the white. You can use any pie crust dough you are comfortable with. You will need enough to make one round about 14-15 inches across and slightly thicker than 1/8th inch.
Pie crust dough to make one round 14-15 inches across
1 generous pound beets
8 cups beet greens, washed
2 cloves garlic, sliced
Couple glugs olive oil
1 medium onion, halved and thinly sliced
couple sprigs fresh thyme
salt and pepper to taste
pinch red pepper flakes
3 oz feta, crumbled
1 egg
1/4 cup cream
Optional: 1 additional egg whisked with water to brush pastry if you want that shiny look
To make the filling, cook the beets to your liking (boil, bake, or in a pressure cooker). Once cooled enough to handle, peel and slice into 1/4 inch slices. Set aside.
Wash beet greens, do not dry. Warm a glug of olive oil and garlic in a large pan over medium-high heat. Add beet greens and toss until wilted, about 3 minutes. Drain and set aside in a bowl.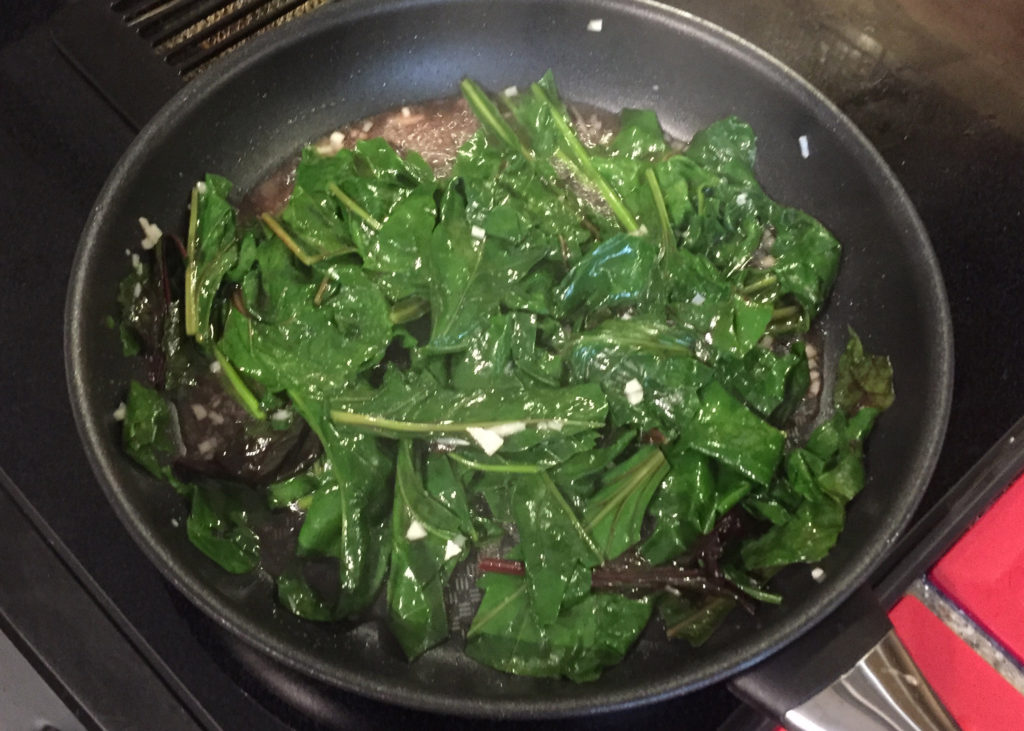 Heat another glug of olive oil in the same pan you used for the beet greens. Add onions and fresh thyme. Fry until starting to turn golden, 7-8 minutes. Discard thyme and add onions to the beet greens.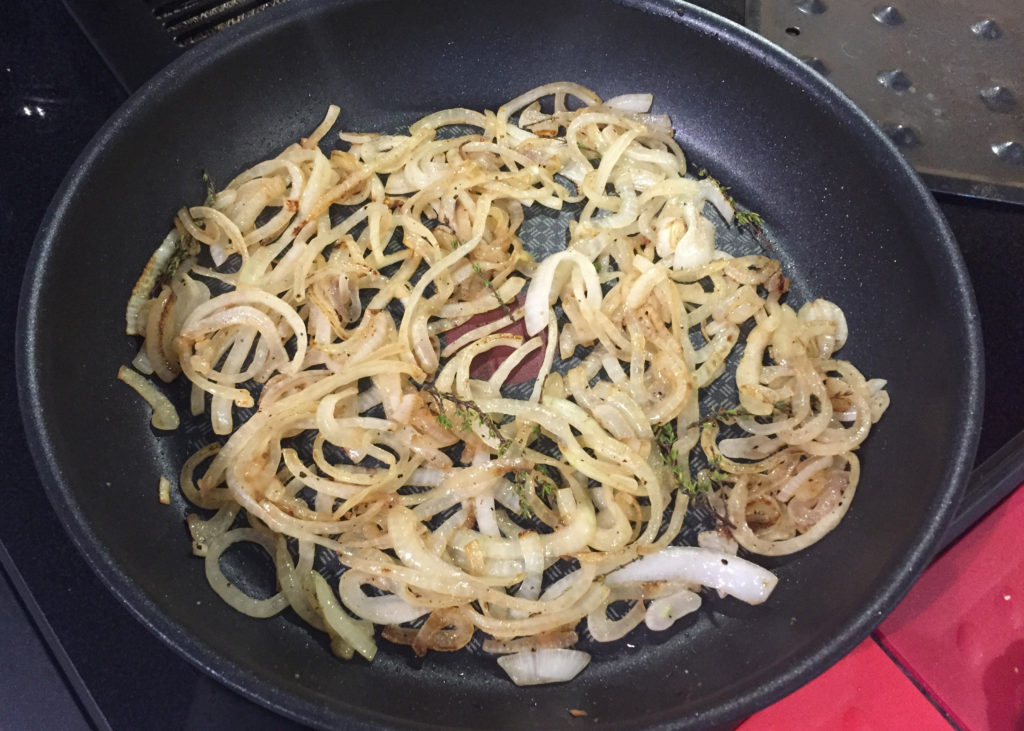 Add crumbled feta and pinch of red pepper flakes to the filling. Season with salt and pepper.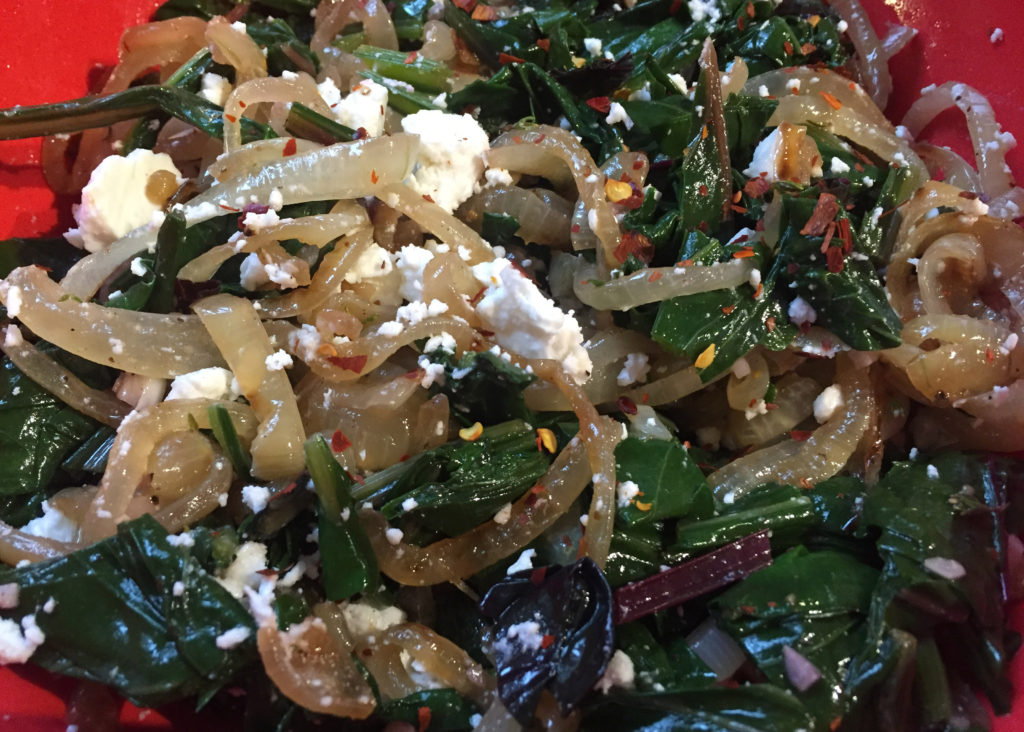 Assemble the galette:
Preheat oven to 375F.
Roll out dough on a clean, lightly floured piece of parchment in a circle about 14-15 inches across and slightly thicker than 1/8th inch. No worries if the dough goes over the edges as you will be folding it up over the galette shortly. Spoon approximately half the beet green/onion mixture in a circle evenly in the centre of the dough, ensuring you have a good 2 inch border all around the edge. Top with beets overlapping the slices in circles. Finish with the remaining beet greens. Fold the edge of the dough up and over the filling, overlapping where necessary and press down lightly to create the folds.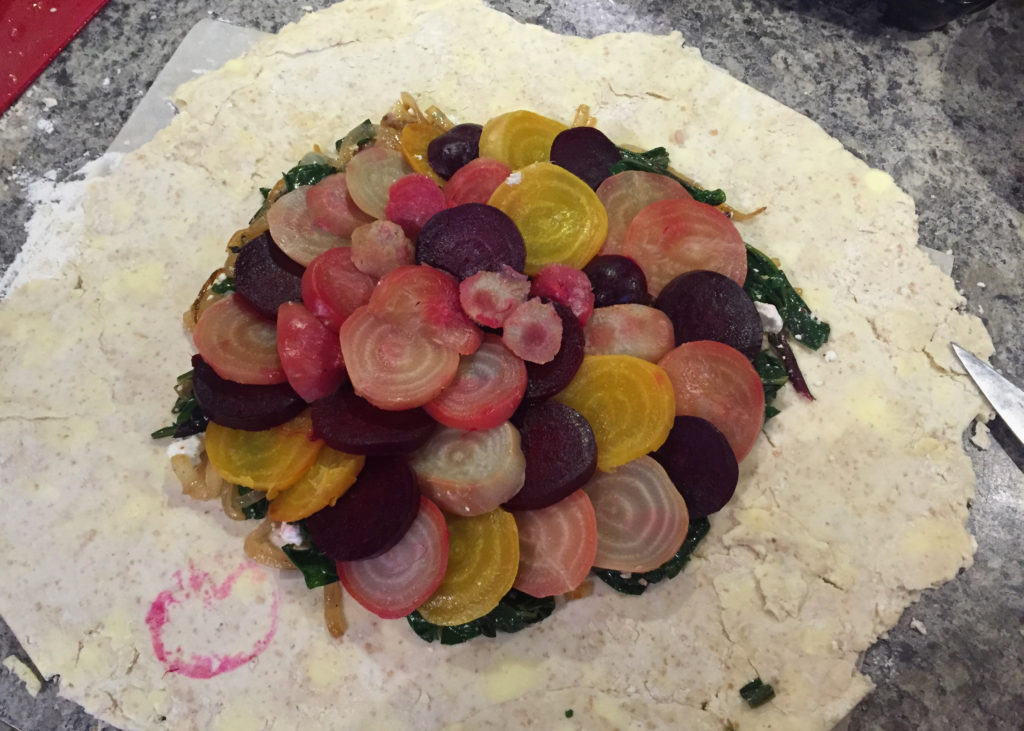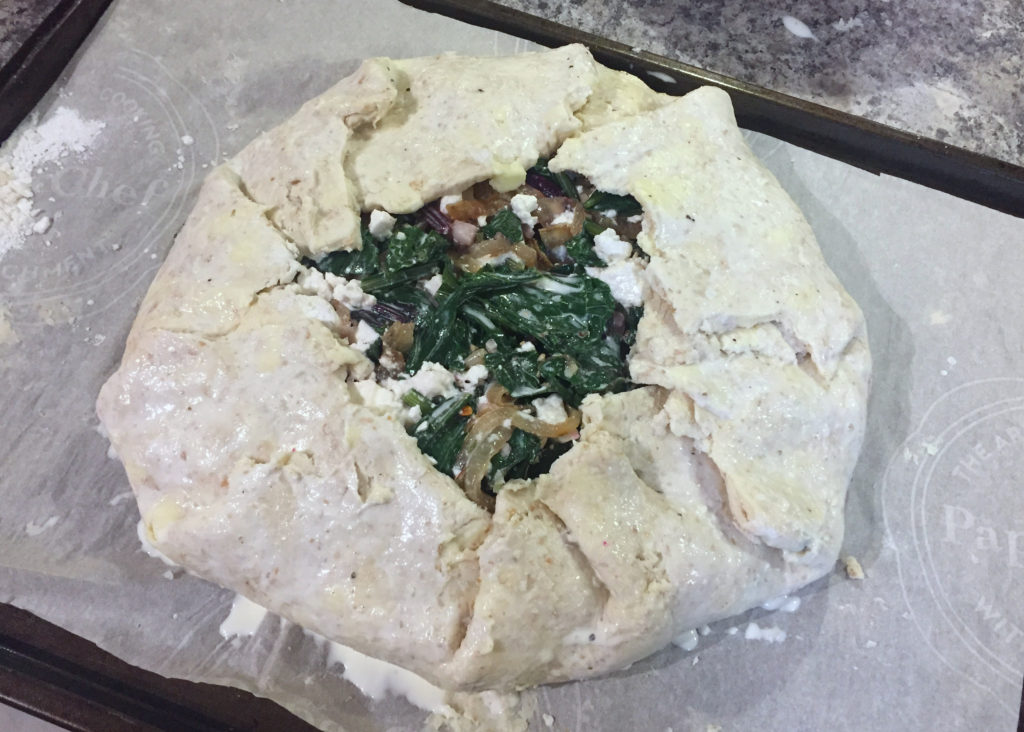 Slide the parchment with the dough onto a cookie sheet. Whisk the egg yolk and cream together and pour into the centre of the galette. If you would like the pastry to be shiny, brush the border with the egg wash and sprinkle with flake sea salt.  Place in oven and bake 35-40 minutes until crust is golden. Remove and let sit for 5 minutes before slicing. We ate this as our main course but a smaller wedge alongside a leafy salad would be a lovely first course.