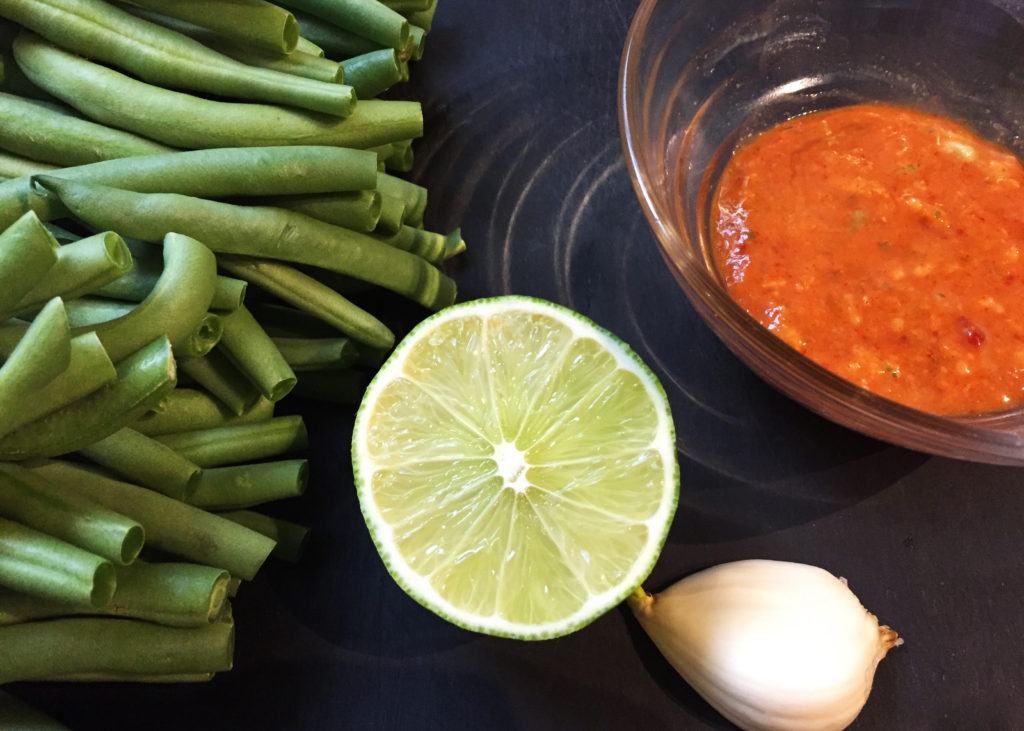 Although the weather the past couple weeks has gone from "summer" back to "drizzly West Coast spring", I know summer will be back again because green beans are just starting to show up at our local markets. I smoked a small brisket yesterday for dinner and threw together this side dish in literally 10 minutes. And was it fantastic. Fresh and zesty from the lime, loads of umami flavour from the miso, a little bit of spice from the gochujang, all slightly mellowed by a touch of honey.
Heat a cast iron pan or thick bottomed frying pan (not non-stick) over medium high heat with just a swipe of canola oil covering the bottom of the pan; you don't need much, you're basically dry-frying the beans. Don't use olive oil as you need a high smoke point. Throw your beans into the hot pan and let them sit for a couple minutes without stirring so they start to blister. Toss (or if you're using cast iron which is too heavy to toss, stir) your green beans every few minutes until they are lovely and blistered and done to your liking. For me this took about 10 minutes. Remove from heat and let sit a minute before tossing with the sauce or it will burn in the hot pan.
While the beans are cooking, mix together the sauce ingredients. It will be quite thick and cling to the beans nicely. I didn't use any salt as the miso paste is salty enough. The measurements below makes enough for about a pound of beans. Enjoy!
Note: I'm really loving these "Quick & Dirty" posts, aren't you? Much quicker to write so I get to visit you more often and much closer to the way real people cook. If you don't have lime, try lemon. If you can't find gochujang, throw in a pinch of red pepper flakes. Don't have green beans in your crisper?, try it with broccoli (including the stems!). It's all good :)
1 lb green beans, washed and stemmed
1 TBS white or light miso paste
juice and zest from 1 small lime, or 1/2 large lime (about a generous tablespoon or so)
1 clove garlic, minced
1 tsp honey
1 tsp gochujang (Korean fermented red chili paste)