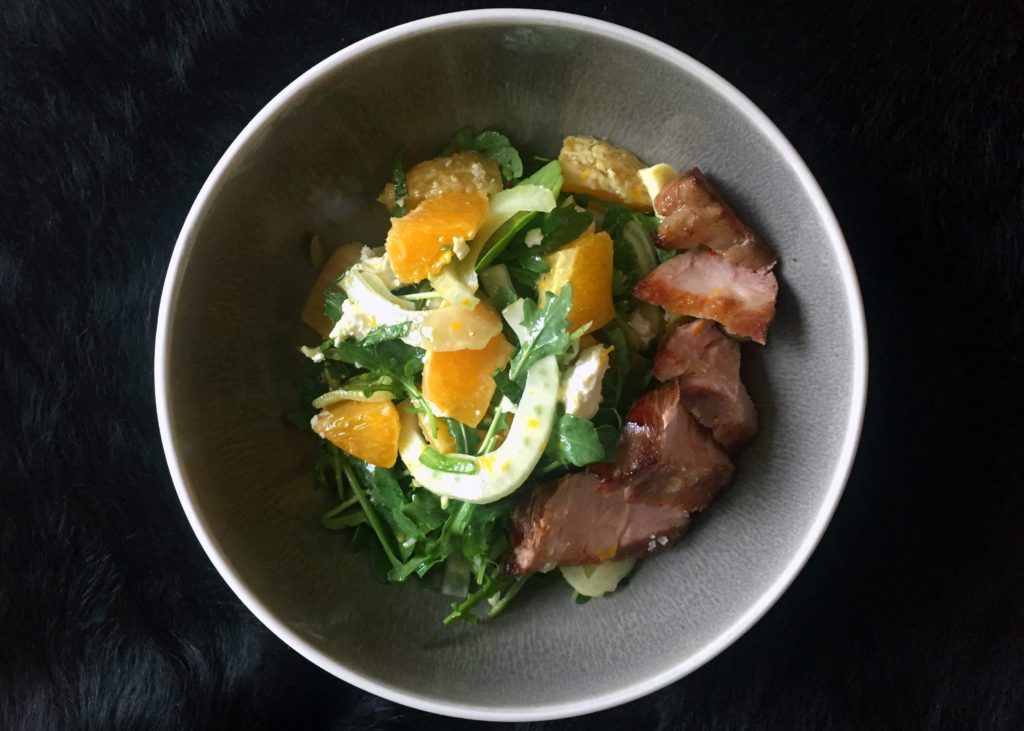 I haven't always been a fan of fennel. The thought of that licorice-y flavour in my food just seemed, well, weird. In the past year, though, it has not been uncommon to find it in my crisper. Why? Because I tried it. Yep, me who preaches about trying everything really didn't try fennel. I really started using it regularly after I made this… then this. Last week I made a yummy sausage, fennel and white bean spring stew. And last night instead of cooking the sucker I made a salad that I know will become a regular around here… fennel orange salad. I dare you.
This is a Quick & Dirty recipe so I didn't measure exactly. And except for the two main ingredients (fennel and oranges) I really just tossed in what I had in the fridge. I had a large bag of oranges sitting on the counter but you could even substitute canned if that's what you have. And I forgot to sprinkle the couscous over the first serving of the salad (Husband going up for seconds: "What's in the pot?"… arghhhhhh) so I'm calling that optional. You can switch out the the arugula for another salad green, change the pepitas (pumpkin seeds) to another seed or nut, sub in a different cheese, and/or switch the grain to farro or quinoa. Whatever floats your boat.
I had planned on serving this with grilled squid for some protein but ended up searing a sous vide smoked pork shoulder steak that I had in my freezer and adding a couple slices on the side. Sausage would be yummy as well.
Throw the fennel, oranges, arugula, mint and cilantro into a large bowl. Toss with about half the vinaigrette, adding more to your liking. Sprinkle over pepitas, feta, and couscous. Serve with a protein to make a meal.
handful of cilantro leaves
TBS or so chopped fresh mint
2 large handfuls of baby arugula
3 oranges, zested (set aside to add to vinaigrette) then peeled and sectioned, each section cut in half
1 fennel bulb, halved and thinly sliced
1/2 cup pepitas
1/2 cup crumbled feta
1 cup cooked couscous (about 1/3rd cup from dry)
Orange Lime Vinaigrette
juice from whole juicy lime (2-3 TBS)
1 TBS orange zest, more or less to taste
1-2 tsp honey, more or less to taste
1 tsp dijon mustard
salt & pepper, to taste
pinch of red pepper flakes (I used Korean gochugaru which has a lovely fruity element)
good quality olive oil to emulsify (about 1/3rd cup)
Put all ingredients except oil in a bowl, whisk in oil in a thin steady stream until dressing starts to thicken. Taste and adjust seasoning.