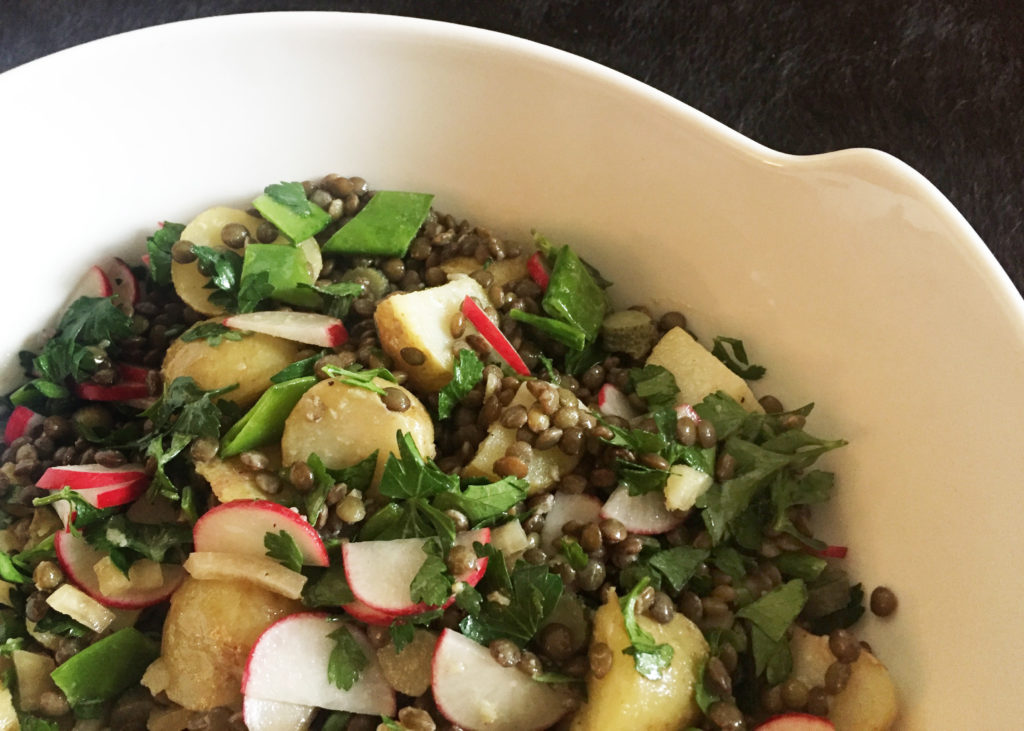 I just got back from traveling AND EATING for almost a month and am trying to get over jet lag along with a terrible cold I picked up somewhere between Rome and San Sebastian (aka pasta and pintxos heaven). The last couple days of traveling and the flight home socked me good. But I'm still hungry! Have I mentioned before that when I get sick I'm not one of those people who eats a half piece of toast and "can't eat another bite"? I hate those people. Nope, when I'm sick I NEED ALL THE FOOD!
One night in San Sebastian I had a pintxos (basically a small snack served on a slice of baguette alongside a drink) of a beautifully rare bite of steak sprinkled with salt. Yesterday I was craving that steak but not the heavy potatoes and sour cream that usually accompany it. What did I think about a lightened up potato salad? Salad sounds good. What about adding healthy French lentils to counteract the eating of the last month? I could go for that. And how about elevating it with something punchy like chopped gherkins or pickled onions? Suuuuure! And should I throw in some radishes and peas from the garden? Why not?! Anything else I need to use up? I do have those garlic scapes…
As you can see, I'm simply using what I have on hand. I love to cook this way in the summer. Use the potatoes, lentils and vinaigrette as a base and add whatever is available to you. Little tomatoes would be delicious. Fresh green beans that have been cooked to just tender-crisp. Oooooh, maybe some olives to make it a bit "nicoise-y". Or some hard-boiled eggs for a more traditional potato salad. Oh, and wouldn't the salty bite of some goat or sheep feta be lovely??? The world is your oyster (mmmmmmm, oysters). ;)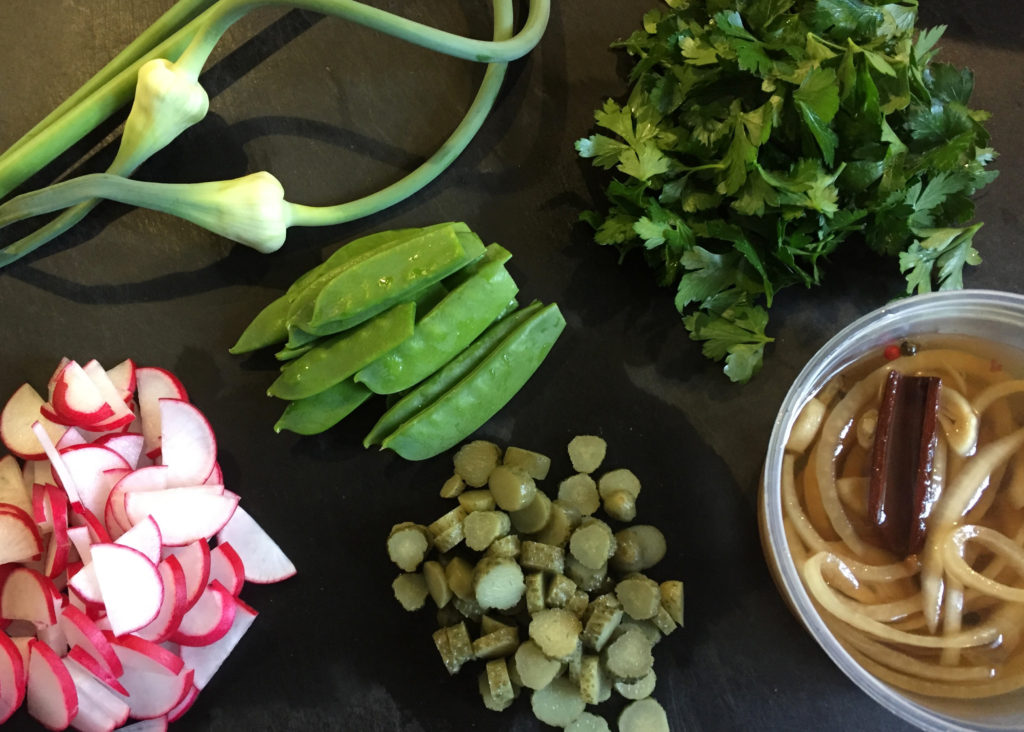 Vinaigrette:
2 TBS white wine vinegar
1 clove garlic, minced
1 TBS tsp Dijon mustard
2 tsp anchovy paste (you know you want to!)
few grinds of fresh black pepper
1/3 cup good fruity olive oil
Whisk together all ingredients and set aside.
1 cup dry French (Puy) lentils
1 lb small new potatoes
handful of fresh parsley leaves, chopped
Salt and pepper to taste
6-8 chopped sour gherkins and/or sweet pickles (optional)
1/4 cup pickled onions (optional, but HIGHLY recommended)
handful of radishes, washed and sliced (optional)
handful of sugar snap or snow peas, chopped (optional)
Garlic scape, tender bits thinly sliced (optional)
Cook lentils until tender but not mushy, using your favourite method. I soak mine for about 4 hours then steam them until tender… 15-30 minutes depending on how old the lentils are. Drain and turn into a large bowl. Stir in 1 TBS of the vinaigrette to season the lentils. Set aside.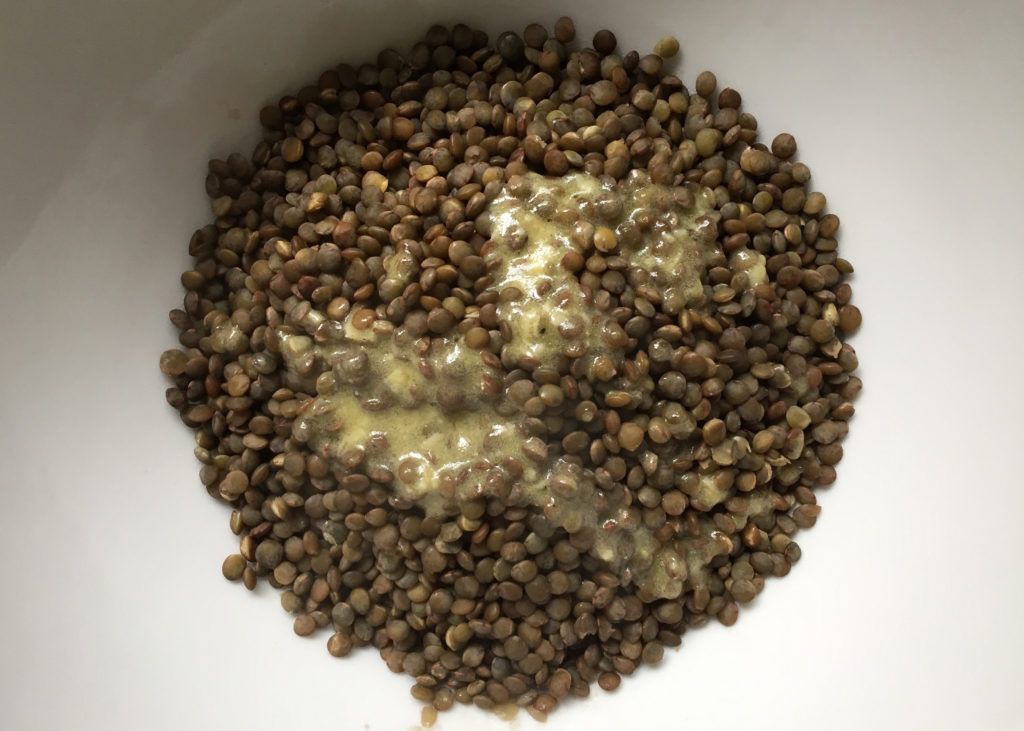 Scrub new potatoes. Leave whole if small or cut in half if larger and cook in simmering water for about 15 minutes until just tender. Drain and cut in half (largish bite-sized pieces). While still warm, place the cut potatoes in the bowl with the lentils. Fold in 3 more TBS of the remaining vinaigrette and let sit so the warm potatoes and lentils absorb more of the dressing. Salad can sit at room temperature for a couple hours.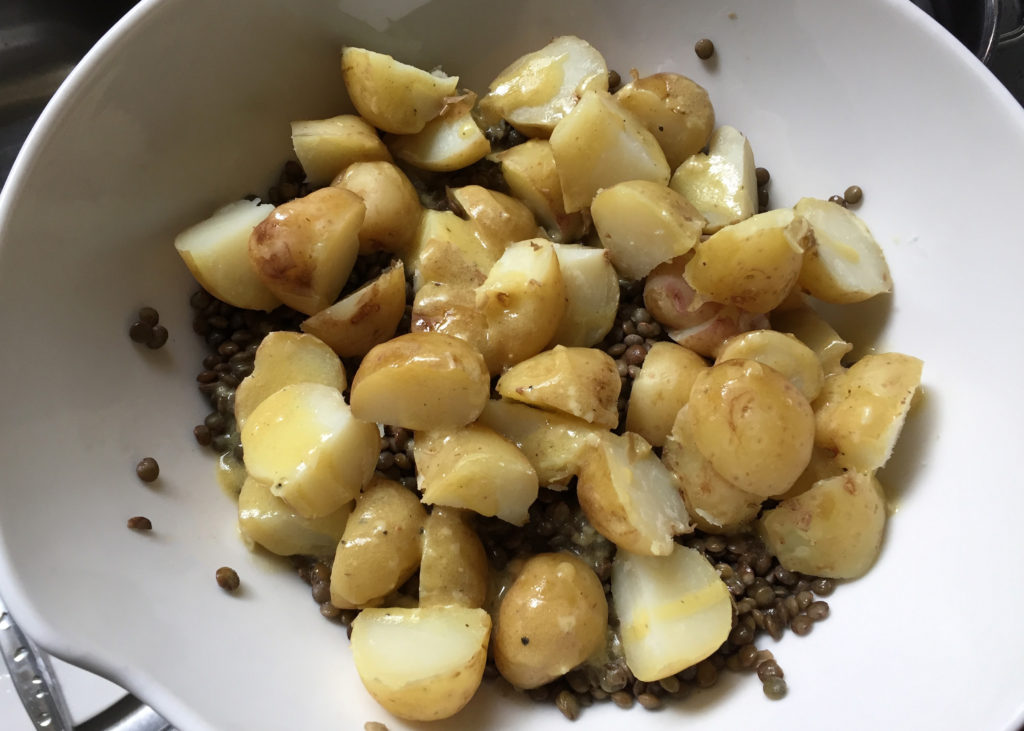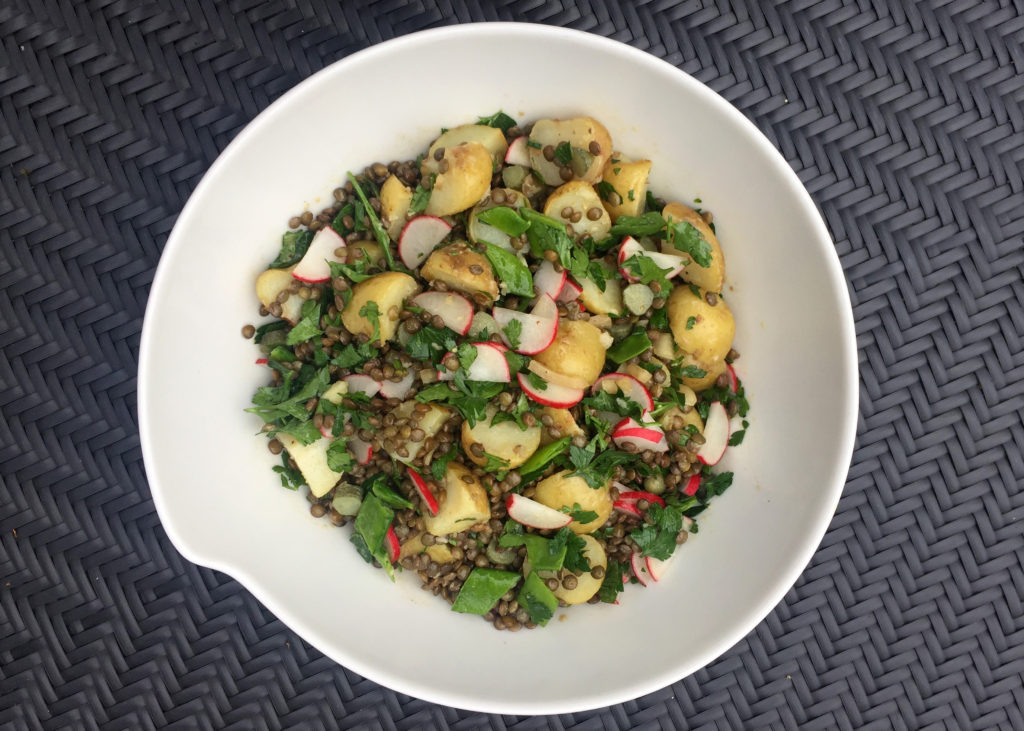 When you are ready to eat, add the chopped parsley and your other additional ingredients from the options above or your own choices. Drizzle with the remaining vinaigrette and gently stir to combine. Taste and re-season with salt and pepper if necessary. We ate this with BBQ steak and grilled asparagus. Sooooo good.