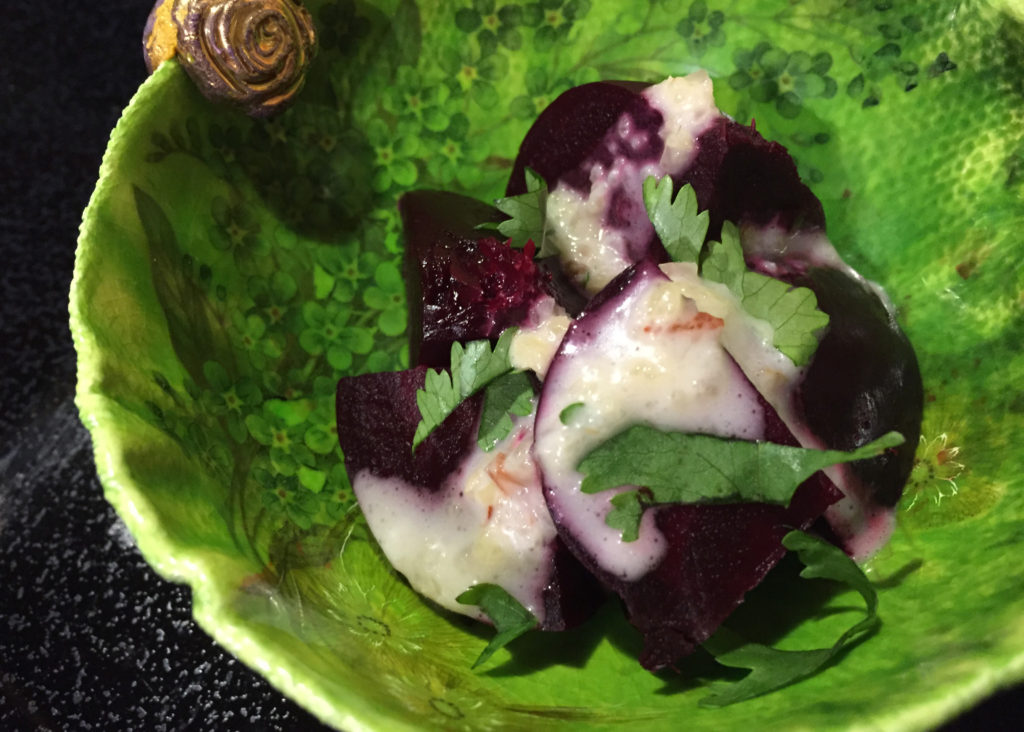 It's beet season at my house. I finished my garden clean-up a couple weeks ago except for those leeks again this year. I usually use a lot of them in chicken pot pie but this year I want to try a chicken stew and dumplings, heavy with leeks, obviously. Coming soon (maybe ;) ).
Aaaaanyway, I pulled up the last of my carrots and beets and put them in a couple sacks in the garage. I do love beets but rarely cooked them until last year when I got my Instant Pot. It's just so fast and easy now. Give them a rinse, throw them in for 7-15 minutes (depending on size), let sit in cold water for a couple minutes, slide the peel right off. Easy peasy.
I am enjoying experimenting with my Instant Pot. The other night I tried a "pot in pot" dinner where you cook everything at the same time. Ummm, what?! I made mashed potatoes, meatloaf, and beets in the same pot. The only thing I made separate was the mushroom sauce. It was surprisingly good. Perhaps not something I would do all the time as I hate to give up control over exact timing and temperature (Yes, I am a bit of a perfectionist when it comes to cooking). And if you want some texture to your food you still have to utilize the stove or oven (I put my meatloaf under the broiler for a few minutes to caramelize the top) but I can certainly see why working families adore the Instant Pot.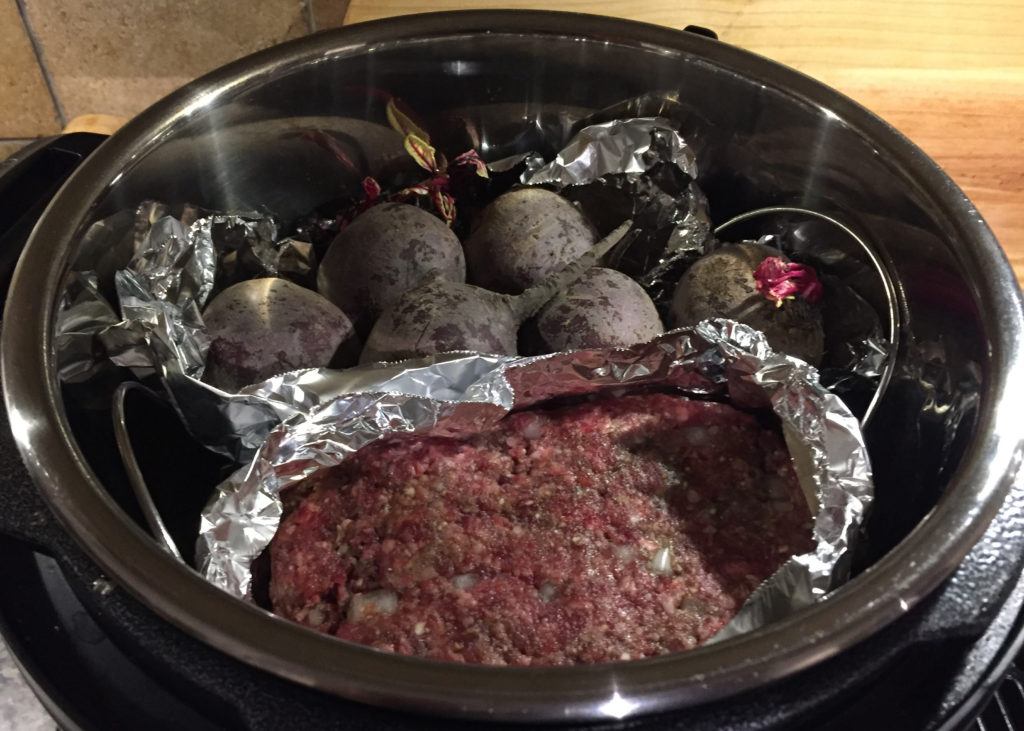 (Pot in pot. The potatoes are under the meatloaf and beets. Cool, hey?)
So those beets. When they were finished cooking I let them cool a bit, chunked them up, and covered them in a easy Vietnamese dressing. I had about a pound of beets for Husband and I. You can make as many as you want and double or triple the dressing as required. Cook the beets however you want. My mom boils them, I used to bake them (it took foooooreeeeeeverrrrr), and now I use my Instant Pot pressure cooker. 7 minutes on high for smallish beets, 10-15 minutes for medium to large.
The dressing amounts below make a small batch of dressing and can easily be doubled or tripled. Try it over roasted carrots as well, or spread onto a sandwich.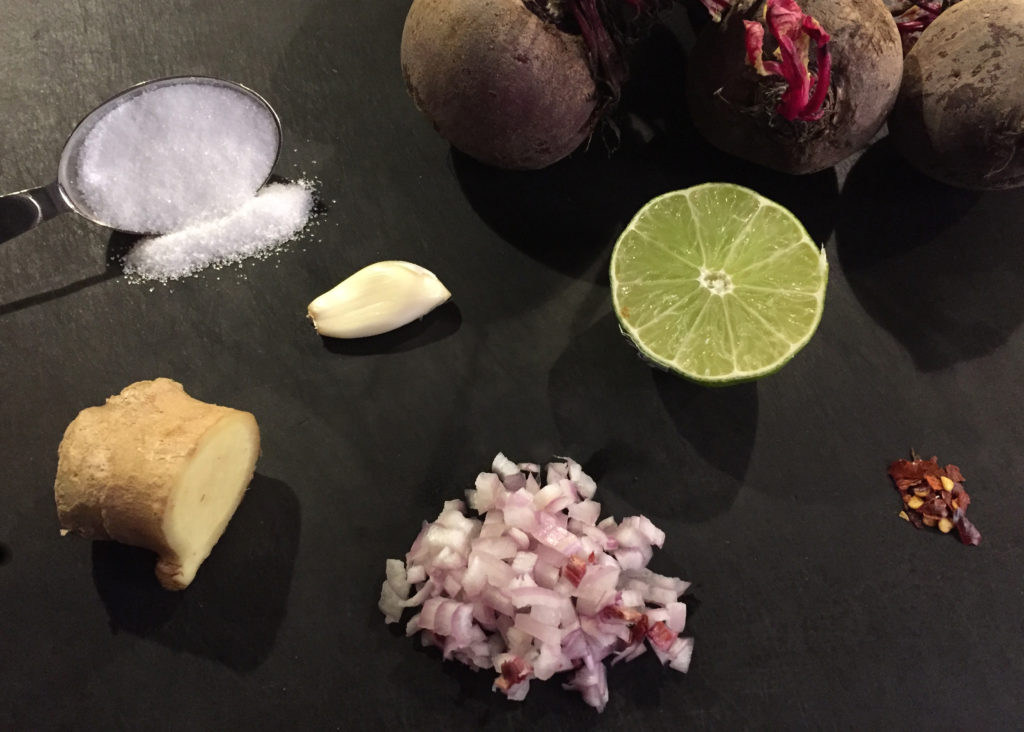 Cook beets (about 1/2 pound per person). Cover with dressing. Eat.
Dressing:
1/2 small shallot, diced
1 TBS fresh ginger, peeled, sliced then cut into matchsticks
1 garlic clove, thinly sliced
1/4 tsp red chili flakes
1 TBS fish sauce
1 TBS sugar
1 TBS fresh lime juice
1 TBS mayonnaise
2 TBS vegetable oil
salt to taste
Add shallot, ginger, garlic, chili flakes, fish sauce and sugar along with 2 tablespoons of water to small saucepan and gently simmer until half the liquid has evaporated and aromatics are soft, 7-10 minutes.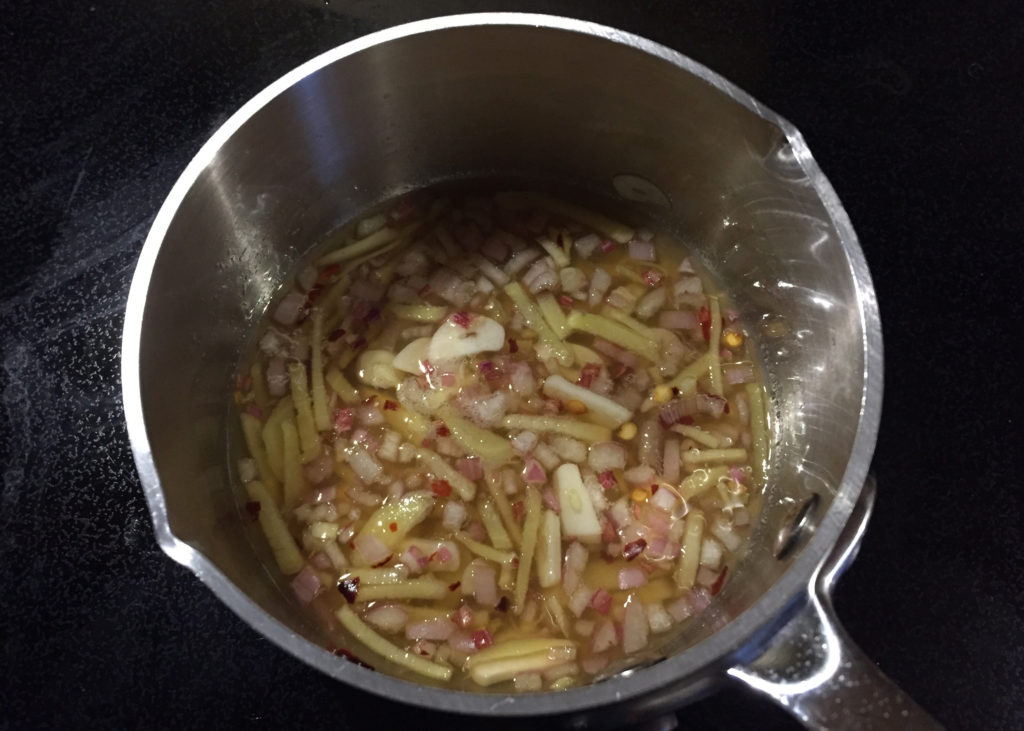 Turn into small food processor or blender and add lime juice, mayonnaise and vegetable oil. Blend until emulsified. Taste and season with salt. Drizzle over beets. Can be served warm, room temperature, or chilled!