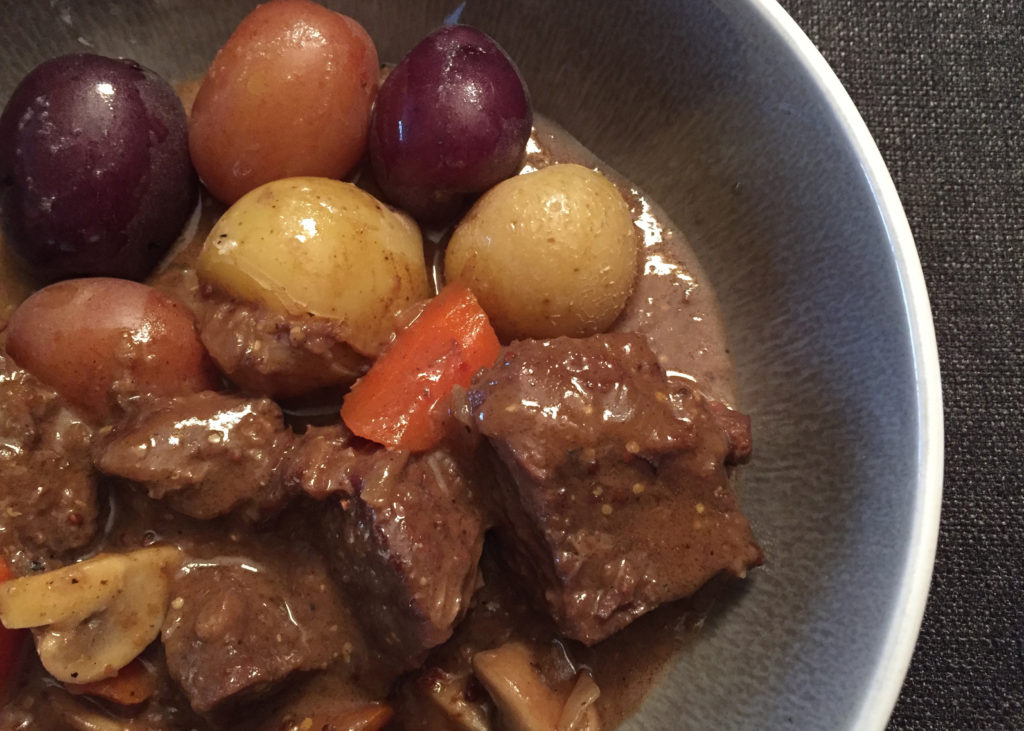 Well apparently Spring arrived last week but she's sure taking her sweet time showing it. We had a couple sunny days where the crocuses and daffodils finally showed their pretty faces and I did manage to get one gardening box planted with radishes and peas but the weather had turned rainy and chilly again. Cue the comfort food. I wanted something that would warm up the house with its delicious aroma all afternoon but have a bit of pizzazz.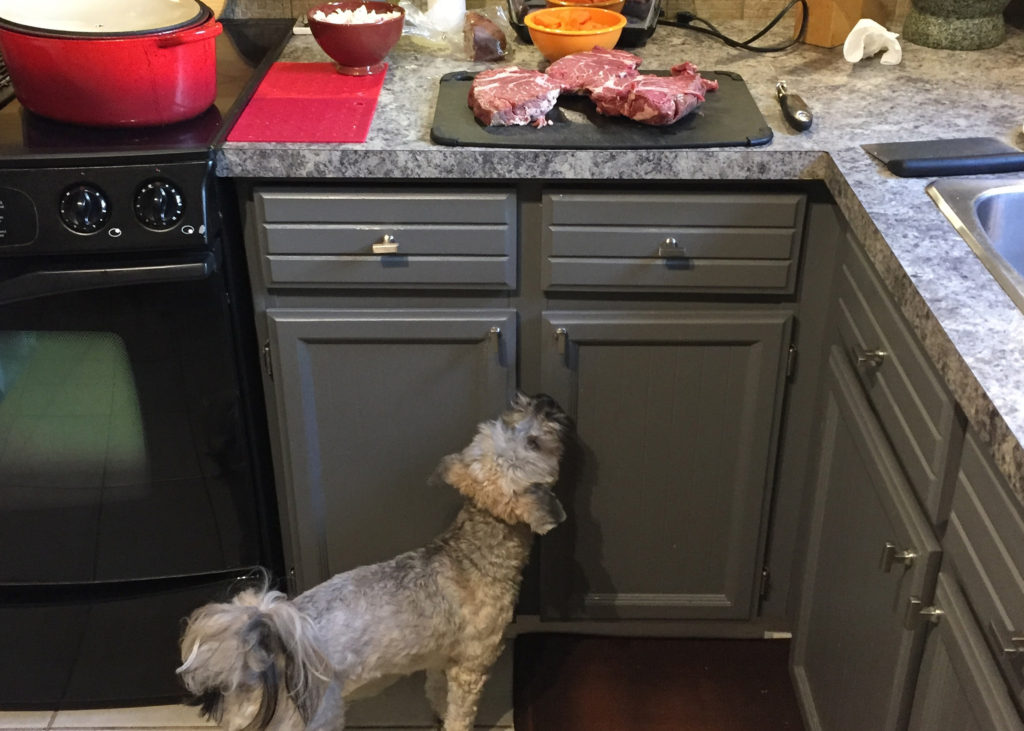 I've been eyeing this recipe for at least a month or so. Originally published in the New York Times here many years ago, it's been written about by various food bloggers since then. It appealed to me because of the copious amount of Dijon mustard. Have you ever really tasted good Dijon? Go grab a spoon and take a taste. It's smooth and creamy, bold and thick, a little bit salty and tart, with a subtle spicy wasabi-horseradish thing going on. It's delicious and adds a lovely depth and warmth when braised in a stew.
I've switched up the original recipe quite a bit by almost doubling the meat, adding a cup of wine to the braise (really, no red wine in a stew?), adding things like tomato paste, and finishing with fish sauce and balsamic vinegar to give more layers of flavour. I also played around with the method by braising in the oven instead of the stovetop. As well, I brown my meat by cutting a chuck roast into steaks and browning those, letting them rest, and then cutting into 1-2″ chunks. It just works better. This is why.
3-4 pounds beef chuck, cut into steaks
2 tablespoons flour (optional, your preference whether you brown steaks with flour or not)
Salt and freshly ground black pepper
1 large onion, diced
3 shallots, chopped
glug of oil (I used leftover fat from frying various meats I keep in my fridge)
1 TBS tomato paste
2 TBS flour
1/2 cup Cognac or Brandy
1 cup red wine
2 cups beef stock (preferably homemade)
1/2 cup Dijon mustard
2 TBS grainy (ancient) Dijon mustard, divided
4 carrots, peeled and cut into bite-sized chunks
1/2 – 3/4 pound mushrooms, stemmed, cleaned and quartered
2 TBS butter
1 TBS fish sauce (optional)
1 TBS balsamic vinegar (optional)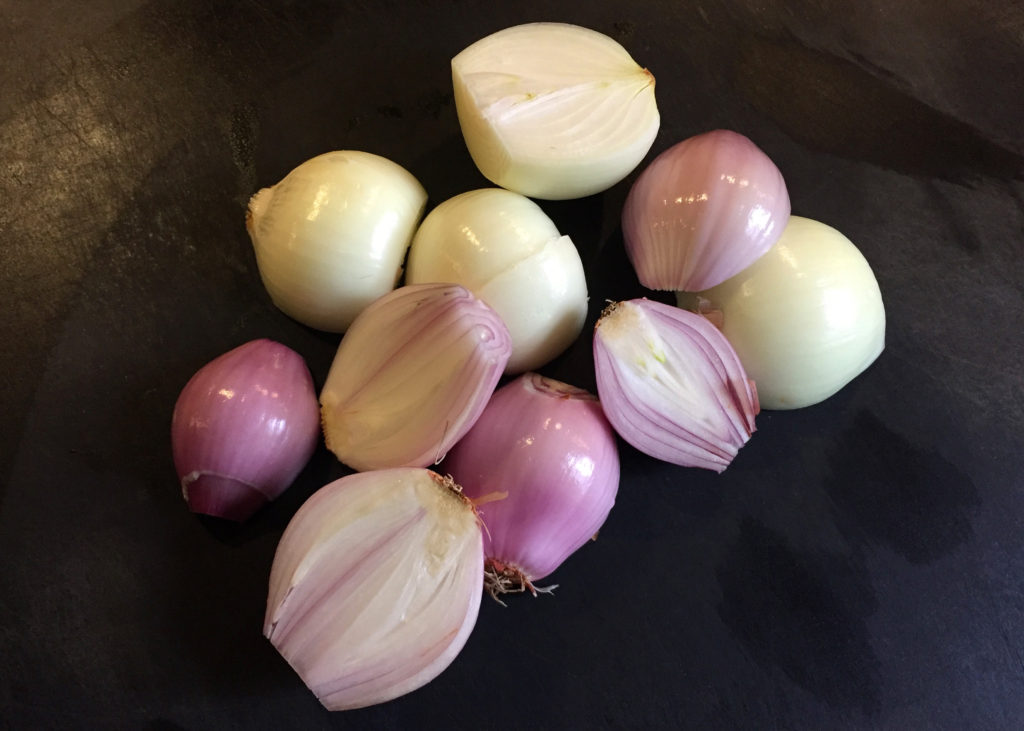 Give your steaks a light dusting of flour mixed with a bit of salt and pepper if you like. This will help a nice crust to form on the meat but isn't necessary. Heat oil (or other fat) in dutch oven over medium-high heat. Add meat in a single layer. Let the meat brown without moving until a nice dark crust forms. Flip and brown the other side. Set aside to let let rest. You may have to do this in two or three batches.
Preheat oven to 300F.
Add onions and shallots to the pot adding a bit more fat if necessary. Turn down heat to medium and let cook until softened but not browned, about 10 minutes. The moisture from the vegetables will also help to gently scrape and lift the fond from the pot. Once the vegetables are soft, add tomato paste and sprinkle with 2 TBS flour and stir for a minute or two. Pour in the Cognac or Brandy and gently finish deglazing the pan. Add the red wine and let simmer for a couple minutes.
Add stock, Dijon mustard, and 1 TBS of grainy mustard. Stir to blend. Cut beef into 1-2″ chunks and add to the pot. Bring to a simmer and place in oven.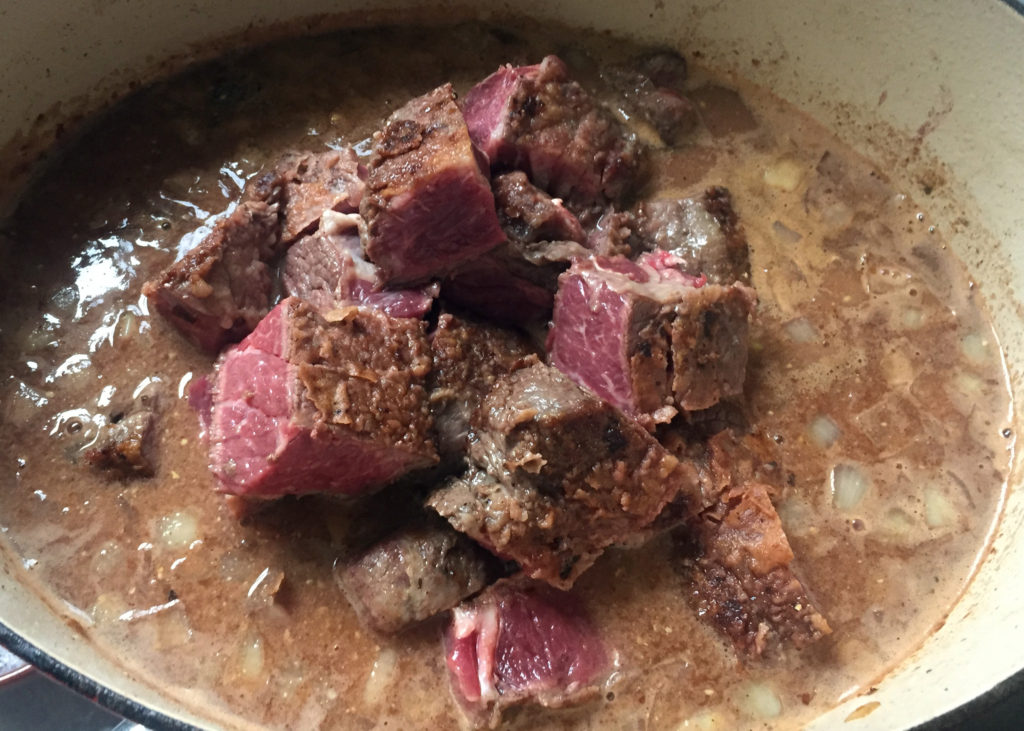 At the 2 hour mark, check the beef. If it is on it's way to being tender, add in the carrots. If it's still quite tough, give it another 30 minutes then add the carrots.
While the carrots are cooking, melt butter to a frying pan over medium-high heat and saute mushrooms until liquid has been released and the mushrooms are brown and tender.
At 3 hours, check to ensure the beef is tender and carrots are cooked. Stir mushrooms and last TBS of grainy mustard into the stew and taste for seasoning. At this point I add about 1 TBS of fish sauce and 1 TBS balsamic vinegar (layers of flavour!).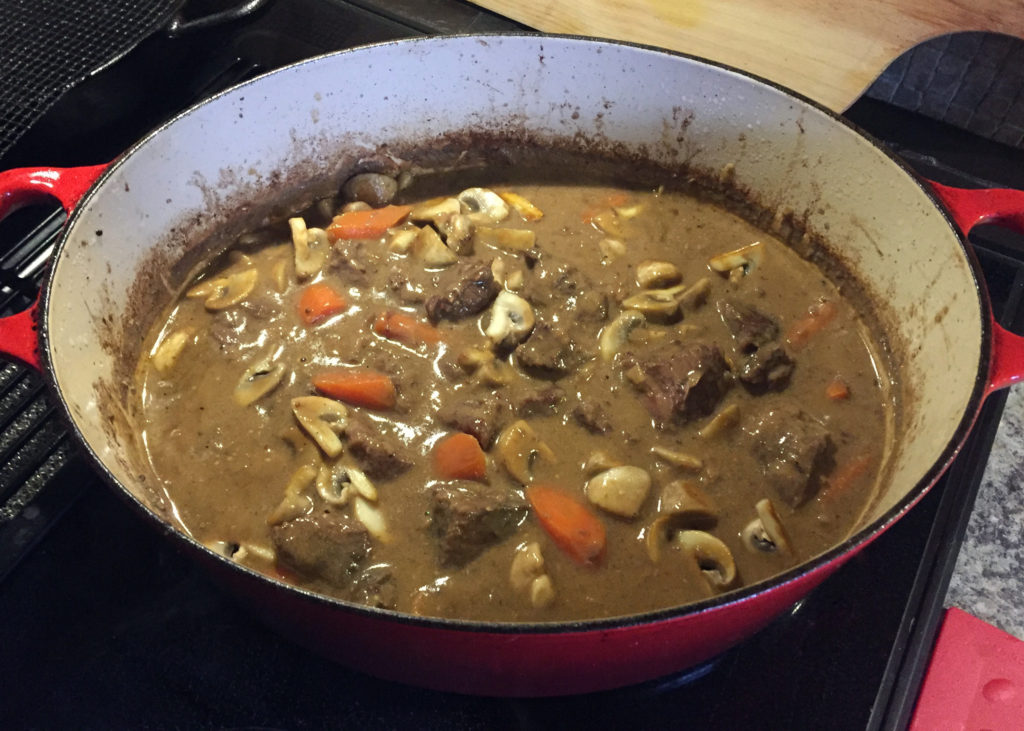 We enjoyed this with some new boiled potatoes but it's equally as good over pasta. Enjoy!