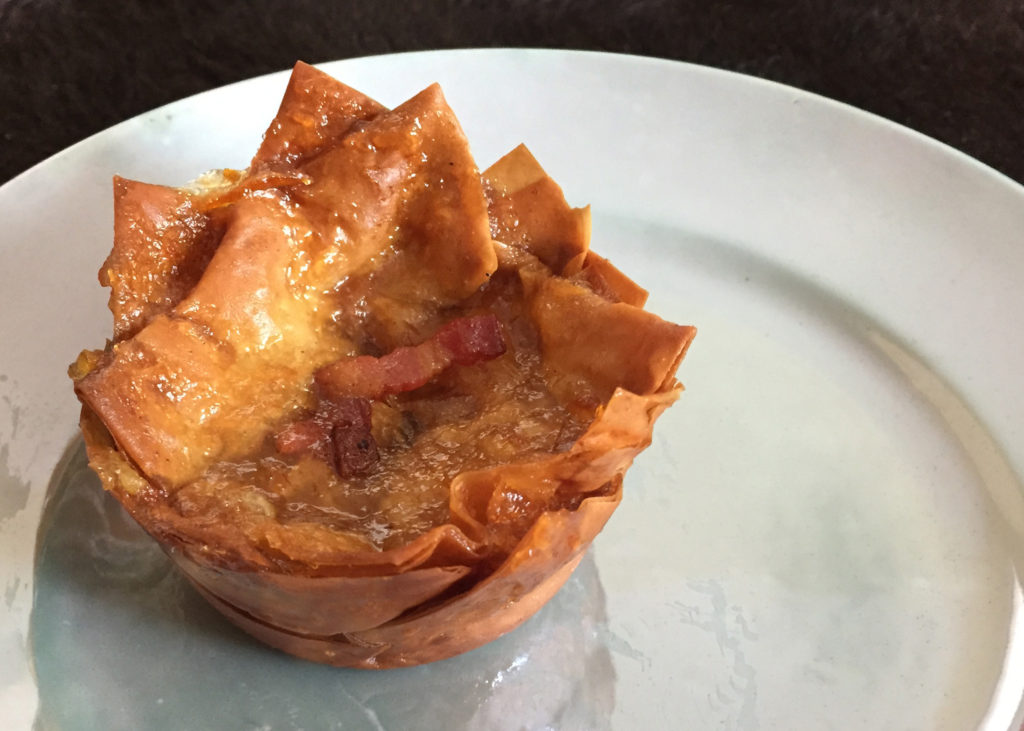 Oh yes, you read that correctly. And I'm not even going to try to convince you except…
Bacon.
Orange.
Baklava.
That is all.
1/2 cup walnuts
1/2 cup pistachio nuts
4 ounces chopped bacon
1/3 cup brown sugar (lightly packed)
1/8 tsp red chili flakes
1/3 pckg filo dough (6 sheets)
1/2 cup (4 ounces) melted butter
1/2 tsp ground cardamom
1/4 tsp ground ginger
1/4 cup orange marmalade
1/4 cup honey
1 TBS orange flavoured liqueur, such as Cointreau (optional)
Fry bacon until crisp. Drain and let cool. Set aside a small handful to decorate the top of your tarts, the main portion will be added to the nut mixture below.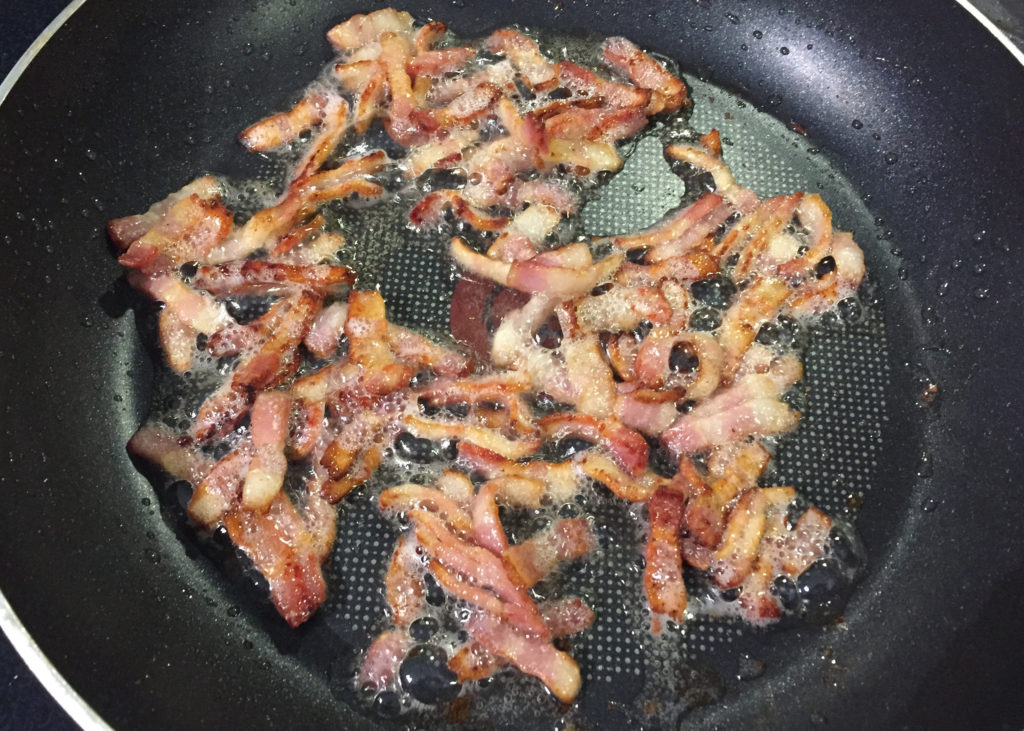 In a food processor pulse the nuts until they are broken up, but not turned into meal. Add the larger portion of bacon, brown sugar, and chili flakes and pulse a few more times until the nut mixture is finely chopped and evenly blended.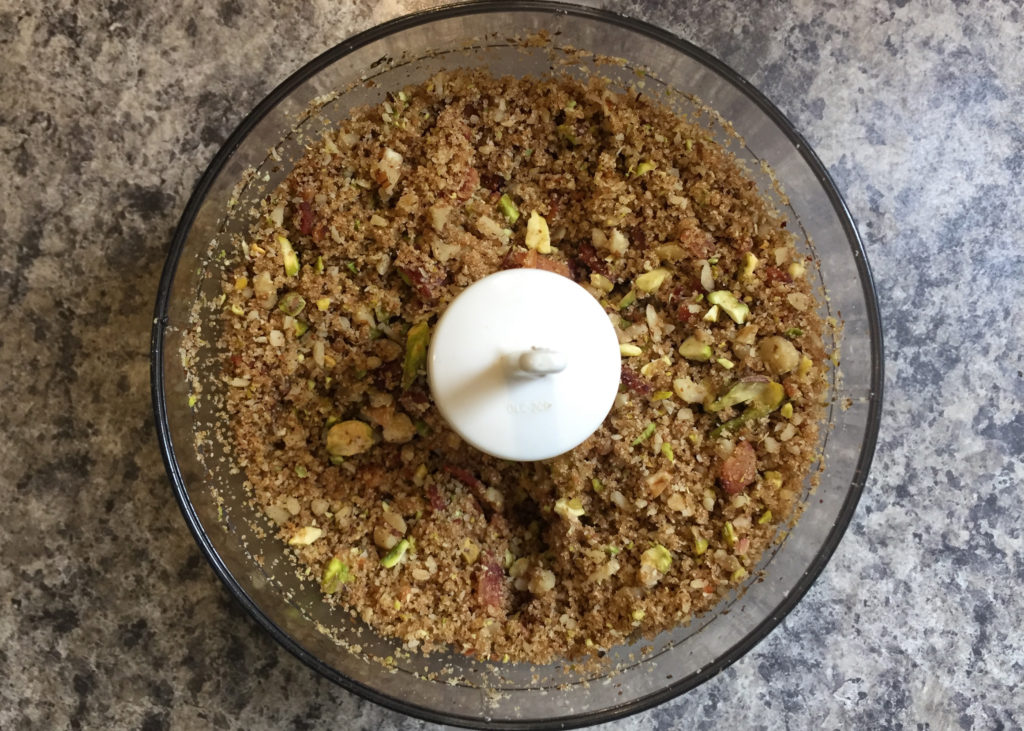 Preheat oven to 350F.
Butter or oil muffin tins (I used the fat leftover from frying the bacon… ooops ;) ).
Melt butter and whisk in ground cardamom and ginger. Place one sheet of filo pastry on a flat surface and brush lightly with butter. Set a second sheet of filo on top of the first and brush with butter. Repeat with a third sheet. Phyllo sheets are usually about 12 inches by 18 inches so cut sheets into 3 inch squares (3 cuts along the short side and 5 cuts along the long side) to make a total of 24×3″ squares.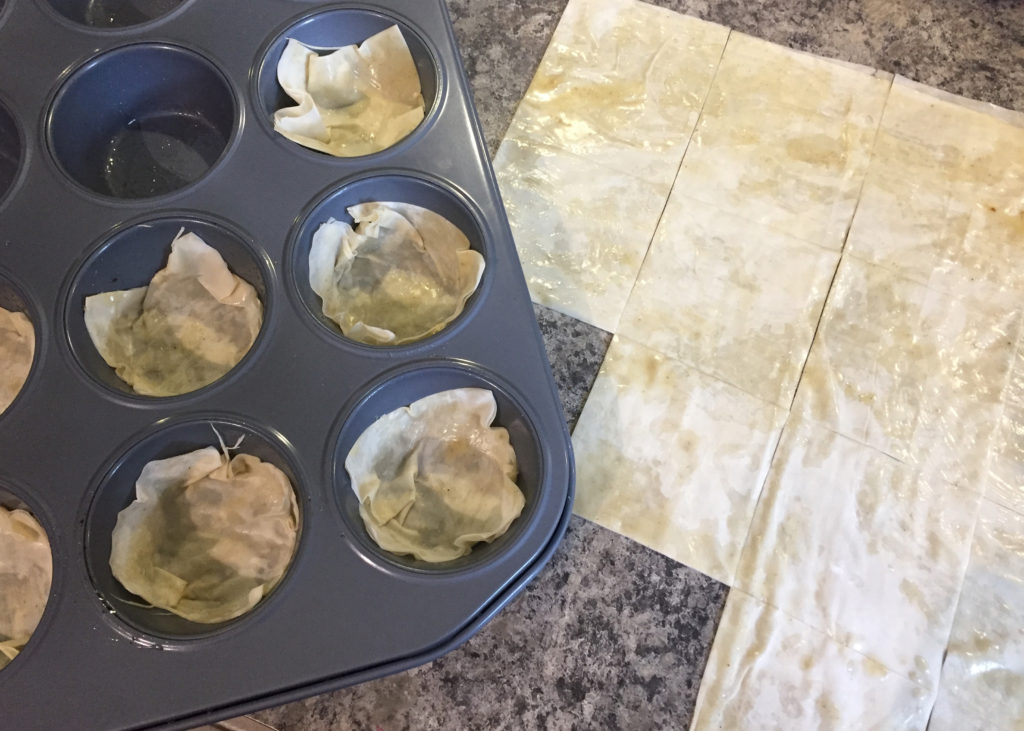 Press one square (3 sheets thick) of filo into each muffin cup. Top with 2 scant teaspoons of the nut mixture. Press another square of filo into each cup over the nut filling. Top with another 2 scant teaspoons of nut mixture.
Repeat. 3 more sheets of filo brushed with butter and cut into 3 inch squares. Press into muffin cups on top of your last layer of nuts. Top with the remaining nut mixture and press in your last squares of filo.
Carefully (or not) with the tip of a sharp knife cut a cross into the middle of each tart, trying not to cut through the bottom layer. This may frustrate you but it's really no biggie. Just make some cuts so that when you pour over the syrup after the tarts have finished baking it will soak through all the layers. No matter how messy your cuts are the finished baklava will still be gorgeous… trust me.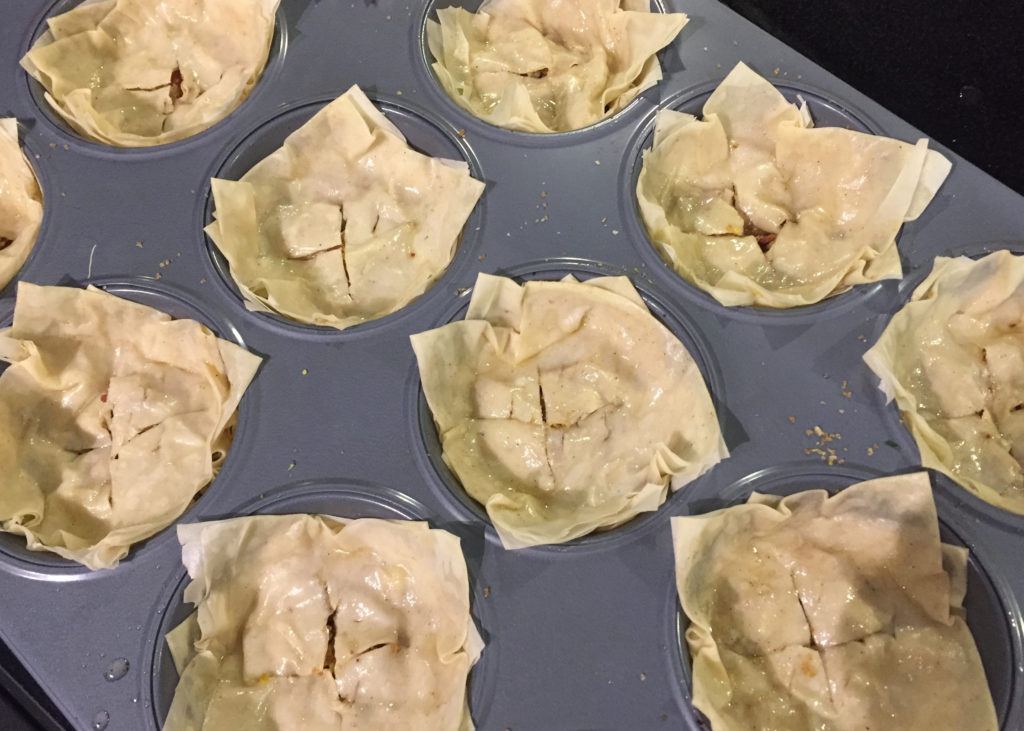 Place in oven for 25 minutes, turning halfway through to ensure even baking. Check your tarts regularly starting at the 15 minute mark. The edges of the filo are very thin and will darken quite quickly. If they are getting too dark for your liking simply tear off a big piece of tinfoil and throw it over the entire muffin tray in the oven to deflect the direct heat.
While the baklava is baking, heat the marmalade, honey, and liqueur (if using). At about 25 minutes the baklava should be nicely dark golden and the tarts cooked through. Remove from oven and immediately spoon 2 teaspoons of warm marmalade honey sauce over each tart right to the edges. Let sit for at least an hour for the syrup to soak through.