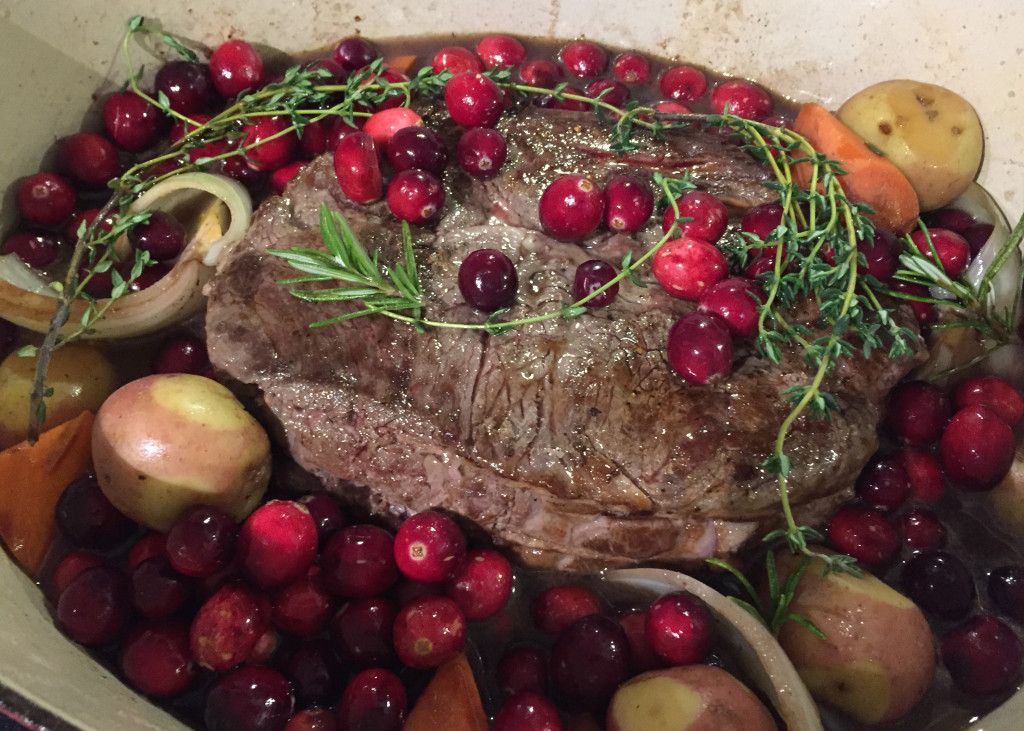 Happy New Year! I hope you had a great one! Ours was pretty low-key as usual, except we did have my beautiful niece stay with us for a few days. We are used to being alone at Christmas but Niece is such a pleasant and positive person (which I'm not sure is true of all 22-year olds), that it was an absolute treat to have her around (and she didn't even complain about having to watch the Lord of the Rings trilogy three nights in a row! How's that for pleasant?! :) ).
As you would expect, we spent most of our time cooking, eating and drinking (luckily, Niece has inherited these important traits from Auntie). We made a pulled lamb shoulder with mint and peas served over pasta for Christmas Eve, and an AMAZING prime rib with AMAZING blue cheese "scalloped" potatoes for Christmas dinner (Niece spent quite a bit of time stacking those potato slices sideways so we got yummy crispy edges). I absolutely have to blog about those dishes one of these days.
Since then I have been trying to eat a bit healthier but yesterday I was craving braise-y meaty comfort food. Plus I had a bag of cranberries in the crisper so… pot roast with fresh cranberries.
Husband loved this dish and it was very good, but I was a bit disappointed how the cranberries disappeared right into the sauce, although they did give just the right amount of tang (dare I say a touch of freshness?) to the dish. Next time, I will try holding back a third of the cranberries and add them in the last hour for some texture and colour. We ate this with charred cauliflower sprinkled with my pangrattato.
3 pound beef chuck roast
salt + pepper
couple glugs of vegetable oil
1 onion, cut into sixths
3 large or 6 small carrots, chopped into 1-inch pieces
12 ounces baby potatoes
1 cup full-bodied red wine
2 cups chicken stock (feel free to add another cup if your roast is bigger or if you like it very saucy)
1 1/2 TBS worcestershire sauce
2 TBS balsamic vinegar
2 TBS honey
3 sprigs fresh thyme
1 sprig fresh rosemary
12 ounces (1 bag) fresh cranberries
Preheat the oven to 325F.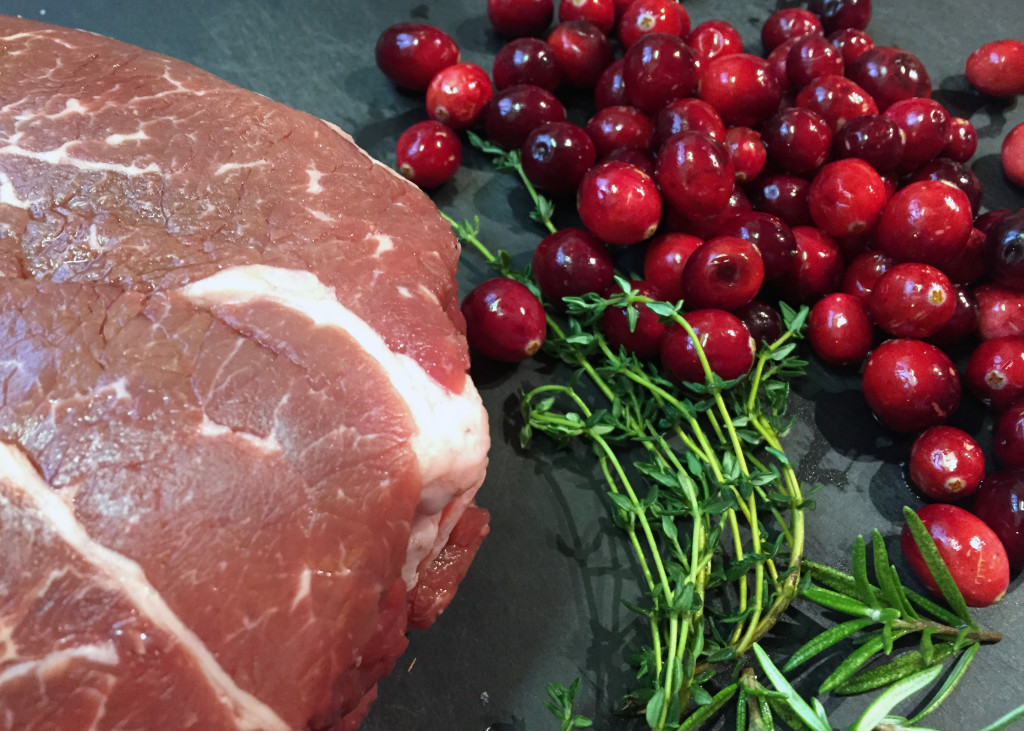 Season the pot roast with salt and pepper. Add a good glug of oil to a dutch oven or heavy-bottomed large pot and sear the roast over medium-high heat on all sides. You want lovely dark brown caramelization; don't rush this part. Remove roast to a side plate. Add another glug of oil to the pot and add onion, carrots and potatoes until they start to show some colour; about 5 minutes.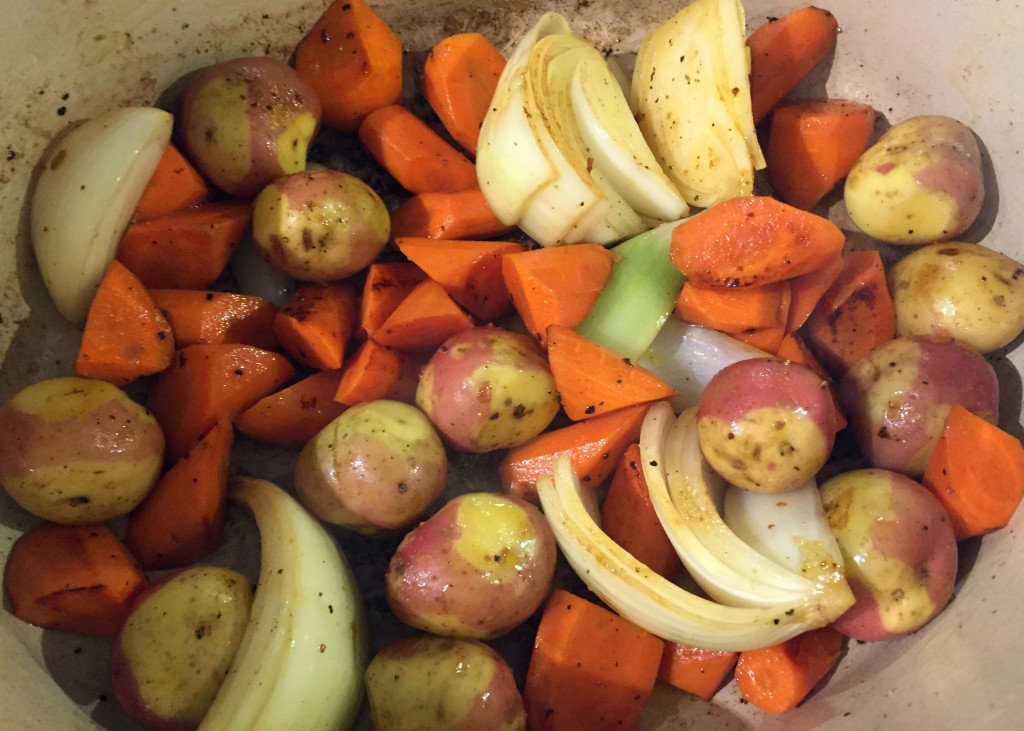 Add the red wine to the pot and gently scrape up any brown bits stuck to the bottom. Let the wine reduce by half and add chicken stock, worcestershire sauce, balsamic vinegar, honey, thyme, rosemary, and cranberries. Nestle the meat in amongst the vegetables, cover the pot, and place in oven. After one hour, turn the heat down to 300F. Continue to braise for another 2 hours or until the meat is falling apart.
(Next time I make this, and there will be a next time, I will add 2/3rds of the cranberries at the beginning and add the rest in the last hour, just for some texture and colour).
Remove from oven. Pull the meat apart into large chunks with a fork. You could omit the potatoes from the recipe and serve over mashed potatoes or pasta. We were happy to eat it straight up with more veggies on the side.