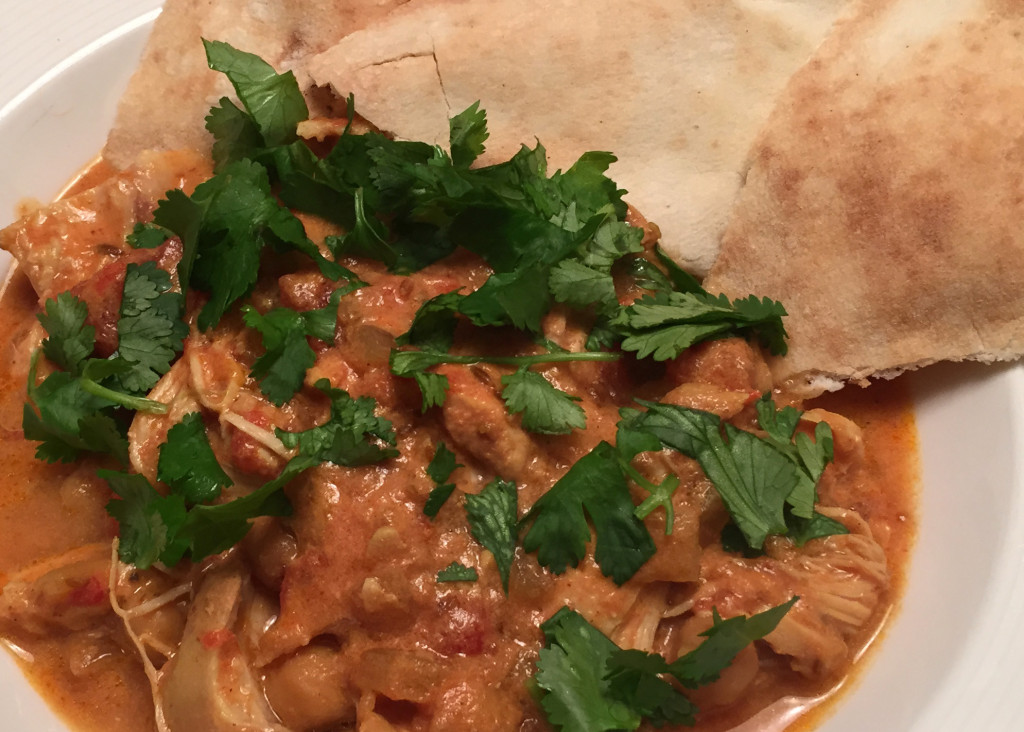 Remember this? https://auntieeats.ca/2015/01/lamb-popsicles-with-indian-curry-sauce/ One of my favourite dishes from one of my favourite restaurants. I own all of Vij's cookbooks. Many of the recipes have become favourites and now you get to try another one… sort of. This recipe is based on Vij's Family Curry but I have adapted it substantially to make it healthier (subbing in chickpeas for a large portion of the meat and cutting back on the fat), and easier (hello boneless skinless chicken thighs and sloooooooow-cooker). Don't worry, it still has the same deliciousness as the original, but with much less hassle.
The original version of this recipe is a regular "birthday-dinner" request of my second-oldest Niece. I wish I still lived close enough to my "middle" nieces to cook for them on a regular basis but since I don't, I'm hoping my take on one of their favourite meals is so much easier that they will someday make it for themselves (do teenagers cook for themselves? I'm not sure but maybe they'll give it a try). This makes 4 servings (Husband and I for dinner with leftovers) and you can easily double the recipe if you wish.
glug of vegetable or canola oil
1 large onion, finely chopped
1 3-inch cinnamon stick
2 cloves garlic, finely chopped
2 TBS fresh ginger, finely chopped
1 14-oz can good quality whole tomatoes (use 1 28-oz can if doubling)
1 tsp salt
1/2 tsp turmeric
1 TBS cumin seeds, ground
1 TBS coriander seeds, ground
1 TBS garam masala
pinch cayenne pepper or a shake of chili pepper flakes
1 14-oz can chickpeas, rinsed and drained
1/2 cup chicken stock (can be made with good quality stock paste such as Better Than Bouillion)
1/2 pound (approximately 4) boneless, skinless chicken thighs
1/3 cup sour cream
chopped fresh cilantro to garnish
In a large pan heat oil on medium heat, add onions and cinnamon stick and sauté until the onions start to turn slightly golden (about 5 minutes). Add chopped garlic and saute another minute.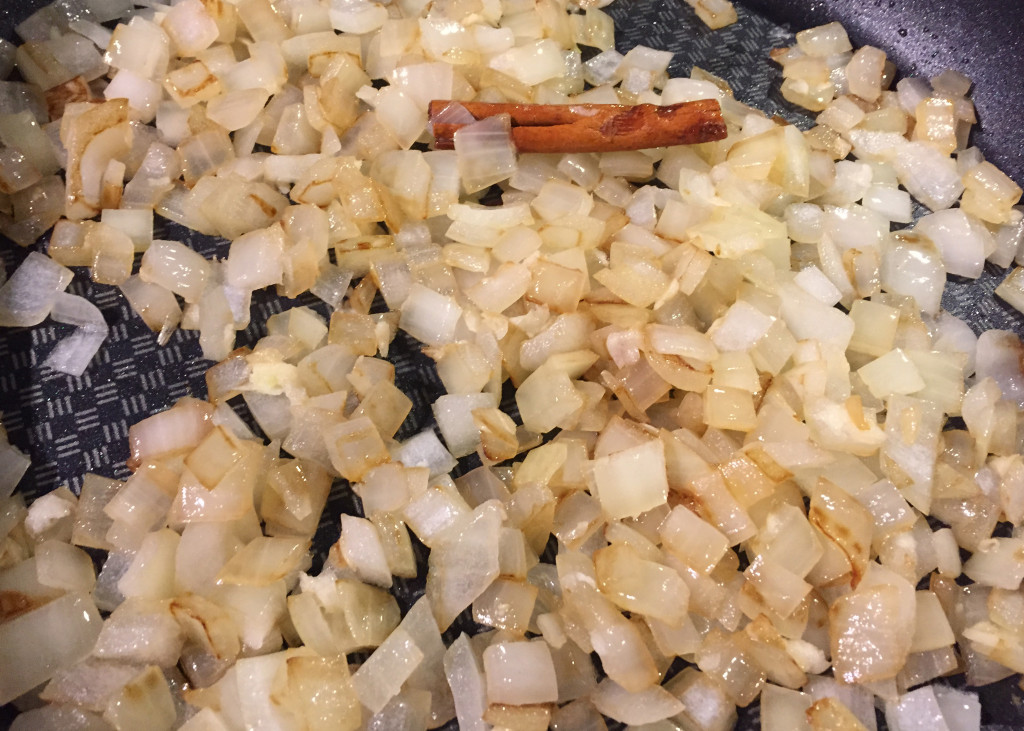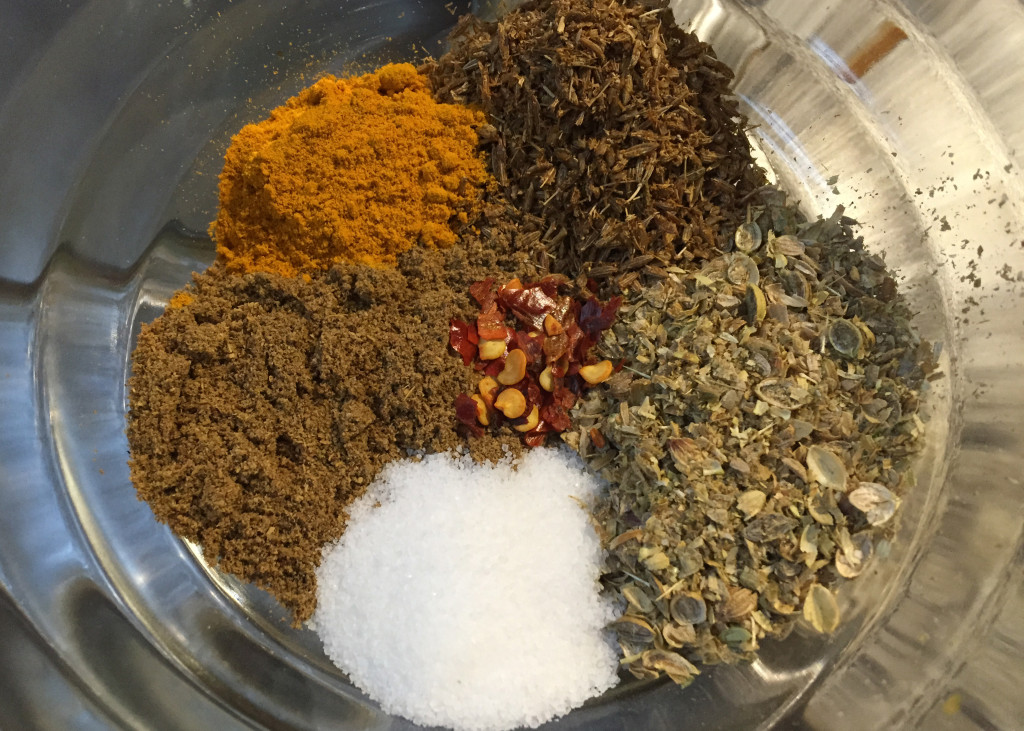 Add ginger, tomatoes, salt, turmeric, cumin, coriander, garam masala and cayenne or red pepper flakes. Cook for 5 minutes, stirring a couple times and breaking up the tomatoes with a spatula. Stir in the chickpeas and the chicken stock.
Nestle chicken thighs into the sauce. Cook for a more couple minutes, turn over thighs and cook for a couple more minutes. Your goal here is to warm the chickpeas and start heating the thighs to give the slow cooking a bit of a head start.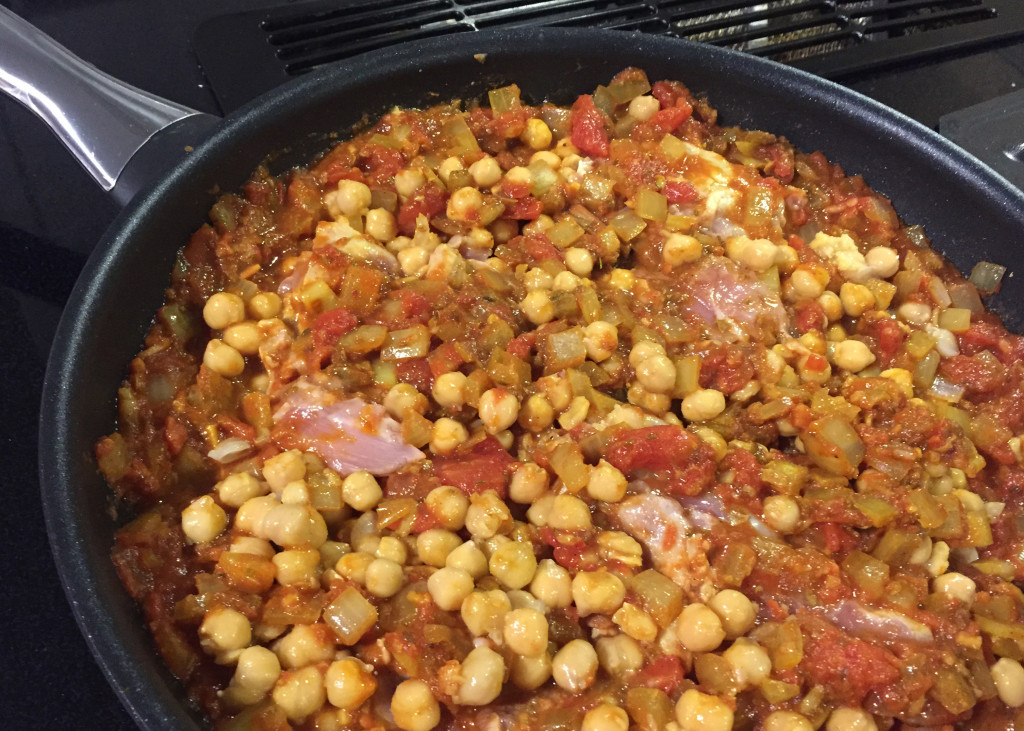 Add all the pan ingredients to your slow cooker and turn on low for 4 hours.
At the 3 1/2 hour mark (30 minutes before you plan to eat), put the sour cream into a small bowl or measuring cup, scoop a couple spoonfuls of the hot tomato-y sauce from the slow cooker into it and stir well (you're tempering your sour cream so it won't curdle when heated). Add the sour cream mixture into the slow cooker and stir.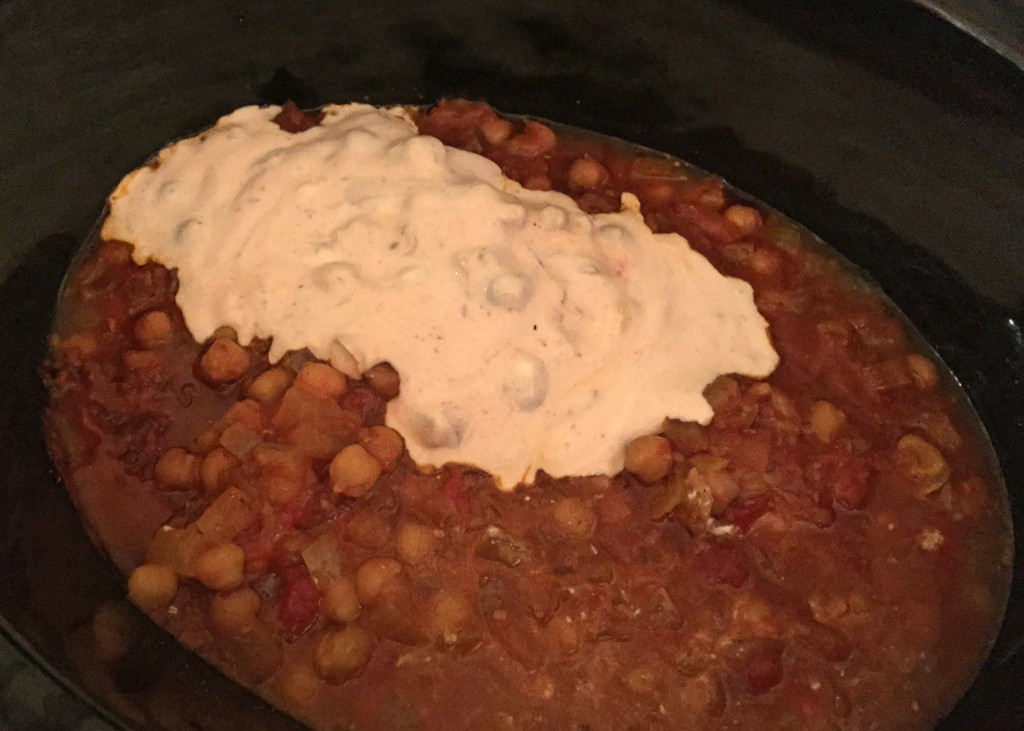 Continue to cook for another 30 minutes. When you're ready for dinner, pull the chicken apart in the curry with a couple of forks. Sprinkle with cilantro and serve with naan or rice.