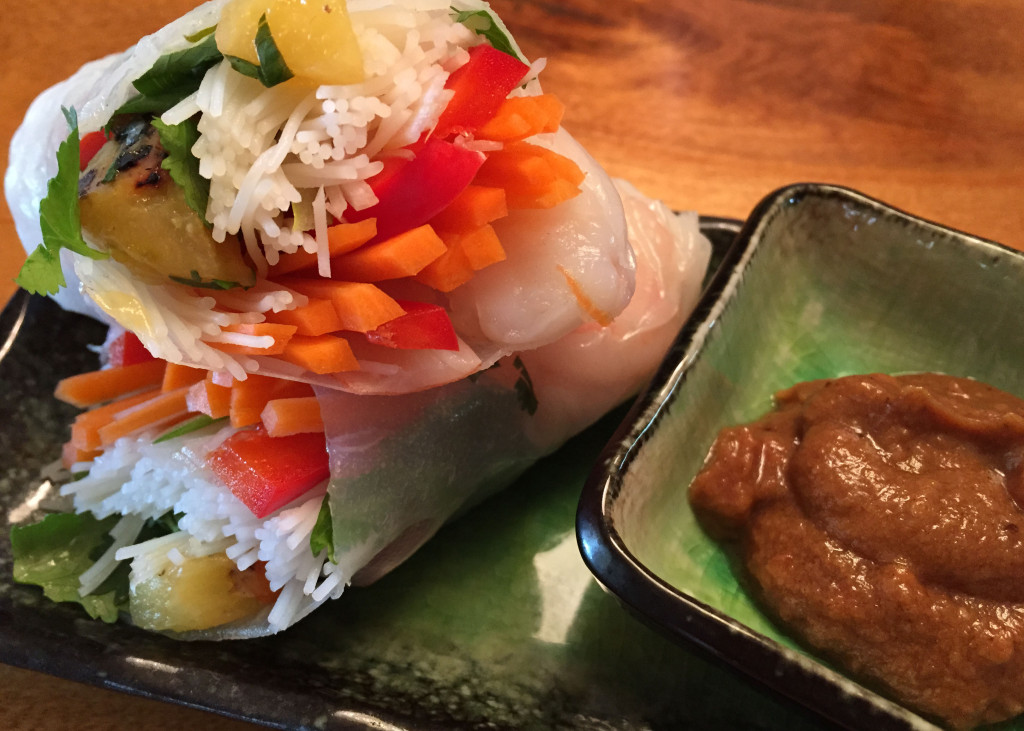 What to do for lunch tomorrow?! This was my great dilemma this morning as I lay in bed listening to the rest of the world start their day. I didn't feel like going shopping for salad ingredients. I had some carrots in the fridge, a half a pepper from the pineapple salsa I made the other night https://auntieeats.ca/2015/04/grilled-fish-tacos/, some cilantro, green onion, and not much else. My pantry is usually pretty well stocked with Asian ingredients and I always have prawns in the freezer. Sounds like salad rolls are on the menu.
These rolls are very adaptable to whatever you have in the fridge. Other filling ideas are bean sprouts, matchstick cucumber or zucchini, basil or mint instead of cilantro, poached chicken instead of shrimp. I used very little green onion in mine because I'm taking them to work but feel free to use more.
Don't worry about getting the vegetables cut perfectly. I'm a bit obsessed but even using a vegetable peeler to make strips of carrots would work just fine!
As far as the peanut sauce goes, it was very good but next time I might try adding some fish sauce. Sesame oil would be tasty as well.
For the rolls:
9 medium-size (I used 16/20 count) prawns, shelled
2 oz vermicelli noodles (or about 1 1/2 cups of finished noodles)
6 round rice paper wrappers
1/2 red bell pepper (thinly sliced, pole to pole)
1 large carrot (cut into thin 3″ matchsticks)
1 green onion (thinly sliced on the diagonal)
leaves from 20  or so sprigs of cilantro
Peanut sauce:
4 TBS peanut butter
1 TBS hoisin sauce
1 TBS fresh lime juice
1 tsp soy sauce
1 tsp honey
1 tsp chili garlic sauce
Mix peanut sauce ingredients in bowl, then blend in enough cold water to get the consistency you want. For me, this is about 3 tablespoons. Set aside.
Heat a good amount of water (enough to also cook noodles below) in medium-size saucepan. When it starts to simmer, add prawns and cook for 2 minutes. Remove the prawns from the hot water with a slotted spoon, rinse in cold water and pat dry. Cut in half lengthwise and set aside.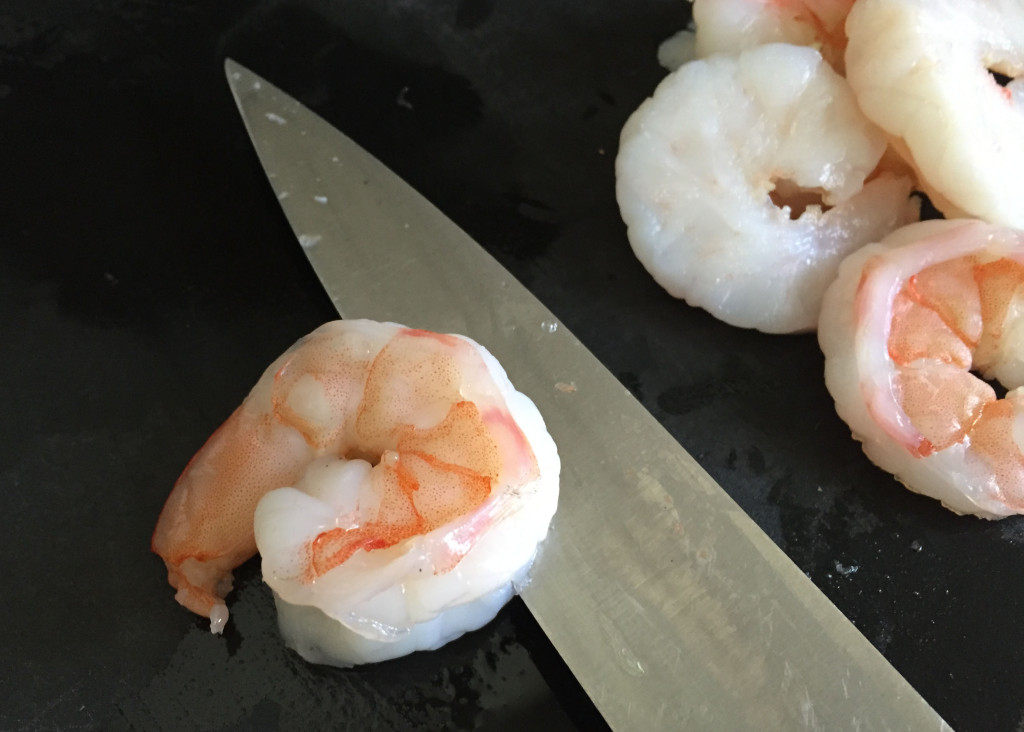 In the still hot water in which you cooked the prawns, cook vermicelli noodles according to package directions. This should entail adding the noodles to the hot water for about 3 minutes, then rinse in cold water and drain.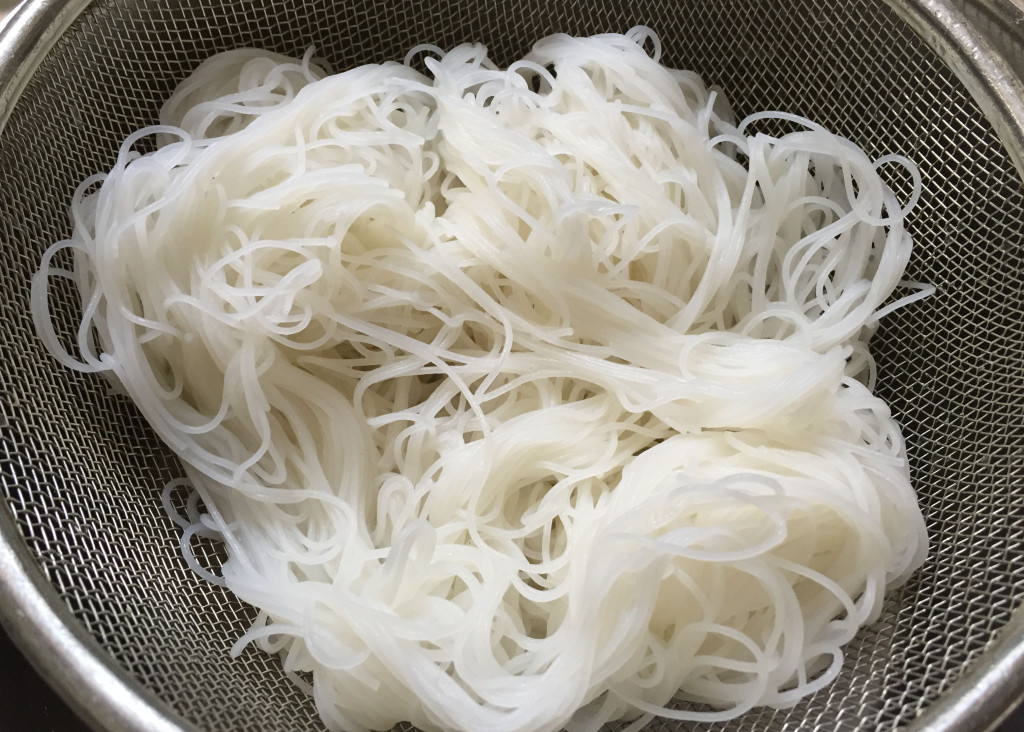 Putting it together: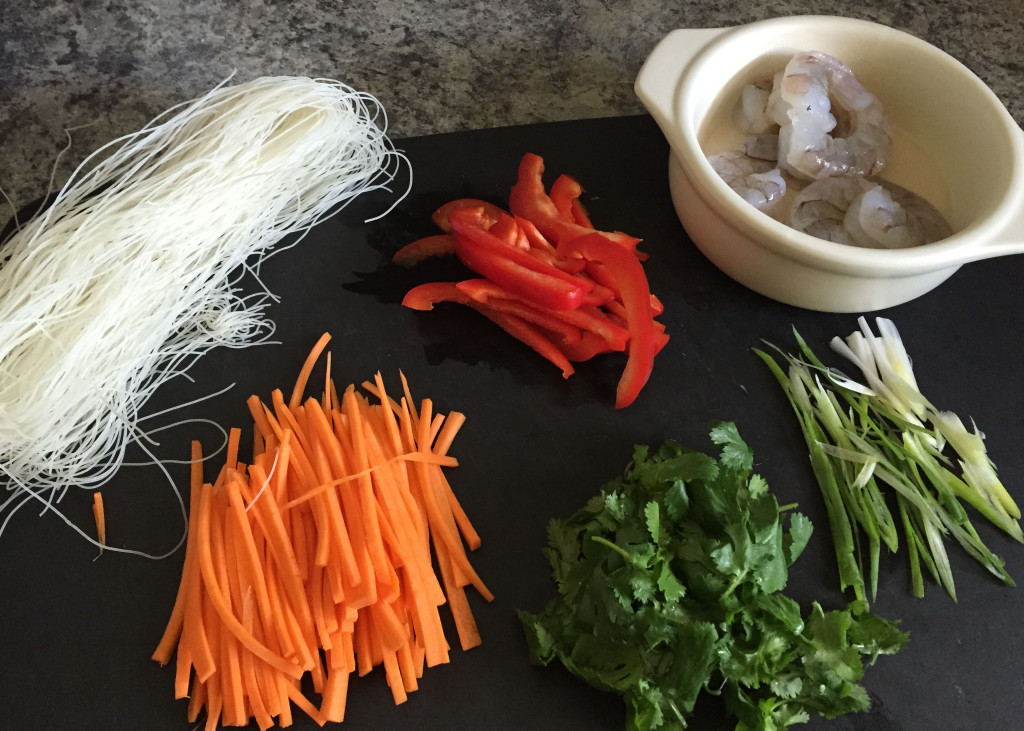 Place a clean, damp kitchen towel on a work surface. If you work very quickly you don't need the towel, just make sure the work surface is wet. But if you think making the roll is going to take you longer than a minute, use the towel or the rice paper will stick to your work surface (like my first one did!). Fill a wide, shallow dish large enough to hold a rice paper wrapper with hot tap water (big pie plate or frying pan). Working with 1 wrapper at a time, completely submerge the wrapper until it is soft and pliable, about 10-15 seconds. Remove the wrapper from the water and place it on the towel.
Lay 3 prawn halves in a row along the centre of the wrapper. Add other vegetables lengthwise on top. Make sure they are neatly laid or they will poke through your rice paper when you try to roll it. Add a small amount of vermicelli noodles and top with cilantro.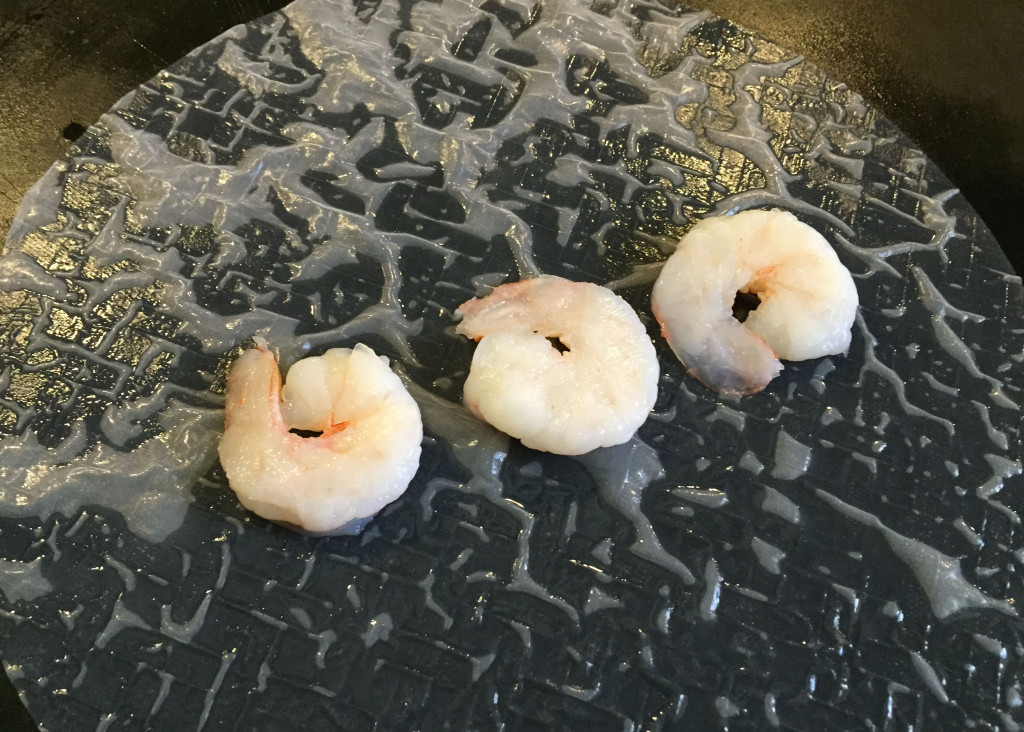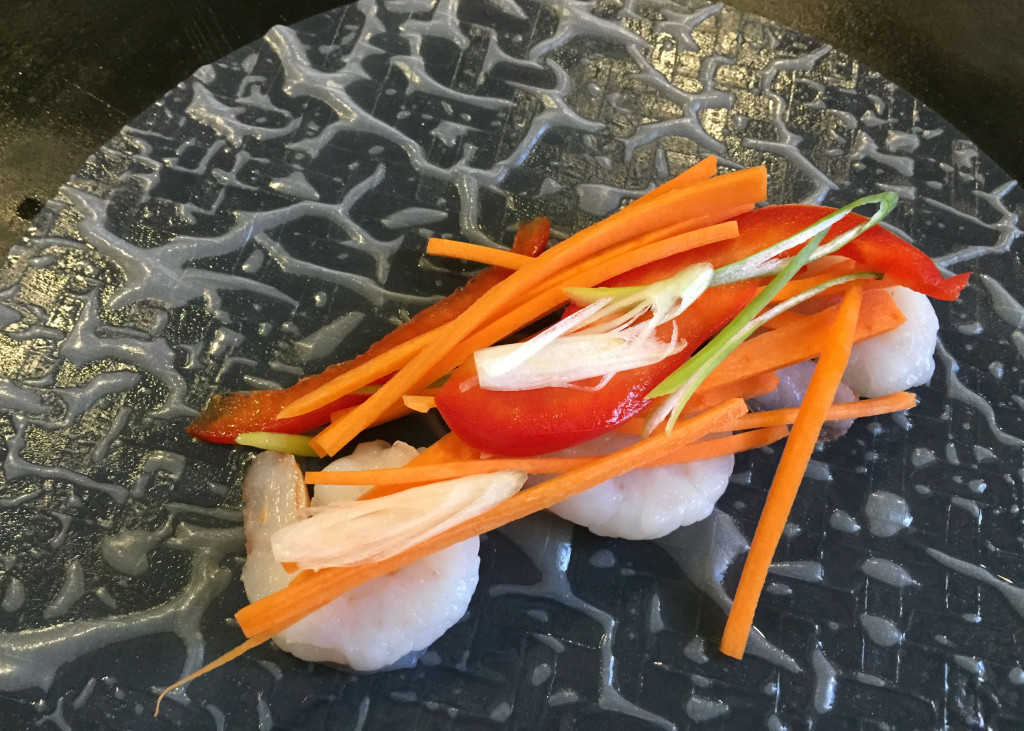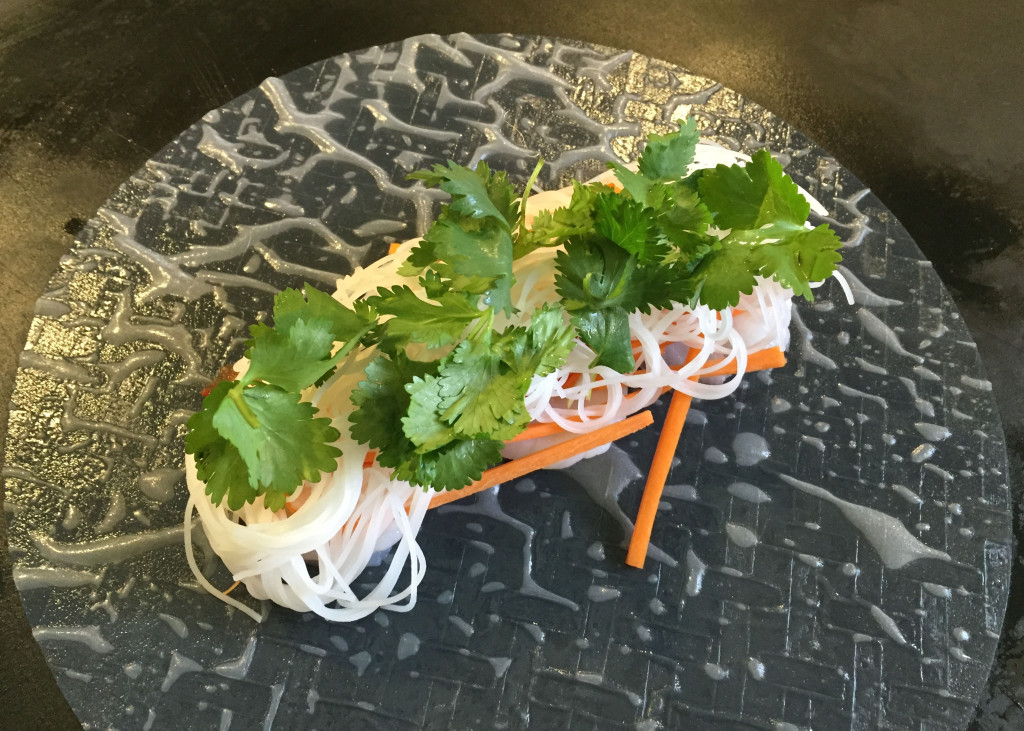 Now comes the tricky part!
Fold the bottom half of the rice paper over the vegetables. Holding the vegetables firmly, pull back on them just slightly to tighten the roll. Fold in the sides and continue to roll away from you. SEE?!?! You did it! :) Note my picture below. The ones on the right were my first attempts (that second one from the right is especially bad!). Don't worry if the first couple are messy, they will still taste good and once you've done it a few times, you will get the hang of it.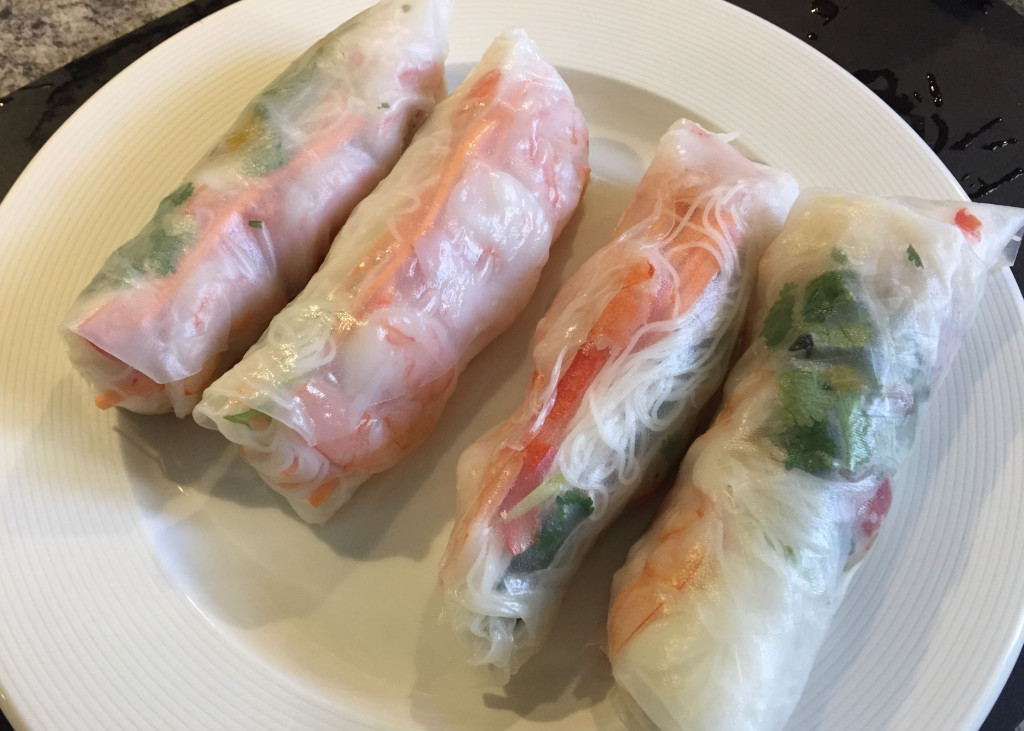 If you want to hold them for a day or two, wrap them individually in cling wrap. When you're ready to eat them, just dip them in peanut sauce and go for it. Very fresh and tasty.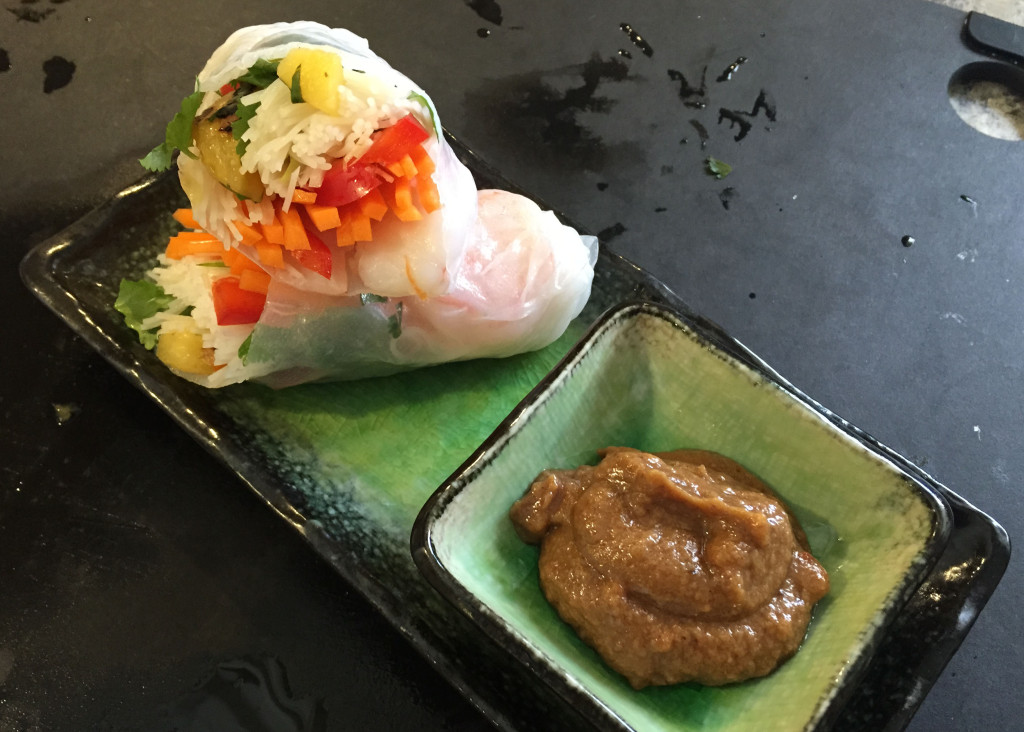 Oh, and don't tell Husband I made these, because I've already eaten half of them and the other half are safely hidden… um… STORED in fridge for my lunch tomorrow. :)