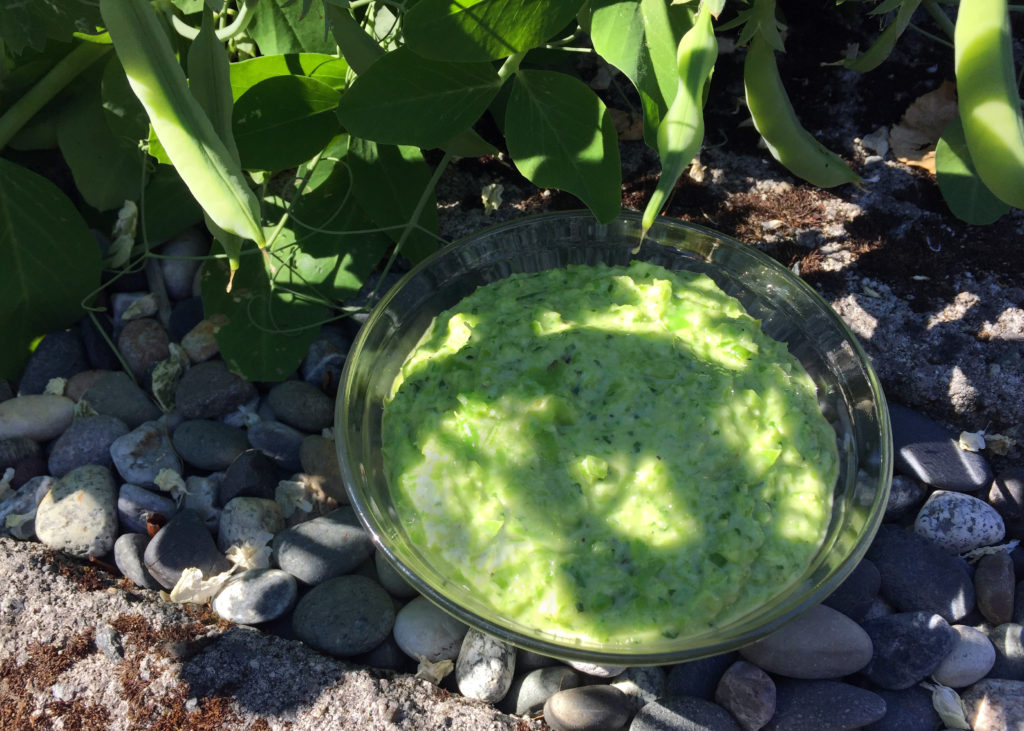 I KNOW! I, too, am afeared that I am taking this whole pesto thing to extremes, but hear me out! I argue that… hmmm, well, I don't really have an argument except if it tastes good…
AMIRIGHT?!?!
Yes, I'm right.
I planted 3 different kinds of peas this year. I never have to worry about what to do with shelling peas because, ahem, they never make it to the kitchen (they are eaten right in the garden). Snap peas, those crunchy little delights are thrown straight into salads or eaten as a raw crudité with dip! Snow peas, they are more of a conundrum for me. I love them in stir fries or fried rice but that's more cool weather food. Snow peas have all the delicious fresh pea flavour but they are, well, floppy. How to solve the flop?… pesto those suckers!*
I added mint to the pesto because I had a minted pea soup in Paris a couple years ago that I still can't get over, and garlic scapes instead of garlic because they are yummy and I need to use them up (as I did in my carrot top pesto). I didn't use nuts because I forgot (something for which I am infamous… forgetting to add ingredients into dishes). Soooo, here's my the Quick & Dirty but feel free to try a different herb, add some toasted nuts, use garlic instead of scapes. Just experiment. It's all good.
4 ounces of snow peas (a large handful), strings removed
small handful of mint
3 garlic scapes
1-2 ounces grated Pecorino or Parmesan (to taste)
1/3rd cup good fruity olive oil
1/2 tsp kosher salt
freshly ground pepper to taste
Blanch mint for 15 seconds (to keep the lovely green colour, otherwise your pesto will be muddy) and plunge into cold water. Blanch peas for one minute and plunge into cold water. Drain both. Roughly chop peas and garlic scapes and put in food processor, pulsing a couple times to break up. Add the rest of the ingredients and continue to pulse, then process until you get the texture you want. Taste and adjust seasoning.
I tossed my pesto with hot pasta. You could also smear it on grilled bread and top with cherry tomato, or buffalo mozzarella, or both! Use it as a base for pizza, dollop on roasted vegetables, or use instead of sour cream on a baked potato. The possibilities are endless… come join me. :)
*(If you're an English major, yes, I know "pesto" isn't a verb. And if you're Italian, yes, I know I've completely bastardized real pesto. But the point of my website isn't to be exactingly authentic. The point is to encourage people to cook at home and try new ideas, think outside the box with respect to food. I hope you agree with me that that's a good thing :) ).