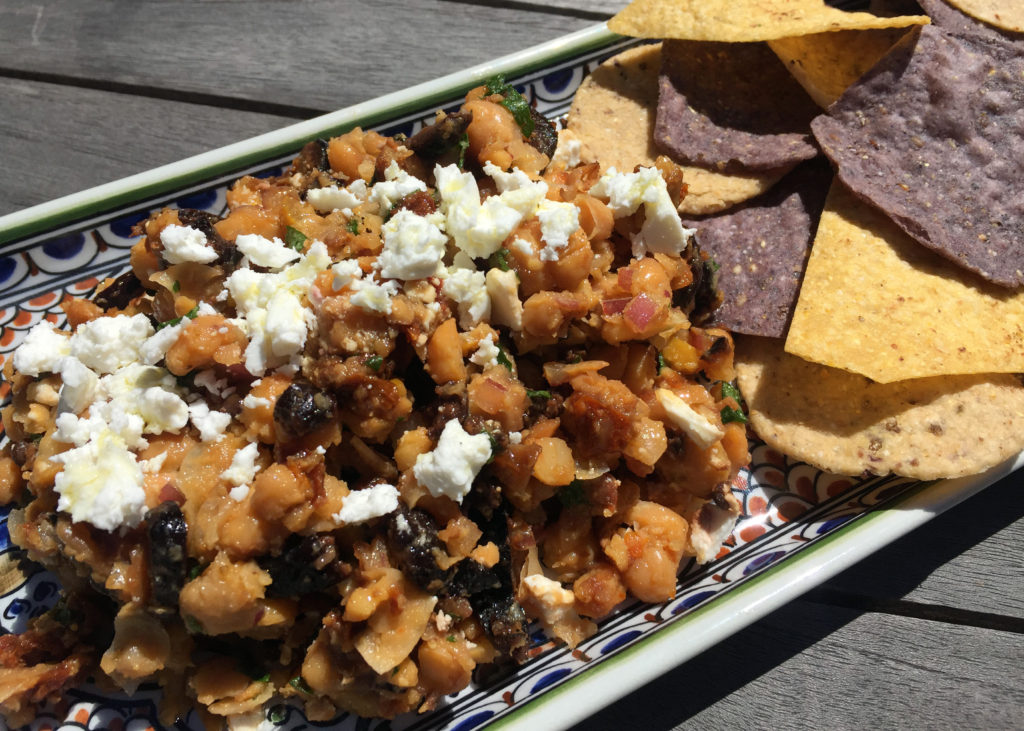 I have been making this dip for years and never thought to write it up because, well, I've always just thrown it together. People love it and always ask how to make it so I give them the 30,000 foot view "you take some chickpeas, mash them up, add some stuff, serve with nacho chips". And I was asked again last night after serving it as an appy at a dinner party so now I'm going to actually write it down to share with you.
As with all my Q&Ds, it is infinitely adaptable. My version below is on the salty side and zesty enough for, in my opinion, the perfect burst of flavour on a cracker but you should adjust the recipe to your taste. I also sometimes sprinkle in some hot chili flakes. You could also add diced bell pepper, artichokes or fresh tomatoes. For a more "salad-y" route try diced carrot and celery. Smoky paprika would also be delicious. Shower with fresh grated Parmesan or Pecorino instead of feta. And I have to admit I have wondered about adding a sweet note… raisins? Cranberries? A touch of curry powder?
See?!?! Adaptable :)
One more thing… I'm a huge fan of preserved lemons. They add a salty, briny, intense "je ne sais quoi". You should be able to buy them in almost any Mediterranean market but you can also easily make them at home like this! Fresh lemon, of course, works almost as well.
1 1/2 cups of dried chickpeas to make 3-4 cups, or 2 cans (rinsed and drained)
1/2 medium red onion, finely diced
1/2 – 1 cup Moroccan dried cured olives (the wrinkly black ones) or other olive of your choice, pitted and chopped
1/2 cup sun-dried tomatoes in oil, chopped
1 whole preserved lemon (peel only), finely diced (or use the zest and juice of a whole fresh lemon)
1/2 cup Italian parsley, chopped
1 clove garlic, minced
couple glugs of good fruity olive oil
salt & pepper to taste
2 ounces crumbled feta to garnish
Boil your chickpeas (I like to do mine in stock or add a whole smashed clove of garlic, bay leaf and a pinch of salt to regular water) until quite tender but not mushy, or rinse and drain 2 cans of chickpeas. Put the chickpeas in a large bowl and mash them into a nice chunky texture. I use a pastry cutter to do this but you could use a potato masher or a just a fork. Add in your other ingredients (except feta) and stir to combine. Taste and adjust with salt and pepper. Garnish with crumbled feta and serve with nacho chips or toasted pita.