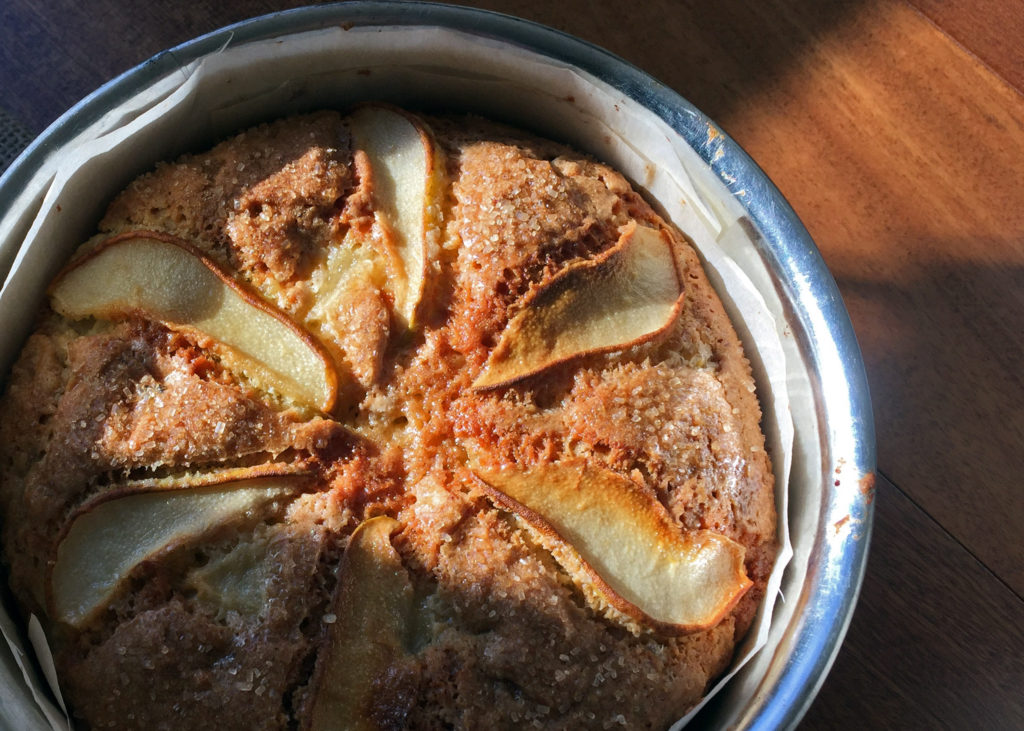 I know. For someone who claims not to eat sweets this is the second sweet recipe in a row. I wouldn't believe me either!
When I do indulge, I prefer a savoury element to my dessert. Despite its popularity I had never tried an olive oil cake and I have to say, I'm sold. The end result is tender and moist and has a lovely fruity grassy flavour from the olive oil that you just don't get putting regular oil into a cake. I like extra-virgin olive oil for a more pronounced flavour but you can use regular olive oil for a milder cake. In this recipe (which hails from this tiny beloved restaurant in London) the ginger adds a spicy element and the pear is a perfect match with the cheese you should serve with this cake. Yes… cheese! Something sharp and tangy like a Spanish aged sheeps' milk (Manchego!), or a creamy French blue (St. Agur!) or a runny, slightly salty, bloomy, buttery, somewhat pungent French triple cream (Delice de Bourgogne!). And I'm not even going to mention the amazing crispy crackly caramelized top which comes from a generous sprinkling of demerara sugar… nope, not saying a word.
The original recipe asks for a 2 kg loaf pan which I do not have so I used a 7" springform pan and it took an extra 25 minutes to fully cook the cake in the centre but the top did not overcook so don't be afraid to leave it in as long as necessary. If the top starts to get too brown for your liking you can cover it with a piece of tinfoil until the cake is done. It will take closer to the recommended time if you use a loaf pan or a larger springform pan.
As well, I highly recommend using a weigh scale to measure the sugar and flour, but I have converted the measurements into volume amounts if you prefer.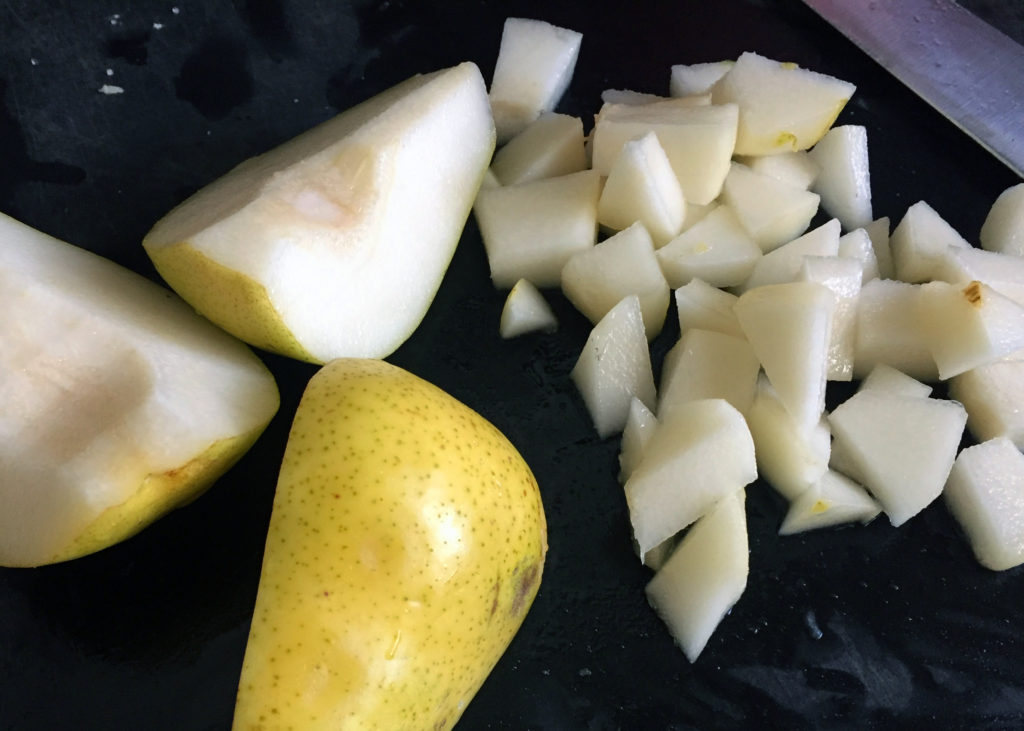 3 medium pears, 2 peeled and diced and one skin on, cut into wedges
1 TBS lemon juice
Zest of 1 lemon
200g (scant 1 cup) sugar
160ml (2/3 cup) good quality olive oil (I prefer extra-virgin for a more pronounced flavour)
2 eggs
50g (1/3rd cup) crystallized ginger, finely chopped
350g (2 1/2 cups) all-purpose flour
1 tsp ground ginger
1 tsp baking soda
1 tsp baking powder
½ tsp table salt
To garnish:
pear wedges from the third pear mentioned above, skin on and cut in thin wedges
1 TBS demerara sugar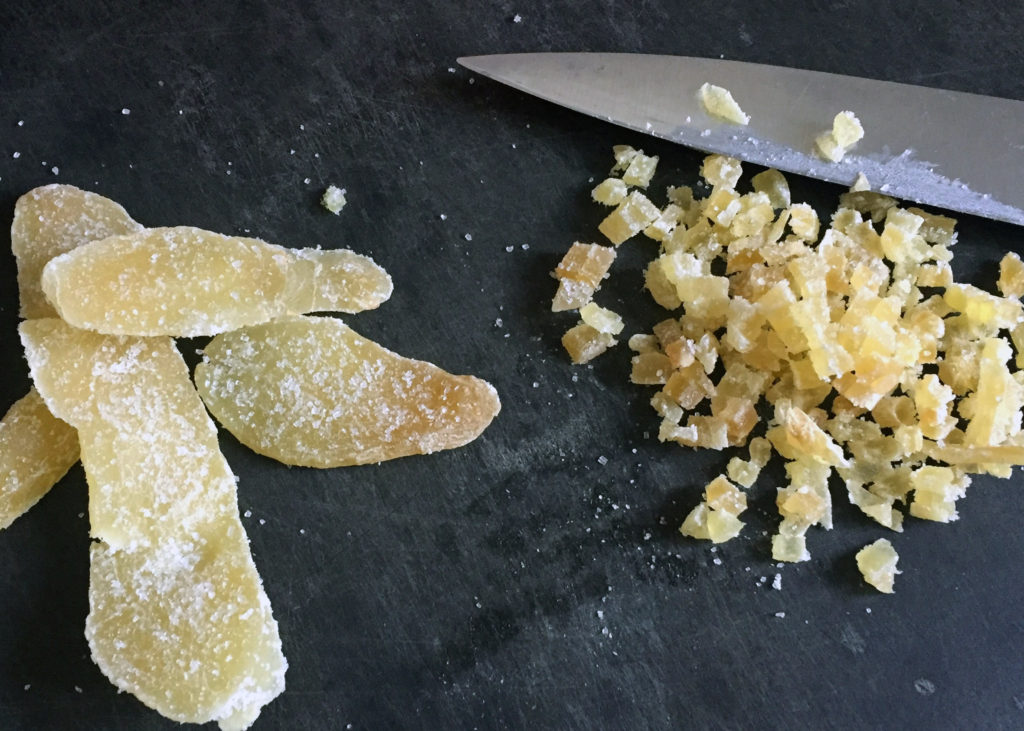 Preheat oven to 350F. Line a 7" or 8″ springform pan or a 2 kg loaf pan with parchment paper.
Mix the peeled, diced pears in a bowl with the lemon juice and zest and set aside.
Put sugar and oil in a large bowl and whisk until combined. Whisk in the eggs one at a time until the batter is thick and smooth. Add the diced pear mixture along with the chopped ginger and fold to combine.
In a separate bowl, combine the flour, ground ginger, baking soda, baking powder, and salt. Stir so the ingredients are evenly distributed. Add flour mixture into the bowl with the wet ingredients and gently fold until just combined. Do not overwork or your cake will be tough!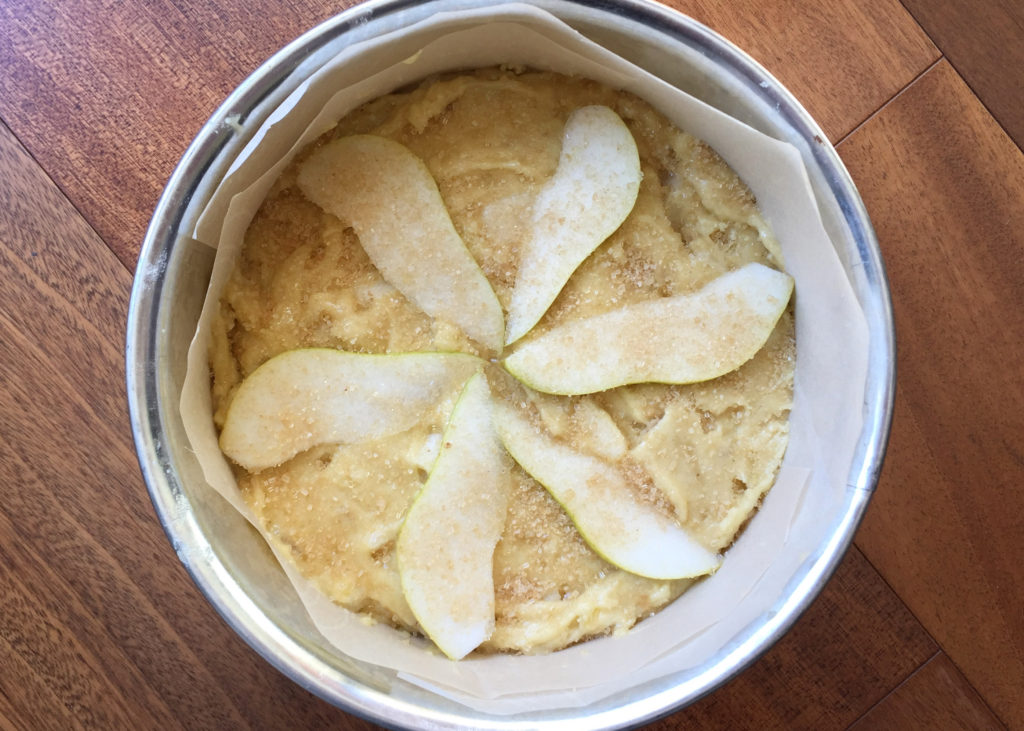 Transfer the batter to the lined springform pan. Top with the pear wedges and demerara sugar. Place in oven and bake for 40 minutes. Turn the pan and bake for another 25 minutes. At this point you can start checking to see if the cake is cooked through by sliding a toothpick or sharp knife into the centre. If there is wet batter, bake for another 10 minutes and check again. Mine had to bake for an additional 25 minutes because I used a smaller sized springform pan.
Remove cake from oven and place tin on a baking rack to cool. The cake will store at room temperature for a couple days in the fridge for 5 days. Serve at room temperature… with cheese!!! Or vanilla ice cream. :)