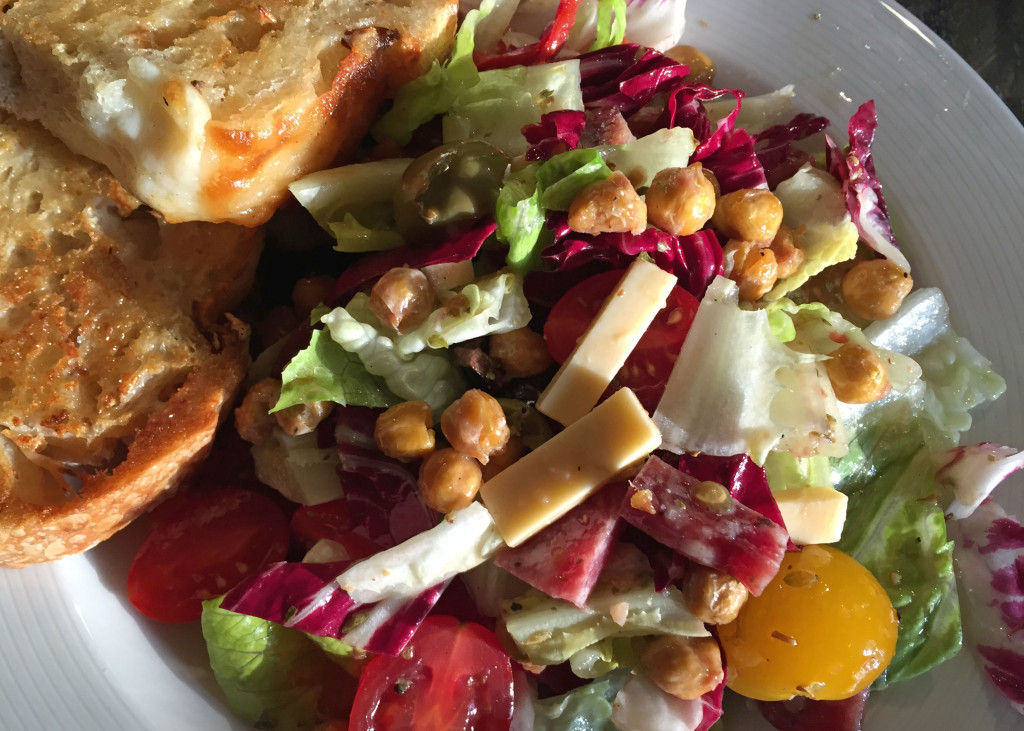 I thought I had a real winner last night. A summer pasta dish based on one of my favourite summer salads. It was simple but had lovely ingredients, corn charred on the BBQ, tossed with the first summer tomatoes, fresh basil from my garden, and feta. Husband said it was…
"bland".
Wait, what?!?!
This is a man who, on one of our first dates 20 years ago, took me to an Indian restaurant (granted, my choice) and had beads of sweat running down his forehead and off the tip of his nose… and it wasn't even spicy! "Bland"?!?! I thought it was light and tasty… a perfect way to eat pasta on a hot summer evening. Admittedly, a much softer-flavoured dish than my usual but… "bland"?!?! Ugh.
I still think the idea has promise. I'm going to try it again, next time adding garlic and perhaps charring some jalapeno peppers on the BBQ with the corn and tossing them, chopped, into the pasta. In the meantime, I will share with you a salad recipe that has some real kick. A crunchy, texture-filled, one-dish meal with with deli meat and cheese, all tossed with a vinegary, garlicky dressing. So there!
This recipe is based on a Smitten Kitchen recipe here http://smittenkitchen.com/blog/2014/06/nancys-chopped-salad/ but I have made a few changes, one being to roast the chickpeas. I prefer the more meaty, slightly crunchy texture of roasted chickpeas in this salad. And you shouldn't feel hemmed in by the instructions as to the exact amounts and what size to cut the ingredients. It's a chop salad so the pieces should be smallish but, other than that, feel free to adjust the size and amount to suit your taste. This serves 2 as a main for dinner.
Oregano dressing
2-3 cloves garlic, minced
2 TBS dried oregano
1 tsp kosher salt
Freshly ground black pepper
2 TBS lemon juice, or juice of 1 lemon
1 tsp Dijon mustard
1/4 cup red wine vinegar
1/4 cup good, fruity olive oil
Salad and assembly
1 (15-ounce) can chickpeas or 1 3/4 cups cooked chickpeas, drained
4 oz smoked gouda or provolone, sliced into bite-sized batons
4 oz salami, peeled, sliced into bite-sized batons
4 medium or 8 small pickled pepperoncini, sliced into rings
8-12 ounces cherry tomatoes, halved, or large tomatoes diced into bit-size pieces
1/2 cup of your favourite olives, pitted or not, your preference
1 small or 1/2 large head romaine lettuce, halved, leaves cut crosswise in 1/2-inch ribbons
1 small or 1/2 large head radicchio, halved, cored and leaves cut crosswise in 1/4-inch ribbons
Optional – thinly sliced red onion
Rinse chickpeas well and let sit in strainer to dry. Heat oven to 400F. Toss chickpeas in a bowl with a glug of olive oil and sprinkle with salt and pepper. Pour onto baking sheet and bake in oven for about 20 minutes, tossing occasionally, until starting to crisp. Remove from oven and let cool.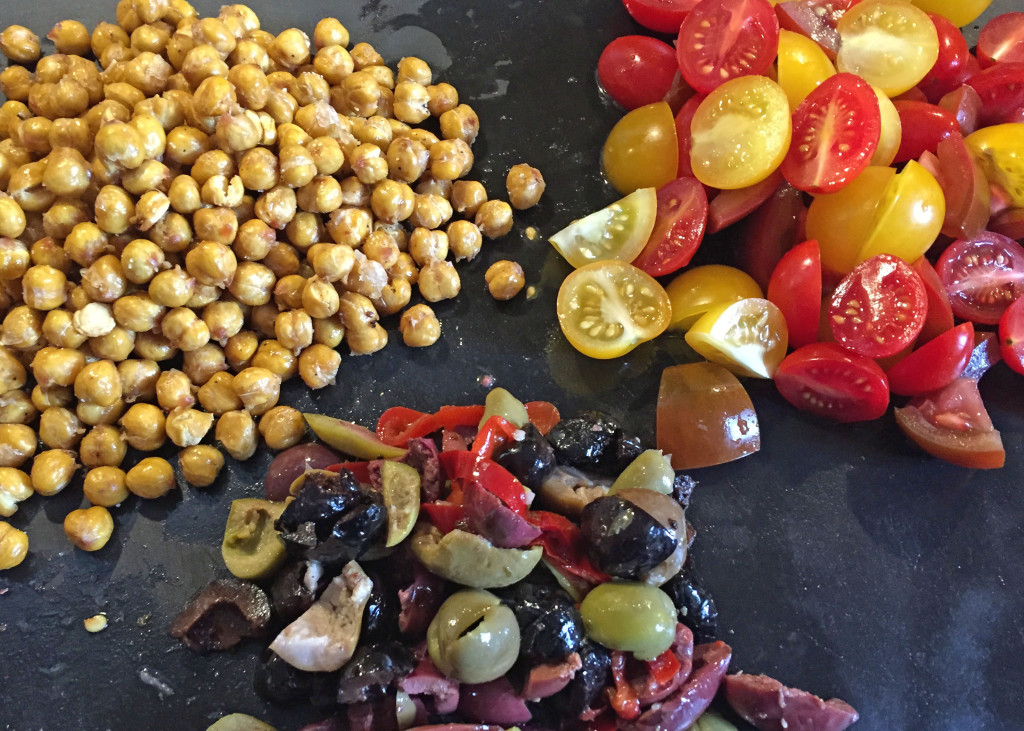 Make the dressing: Add all ingredients into a bowl except olive oil. Mix well. Drizzle in olive oil and whisk until well combined. Dressing will be a bit watery… that's ok!
Put all salad ingredients into a bowl. Add half the dressing and gently fold. Taste for seasoning and add more dressing to your taste (I used it all!). Happy eating!