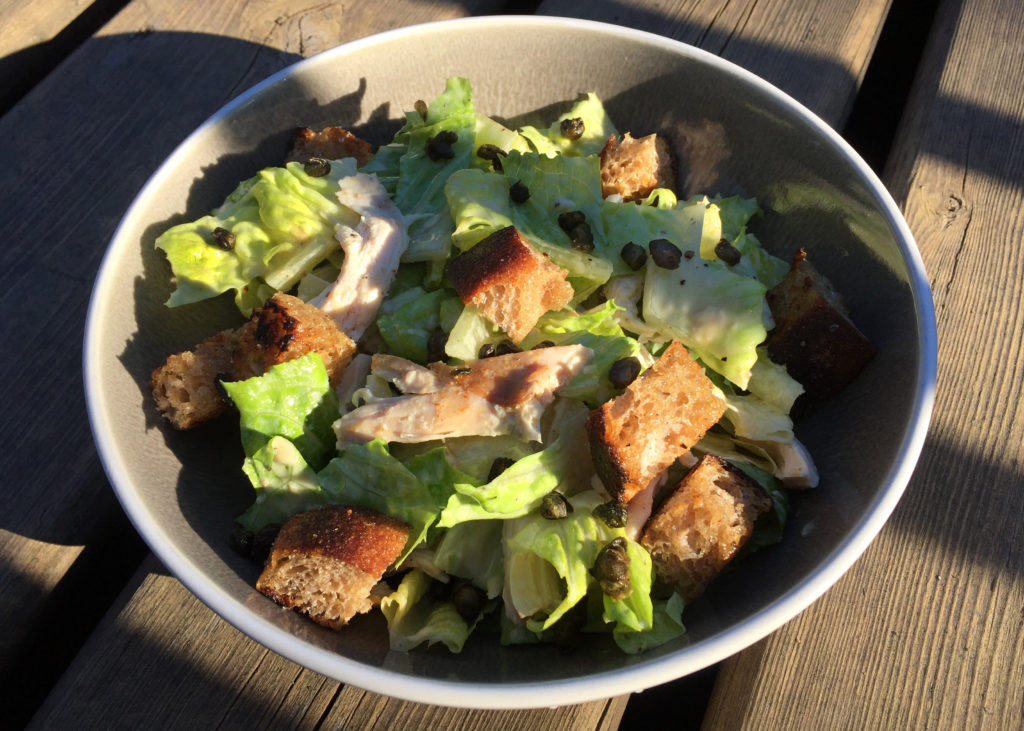 It's been hot here on the West Coast and I am loving it! I have been eating salad after salad chock full of lovely garden tomatoes, cucumbers, legumes, with tons of herbs and bright, zesty vinaigrettes and they have been yummy! I don't know why but Caesar salad never seemed like a summer salad to me. When all the fresh vegetables have faded away and the cold, damp days of winter move in, that's when I think of that heavier, cheese laden dressing that will smack you across the head with just the right amount of pungent garlic and creamy mayonnaise.
But it's +28C outside today and I'm still craving a crispy romaine Caesar salad, with some cold chicken folded in and topped with crunchy croutons and fried caper flavour bombs. Eat your heart out, Winter! :)
1 clove garlic, minced (or more, depending on your taste)
1/2 tsp dry mustard
lots of pepper
1 1/2 tsp worchestershire
2-3 TBS fresh lemon juice (depending on your taste)
1 tsp anchovy paste or 1 anchovy filet mashed with a fork (optional but HIGHLY recommended)
1 tsp Knorr Aromat or Accent seasoning (optional)
1/4 cup good fruity olive oil
1/4 cup mayonnaise
1 oz grated fresh Parmesan (about 1/2-3/4 cup, depending on size of grate)
Combine first 7 ingredients in bowl. Slowly whisk in olive oil until emulsified. Fold in mayonnaise and fresh Parmesan. You may only need a portion of the dressing for your salad depending on the amount of greens you have. The rest will stay good in the fridge for 3 or 4 days.