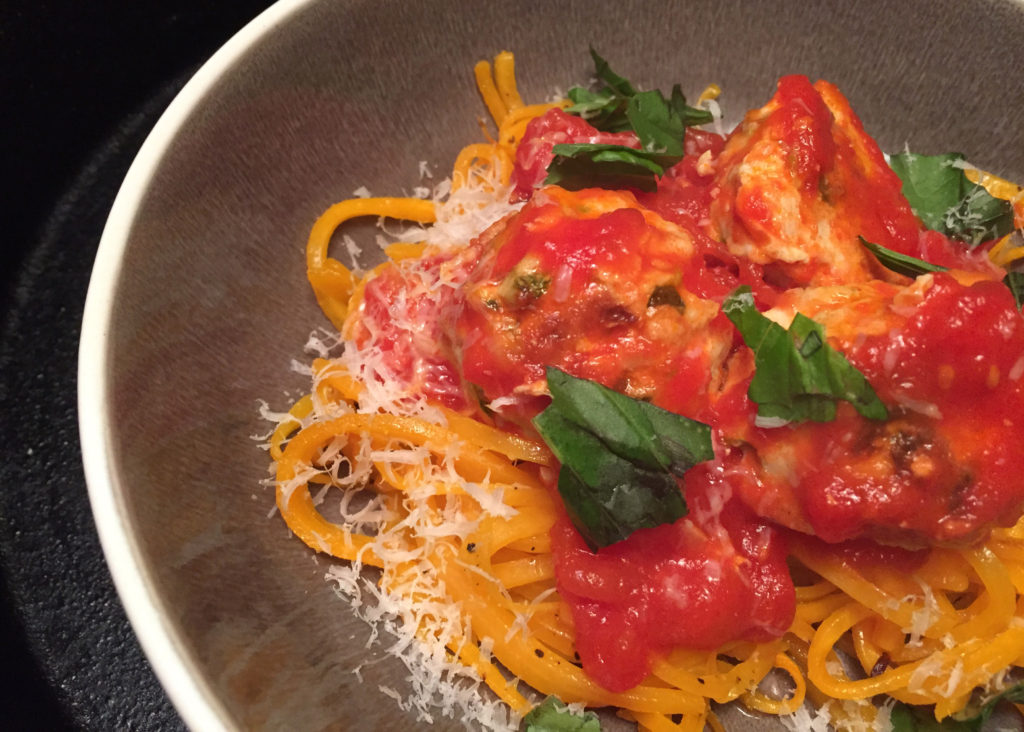 Guess what?!?! I have another meatball recipe and this one is healthy healthy! Not just healthy, but healthy (lean chicken and zucchini meatballs), healthy (over BUTTERNUT SQUASH NOODLES!). Seriously, unless you're going to eat grass for dinner, you're not going to get much healthier than this. It is ridiculously delicious for an almost "normal" meal. Unlike those "zoodles" that are all over the internet (yes, I'm talking about you, limp and wet zucchini noodles), spiralizing butternut squash (or one of those huge carrots you get in an Asian market) and roasting at a high heat for 7-10 minutes to bring out the sweetness is an almost perfect stand-in for real spaghetti, without the calories and carbs. I dare you to try it! Go 'head… I DARE you. :)
I'm dissing the wet, limp zucchini noodles but adding grated zucchini into the lean chicken meatballs helps keep them tender and moist and adds an extra helping of invisible vegetables. And spooning them over more vegetables?… pffft, I feel like I should be given a medal.
If you don't have a spiralizer (I bought mine at a local grocery store for $20) you can chop the squash into matchsticks or simply cube it and roast a bit longer until tender.
I highly recommend canned San Marzano tomatoes for this recipe. You should be able to find them in any Italian market and they make great sauce. If you use regular canned tomatoes, remember not to use ones that are "diced". They contain an additive to help them keep their shape and who wants to eat that?!
And can I just give you just one more piece of advice? Don't buy that ground chicken sitting on your grocery store shelf. You don't know what's in that stuff. It gives me the willies every time I look at it. Go to your butcher and ask him to grind up some whole breasts for you. And if you're feeling a little self-indulgent, get him to throw in a couple of thighs while you're at it. You won't regret it.
For the sauce:
1 28 oz can good quality whole tomatoes
glug olive oil
3 cloves garlic, thinly sliced
1-2 sprigs fresh basil
large pinch of salt
pinch of sugar (optional, depending on the sweetness of your tomatoes)
For the meatballs:
1/3rd medium zucchini, grated (about 5 ounces)
1 pound ground chicken
1 egg
1-2 TBS chopped fresh basil (or other herb of your choice)
1/4 cup grated parmesan or pecorino
2 cloves garlic, minced
1 tsp kosher salt and a few grinds of fresh pepper (use 1/2 tsp salt if using table salt)
Drizzle of olive oil or spray oil
For the butternut squash "spaghetti":
1 neck of a large butternut squash, spiralized
glug of vegetable oil (if you use olive oil, you will be smoked out of your kitchen!)
salt and pepper to taste
To finish:
more grated parmesan or pecorino
chopped basil
To make the sauce:
Heat a glug of olive oil in a large skillet, add thinly sliced garlic and fry for just a minute. Add tomatoes, a sprig or two of fresh basil, and a good pinch of salt. Let simmer for 10 minutes or so and taste. Add a pinch of sugar if needed and set aside until you are ready to add your meatballs.
To make the meatballs:
Preheat oven to 400F.
Add 1/2 tsp salt to your grated zucchini and set in a strainer or colander over a bowl for about 15-30 minutes. Squeeze handfuls of the zucchini over your sink to get rid of as much moisture as you can. Put into mixing bowl. Add the chicken, egg, basil, garlic, grated parmesan, and salt and pepper and gently mix with a fork or your hands until combined.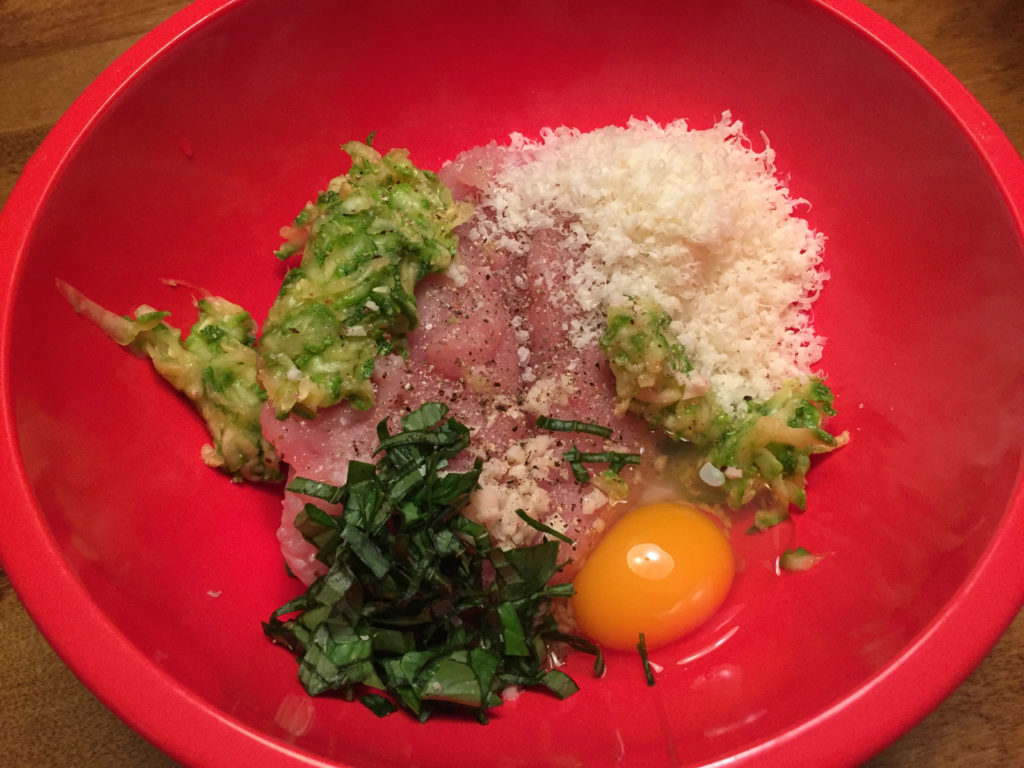 Make golf ball size meatballs (I used a 30 gram (2 TBS) measuring spoon which was the perfect size) and place on a baking sheet that has been lined with aluminum foil and sprayed or wiped with oil. I found the mixture way too soft to actually "roll" into meatballs so I just dolloped round-ish spoonfuls into the sheet and gently nudged them into ball shapes the best I could.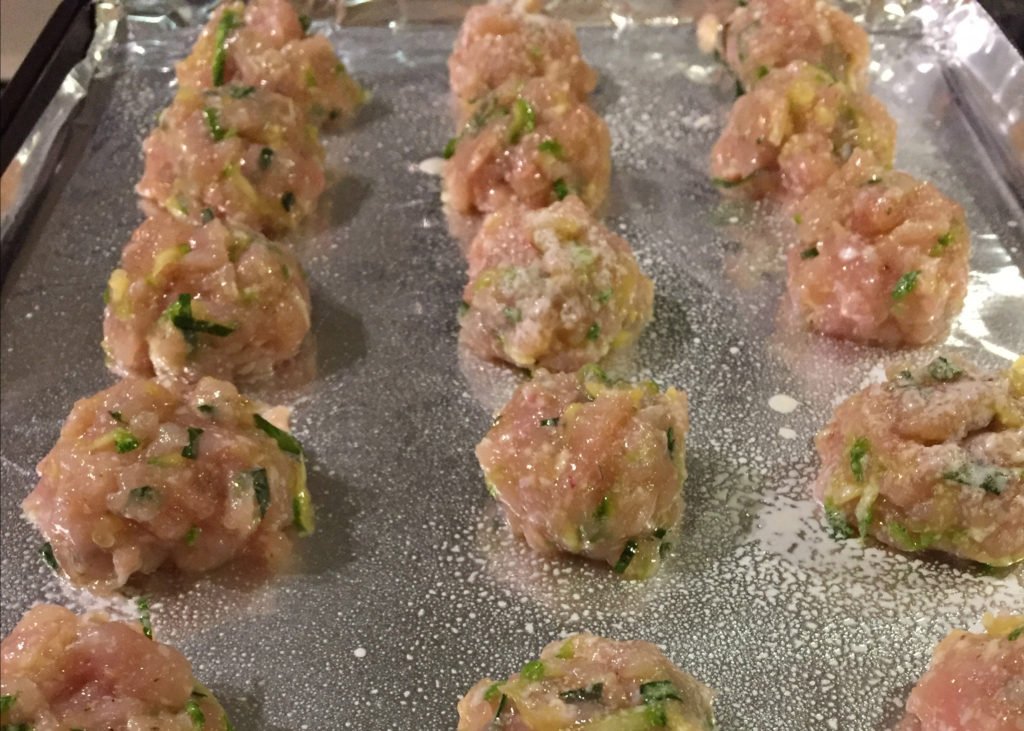 Drizzle the top of the meatballs with olive oil or spray with canned oil and bake (turning once) for about 20 minutes, or until meatballs have cooked through. Remove from oven and add the meatballs to your skillet with the tomato sauce, discarding the tinfoil and fat drippings.
Your dinner prep can be held at this point for an hour or so.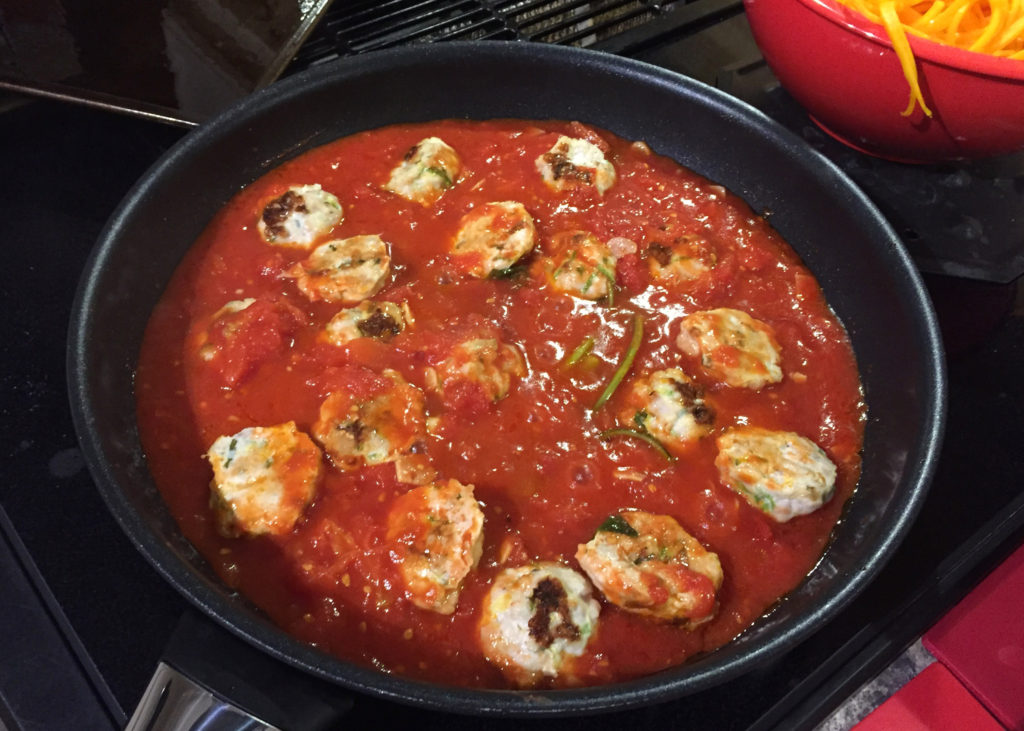 When you are ready, preheat oven to 400F. Wipe a couple sheet pans with vegetable oil and divide the butternut squash between them. Sprinkle with salt and pepper and roast for 7-10 minutes, tossing once.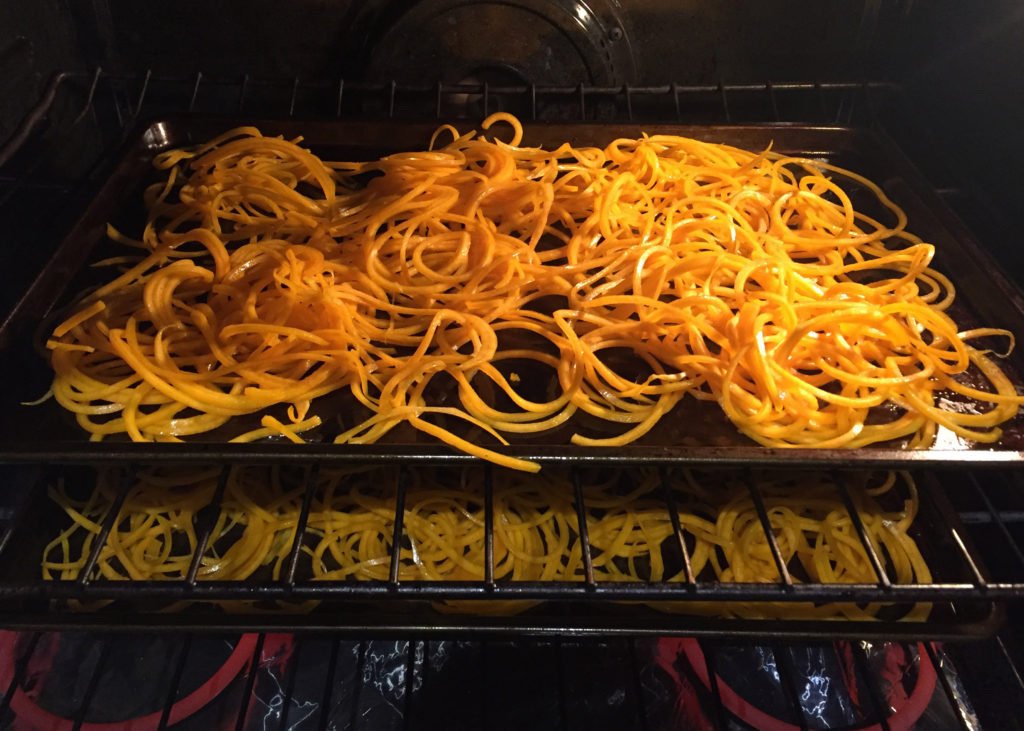 Meanwhile, reheat the sauce over a medium flame and keep at a gentle simmer until the meatballs are heated through and the sauce reaches your desired thickness. Remove the basil sprig from the sauce. Place a serving of the butternut squash noodles in each individual serving bowl and top with a few meatballs and a ladle of sauce. Finish with an additional grating of parmesan or pecorino and a scattering of chopped basil.