This was my first try at a white mushroom lasagna, using Sam Sifton's New York Times recipe as a base. I replaced the bitter note (radicchio) with healthier kale, cut back on the truffle oil significantly (I wanted it to play a bit in the background rather than have it smack you in the face), and fooled around with the cheeses. As well as adding a few touches of my own (love those chilli flakes!).
The flavour was very good, but for me, I want it a little less dense and a bit more… ummm, "full". I'm thinking about adding a ricotta layer.  Perhaps flavoured with something herby to accentuate the mushrooms, like thyme or sage? Or maybe something unexpected and light, like mint? Perhaps something more traditional, like basil? Or even something other than a fresh herb… something crazy, like za'atar, for example? (Yup, that's me… craaaazy town ;) ).
I didn't notice the kale at all. I think I could bump that up another 50% without negatively affecting the texture or taste. I'm not sold on the non-cook lasagna noodles, though. If I use them again, I might add an additional cup of milk to the bechamel and then set aside part of it as a coating for the top layer before the final layer of cheese. Or perhaps par-boil those "no-boil" noodles (just until they're bendy) to give them a bit of a head start.
For finishing, I'm thinking about adding some lemon zest to the final layer of cheese, just to add a clean fresh note.
Anyhooooo, this is how it starts. A decent attempt at a recipe with a few ideas on how to make it great. Stay tuned… (but in the meantime, I encourage you to try my first go below, which was delicious, and then give it your own twist).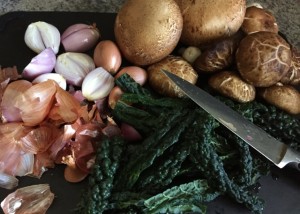 Filling:
olive oil
6 large shallots, peeled, minced, and divided
1 ½ pounds mushrooms (I used portobello, shiitake and button), trimmed and sliced
3/4 cup dry white wine
8 large kale leaves, rib removed and sliced crossways into 1/2 inch ribbons (about 2 oz or 1 1/2 cups)
1/2 tsp chili flakes
1 tsp truffle oil (add a second teaspoon if you really love it)
salt and pepper, to taste
Bechamel:
4 TBS butter
3 cloves garlic, peeled and minced
4 TBS flour
3 cups milk (I used 2%)
Putting it together:
1 cup Gruyère cheese, grated (with 1/4 cup set aside for bechamel)
1 cup Fontina cheese, grated (with 1/4 cup set aside for bechamel)
1 cup smoked gouda, grated
(above cheeses can be mixed together except the reserved 1/4 cups of Gruyère and Fontina)
2 9-ounce boxes of no-boil lasagna sheets
1 cup Pecorino, grated (or you can use fresh Parmesan)
To make the filling:
Heat a very healthy glug of olive oil in a large frying pan on medium-high and add half the minced shallots. Sauté until translucent. Add the mushrooms and continue to sauté, tossing occasionally, until the mushrooms are starting to brown, about 10 minutes. Add the wine, kale, and chili flakes, and cook until most of the liquid has evaporated but the ingredients are still moist and silky. Remove to bowl and set aside.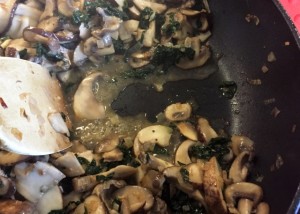 To make the bechamel:
Heat butter until foamy in saucepan over medium heat and add the other half of the shallots, cooking until translucent. Add garlic and cook another minute. Sprinkle flour over mixture and stir continuously (I use a whisk) until it has turned golden.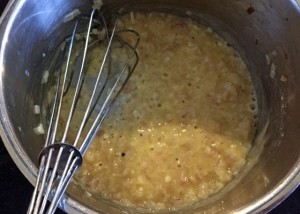 Add milk to the mixture one cup at a time, continuing to stir constantly until thickened, about 10 minutes. Remove from heat and stir in 1/4 cup of grated Gruyère and 1/4 cup of grated Fontina.
Reserve 1 cup of bechamel and stir the remainder into the mushrooms, along with your truffle oil. Taste and adjust seasoning if necessary.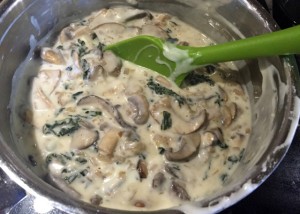 To make the lasagna:
Preheat oven to 350F. Spread the reserved cup of bechamel in the bottom of a 9″x13″ casserole dish. Place a single layer of lasagna noodles over the bechamel. Spread approximately 1/3rd of the mushroom over the noodles and sprinkle with 1/3rd of the cheese mixture. Place second layer of lasagna noodles over the cheese and repeat layers another 2 times. Top with a final layer of lasagna noodles and 1 cup of Pecorino cheese. Cover with tinfoil and bake in oven for 45 minutes. Remove the tinfoil and bake until the top is nicely browned. Let rest for 10 minutes before cutting.