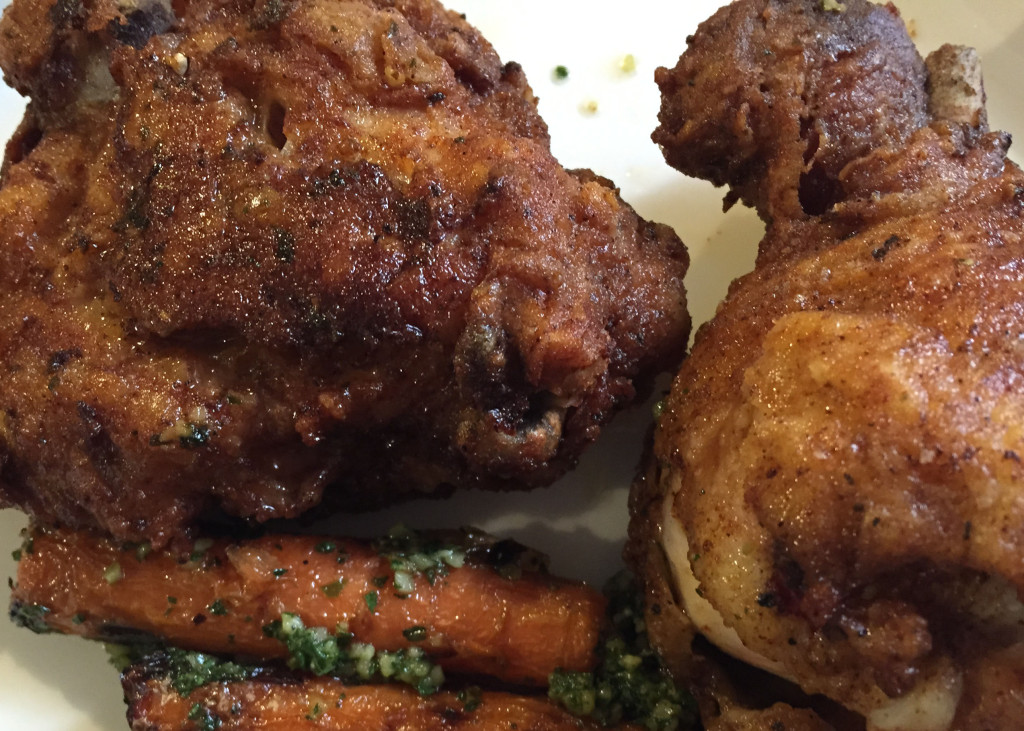 Winner, winner, chicken dinner. There is nothing better than friiiiiiiiiied chicken! And when you say that in your head, "friiiiiiied chicken", you need to do it with a Southern drawl because… friiiiiiied chicken!!!
Twice a year, in the spring and fall, Husband and I pick up KFC (don't judge) and eat it on the deck with a bottle of good champagne. That tradition started years ago in our quest to prove that champagne goes with everything, and it truly does, but it goes especially well with fried chicken. The beautiful sparkly bubbles cut right through the heaviness of the oil and make it possible for you to eat just one more piece. :)
However, because I have been impressed with my Genius Recipes cookbook which I told you about the other day, I decided to try to make my own. This is a recipe contributed by Michael Ruhlman http://food52.com/blog/4636-michael-ruhlman-s-rosemary-brined-buttermilk-fried-chicken. It starts with an overnight brine and then some more time in the fridge to dry out the skin. It's not as instant as running out and picking up KFC, but I think anyone would agree that the flavour is worth it.
The recipe below is essentially as written, with a few changes to simplify the process. I used about half the amount of chicken the recipe calls for (4 thighs and 5 drumsticks) for Husband and I, and I also halved the flour mixture and the brine. The double-dip method of flouring, dipping in buttermilk, and then flouring again is a bit messy, but gives a lovely shaggy finished crust. I try to use one hand to dip in the buttermilk and keep the other hand dry to pat on the flour. The recipe doesn't give an exact amount of oil to use for frying but says to fill a large, high-sided pot 1/3rd full. Personally, I find you don't need as much oil as you think to deep fry chicken. I used a big heavy frying pan (cast iron works perfectly here) and covered the bottom with about 1/3rd of an inch of peanut oil. Oh, and that's my other tip for frying chicken, I think peanut oil is essential. It gives a flavour that you can't get from any other vegetable oil.
The original recipe feeds 6-8. I halved it and if fed the two of us with "some" leftovers…
I'm embarrassed to say that there weren't as many leftovers as I had anticipated.
8 chicken thighs, bone in, skin on
8 chicken drumsticks, bone in, skin on
8 chicken wings, wing tips removed
2 cups buttermilk
neutral, high heat oil for deep frying (I recommend peanut oil but you can use canola)
Brine
1 small onion, thinly sliced
4 cloves of garlic
1 tsp vegetable oil
3 TBS kosher salt
5-6 sprigs fresh rosemary, 4-5 inches each
4 1/2 cups water
1 lemon, halved
(I also added a TBS of whole peppercorns)
Flour coating
3 cups flour
3 TBS fresh ground black pepper
2 TBS sweet paprika
2 TBS fine sea salt
2 tsp cayenne pepper (I used Ancho chilli pepper)
2 TBS baking powder
Make the brine: In a medium saucepan over medium-high heat, sauté the onion and garlic for about 30 seconds, then add the kosher salt. Cook, stirring occasionally, until translucent, 3 to 4 minutes. Add the rosemary, peppercorns (if using), water and lemon, squeezing the juice into the water. Bring the water to a simmer, stirring to dissolve the salt. Remove from heat and allow the brine to cool. Refrigerate until chilled. Ruhlman suggests to speed up the process, chill over an ice bath, stirring. I think my way was much simpler, when adding the water to dissolve the salt, I only added half the water. When I removed the pot from the heat, I added the other half of the water in the form of ice cubes. Instant chill factor. :)
Place all the chicken pieces in a large, sturdy plastic bag. Set the bag in a large bowl for support. Pour the cooled brine and aromatics into the bag. Seal the bag so that you remove as much air as possible and the chicken is submerged in the brine. Refrigerate for 8 to 24 hours, agitating the bag occasionally to redistribute the brine and the chicken.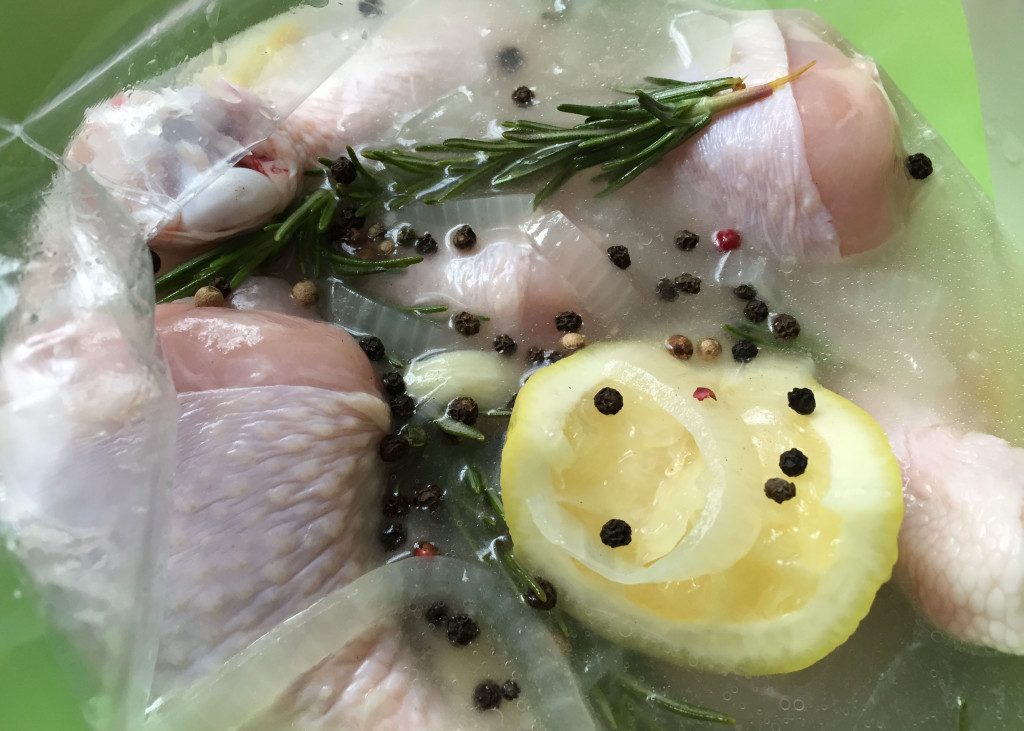 Remove the chicken from the brine, rinse under cold water, pat dry, and set on a rack or on paper towels. At this point the chicken can be refrigerated for up to 3 days before you cook it, or it can be cooked immediately. I refrigerated mine, in a single layer large casserole dish, uncovered, for about 8 hours. This dries out the skin which helps with a super-crispy crust.
Combine the flour, black pepper, paprika, sea salt, cayenne, and baking powder in a bowl. Whisk to distribute the ingredients. Ruhlman tells you to divide this mixture between two bowls… I'm not sure why I would dirty another bowl. I left it all in one bowl.
Pour the buttermilk into another bowl. Set a rack on a baking sheet/tray. Dredge the chicken in the flour, shake off the excess, and set the dusted pieces on the rack. Once all the pieces have their initial coating of flour, dip the pieces in the buttermilk, then dredge them aggressively again in the flour and return them to the rack.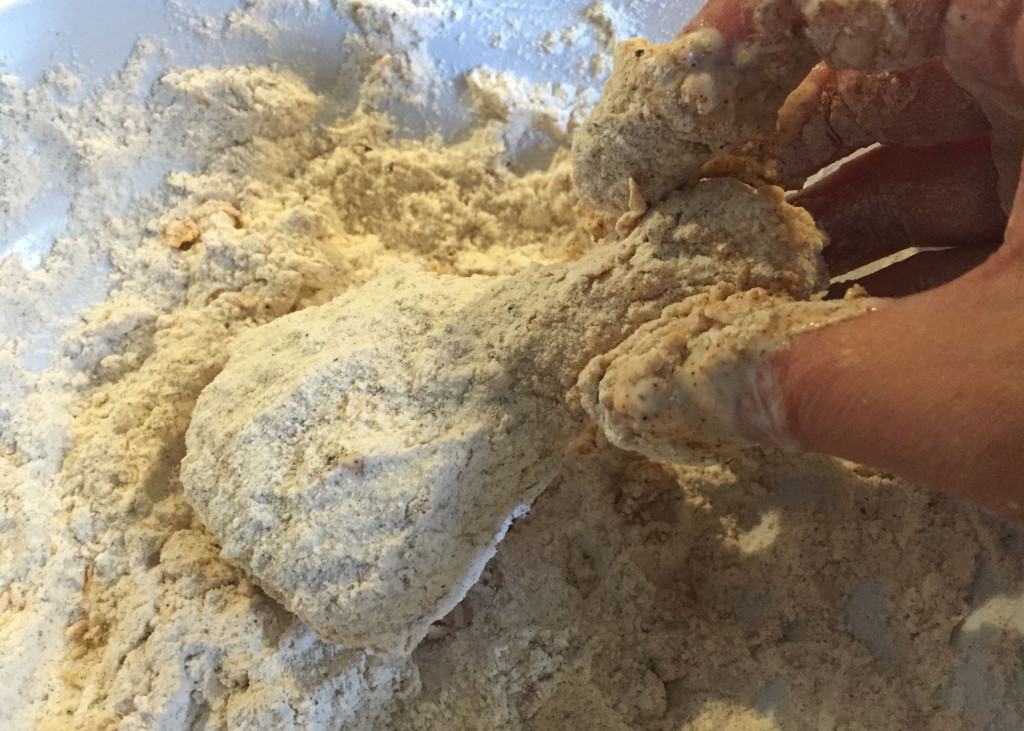 Heat oil in a pan for deep-frying to 350°F/180°C. Add as many chicken pieces as you can without crowding the pan. Place the chicken pieces top side down for half the cooking time and then flip for the other half of the cooking time, 12 to 15 minutes depending on their size (mine took 15).
(Honestly, I did not measure the temperature of the oil. I threw in a piece of flour that had been clumped with the buttermilk to make sure the oil was at a nice frying temperature. Flying by the seat of my pants, again. Once the chicken pieces were in the oil, I turned down the heat to medium just to keep them bubbling nicely, but not burning, for 15 minutes.)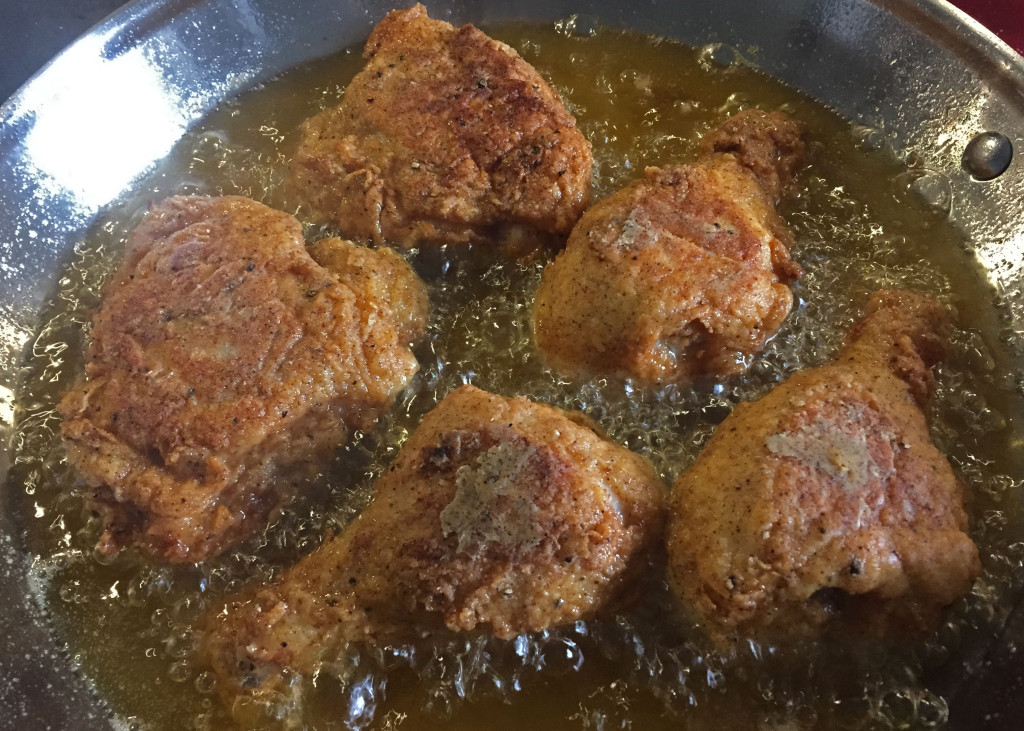 Remove to a clean rack and allow to rest for 5 to 10 minutes before serving. Once rested, cut a piece open to check for doneness. If they need to cook a bit more, you can put them back in the oil for a few more minutes, or give them some time in a 250F oven. Ruhlman says they can be held in the oven like this for a couple hours. I haven't tried this but it seems like it would be super convenient if you are having guests for dinner. Let me know if it works!