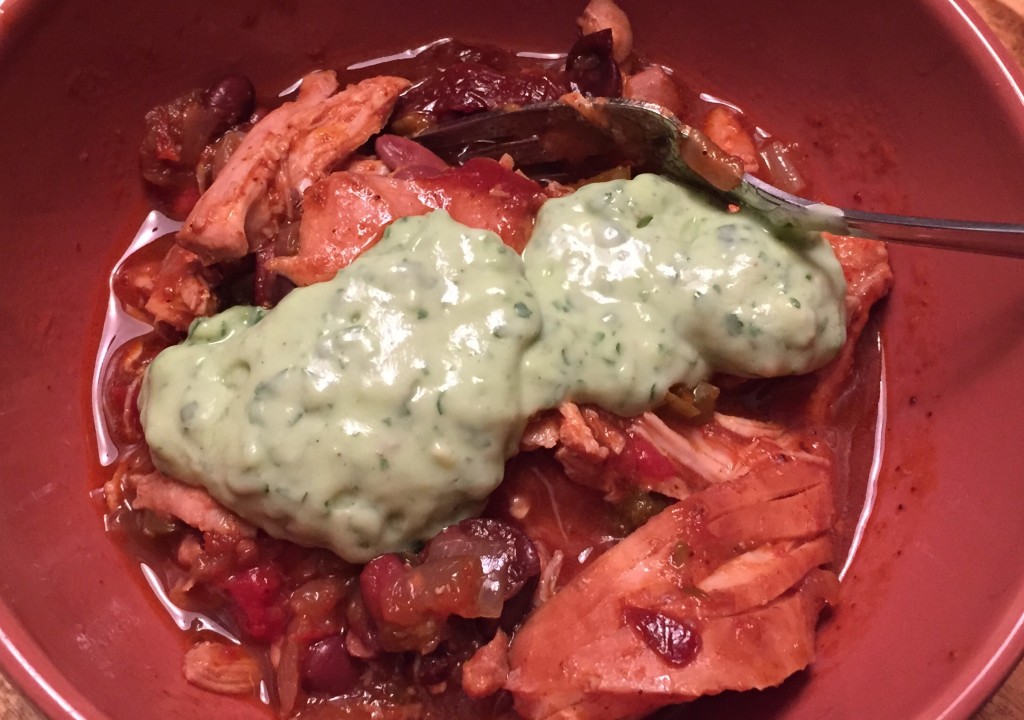 Ok, let's be honest.  This is not the type of recipe I planned to post when I dreamed of having a food blog.  First, I'm still trying to love my slow cooker; b) I am in the middle of trying to dump my Christmas weight; and 3… well, there is no 3 except that I have made this 3 times in the past few weeks and both Husband and I really really like it.  Seriously.  It's healthy enough to eat post-Christmas but I have not stooped to using that dry, tasteless protein known as the (dreaded) chicken breast.  My version uses the ever-so-much-more-luscious chicken thighs (you know what I'm talking about) and still comes in at under 300 calories per serving.  It also has a lovely bright zesty topping.  Cha-ching!
I researched about a million healthy "chili" or "taco filling" recipes trying to pinpoint what I was looking for.  Many boasted 2 or 3 ingredients (chicken breasts and a jar of salsa) in the ubiquitous slow cooker "dump and go" method.  I see the draw… I really do.  But I need to love what I'm eating or I feel cheated and then I'll cheat (helluuuuu potato chips!).  So with just a few more ingredients and a bit more effort (really, active cooking time is under 30 minutes from start to finish, the slow cooker does the rest) you too can love your healthy dinner. Makes approximately 4 1-cup servings (or 1 for me and 3 for him if you're anything like our family).
Oh, and I'm really really (really) sorry about the colour of the bowl in the photograph above.  It does not do the dish justice, but you'll have to find that out for yourself, won't you? :)
Here's what I used:
vegetable or canola oil
1/2 large onion, diced
1 1/2 TBS Alton Brown's taco spice #19 mix (here http://www.foodnetwork.com/recipes/alton-brown/taco-potion-19-recipe.html)
1 lb boneless, skinless, chicken thighs
1 cup canned black beans, rinsed
1 cup chunky salsa (I use Pace medium)
2 chipotle peppers in adobo, diced (the cans have several peppers in them. I freeze them in little saran wrap packages of 2 peppers each to easily pull out when I need them.)
Heat a generous glug of oil over medium high heat in a frying pan and add onions, cooking until translucent. Add chicken thighs (scooch them in among the onions) and sprinkle over the taco seasoning. Quickly sear both sides of chicken thighs until they start to brown. This should only take a couple minutes per side. Dump into crock pot. Remove pan from heat and add salsa, black beans, and chipotle peppers to frying pan, stirring to pick up the spices left behind from the chicken and warm in the residual heat for a minute or two. Dump over chicken thighs. Cook on low for 4 hours or until chicken shreds easily.
Avocado Cilantro Buttermilk Topping (from Skinny Taste, original here http://www.skinnytaste.com/2012/04/zesty-avocado-cilantro-buttermilk.html)
I half this recipe for my husband and I.  2 TBS = 42 calories
3/4 cup low fat buttermilk
1 small jalapeño, seeded and chopped
1/4-1/2 cup fresh cilantro (substitute Italian parsley if you don't like cilantro)
1 medium avocado
1 clove garlic, chopped
2 TBS chopped scallion (I used 2 TBS chopped white onion)
juice from 1 lime
1/8-1/4 tsp cumin, depending on taste
fresh ground pepper and salt
Combine ingredients in blender and blend until creamy.
To serve, you can put a scoop of the chicken on chopped romaine for a sort of taco salad, then top with a big dollop of the buttermilk/cilantro topping. Or (what I do because I don't like warm lettuce) put a scoop of the chicken in a bowl with the topping and make a salad separately.