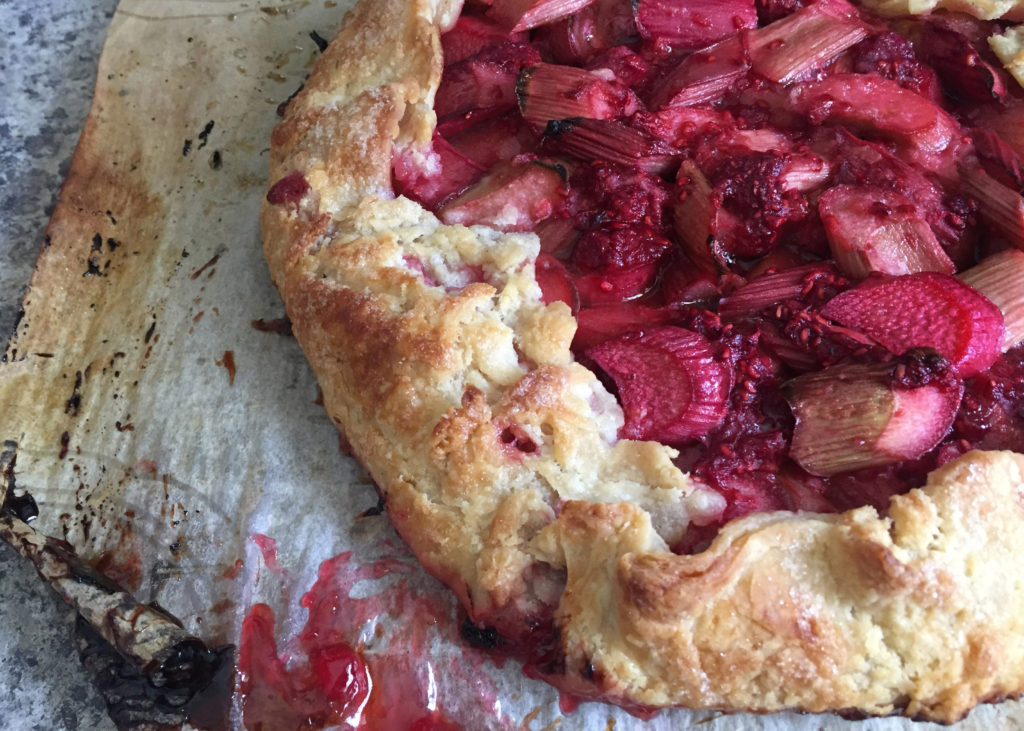 I have a boatload of rhubarb.
No, make that two boatloads.
Ummm, nope… make it three.
Yes, I have THREE boatloads of rhubarb! Want some? Come and get it! Got your own? I can't help you.
Actually, yes. Yes I can help you.
I have been trying to get rid of testing rhubarb recipes for a few weeks. Rhubarb muffins, rhubarb cake, rhubarb crisp, and all of them were good (if you know me, you can hear me say "goooood?" with a sort of question mark at the end) but didn't "wow" me. Yesterday I was "WOWED". I'm not sure if it was the pastry, the addition of raspberries instead of the usual strawberries, how gorgeous it looked, or that it paired beautifully with a piece of cheese (yes!). But I have found it. Rhubarb Raspberry Galette… I love you.
A couple of things to note. My rhubarb was fresh from my garden but the raspberries were frozen from last year and worked just fine. I suspect frozen rhubarb would work as well. Also, I loved the addition of ginger to this recipe but I had another thought as I slipped this galette into the oven… rosemary! I think a couple teaspoons of fresh chopped rosemary instead of the ginger would be awesome. oh! OH! And what if you also worked some of that chopped rosemary into the pastry?!?! Holy crap. I could hug myself right now. Back to the kitchen…
For the dough:
10 oz (2 1/4 cups) flour
1 tsp sugar
1/4 tsp salt
6 oz (12 TBS) butter, chilled and cut into small pieces
1/2 cup ice water
For the filling:
1 1/4 lb rhubarb, trimmed and sliced into 1/2 inch pieces
1 cup raspberries (fresh or frozen)
1 TBS fresh grated ginger
1 tsp lemon juice
4 TBS flour
1 scant cup sugar (I used about 7/8 cup as my rhubarb was beautifully ripe but use a full cup if yours is not)
Melted butter or egg white beaten with a fork, for brushing the pastry edges
Sugar for sprinkling
Combine the flour, sugar, and salt. Cut in the cold butter until the mixture resembles coarse crumbs. Add the ice water and gently stir just until the mixture holds together. Be careful not to overmix. Press the dough into a round disk, wrap in plastic wrap, and refrigerate at least 30 minutes.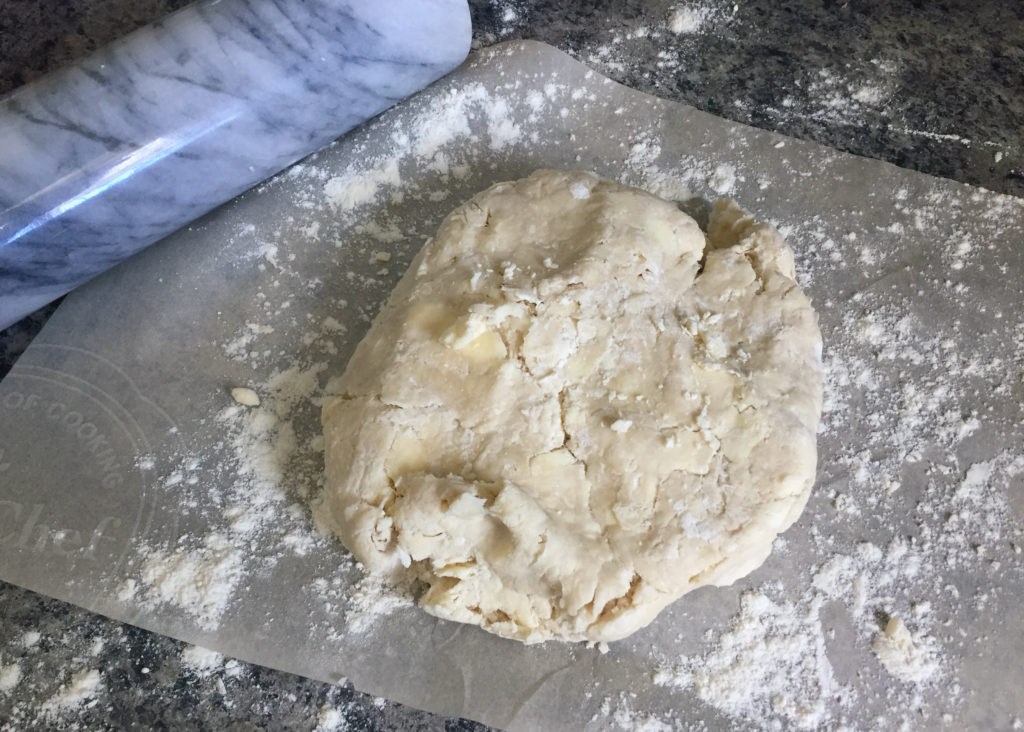 Combine rhubarb pieces, raspberries, grated ginger and lemon juice in a large bowl. Mix the flour with the sugar and sprinkle over fruit. Gently toss until the fruit is coated and let sit for 10 minutes while you roll out your dough.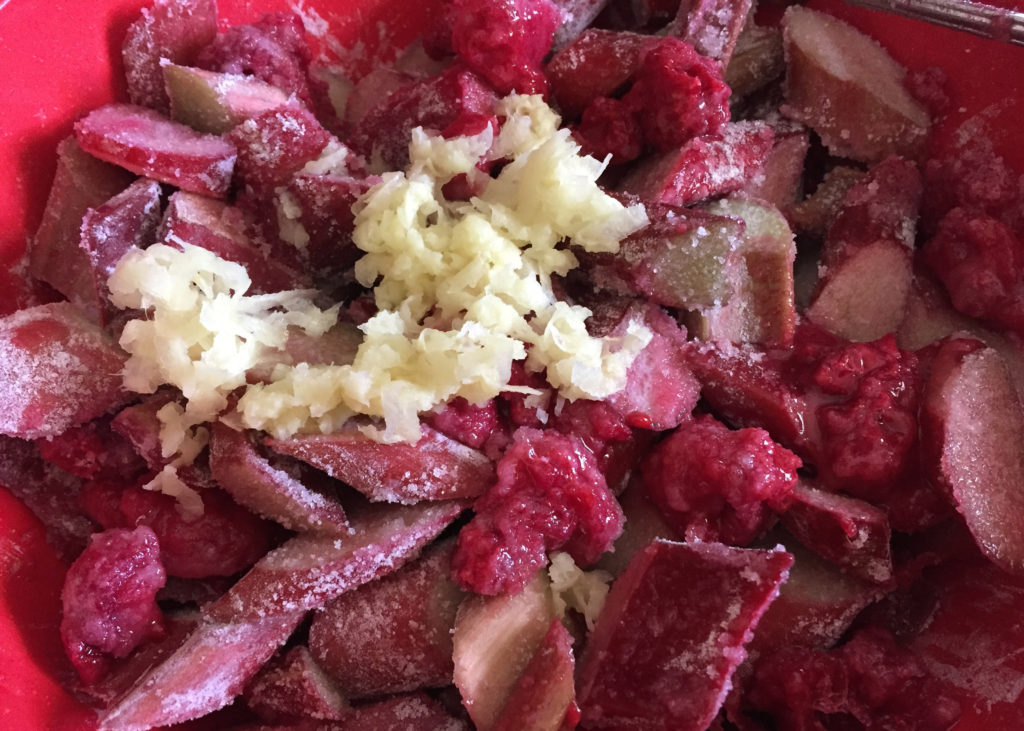 Preheat oven to 400F.
Place a piece of parchment (bit enough to cover the bottom of a sheet pan) on a large flat surface and lightly flour. Place the dough on the floured parchment and roll out to an approximate 13-14″ circle about 1/8″ or slightly thicker. Don't worry if it cracks while rolling, just press the broken pieces together. Gently spoon the fruit mixture into the centre of the dough leaving a 2″ rim clean. Fold up the rim (to win!) gently pressing the folds to stay. Slide the piece of parchment (with galette) onto a sheet pan.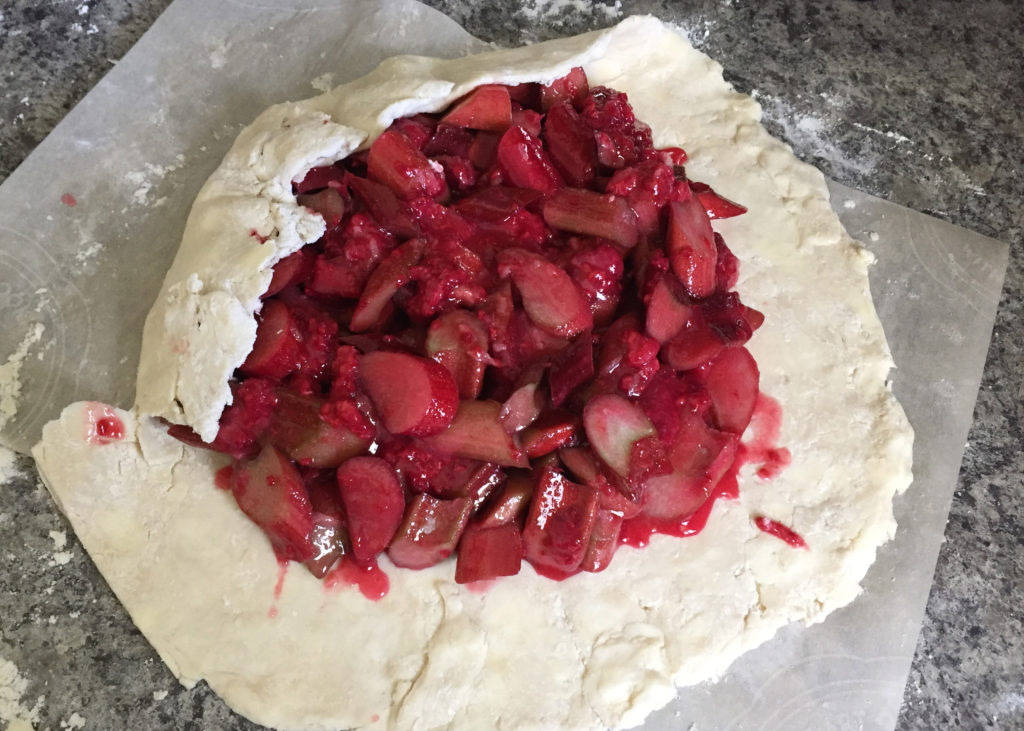 Brush the dough with melted butter or an egg white beaten with a fork and sprinkle with sugar. Bake until the fruit is bubbling and the crust is golden, 45-50 minutes.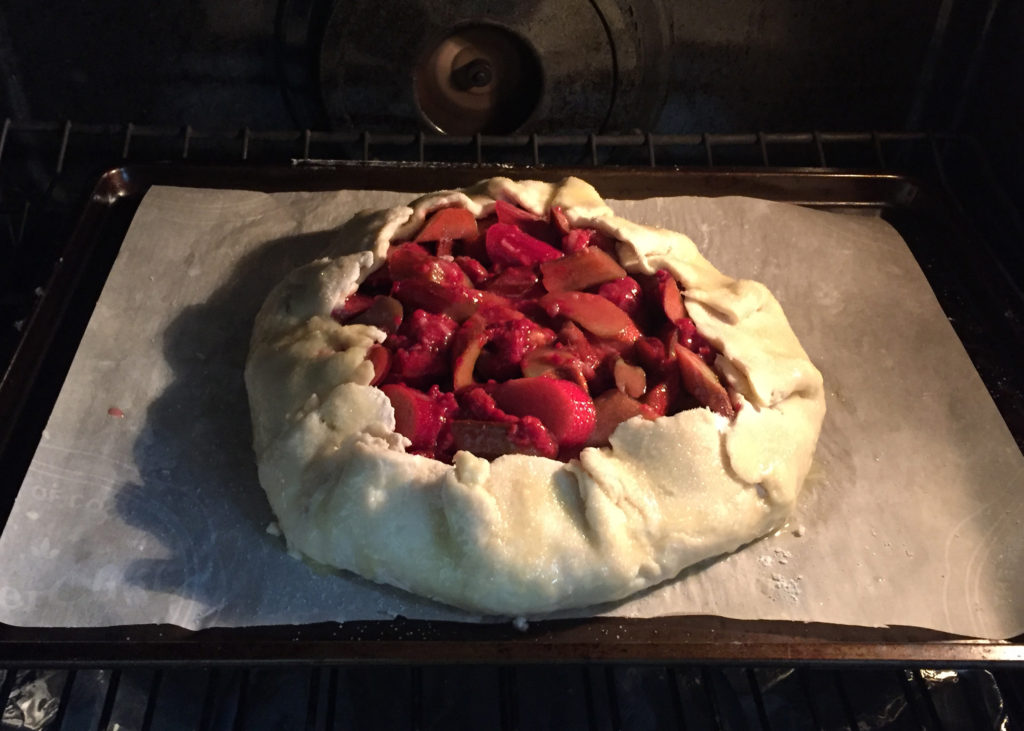 Place on a cooling rack and let rest for at least 10 minutes before serving. I enjoyed this with a soft, mild cow's milk cheese. Husband liked it with ice cream.