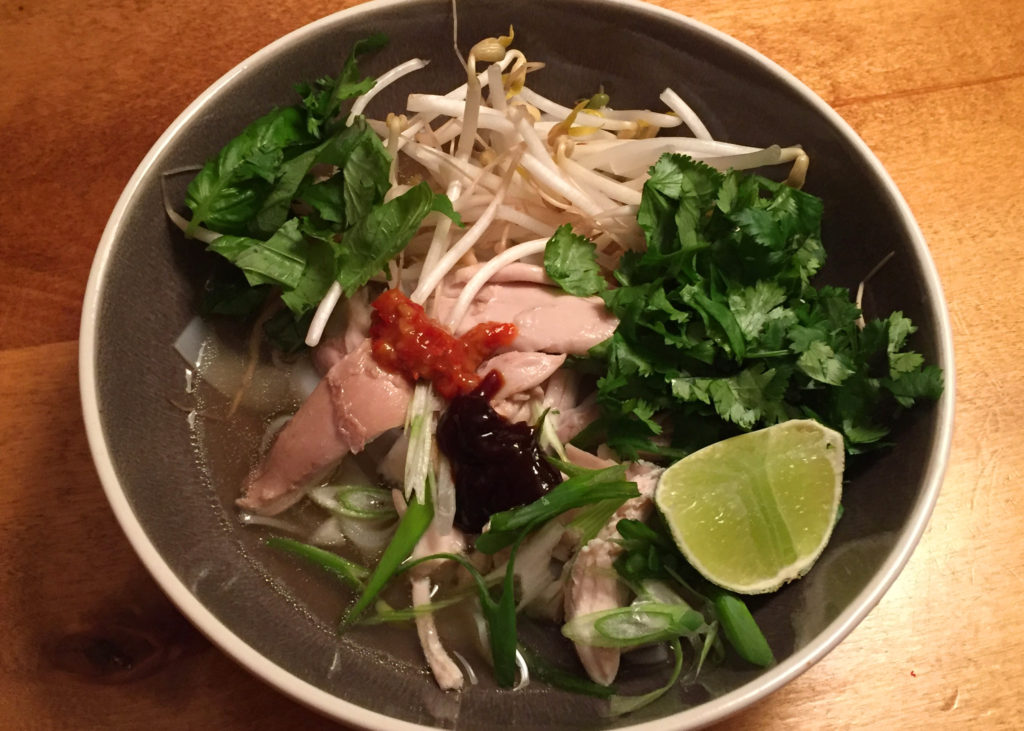 I have had the worst cold! And not only is it the worst, it is the looooooongest! Seriously, it's now been 3 weeks. I'M SO OVER IT… GO AWAY! And in this post-holiday, supposedly "get healthy" month, it's not helpful that I am one of those weirdos who CANNOT GET ENOUGH TO EAT when I have a cold. I don't know why that is. I'm like a dog eating grass when it feels nauseated. And those people who whimper "Oh, it's been 3 days and I haven't been able to eat a bite of food"… are you forking kidding me?!?! Bring on the roast chicken, pasta loaded with sauce (or not), potato chips and cheese. I'll eat it all!
So after devouring the contents of my fridge, I suddenly had a craving for a somewhat "clean" meal. Hot and spicy and something that would punch this cold in the nose. Pho. Mmmmmmmmm.
I order pho when I'm out for lunch all the time, but I had never tried making it at home. It seemed like a lot of work for a bowl of soup. The rich luscious broth, all those different spices and herbs. Ugh. But shockingly, it wasn't that difficult. I have been running on about 5% energy for 3 weeks and I still managed to accomplish the best bowl of soup I've slurped in a long time, and so can you.
It's really not "all day". It's about 4 hours in total and much of that is lying about watching Netflix while the broth very gently simmers, extracting all the loveliness from the chicken, vegetables and spices. I have made chicken stock many times using leftover carcasses but I had never used a whole chicken before. I was surprised by the the silky tenderness of the meat after gently braising in liquid for 30 minutes.
I don't have a stock pot big enough for 4 litres (16 cups) of water plus all the other ingredients so I started by simmering the raw quartered chicken, veggies and spices in 12 cups of water. After 30 minutes I removed the now cooked chicken pieces and let cool about 10 minutes, then pulled off the meat. At this point I was able to add a second pre-cooked chicken carcass from the previous night along with the bones, fat and skin from the chicken pieces I just cleaned, plus another 2 cups of water and let simmer for another hour. After which I was able to add the final 2 cups of water (omit the final 2 cups of water if you don't have a second leftover chicken carcass) and let simmer for the last hour. Finally, strain the broth into a large pot and stir in the fish sauce. Start with 3 tablespoons and add in up to 3 more tablespoons, adjusting for taste as you go. The resulting broth is sublime.
I ended up with about 14 cups of broth (from the original 16 cups of water plus whatever juices came from the chicken). You can skim some of the fat if you want but the point of this broth is its richness so I skimmed only half the fat, leaving the rest in the broth. Kitchen math: Fat = flavour.
This recipe is very loosely based on the many internet versions of Pho Ga by Charles Phan, author of Vietnamese Home Cooking and owner of The Slanted Door restaurants in San Francisco. Some versions suggest you make your own crispy fried shallots for one of the toppings which would be delicious, but I find the fried shallots or onions you can buy at your local grocery store work very well in a pinch, without the deep fry smell lingering in your home for the next 2 days. The broth can be made a day or two ahead of time and when you're ready, reheat your broth, put some noodles and chicken in the bottom of your bowl, and ladle over the hot broth. I like to add a dollop of Asian chili-garlic sauce and hoisin sauce and mix in a bit. Then top with the green onion, bean sprouts, herbs, shallots, squeeze over some fresh lime and throw on some crispy fried shallots if you wish (I forgot to do this for the picture!).
Broth
2 unpeeled yellow onions, quartered
Three 1/2-inch-thick slices of unpeeled fresh ginger
4 litres (16 cups) cold water (14 cups if you don't have a second leftover chicken carcass)
One fresh 3 1/2-pound chicken, quartered
1 leftover chicken carcass (if you have one)
1 tablespoon kosher salt
2 teaspoons sugar
2 star anise
4 green cardamom pods
1 tsp whole peppercorns
1 stalk fresh lemongrass, smashed to loosen the fibres
To finish:
3-6 TBS Asian fish sauce
dried rice noodles, a linguine shape
Garnishes:
2 green onions, thinly sliced
1 pound mung bean sprouts
1/2 cup torn basil leaves, Thai basil if you can find it
1/2 cup cilantro leaves
2 limes, cut into wedges
Asian chili-garlic sauce
Hoisin sauce
Crispy shallots or onions
Char onions and ginger:
Heat a cast iron or other heavy bottomed frying pan with just a bare film of oil over medium high heat. Add quartered onions and ginger slices and char all all sides until onion begins to soften. This will take about 5-10 minutes. Alternatively you could put them on a baking sheet in a 400F oven for about 30 minutes.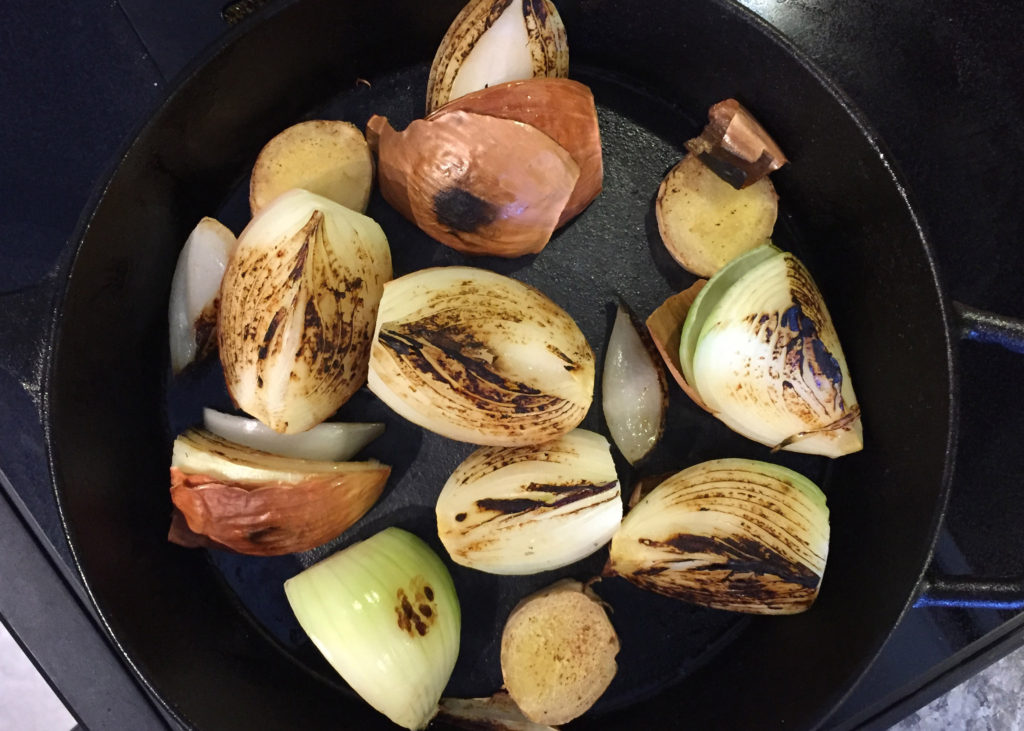 Make the broth:
Fill a large pot with 4 litres (16 cups) of water and bring to boil. Add the roasted onions, ginger, raw chicken and second chicken carcass if you have it, and the rest of the broth spices. Lower heat to a very gentle simmer and cook until the chicken is done, about 30 minutes. If your pot isn't big enough (as mine wasn't), start out with as much water as will fit into the pot along with the veggies, spices, and raw chicken. Once the raw chicken is cooked you can add in the spare chicken carcass and more water.
After 30 minutes, remove the now cooked chicken pieces, let cool until you are able to handle to remove the meat. Set the meat aside and add the skin and bones back into the broth (along with extra chicken carcass if you haven't already added) and very gently simmer for another 2 hours. Once finished, strain the broth into a large pot and stir in the fish sauce, to taste.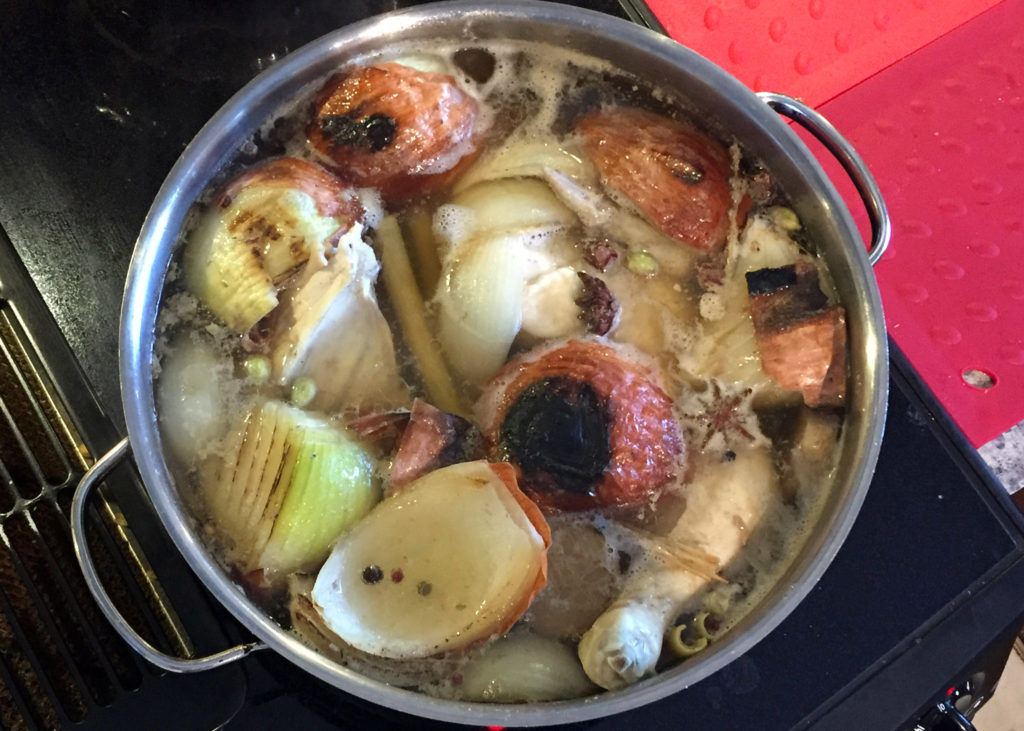 Putting it together:
Cook the rice noodles according to the instructions. Shred the chicken into large pieces and gather the rest of your garnishes. Place some noodles and chicken in your bowl, add in the Asian child-garlic sauce and hoisin sauce to taste. Ladle over the hot broth and top with garnishes. Enjoy!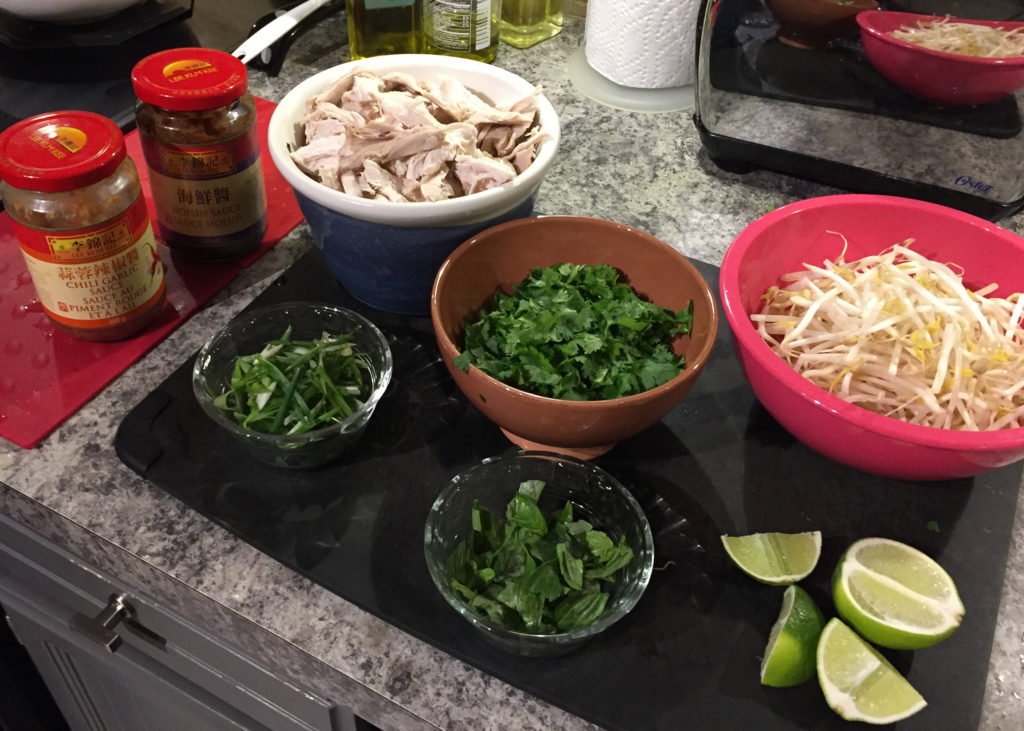 Note: the cool noodles and chicken are re-warmed by the hot broth but if the soup isn't hot enough for your liking, you can heat up the chicken and noodles in the broth while it's still on the burner, then divide between individual bowls. But I would only add the chicken and noodles to the amount of broth you are going to eat in one sitting, reserving the rest of the clear broth for another day or the freezer.