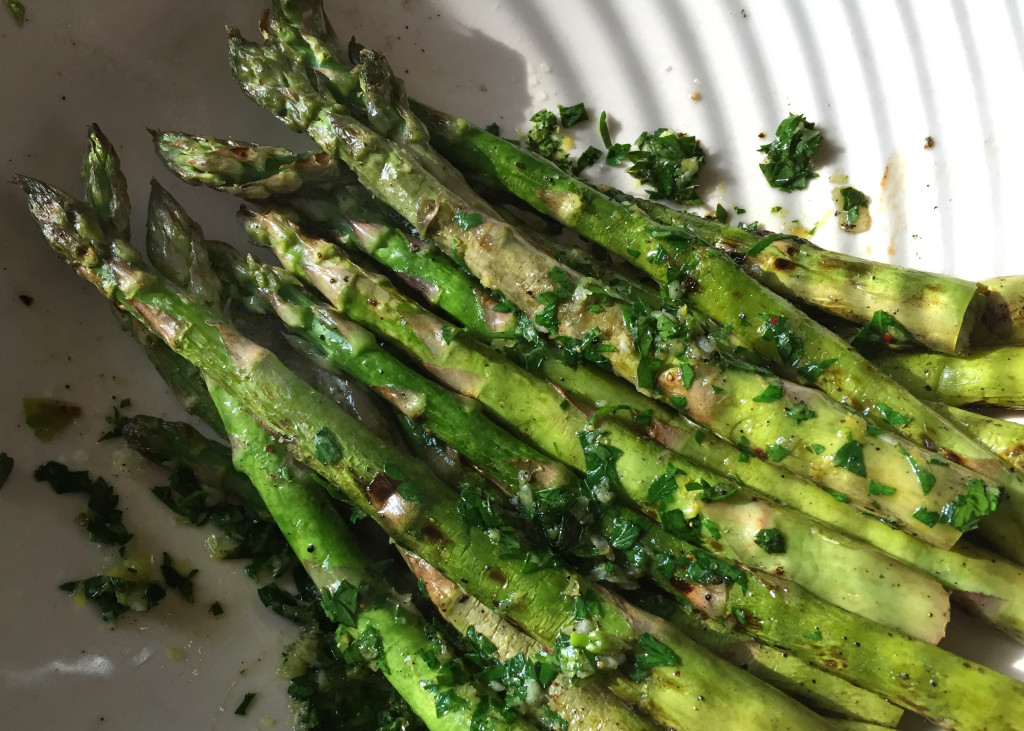 I know spring is really here because ugly woodpecker is back. Every spring he pecks on the metal facing of my chimney to attract a female and the sound reverberates throughout the entire house. I know he is ugly because long after all the other woodpeckers have found their soulmates, ugly woodpecker is still at it. And the earlier the sun rises, the earlier he starts. It's going to get really annoying in the next couple months but, for now, SPRING HAS ARRIVED!
Here on the West Coast we have had absolutely gorgeous weather the past few weeks (I even got a bit of a sunburn last week?!?!), and my first sowing of radishes, carrots and peas are poking up in the garden. To top it off, I spotted some brilliant green, fat spears of asparagus in the grocery store the other day. I don't think they were local (probably too early for that) but I snapped them up anyway as they taste like spring to me.
I think most people prefer the thinner spears… I'm not sure why. The fatties are tender and there is much less chance of overcooking them. Some people say the skin is tougher on a fat spear and it needs to be peeled. I have not found this when grilling (although I have occasionally noticed it when steaming) but it's really personal preference. If you want to peel, peel! I prefer the ease of simply snapping off the ends, tossing those babies with a glug of olive oil and then grilling them until they are just tender. I have lots of ways I like to top them: simple butter and flaked sea salt, olive oil and a grating of fresh pecorino, or a drizzle of vinaigrette and grated hard-boiled egg. But I think I've found a new favourite… gremolata.
Gremolata is a chopped herb condiment that I first used years ago when making ossobucco. It can brighten up almost any stew, just sprinkle it over the end product before serving. I have to admit up until now it has not been a "regular" in my kitchen but I think that's about to change.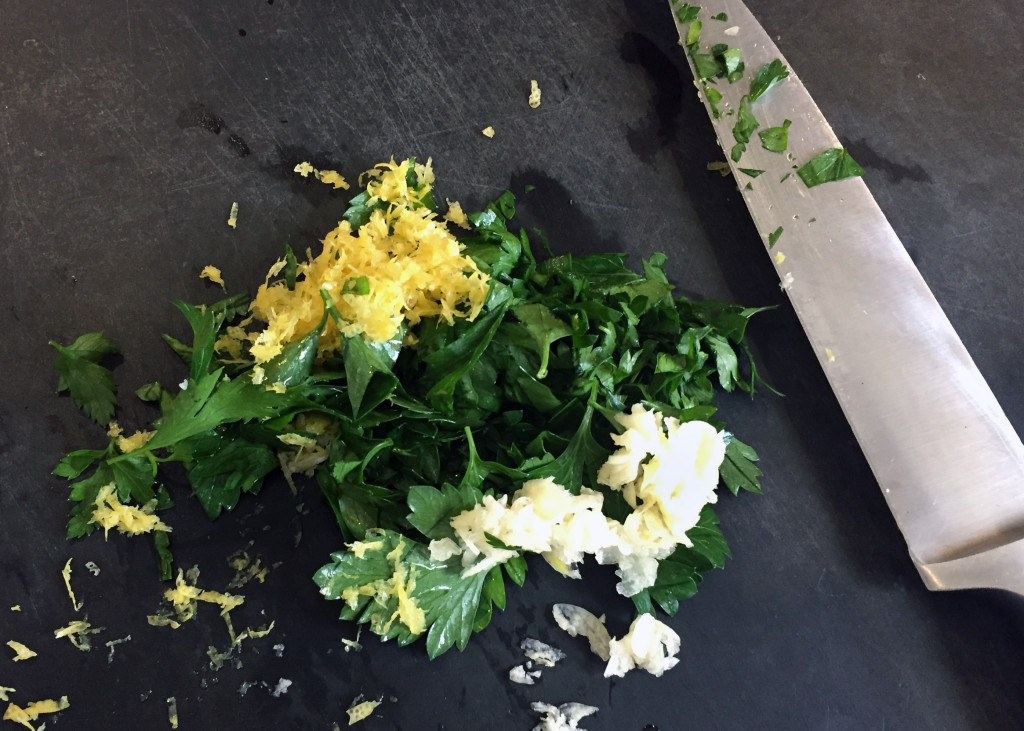 Gremolata is dead-simple and takes about 5 minutes to whip up. It looks pretty and adds fresh punchy flavour to the asparagus. I will also be trying it on grilled or steamed carrots, roasted root vegetables, and, hey pasta, you're about to get a makeover!
I added a tablespoon of good fruity (salad) olive oil to the gremolata to help it stick to the asparagus. And anyone who knows me can guess that I almost added the obligatory shake of hot red pepper flakes, but I held back. WHAAA? The steak I served with the asparagus had a rub of ancho chile powder and was topped with chipotle butter so that was probably enough chile for one meal, but you should go ahead if you want!
bunch of asparagus, woody ends snapped off
glug of olive oil
big handful of parsley leaves
1 clove garlic
zest from one lemon
1 TBS good fruity olive oil
sea salt and pepper to taste
Ensure parsley leaves are very dry (chopping wet parsley is annoying as it will stick to your knife). Roughly chop parsley leaves then grate clove of garlic and lemon zest over the top. Using your knife, chop through the mixture until nicely blended. Set aside in a bowl large enough in which to toss your asparagus.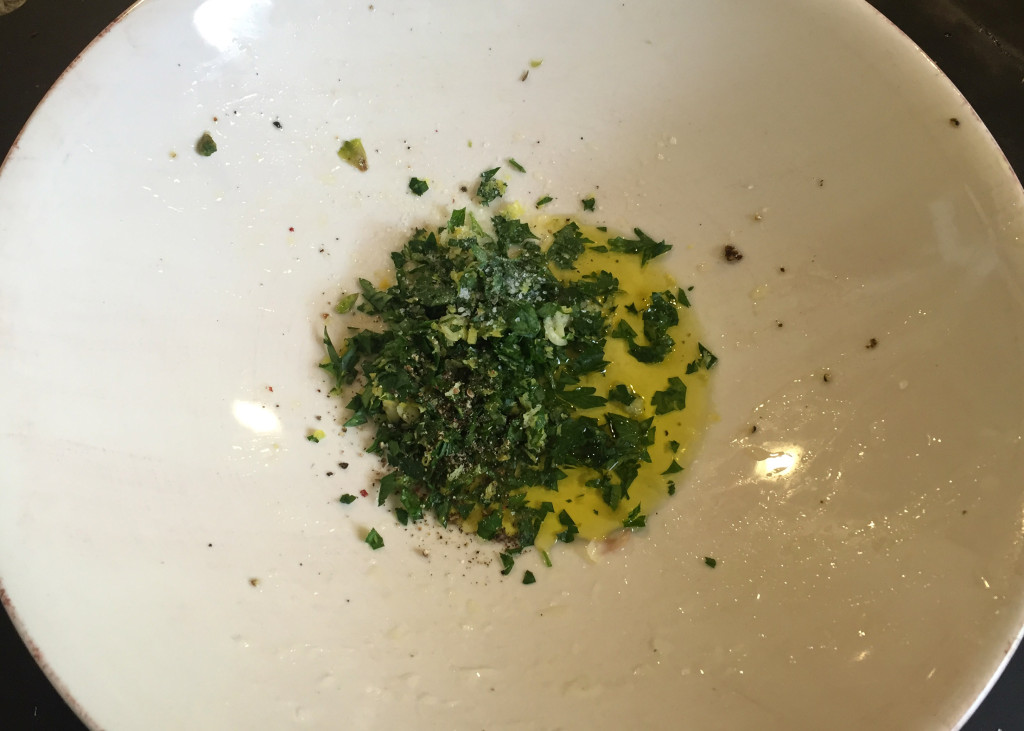 Preheat your BBQ grill to 400F. Toss asparagus in a glug of olive oil and grill, turning a couple of times, until just tender. For my fat spears this takes about 6 minutes.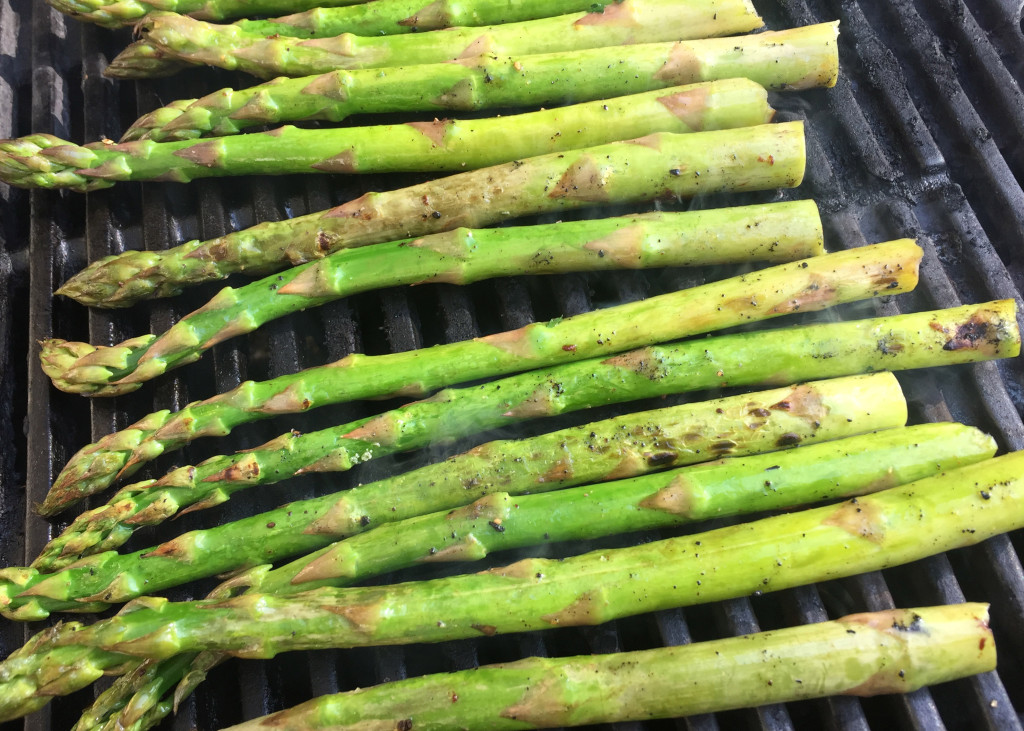 Add a tablespoon of good fruity olive oil to the gremolata. Toss with the grilled asparagus and season with salt and pepper to taste. Enjoy.