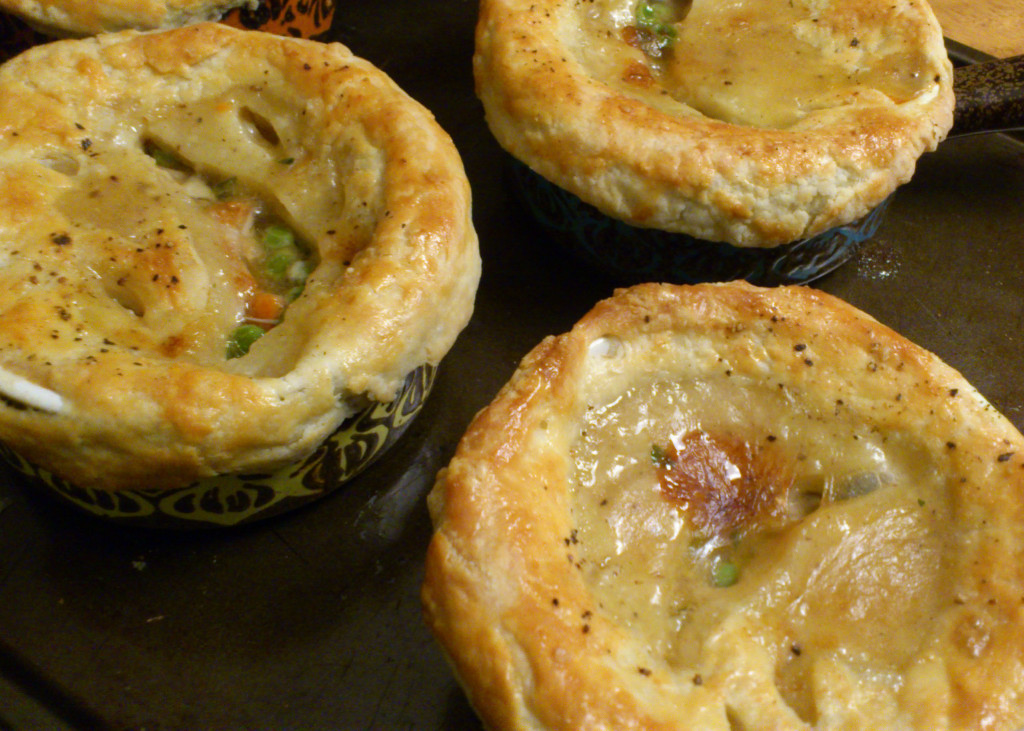 There are days when it's rainy and blowy outside and you just want to hunker down with a blanket, slippers, and a good book. Fire crackling (in a fireplace or tuned in to that local "Christmas log" TV station that seems to show up over the holidays every year). Delicious smells wafting from the oven. I was feeling this last weekend when we received record amounts of rain over 2 days. To quote Eeyore, "The nicest thing about the rain is that it always stops. Eventually." Another nice thing about rain is that it makes me think COMFORT FOOD, and I looooove comfort food, don't you?!
This is purpose-made chicken pot pie and I'm going to be honest with you; this is not the weekday dinner pot pie you throw together when you have leftover meat, gravy, and potatoes. This is a rainy-day-Sunday-I'm-going-to-spend-3-hours-in-the-kitchen kind of pie. If you don't have to stop to take pictures or re-measure ingredients every time you adjust the recipe, it may take you a bit less. But this is cooking for enjoyment, don't fight it. Put on some good music and just go with the flow. You won't regret it.
I based this recipe on one from Smitten Kitchen here http://smittenkitchen.com/blog/2014/10/better-chicken-pot-pies/ but upped the measurements so it would feed us twice. I also cut back on the butter, added mushrooms, and amped up the flavour in the form of soy sauce, anchovy paste, pecorino cheese and of course, the obligatory shake of hot pepper. I can hear some of you now… "anchovy paste! Ewwwwwww!". Will it add depth to the flavour of your filling? Yes. Will it make it taste fishy? No. Can you leave it out of the recipe? Yes. Do you want to be THAT person who is unwilling to try something new? No! :)
(For those of you who refuse, absolutely refuse, to try anchovy paste, I have a little trick for you. Marmite. You're welcome.)
This recipe makes approximately 10 cups of filling and enough dough for 8 individual pies, depending on the size of your ramekins, of course. Use half the filling and dough today and freeze the other half for later. The frozen filling and dough will make an easy weeknight dinner if you remember to take it out of the freezer the night before.
Don't overfill your ramekins! When the filling starts bubbling up it will soak the dough and make the crust soggy if the ramekins are too full. Although I must confess I am a chronic "over-filler" and it's still delicious.
For the dough:
2 cups (250 grams) all- purpose flour
1/2 teaspoon fine sea or table salt
13 tablespoons (6 1/2 ounces) cold butter, diced
6 tablespoons sour cream or Greek-style yogurt
1 tablespoon cider vinegar
1/4 cup very cold water
1 egg, beaten, for egg wash
For the filling:
Salt and freshly ground black pepper
5 pounds bone-in, skin-on chicken thighs
1 to 2 glugs olive oil
8 ounces mushrooms, cleaned and cut into bite-sized pieces
2 medium leeks, white and light green parts only, cut in half and then into 1/2-inch slices
1 large onion, diced small
1/2 cup white wine (optional)
3 cups chicken broth
1 cup milk (I used skim)
1 bay leaf
couple sprigs of fresh thyme
4 tablespoons of fat (schmaltz from your fried chicken or butter at room temperature)
7 tablespoons all-purpose flour
2 tsp soy sauce
1 tsp anchovy paste (or Marmite)
1 cup frozen green peas
2 large carrots, diced small (about 1 1/2 cup carrots)
couple shakes of hot pepper flakes, to taste
1 1/2 ounces finely grated pecorino or parmesan cheese
To make the dough,
combine the flour and salt in a large bowl. Add the butter and using a pastry blender or your fingertips, cut them up into the flour until the mixture resembles coarse meal with some remaining butter chunks the size of small peas. In a small bowl, mix together the sour cream, vinegar, and water and add it to the butter/flour. Using a spatula, stir until a craggy dough forms. Use your hands to gather it into a ball. Don't overwork the dough and if it starts to become warm, put it in the fridge for 10 minutes. You want those little chunks of butter to stay whole for a flaky crust. Form the dough into a disk and wrap it in plastic wrap. Chill it in the fridge for 1 hour or up to a couple days.
To make the filling,
season the chicken with salt and pepper. Heat a glug of olive oil over medium-high heat in the bottom of a Dutch oven or large heavy pot. Brown chicken thighs skin-side down until golden, flip and brown the other side. You will want to do this in two batches because crowding the chicken will steam it rather than fry it. Transfer to a plate and set aside.
Pour off most of the fat (reserving it to use later in this recipe) leaving enough to coat the bottom of the pan . Add the mushrooms and fry until they release their liquid and start to brown, about 5-6 minutes. Set aside.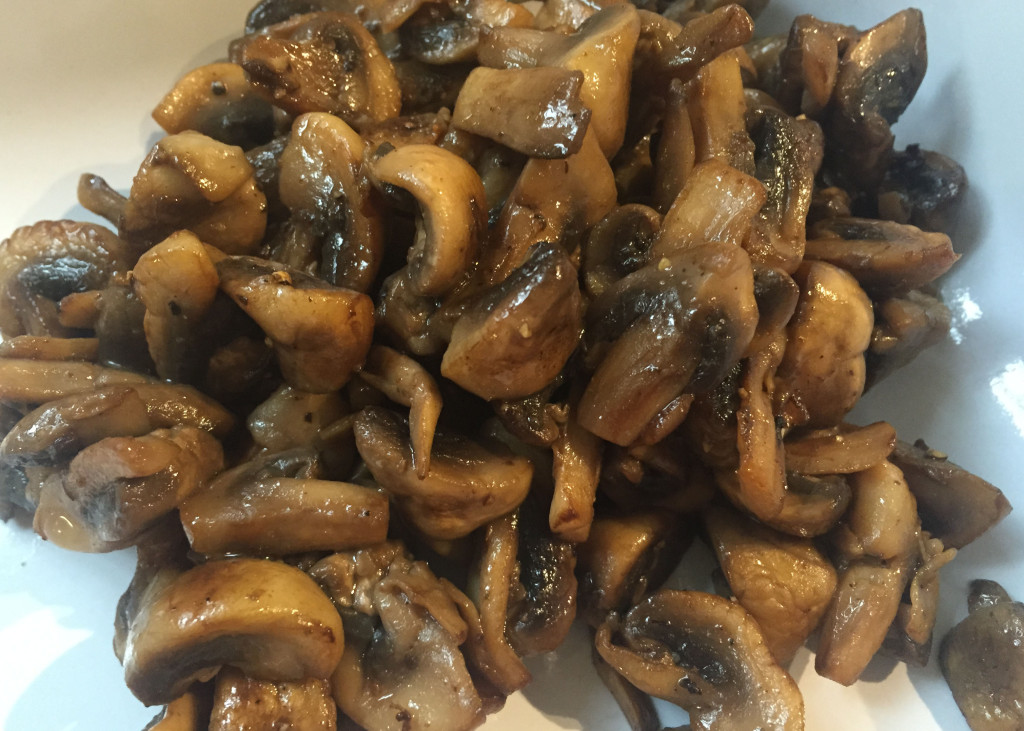 Use some of the fat you poured off the chicken or heat another glug of olive oil in the same pot. Add onions and leeks, season with salt and pepper, and saute them until softened, about 7 minutes. If using, pour in the wine and use it to scrape up any bits stuck to the bottom of the pan. Simmer until most of the wine has cooked off and then add milk, chicken broth, thyme and bay leaf and bring to a simmer. Nestle the browned chicken and any accumulated juices into the pot. Cover and GENTLY simmer to 30 minutes, after which the chicken should be fully cooked and tender.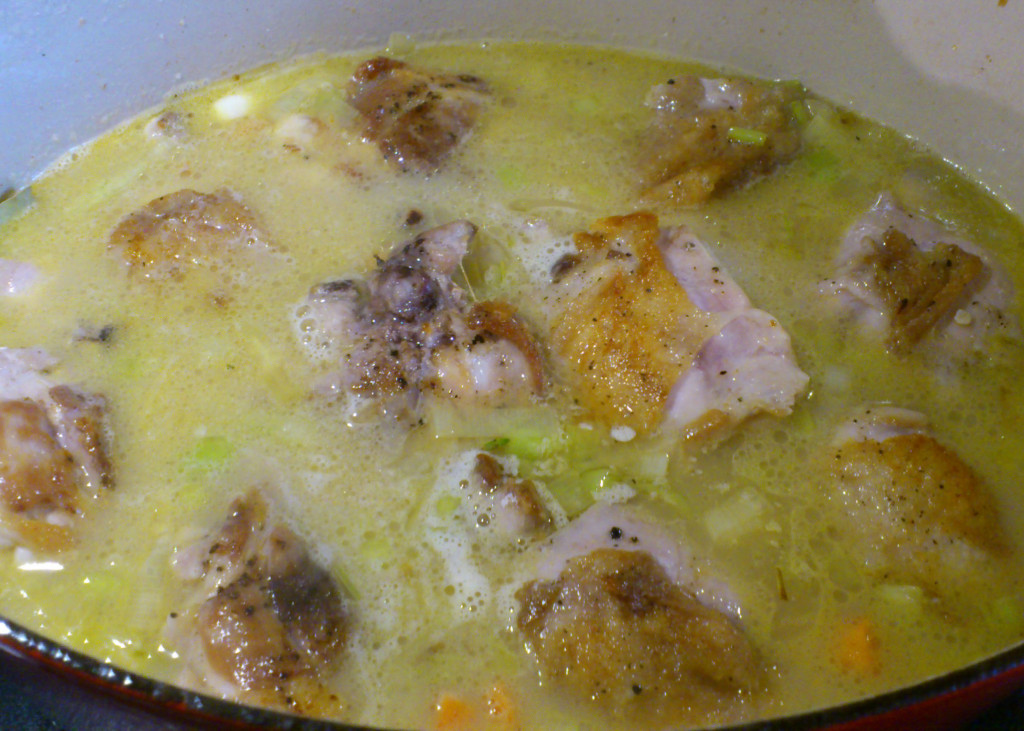 Transfer the chicken to a cutting board to cool slightly. Discard the bay leaves and sprigs from the thyme (leaves should have fallen into the sauce by now). Allow the sauce to settle for a few minutes, then skim the fat from the surface using a wide spoon and set aside.
In a medium bowl, using a fork, mash 4 TBS of the chicken fat from frying the chicken (replace any or all of it with butter if you prefer) with the flour into a paste. Ladle some of the warm liquid over it, and stir until smooth. Add a second ladle and stir again. Return this flour mixture to the larger pot, stir to combine, and bring back to a simmer for 10 minutes. The sauce should thicken to a gravy-like consistency.
Add soy sauce, anchovy paste, carrots and peas to stew and simmer for a few minutes to soften the vegetables. Shred or dice the chicken, discarding the bones and skin and return the meat to the pot along with the reserved mushrooms. Stir in a shake of hot pepper flakes and the grated pecorino. Taste and adjust seasoning, adding more soy sauce, anchovy paste, salt and pepper, and/or hot pepper flakes to your liking.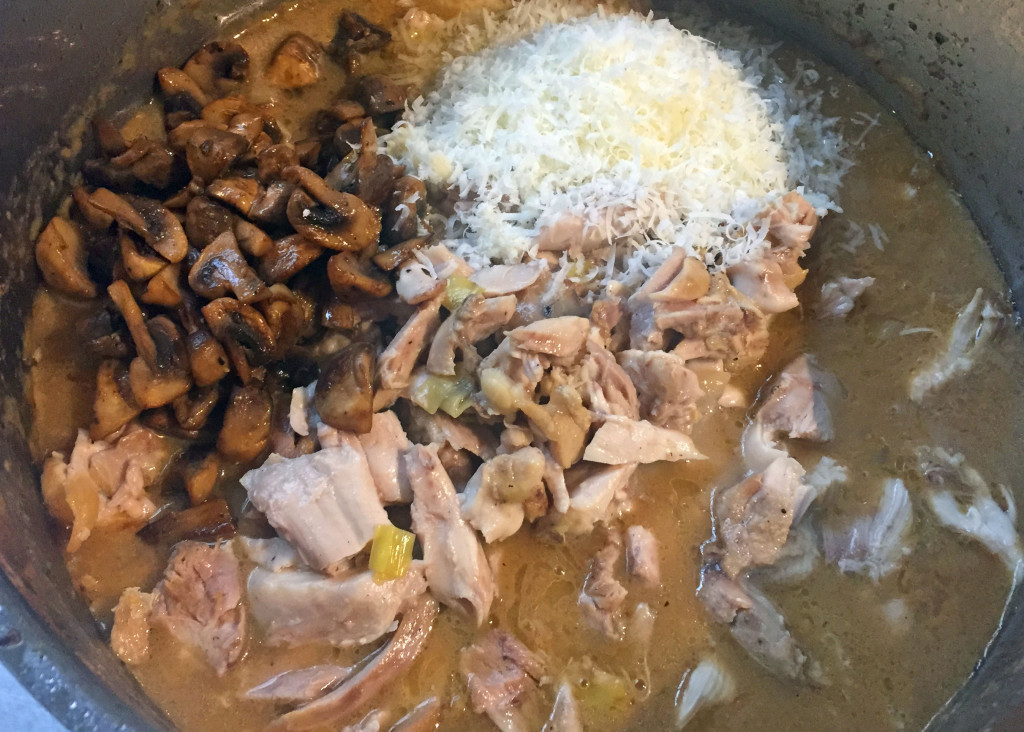 This is where I divide my filling and dough, freezing half of each (wrap the dough in cling wrap and put in freezer bag) and continue making 4 pies with the other half.
Assemble and bake pies: Heat your oven to 375F.
Divide remaining chilled dough into quarters. Roll each portion into rounds that will cover your ramekin or baking dishes with a 1-inch overhang. Cut vents into rounds.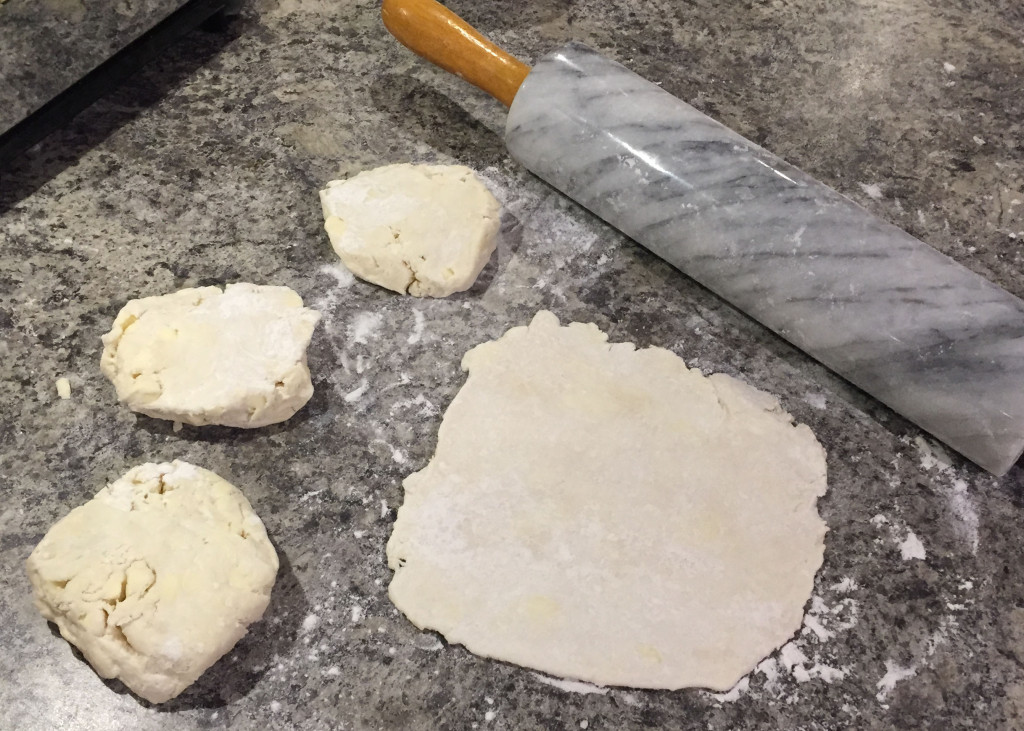 Ladle filling into four bowls, filling only to an inch or so below the rim to leave room for simmering (see what I did there? I didn't leave enough room for simmering. Oh well, still delicious). Whisk egg with water to make an egg wash. Brush edges of bowls with egg wash and place a lid over each bowl, pressing gently to adhere it to the outer sides of the bowl. Brush the lids with egg wash. Place the ramekins on a cookie sheet and bake until crust is bronzed and filling is bubbling, 30 to 35 minutes.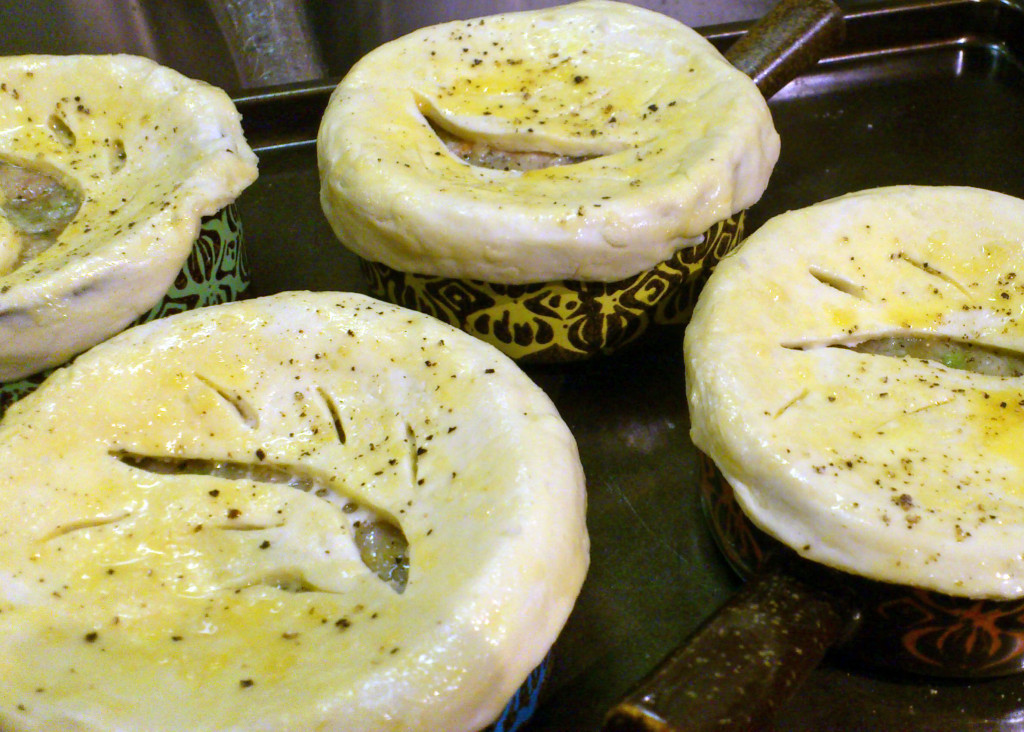 Serve with a tangy salad.