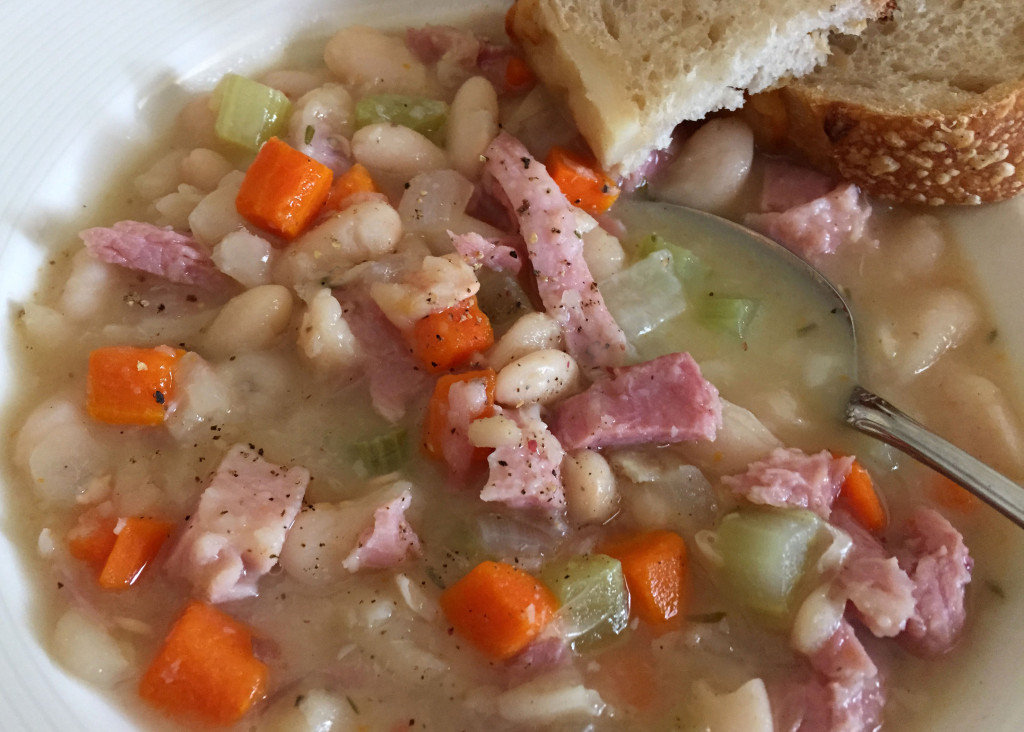 I'm baaaaack! I had an amazing time in Paris with my best friend and then in Venice and Rome with Husband. I saw my favourite painting again (I will never tire of sitting in front of it), found the third Statue of Liberty, explored two new (to us) cities, and walked until we thought our feet would fall off. We had some incredible food (that minted pea soup in Paris… I will never be the same), and ate in a 3-star Michelin restaurant. I have tons of new recipe ideas but, today, I am seeking comfort food. Fall somehow arrived while we were away… how did that happen?!?! I need a food hug to help get over the jetlag, my disappointment that summer is over (wahhh), and the fact that I have to go back to work (blechh).
I'm not using a recipe… just winging it with some basics picked up on our 7:00am trip to the grocery store (one thing about jetlag, it does make you efficient) and what I have at home.
This is your chance to use whatever herbs you have growing in your garden as well as that parmesan rind you have sitting in the freezer. If you don't have a parmesan rind, you can substitute 2 TBS of finely grated parmesan into the soup at the end (but, Lordy, please not the stuff in the green can).
1 pound dry cannellini beans
12 cups water
1 meaty smoked ham hock (mine was so big, 3 pounds, I had the butcher cut it in half, but you can use a 1-2 pounder)
Fresh herbs to taste (I used several small sprigs of thyme, 3-4 sage leaves and a small handful of oregano. Use whatever you have in the garden. Fresh Italian parsley would also be good.)
2 medium carrots, medium dice
2 medium stalks of celery (I like to peel mine to get rid of the strings), medium dice
1 medium union, medium dice
4 cloves garlic, peeled and crushed
1-2 bay leaves
1 parmesan rind or 2 TBS finely grated parmesan cheese (optional)
1 tsp sea salt, plus more as needed
pepper
1/4 tsp hot pepper flakes (optional)
juice from 1/2 lemon to finish
Place the beans in a large bowl and cover with cold water. Allow to soak overnight. Alternatively, you can boil a pot of water, remove from heat, add the beans and allow to soak 1 hour. Drain and set aside.
Put ham hock and 12 cups of water in a large, heavy-bottomed pot on high heat. Bring to a slow boil and reduce heat to simmer gently for 1 hour.
After 1 hour, add the soaked beans, the fresh herbs and bay leaf to the pot. Continue to simmer until the beans are almost tender (they will cook more later), approximately 45 minutes. During this time, skim the surface with a spoon if any scum forms.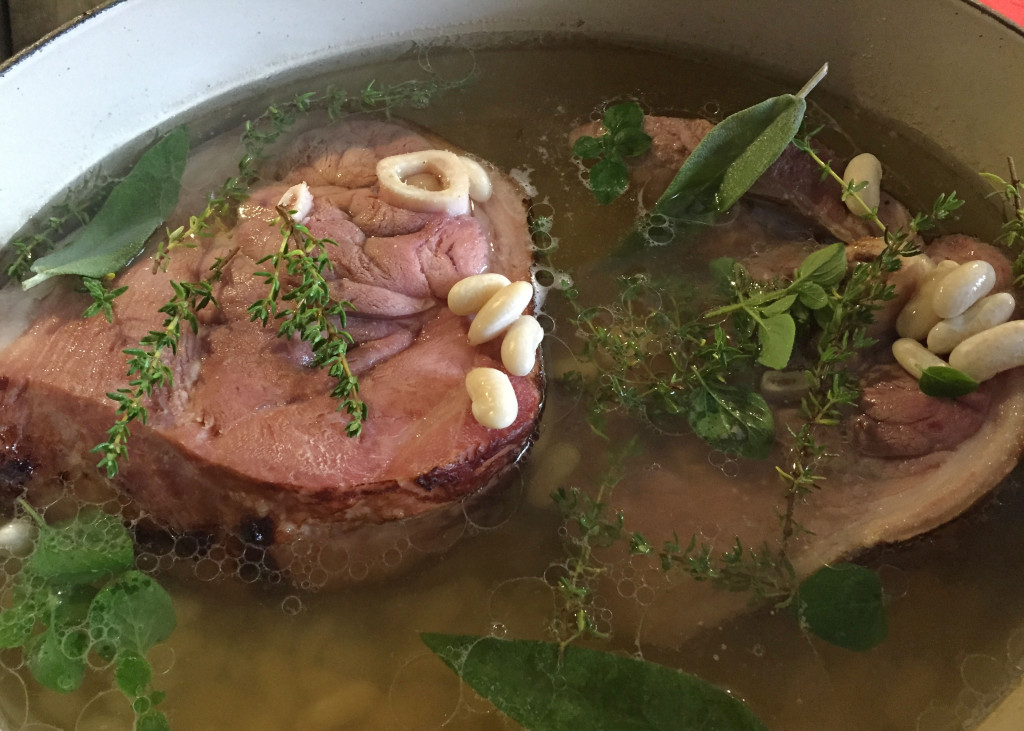 Add diced carrots, celery, onion, garlic, red pepper flakes, and salt to the pot (add the parmesan rind here as well, if using). If it looks like too much water has evaporated, feel free to add another cup to the pot at this point. Continue to cook, stirring occasionally, until the beans and vegetables are tender and the meat is falling off the bone. Approximately another 30 minutes. Remove from heat.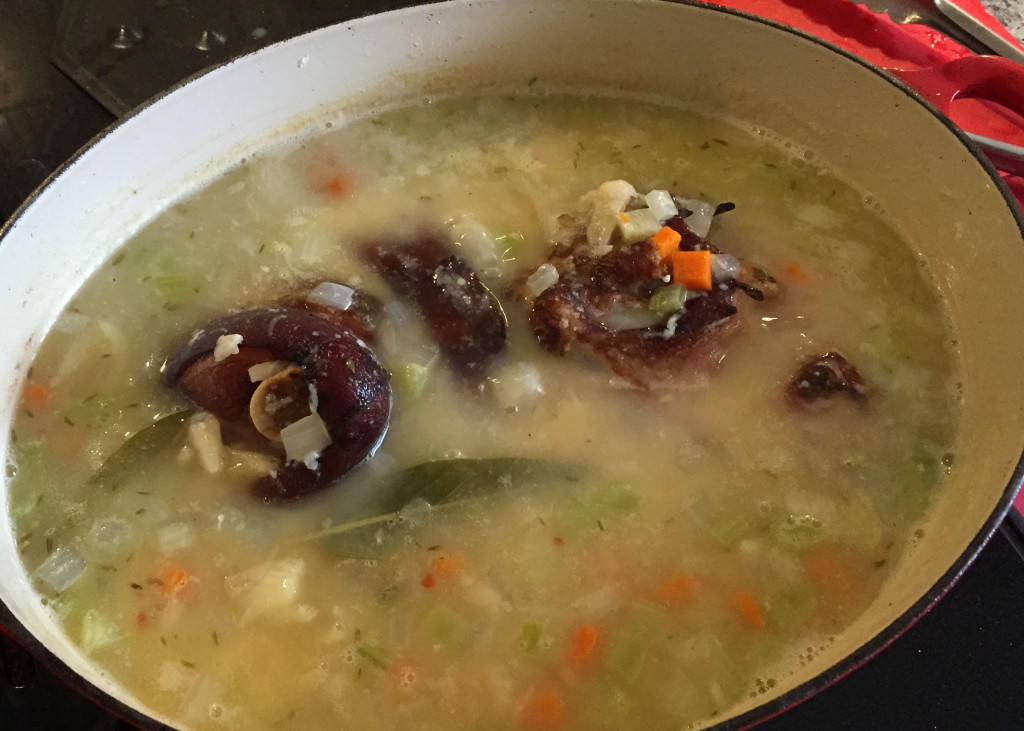 Remove the ham hock to a cutting board and let sit until cool enough to remove and dice the meat from the bones. Discard the skin and bones. Remove the thyme stems, bay and other leafy greens, and parmesan rind from the soup. If you didn't use a parmesan rind and want that wonderful, deep umami flavour, add a couple tablespoons of finely ground parmesan cheese at this point.
Using a potato masher, lightly mash some of the beans and vegetables to thicken the soup to the consistency you want. Stir in the diced pork. Squeeze in juice from 1/2 lemon. Taste and re-season with salt and pepper.