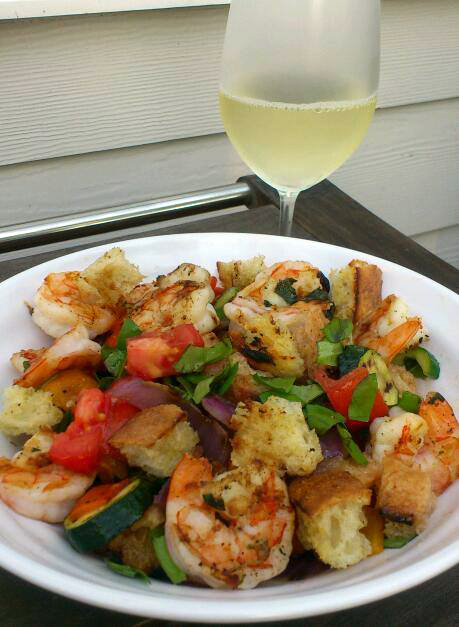 This is my first blog post! I'm so excited… yay me! Because we have been building a "garage" (bike studio for Husband) in our backyard for the past year (don't even). And because in the course of building this "garage", they have dug up my ENTIRE backyard (yup, all of it). And because I have been living with mud and debris for 6 months (I can't even), I am dreaming of summer when this fiasco will (supposedly) be over. And because I am dreaming of lying on my lounger in my newly landscaped yard, with the sun dappling through the trees, cold beer in hand, I want to share with you one of my absolute favourite summer dinner salads.
I know it's a bit early in the season but maybe it will get you dreaming of summer as well. Ahhhhh…
I fell in love with the idea of panzanella salad when I started growing my own tomatoes (thank you, dad) but the actual dish never quite lived up to my expectation.  I wanted the vegetables to have more depth and sweetness.  I wanted it crunchier.  And I wanted protein to turn it into a main course that would satisfy both myself and said Husband.
I think my version lends itself to whatever grilled vegetables you like.  Grilled acorn or kabota squash would be a delicious addition, as well as grilled mushrooms!  To make vegetarian, you could use burrata cheese or bocconcini, or grilled halloumi, instead of the prawns.  Makes 2 big dinner salads.
Here's what I used:
1 each green and yellow zucchinis, cut into 1/4″ medallions
1 medium red onion (cut into 1/2″ slices and speared with toothpicks to hold together while grilling)
1 each orange and yellow bell peppers, cleaned and quartered
olive oil
2 to 4, 1″ thick slices of French bread, or 8-12 slices of baguette, depending on size of loaf and your preference
olive oil
a few cut garlic cloves to rub bread
couple pinches of sea salt
1 pound 16/20 count prawns
olive oil
juice of 1/2 a lemon
1 pint of cherry tomatoes, halved, or 2-3 large heirloom tomatoes, diced and lightly salted
1/2 large English cucumber, halved lengthwise, seeds removed, cut into half moons
fresh torn basil leaves
Dressing:
2 TBS red wine vinegar
2 tsp dijon mustard
1-2 tsp liquid honey (depending on how sweet you want it)
1 clove minced garlic
salt and pepper, to taste
olive oil (about 1/3rd cup)
Put everything except oil together in a small bowl.  Slowly drizzle in olive oil while whisking to emulsify.
Putting it together:
Toss zucchini slices and red onion with a glug of olive oil and grill over high heat until just starting to caramelize.  Remove.  Chop onion into bite-sized pieces.
Grill peppers (skin side down) until charred, let cool and peel (do not rinse!… the char adds flavour) and chop into 1″ chunks.
Rub slices of bread with garlic and brush with olive oil, grill until starting to nicely char, remove and sprinkle with sea salt.  Cut or tear into 1-2″ chunks.
Let everything cool to room temperature.
Toss prawns with olive oil and juice from 1/2 lemon and grill over high heat, 3 minutes per side.
Put all vegetables and grilled bread into a bowl, add dressing to taste (you may not need all of it) and gently fold.  Top with grilled prawns or other protein.