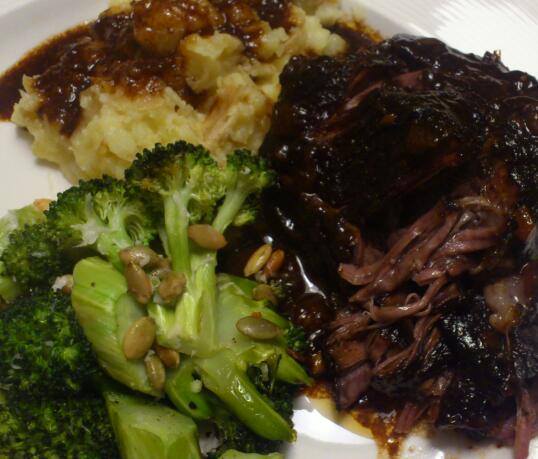 I like to cook with beer.  Many times it's in my hand but sometimes it even makes it into the food!  Last winter my husband and I went to Maui (an opportunity for me to spend some time with my mom and dad, who met us there, and a chance for him to ride his road bike every day).  On our last evening we had dinner at Mama's Fish House where my dad ordered short ribs.  He loved them so I decided to try cooking them at home.
This recipe is slightly altered from one in the Smitten Kitchen cookbook by Deb Perelman (who I think is a goddess, BTW). You can read about her book here http://smittenkitchen.com/book/. I served this with potatoes boiled with a couple smashed cloves of garlic, then roughly mashed with melted butter mixed with prepared horseradish, and roasted broccoli with toasted pumpkin seeds and a squeeze of lemon. Serves 4.
Here's what I used:
4 to 5 pounds beef bone in short ribs (English Style), trimmed of excess fat
kosher salt
freshly ground black pepper
flour for dusting ribs
2 TBS olive oil
1 large red or white onion, diced
1 large carrot, small dice
4 garlic cloves, smashed and peeled
2 TBS tomato paste
1/2 cup balsamic vinegar (no need to use your best, just grocery store-bought variety)
3 tablespoons Worcestershire sauce
24 ounces (1 large bottle or 2 regular bottles) dark beer (preferably a dark coffee stout or porter… I used a blackberry porter)
1-2 cups beef or chicken stock
Mix salt, pepper and a couple tablespoons of flour, and dust ribs on all sides. Heat olive oil in a large pot or dutch oven and brown the short ribs in a single layer on all sides over medium heat (in batches if needed). Take your time to get a nice brown sear on each side. Once ribs are browned, remove to a plate and continue browning ribs in batches, adding more oil as needed.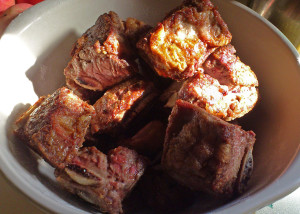 Preheat oven to 325 degrees. Pour off all but 1 tablespoon of the oil left in the pot. Add the onion and carrot, season with salt and pepper and cook until softened and a little brown, about 10 minutes. Add the garlic cloves and sauté another minute.
Add the tomato paste, stir and cook for another few minutes. Then add the balsamic vinegar, Worcestershire sauce, and beer, scraping up any bits stuck to the bottom. Return browned ribs to the pot. Arrange with their meatiest sides down or if you have too many ribs stand them on their sides. Add enough beef or chicken stock to barely cover the ribs.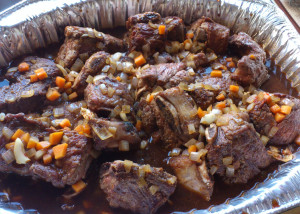 Bring the liquid to a simmer, then cover the pot tightly and move to oven to bake for approximately 3 hours or until the meat is tender and falls away easily from the bone. Remove pot from oven.
At this point you can skim as much fat off the top as you can and either serve the ribs as is with the sauce…
OR (my preference)
Remove ribs from sauce, spread out on a baking sheet, and brown them in a preheated 400 degree oven for 15 minutes to get a nicely textured crust on the outside. Strain the sauce (if you have a gravy separator, you can use it here to remove some of the fat) and reduce in a saucepan by 1/3rd (about 15 minutes). Remove ribs to platter and spoon sauce over ribs.
If you make your ribs ahead of time, you can let the pot cool (outside or in the freezer will speed things up). Once the fat has hardened on top, spooned it off, then remove the ribs from the pot and set them aside. Strain the sauce into a large saucepan and simmer for 15 minutes.  Reheat the ribs in the oven and spoon over sauce to serve or just add the ribs back into the reheating sauce to warm up.